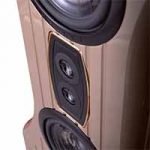 KHARMA EXQUISITE MIDI GRAND 3.0 LOUDSPEAKERS LAUNCHED
High End Netherlands based loudspeakers brand, Kharma, are rolling out the 3.0 incarnation of their Exquisite loudspeaker collection. The first to be released is the Kharma Exquisite Midi Grand 3.0.
The €24000 Aequo Audio Ensis hails from The Netherlands and has an innovative and interesting design. Stuart and Linette Smith try them with Dutch Techno.