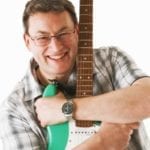 Lee Taylor is the founder of Leema Acoustics, the lead designer and the 'Lee' in Leema.
A BAFTA winner, Lee has had an incredible career in music and audio, and following what is (still) the most valuable of audio educations, sound engineering at The BBC, Lee went on to work on some of the BBC's most popular TV shows including Casualty, Blue Peter and Panorama.
Lee set up Leema Acoustics in 1998 with fellow BBC engineer Mallory Nicholls as a means of further exploring their fanatical interest in audio reproduction. Starting with loudspeakers, the company progressed into electronics, hand-building everything from the Welsh factory. Even its PCBs are made in Wales.