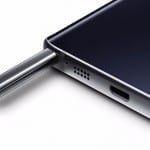 That's not a misprint – We could well see the Note 6 in three month's time.
Yup. Word on the street is that Samsung is gearing up to release the Note 6 in July.
It seems that Samsung wants to keep its Note fans guessing as there hasn't really been a fix release period for the Note range when you think about it. The Note 5 appeared in mid-August 2015, the Note 4 before it in September 2014, the Note 3 exactly a year earlier.
Get the full story at GadgetyNews.