Onkyo have lanched the  new 2 x 135 watts per channel TX-8150 and 2 x 110 watts per channel TX-8130 Hi-Res network stereo receivers. Both receivers are built around Onkyo's, fully discrete high-instantaneous-current amplification system that controls the speaker drivers with exceptional accuracy while capturing a very wide audio frequency spectrum for dynamic, energetic, and realistic sound. Backed by a high-output massive transformer and custom audio-grade capacitors, the amp system also prevents phase shifting for precise stereo imaging.  A premium 384 kHz/32-bit Asahi Kasei DAC smoothly decodes any digital source, be it wireless (TX-8150) or wired (TX-8130) 192/24 FLAC or DSD 5.6 MHz audio over the home network or sound from a flat-panel TV via four and two digital inputs respectively. There are a total of seven analogue inputs on both receivers, including turntable phono input, as well as a USB port for music via flash memory drive. Another rich layer of entertainment comes with onboard Deezer, TuneIn, and Spotify Connect internet services with song selection available via a free remote app that also controls playback of music libraries stored on PC or media server.  As a Wi-Fi®-enabled device, the TX-8150 includes AirPlay to support wireless streaming from iTunes and other apps such as YouTube; DAB+ digital radio tuning; and Bluetooth for streaming of essentially any audio from mobile devices.

Both models gain radio tuning with 40-preset memory, while four broadcast or internet radio stations can be stored in a Quick Access BGM memory function—just touch a button on the front panel and the receiver will power up and commence playback. Similarly, the receivers power up automatically when a digital signal is detected, meaning there's no extra buttons to push to enjoy amplified TV sound.  As part of Onkyo's Pure Audio Component range, both products feature a rigid anti-vibration oval chassis, quality banana-plug-compatible speaker posts (with A/B drive), independent bass, treble, and balance controls, Direct Mode, and for the TX-8150, gold-plated audio terminals.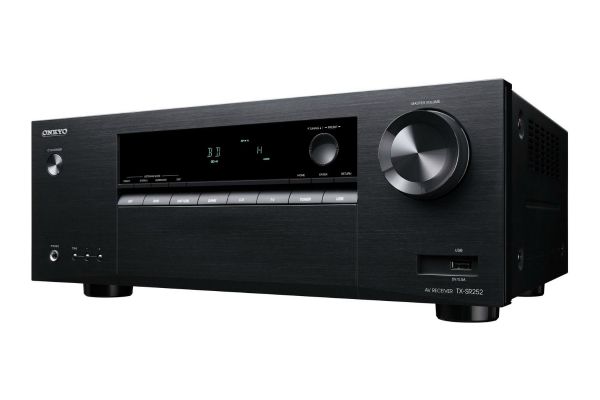 Pitched at users on a budget who value easy operation and really fantastic sound, the new 2 x 100 watts per channel  TX-SR252 is marketed as an alternative to soundbars for either TV, gaming or music.  All four of the latest spec HDMI® inputs and one output are 4K/60 Hz/HDCP 2.2 compliant and the receiver can decode lossless studio-quality Dolby® TrueHD and DTS-HD Master Audio™ formats.  The TX-SR252 also caters to music lovers with two digital audio inputs for a streamer or CD player, three analogue audio inputs, and a USB input for playback of the most popular compressed formats stored on a flash drive. An FM/AM tuner with 30 memory presets is also included.
Pricing and availability.
TX-8150  – Wireless Hi-Res Network Stereo Receiver with Spotify Connect, AirPlay, DAB+, Bluetooth and Phono input, in black or silver, available September  – £549 srp
TX-8130  –  Hi-res Network Stereo Receiver with Spotify Connect/TuneInDeezer and Phono input, in black or silver, available September – £449 srp
TX-SR252 5.1 channel AV receiver with 4K compatibility – in black only, available October – £199 srp