Ian Ringstead checks out the TAGA Harmony DA300 v.3 Digital to Analogue Converter.
I'm very familiar with TAGA Harmony having reviewed their excellent speakers and recently the brilliant little TTP 300 phono stage. When Przemek sent me the TTP 300 to review he said I'll send you our new budget DAC as well to try. I love cd as a format and my cd collection keeps growing, but with regards to DACs I have had an occasional dalliance with them but that has been it. There are a plethora of DACs out there now ranging from the budget models like the TAGA DA300v.3 to the serious models from companies like Chord's DAVE and DCS's Debussy where £8500 is required. TAGA have always strived to offer great value for money and at £200 the DA300 v.3 is precisely that. 
CONSTRUCTION
The lovely aluminium and steel case housing the dac is the same as the TTP300 so saving on production costs which are passed onto you the customer. The 3rd version is a miniature Digital-Analogue Converter, which converts digital audio signal from any digital source to high-class analogue audio with clearer, richer and more powerful sound. You can connect three digital signal sources to the DAC 300 v.3 – USB, optical and coaxial. The traditional inputs of coax and optical are supplemented by a high-quality USB asynchronous input to allow users to hook up their laptop to play their music files or use a music server or smartphone. The analogue output uses very good quality solid machined brass RCA sockets for an excellent connection and signal transfer. They certainly felt solid and made a good tight connection with my leads. The small dimensions make it easy to add to any audio system, a computer or a video game console. I can vouch for that because my Hifi rack gets very crowded with review product regularly passing through, so a neat compact unit is a blessing. The front panel sports just an input selector button and the LEDs to denote which input has been selected. Simply pressing the input button cycles through the inputs, dead easy. The back panel although crowded is well laid out with the input and output sockets and the power switch and dc input socket for the off-board power supply. It couldn't be any easier.
As I don't regularly use a separate DAC first comparisons were made with the built-in DAC of my Marantz SA11 S2 SACD player. My Marantz is a reference class machine both in build and technical quality to my ears and I wouldn't swop it for anything else unless a Marantz SA7 S1 was given to me. The Marantz SA11 S2 has an NPC multi-system (DSD/PCM) digital-to-analogue converter. (For those people who are technically minded the SM5866AS is a D/A converter compatible with both the DSD SA-CD signal format and the PCM CD/DVD-Audio and similar formats. DSD employs a 1-bit data stream, from a high-order Delta Sigma conversion at 64fs (fs = 44.1kHz), that contains high-level quantization noise in the high-frequency band above 20kHz. The SM5866AS, in DSD reproduction, has a DSD-dedicated FIR digital filter that attenuates the DSD quantization noise in the digital domain, and the resulting multi-level signal is D/A converted. In PCM reproduction, an oversampled PCM signal input, provided using a SM5847AF or similar digital filter, is converted to a multi- level signal by the 3rd-order noise shaper and then the multi-level signal is D/A converted) The Marantz is about ten years old as a design but in its day was highly regarded and still is to my ears.
The TAGA uses the very latest technology in DAC chips. The built-in DAC is high-resolution 32bit/384kHz PCM, DSD USB DAC which is an ESS Sabre32 Reference ES9018K2M with patented Time Domain Jitter Eliminator and SA9227 chip.
SOUND QUALITY
I know the sound of my Marantz very well, which through my system sounds superb so the TAGA had a tough job on its hands to compete. Straight away the TAGA sounded great but there were certainly differences in sound between it and my Marantz. I played Bob James's album "Joyride" an eternal favourite of mine because it not only excites me every time I hear it but is a great test of a system. Bob James is a sublime pianist whom I have seen and met so I have first-hand knowledge of his abilities as well as most of his albums in my collection. The opening track "Take Me There" just captivates my ears and a close friend of mine took this cd into a recording studio in Sheffield where we both live and played it to the engineers, one whom he knew well, and they loved it. They thought my friend had done the album at first (he wishes!!) but it was a testament to a great artist to touch the heart of these engineers who were mainly into reggae and garage. The TAGA DAC certainly could convey this emotion that Bob James wanted to pass onto the listener with its infectious beat and rhythm. The bass is deep, tight and drives the track along with the piano interspersing with the guitar of Chuck Loeb and percussion and sax in the background clearly defined. Doing A -B switching between the TAGA and my Marantz built in dac showed that the Marantz had the edge for me adding weight and colour to the music and moving the sound stage forwards as if adding depth. It was a perspective I preferred but is not a criticism of the TAGA as the Marantz DACs are highly specialised and tuned for the SA11S2 to work in harmony.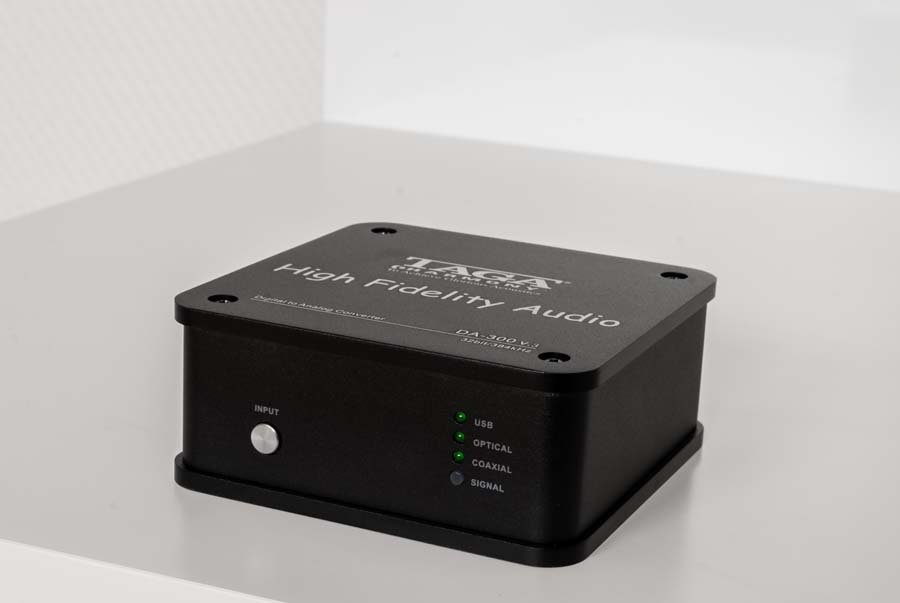 In isolation, the TAGA is very good and would not disgrace any system. Without direct comparisons, you would be unaware. It's a credit to the designers of the DAC chips and engineers who implemented it within this unit for doing a great job. Dacs do vary in sound but the beauty of modern designs is that they don't have to cost a king's ransom to work well in budget units. I also tried the USB input hooking it up to my windows laptop with the cable provided. Having the latest version of Windows 10 on it there were no issues with drivers and my laptop recognised the TAGA making plug and play straight forward. I played a variety of audio files mainly cd tracks recorded at 44.1 kHz as I don't possess any downloaded high-resolution music and refuse to pay high prices for it when I have great cd's and SACD's in my collection. The TAGA played the music files seamlessly and at the higher sampling rates compared to mp3 was equal to my cd's. Mp3 is fine for background music but for serious listening WMA, DSD etc. is the way to go. There is a plethora of file formats now and I am no expert on these but having heard many types at shows it's down to personal/cost preferences. 
CONCLUSION
Good digital sound doesn't have to cost a fortune and if you want to implement it in your system, whether to improve the sound of an older cd player or incorporate music from a laptop or satellite receiver the TAGA DA300v.3 is a brilliant way of dipping your toes into the digital arena. Digital has certainly driven the audio market along since its inception with analogue hanging in there for good measure.
Budget audio just gets better and better so there is no excuse for newcomers to join the club when products from companies such as TAGA Harmony make the entry fee very attractive and affordable.
AT A GLANCE

Build Quality: Excellent.
Sound Quality: Very clean and clear sound which doesn't disappoint
Value For Money: Excellent compared to its competitors of which there are many.
Pros: For enthusiasts on a tight budget a great sounding DAC.
Cons: Very little. I nit-picked about its presentation but for the money, you can't complain.
Price: £200
Ian Ringstead
Review Equipment      Marantz SA11 S2 sacd player, Goldmund copy pre-amp, Job 225 power amp, Audio Physic Avanti iii speakers, TQ Ultra Black speaker cables, Way and Missing Link silver interconnects, Hifi Racks Podium Slimline rack.