Dominic Marsh takes this €840 package of amp, speakers and speaker cables from TAGA Harmony for a spin.
TAGA Audio hail from Poland and TAGA stands for "To Achieve Glorious Acoustics", or so their tag line says.  The entire design brief is created in-house by TAGA themselves, while production is in TAGA's own factory in China, which allows TAGA considerable latitude when it comes to pricing their products.  Their range is rather extensive, with no less than ten speaker ranges, spanning from 5.1 home theatre arrays to their flagship standard floor standing speakers, which doesn't end there either, as we can also add active and desktop systems to that list too.  Electronic products also feature highly, with hybrid amplifiers, all-in-one music systems, DACs, power filters, the list goes on and on, then a range of interconnect and speaker cables complete their product line-up and one is simply spoilt for choice browsing through their website.  They even cater for the DIYers amongst us with cables off the reel to terminate themselves.
TAGA have sent to Hifi Pig for review a selected package consisting of a Harmony HTA -700B V2 hybrid amplifier, a pair of Platinum B-40 speakers and a pair of 2.5 metre Platinum 18 speaker cables to match.  Add the source of your choice and you can be up and running in a very short time.
CONSTRUCTION
The HTA – 700B V2 amplifier is very compact measuring 14cm H x 17.7cm W x 27cm D, with the review sample supplied finished in bright alloy that has simply superb fit and finish.  It is also available in a black finish. Comparatively heavy too, weighing in at 4.2kg.  To the front panel we find a quarter inch standard headphone socket, a large rotary volume control, an input selector knob that switches between USB input, CD input and Bluetooth.  A pair of recessed 12AX7B valves (tubes) peeps out the top plate of the chassis, half submerged as it were, surprisingly without any protection cages.  Judging by the way the valves light up almost instantly to full brightness when powered on, I suspect the tube heaters are fed by a regulated DC voltage.  Behind the two valves lies the mains transformer housing, again clad in bright alloy.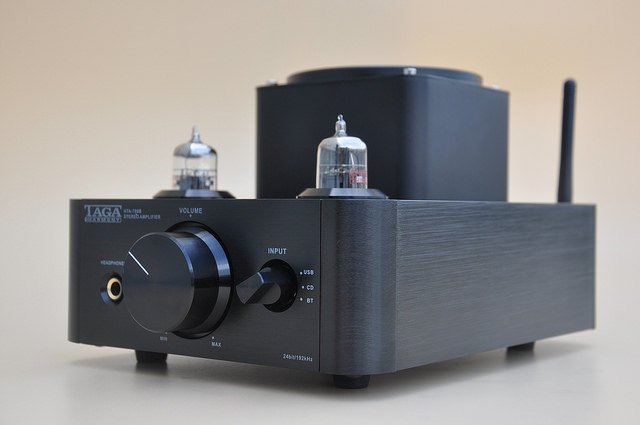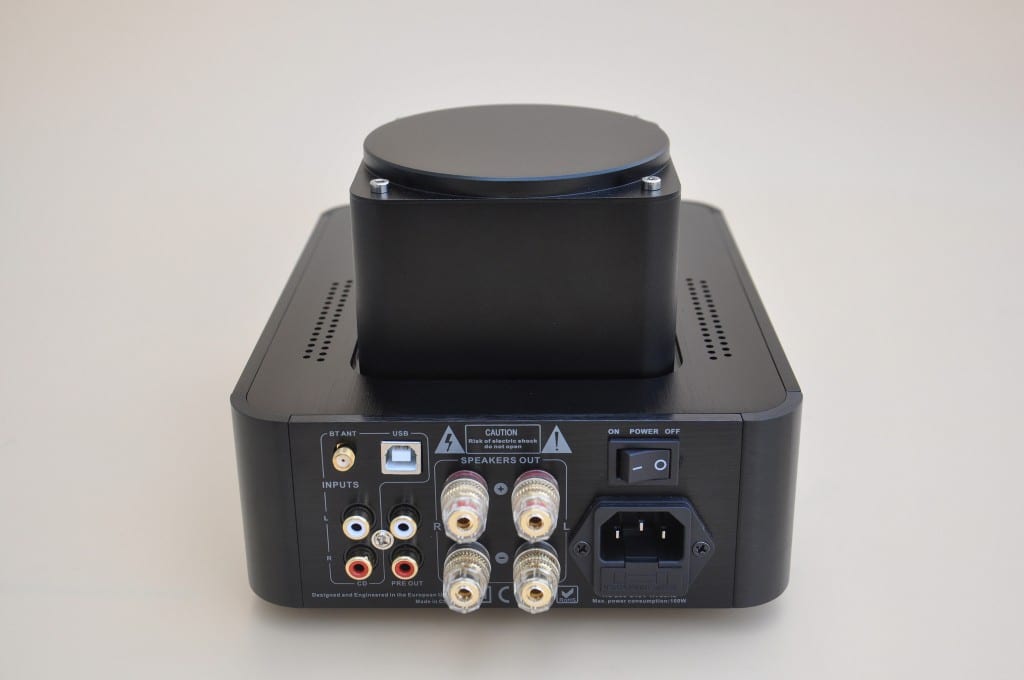 To the rear we find the Bluetooth antenna socket (antenna supplied), a USB socket, below these two is the RCA phono inputs for CD, then a pair of RCA pre amplifier output sockets, then a single set of four good quality speaker binding posts which will accept spades, 4mm banana plugs and bare wire.  Finally, an on/off rocker power switch and a male IEC AC power inlet socket, complete the rear panel connections.  TAGA supply the software via a download from their website for linking the USB connection to a personal computer running Windows.
Specifications:
Power Output:
2x45W RMS @ 4Ohm

2x35W RMS @ 6Ohm

2x26W RMS @ 8Ohm

Class A/B

Vacuum Tubes:
2 x 12AX7B
THD:
Less or equal 0.1% (at rated power)
 Signal/Noise ratio:
=>88dB
Frequency Response:
20Hz – 28kHz
Inputs:
RCA stereo CD, USB (for computer)
Outputs:

RCA Pre-Out

Connectivity Wireless:
Bluetooth® v4.0, aptX®
Bluetooth® Profiles:
Advanced Audio Distribution Profile A2DP
Headphone Impedance:
32-320Ω
Headphone Output Power:
1W  160Ω
USB Supported Data:

Asynchronous 24bit / 192kHz

Cirrus Logic CM6631A+CS4344 chip

Included Accessories:
Bluetooth® antenna, USB cable,

Removable IEC Power cord

AC Power, Power Consumption:
230V 50Hz, 100 W
Dimensions (H x W x D):
14 x 17.7 x 27 cm
Weight (net):
4.2 kg
The TAGA Platinum B-40 speakers are a compact stand mount design, again manufactured in China to TAGA's exacting specifications.  TAGA class it as a "bookshelf" speaker, but to me its dimensions aren't really suited to that position with a depth of over 27cm.  It is a reflex ported design, with the exit port mounted on the front baffle immediately below the 165mm bass driver.  The bass driver cone appears to be of a sandwich type construction, the dust cap being of the same material, with a flexible rubber roll surround.  There is a bright polished alloy outer surround ring engraved with the words "TAGA Harmony" and to me the speaker looked attractive, with or without the grilles present.  The tweeter is a one inch unit with a metal dome, protected by a perforated metal mesh grille and unusually, is mounted partially above the front baffle in a domed plastic extension.  To the rear we find a set of speaker binding posts in a biwire/biamp configuration with the ubiquitous gold plated brass link plates.  The binding posts will accept spades, 4mm banana plugs or bare wire.  I will be mentioning these again in the listening analysis below.  The review sample was supplied in a vinyl Wenge wood finish with faux Walnut and black (Ash?) as alternative finish choices.   The cabinet carcass has curved side panels which adds intrinsic strength but also tales away parallel walls to minimize internal cabinet reflections.
Specifications:
Design:
2-way, 2 drivers, bookshelf speakers,

Bi-wiring, TLIE Enclosure,

crossover point 2.5kHz

High-Frequency Driver:
25mm (1")
Bass / Midrange Driver:
 165mm (6.5″)
Recommended Amplifier Power:
 20-150W
Frequency Response:
 38Hz-40kHz
Impedance:
 6 ohm
Sensitivity:
 89dB
Dimensions (H x W x D):
 41 x 25 x 27.2 cm
Weight (net):
 15.5kg pair
Lastly, as part of this package, TAGA supply a 2.5 metre pair of their Platinum 18 speaker cables terminated with 4mm banana plugs.  This cable is also available un-terminated off the reel, bought by the multiple metre lengths.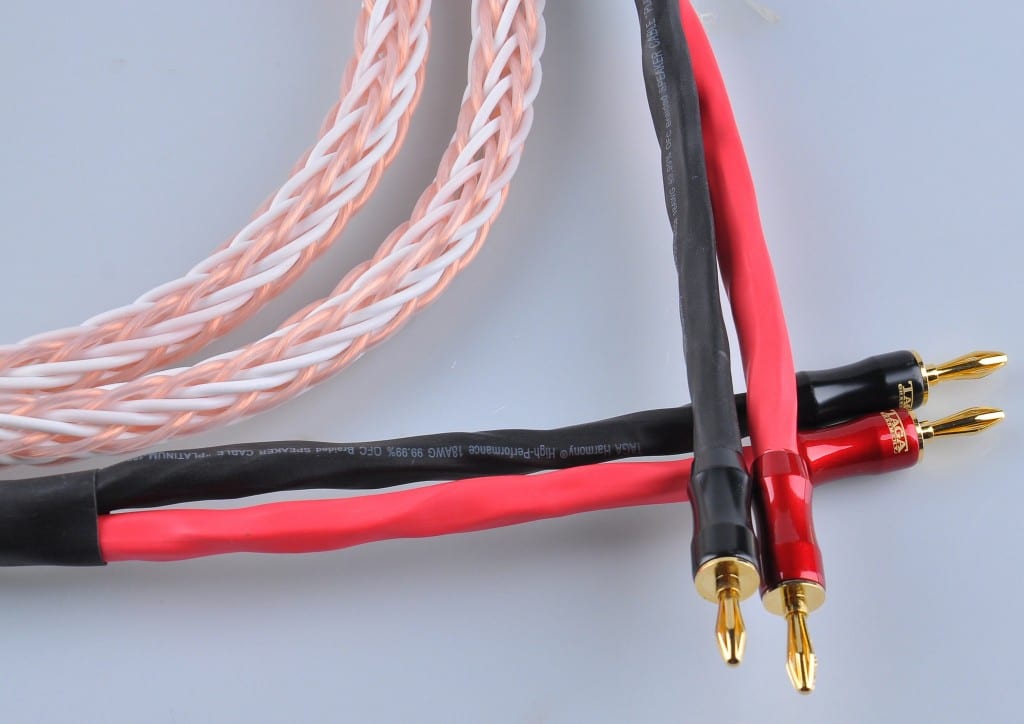 Specifications:
2-conductor, 18 AWG x 8 / conductor

Terminated with high-grade copper banana plugs
Braided multi-stranded, ultra-high purity 99.99% Oxygen Free Copper wires

16 wires per 1 conductor
HDPE – Ultra low-loss, low capacitance high-density polyethylene dielectric insulation for conductors
It looks to be a workman-like cable, with 16 strands braided into the two main conductors of 8 strands each, bifurcated at each end to around 15 cm from each of the plugs.  However, the plugs don't really match the quality of the cable itself, the "splines" are not that springy and that complicated matters by having oversized 4mm holes in the speaker's binding posts which resulted in a poor connection, although the Platinum B-40's binding posts face upwards so gravity holds the speaker cables in place.   One of the plugs actually lost the 4mm splined part which detached itself while changing cables over from the binding posts on the HTA-700B amplifier, so I had to rapidly re-terminate it with a "Z" plug and of course I will have to fit the other seven plugs to match, or return it to TAGA as is.  I have mentioned my reservations about these particular banana plugs to TAGA and they say they will review the situation shortly and will be looking into fitting another type of plug.
The complete system package as detailed above is 840 Euros at the time of review.
SOUND QUALITY
I was pleasantly surprised when I first connected up this system just how good it sounded and none of the sound spectrum it produced annoyed or offended me, which was a great start to the proceedings.   The word to best describe the sound was "balanced" in that treble and bass were in equilibrium, midband was clean and clear, so it was no effort at all just to sit back and enjoy what I was hearing while the system was warming up.  Of course, it is my job then to analyse and disseminate what's what so you the reader can assimilate and interpret how I perceived the sound produced.
For such a small unit, the HTA-700B V2 amplifier produced a bouncy gutsy sound via CD input and I don't recall it  running out of steam, with the Platinum B-40 speakers and with others too that I tried, including my resident speakers.  At that time I also had a pair of Audiofilia SF-6 floor standing speakers in for evaluation and the little TAGA amp acquitted itself rather well with those too, although when pushed hard the sound became more "shouty", which if you are the kind of person who listens with the volume control past 12 o'clock regularly you'll need to seek a more powerful amplifier for your needs.  Pairing the Bluetooth connection was simple and straightforward, although I perceived a softer and less dynamic presentation than via the CD player input.  USB input sound quality was almost on a par with the CD input.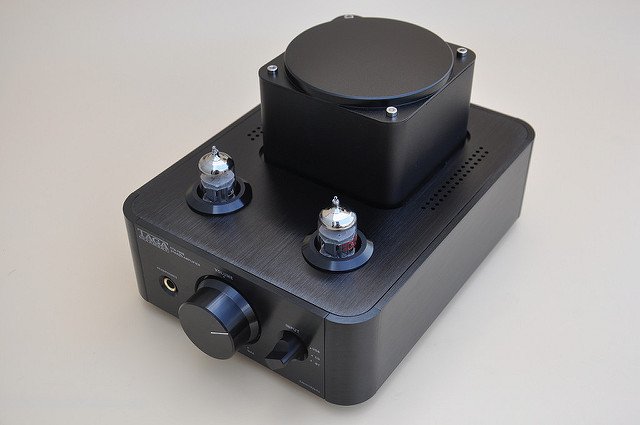 Intrinsically, the speaker cable itself appears to be a good component, the braided weave layout should keep the capacitance at a low level, but the real let down was the quality of the plugs employed.  When the splines section detached itself from the body of one plug while gently removing it from the amplifier's binding posts it merely confirmed my fears that while they looked good, they weren't man enough for the job.  Swapping to my resident cables brought a not unexpected improvement in sound quality and I rue that I couldn't give a fair assessment of the speaker cables' performance in their own right with more suitable plugs fitted.  You could of course purchase the unterminated cable, or another terminated cable from their range, but that falls outside of the TAGA package deal offer and would probably add to the cost.
Then we move on to the Platinum B-40 speakers and it is by no accident I have left the best until last.  Given that they are priced at circa £320.00 here in the UK, they really can and do outshine other speakers at that price level and well above.  Installed into my resident system they sounded far better than their humble price suggests, with good solid bass free of boom and overhang, a treble that is crisp and clear, plus a midband that doesn't disappoint either.  I found them a very musical speaker whatever amplifier they were paired with and of course the Harmony HTA – 700B V2 was no exception.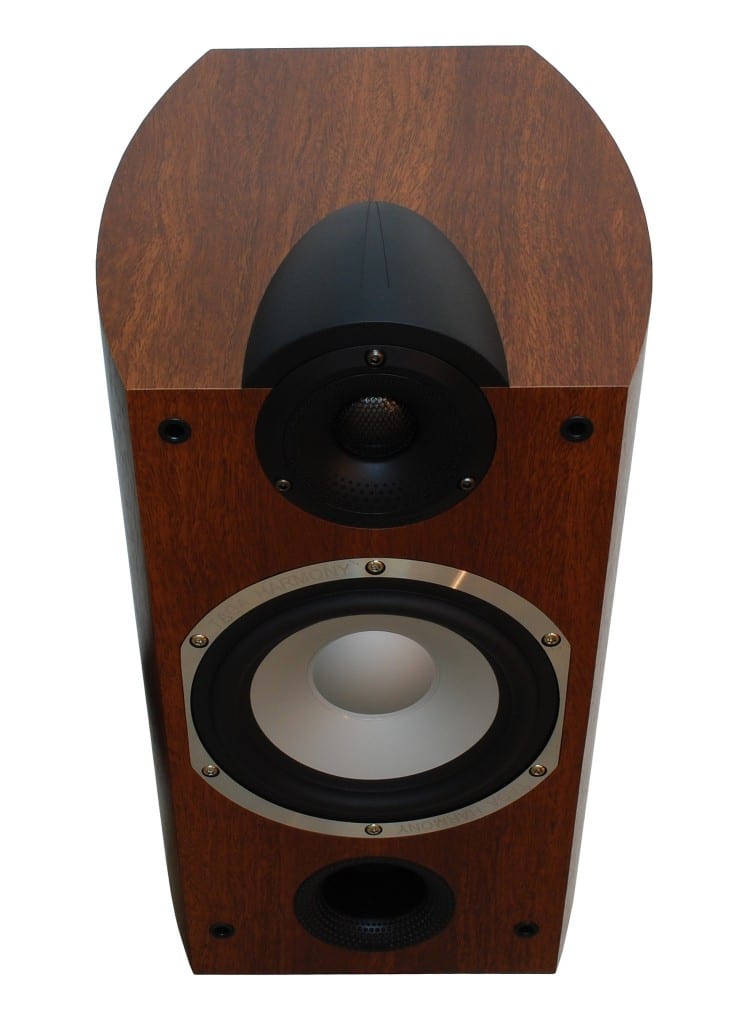 Mounted on 60cm stands and placed around 20cm from the rear wall they gave a full bodied sound, although while the deepest bass registers were not present, there wasn't any boom or blooming either.  Dynamics were fast-ish, not as lithe as the best speakers but still a credible performance nonetheless.  I simply couldn't resist removing the brass jumper links and fitting a set of my own pure copper wired links and the sound improvement was considerable.   Paired with the HTA – 700B V2 amplifier the sound stage was expansive, extending out just beyond the speaker boundaries, while my resident amplifier pushed that out even further still and depth acquired a deeper rendition to imaging.
In to the CD drawer goes my reference recording which is Fink's "Wheels Beneath My Feet" live album.  Track one called "Biscuits For Breakfast" begins with the drummer gently striking the Ride cymbal as the intro, which has to portray the metal ringing in the cymbal to be accepted as real and any masking here shows up instantly and readily.  The Platinum B-40's gave a good account of themselves with this test and surprisingly good too given that it is fitted with a metal dome tweeter.  Kick drum was portrayed with good weight and solidity, a good deal better than other "budget" speakers I have listened to and the drummer's rim shots were almost life-like too.  Fink's voice has a nasal quality to it with a slight rasp and the Platinum B-40's did a pretty good job of that task too.
As a contrast to that, I followed on with some electronic music in the shape of Tripswitch's excellent album "Geometry".  There is some superb layering in this album and it takes a sure footed pair of speakers to unfold and pull back all the layers so each strand is separated out and clearly defined in every respect.  The bass lines really are deep on this album, rather subtle in places too and can easily be muddled by the music around it.  The Platinum B-40's didn't quite have full command and control of this album as my resident speakers are able, especially around the bass which wasn't as deep and tended to collide with other instruments, so once or twice got recessed into the rest of the music.  For a £1,500+ speaker that would be a slight criticism, for a £320.00 speaker that should be taken as a compliment.
CONCLUSION
If I had reviewed this package system as submitted by TAGA, then it would have been the speaker cable plugs that let the entire system down, nothing more.  The oversized speaker binding post holes could have been resolved by fitting better plugs, so I can almost discount that aspect.  Taking each component in isolation however creates a different point of view entirely.
The TAGA Harmony HTA – 700B V2 amplifier is a great little amplifier in its own right.  It has enough features to make it flexible with regards to connections, it sounds extremely good too, more powerful than the specifications suggest and the small footprint means you can house it wherever you like so it remains unobtrusive.   This little amplifier has a lot going for it.
For a cable to part company with it's connector during a review is unforgiveable.  Having said that, if TAGA take on board my comments about the plugs and upgrade them, then I am prepared to happily change my opinion because I still think it's a great cable nonetheless.
The Platinum B-40 speakers belie their modest cost and are very able performers.  I could easily live with these, although given that I chop and change components and cables on an almost permanent basis as part of my job, those binding posts would drive me nuts. Still, as part of the package that TAGA offer, they give tremendous bang for the buck and for me they were the star of the ensemble.  Well worth seeking out for audition.
Build quality: 7.8/10

Sound quality: 8.2/10
Value for money: 8.6/10
Overall: 8.2/10
Package Price at time of review: 840 EUros
Pros:  Terrific little amplifier and speakers which give good performances – especially at the price.
Cons:   Those speaker plugs.  
Dominic Marsh