TCI TEMPLE CONSTRICTOR SE POWER BLOCK AND TCI COBRA II INTERCONNECT REVIEW
True Colour Industries are based in Northern Ireland and makes a range of audio cables and power distribution products. Here Ian Ringstead takes a listen to their Temple Constrictor SE 6-way Powerblock and TCI Cobra II interconnect.
True Colour Industries (TCI) are a Northern Irish company that has been making products for 20 years. TCI claim the use of Aerospace technology in their cables in order to get the best performance out of them with their goal being to design the best cables they can at each price point and also include long-term reliability. TCI design all their cables along with the plugs for terminating the signal cables and mains products. TCI has a common theme with their products all being named after snakes. Unlike the scene in Indiana Jones " Raiders of the Lost Ark" when Indie and his girlfriend are trapped inside the tomb with deadly snakes writhing over the floor coming to attack them, TCI products are much friendlier and don't bite.
This is a joint review of TCI's top mains block and a mid-range interconnect.
CONSTRICTOR SE
The Temple Constrictor SE 6-way Power block is a very well-made extension block with a power switch to isolate it. Some purists would argue that adding a power switch is defeating the object of a high-quality unit but TCI uses high-quality components and will probably feel that safety overrules purism. I have used many mains blocks over the years and the majority have all served me well with the more expensive units certainly having the upper hand sonically. Along with a good mains block and power leads, having a good clean dedicated mains spur is vital. I installed one many years ago when I moved to my current home and fortunately the distribution unit under the stairs is next to my listening room making life easier and cheaper when installing the heavy-duty spur and separate mains isolation switch. I also put an earthing rod outside the listening room window into the soil which made a big difference. A good friend of mine scorned me for doing this feeling it was somewhat over the top, but believe me, it was worth the hassle. Internally I have a silver-plated double mains socket that has an earthing post on it to connect the dedicated outside earth too. The TCI constrictor SE, therefore, had the best chance to shine or not as the case may be.
The TCI Temple Constrictor 6-way Power block features 16 cores of PTFE insulated silver-plated copper and one 2.5mm PVC insulated copper earth wire. It has a thicker cross-sectional area and a larger amount of silver to help ensure it has a lower noise floor.
SOUND QUALITY
A good mains block should just provide a solid foundation to plug your components' mains leads into without interfering with the incoming mains. Certainly, the TCI did this and just got on with the job in hand. No nasties or any interference were detected throughout the review period and just as the mains block sat behind my equipment rack out of sight my listening sessions carried on unimpeded. Bass was good and tight and flowed well, a must with the jazz I listen to much of the time. This bass and fluidity are what I want from any system, and I know from experience that good earthing, quality wiring, and components are vital to achieving this outcome. Mid-range and vocals had clarity and imaging flowed forth into the room with good front-to-back depth. Hannah Reid's beautiful voice on the London Grammar albums shone through with no haziness or sibilance. Top-end wasn't strident or overbearing and I never tired or got listening fatigue, which was a good sign. Compared to my resident Missing Link mains block, results were very similar and I reckon you would have to spend a lot more to improve on either for a worthwhile gain. The law of diminishing returns rears its ugly head again, and, unless you have deep pockets and a very revealing reference system, the extra spend may not be worth it. Personally, I have seen and heard very expensive mains leads and power conditioners and filters at shows and the outlay for me is too great for the perceived sonic improvements. Balance is key here to my mind. That is my personal opinion and you the reader should make your own mind up on this subject – it is after all your money you are spending.
With the TCI block in place is found my system to be more resolving, with much more detail and tighter bass information. In addition, it provided a larger and more precise sound stage. Offering the ability to upgrade the sound quality of 6 pieces of HiFi equipment in one fell swoop I think it represents very good value for money.
COBRA II
TCI Cobra II's aim is to achieve a reference-grade interconnect and is second only to the reference Cobra II SE in TCI's line-up of interconnects. It is very well made and quite stiff with attractive gold braided outer sheathing and good quality RCA plugs. My only criticism of the plugs was that the channel identification of left and right was not obvious to the eye. I like good clear indication and so red and black markings would have been useful. The RCA's outer casing unscrews so you can insert the plug into the socket and then you tighten the outer back up to lock the plug firmly into place. I thought this was a nice feature that doesn't rely on accurate machining of the plug alone. It's a fully balanced design that utilises top-quality aerospace-grade materials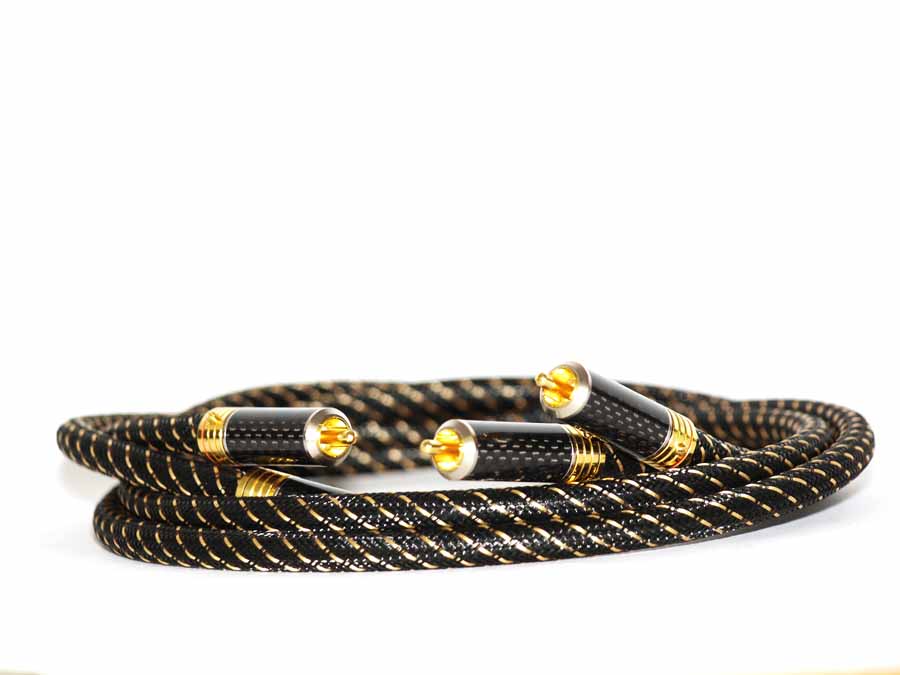 SOUND QUALITY
Just as the Constrictor SE mains block got on with the job in hand so too did the Cobra II. Dynamic range was free to flow unhindered from the quietest levels to the loudest crescendos and a track I often use to test this out is King Crimson's live recorded Fracture form "Starless and Bible Black." It is a track that builds up to a tremendous ending and if you haven't heard it before can make you jump out of your seat. Released in 1974 it still stands the test of time for me and exploits your amp and speakers' capabilities to the max. The pounding bass, frantic guitar work, and drumming are quite enthralling. The Cobra II responded very well having the range and clout the musicians expressed and intended when this track was recorded. Timing and rhythm effectively moved the music along and I had no issues following the music and found myself tapping my feet. Detailing and soundstage width and depth were very good. A characteristic that held throughout my time with the Cobra II though was a bright sheen/edge to the sound which wasn't piercing but was a trait that remained, even when I changed from my Jern W12S's to Kudos C20 floor standers. I am sure many listeners will like this characteristic but for me, I prefer a smoother balance with my silver cables from Way. Again, this is my preference and you the listener must make your own mind up. Detailing was excellent and the Cobra II was never dull or boring and would suit any system or components that need a bit of life injecting into them like a good tonic.
CONCLUSION
TCI manufactures an excellent range of cables and mains products that don't cost the earth. They are not cheap by everyday standards but the inherent value for money is still very high and the cables will provide a very reliable, no-nonsense service for many years.
The power block did have a noticeable effect on timing having the effect of endowing the music with a pleasing flow and without any harshness in the upper registers making for a very easy and non-fatiguing listening experience.
The Cobra II, like the Constrictor power block, was well made and had good detail, timing, and soundstage presentation with a bright and detailed top-end that may please some and be a little much for some systems.
AT A GLANCE
Build Quality:
Excellent using quality components that will last for years
Sound Quality:
Overall, very good and will work with many systems without a hitch. The mains block gets on with its job and acts as a solid foundation for clean power delivery without added complications. The Cobra II is very detailed and rhythmic and shines a light on the music.
Value for Money:
Compared to the competition, both items are excellent value and affordable for anyone serious enough to make an upgrade from basic kit to be a long-term acquisition
We Loved:
Excellent design
Solid Build Quality
Lively and detailed performance
Good soundstage with accurate instrumental placement and depth.
Strong, deep, detailed bass
Good timing and rhythm
Detail was well portrayed
We Didn't Love So Much:
Some may find the sound of the Cobra II a bit too lively as I did for my taste if not carefully matched to your system. The key here is listening before you buy. All dealers should allow sale or return.
No issues with the mains block at all!
Elevator Pitch Review:  TCI has built a reputation for excellent quality and value for money items that the buyer can enjoy for a long time and without emptying their bank account. Performance is very good for the money and, as such, they are well worth seeking out and auditioning. Both the power block and cable offer a no-nonsense delivery with very good timing and fluidity. The cable does have some top-end emphasis.
Prices:  Temple Constrictor SE  6-way block £340.  Cobra II 1 metre length £400.
Ian Ringstead
Supplied By True Colour Industries
SPECIFICATIONS
TEMPLE CONSTRICTOR MAINS BLOCK
16 x PTFE insulated SP-OFC conductors
Polyolefin/polyester braid for abrasion resistance
True-Plug™6-way powerblock (UK and Schuko)
Designed, handmade, and finished in the UK.
COBRA II INTERCONNECT
SP-OFC silver-plated aerospace grade alloy conductor
PTFE aerospace-grade Kapton tape
High density double braided PC-OFC screen
Fully balanced design (with XLR option)
High-quality gold plated True-Plug RCA Plugs
Lead-free high purity silver solder
Designed, handmade and finished in the UK