Tellurium Q's Black speaker cable instantly won fans around the world when it was launched, but now they've improved it. Ian Ringstead takes a listen to this £54 a metre loudspeaker cable.
I am a newcomer to Tellurium Q cables with regards to trying them out, but I have been aware of them for some time. I met Geoff Merrigan at the Bristol AV Show this year and had an educational few hours in his company. Geoff kindly offered me the chance to try some of his cables out and this is the result.
Tellurium Q Black was the first cable they produced and they were amazed by the results and the dealer and customer response. So why Black II?  The Black won multiple awards, surprising owners with its performance and more people than ever chose to use it in their systems?
But Geoff had been learning and developing, especially in the last few years and had come up with a way to make this great cable even better. Therefore, the new design has been launched. Switch Black for Black II and it is completely obvious which is which. Once you hear the difference, it is also completely obvious why you feel compelled to upgrade to Black II.
As I hadn't heard either before I was supplied Black and Black II to compare, and hence my comment above. I eagerly put the Black in my system and straight away thought wow this is good. I use Van Damme concert series as a rule and like what it offers for the money, but the TQ Black upped the ante. The sound stage opened out and detailing improved. It was an immediate difference and obvious. I hate reviewing cables normally because often the differences can be subtle or indiscernible. Cables are a Pandora's box to most people and many scoff at hifi enthusiasts making us out to be geeks and audio nuts. Even professional sound engineers (my close friend included) says it's all a con and snake oil. Well if they feel that way fair enough, I certainly don't see any point in arguing and although I don't understand the reasons behind why there are differences (I don't think anyone really does) I can hear them and that's all that matters.  What I feel is important is that you can hear a difference and are happy to pay the asking price. Certainly, some individuals are out to empty your pocket, making huge profits, just be aware and trust your own ears. The same goes for equipment of course.
I changed to the Black II after a few tracks and was so flabbergasted by the improvement again that I didn't bother going back to the Black. It really was night and day. What struck me the most was how natural and clear the cable sounded with no nasties or obvious short comings. Now I know it can't be perfect, and Geoff told me wait till you hear our pricier cables (oh dear), but I can't remember hearing such a difference so easily, which makes my life a lot easier both as a reviewer and simply a listener. Isn't that what good kit should be about.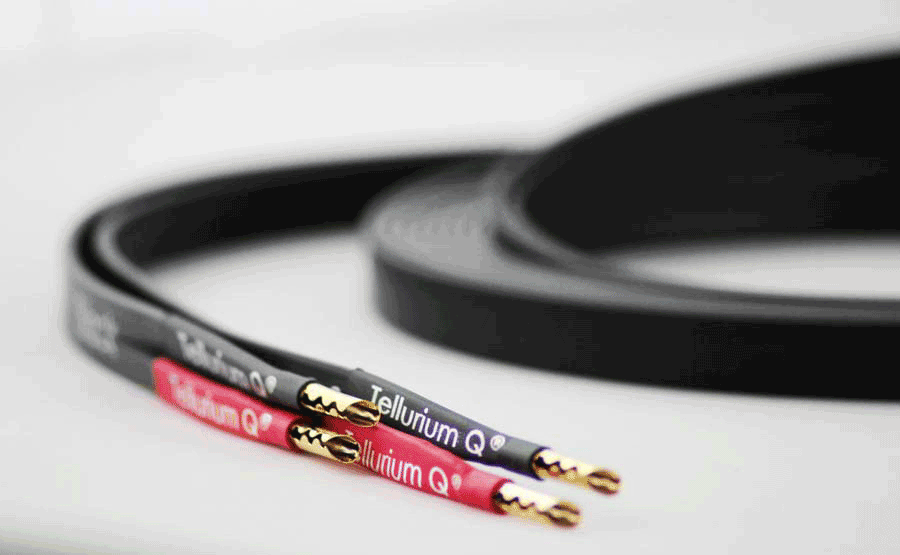 The Black II is a conduit to allow the listener to hear their system more naturally and realistically, so it makes equipment choice an easier task I reckon because the electronics and speakers will be heard at their best for a reasonable budget. Of course, the more expensive cables in Tellurium Q's range will outshine the black II, but for budget to mid-range systems the Black II is ideal. Top to bottom is seamless with no obvious drawbacks and every album I tried sounded good to excellent. As Geoff told me simply listen and see for yourself.
Stuart and Lin use Tellurium Q's Silver Diamond with their reference Avant Garde Duo speakers, and rightly so given the cost and quality of the system.
Conclusion
I'll cut to the chase as I see no point in rambling on as to the qualities of this cable. It simply does a brilliant job of making your system sound far better for a reasonable outlay. Now £54 a metre may not seem a bargain to some enthusiasts and if you are like a true Yorkshiremen with short arms and deep pockets who says, "How Much?" then either change your perceptions or miss out on a real treat for your ears. Once you try these cables you may well want to go further up the range. Warning !! They are addictive.
Build Quality: Excellent with a choice of good terminations to suit 
Sound Quality:  Superb, open and detailed 
Value For Money:  Brilliant 
Pros: Fantastic upgrade from the original and for anyone wanting to transform their system if they feel it is lacking 
Cons: They are addictive 
Price: £54 per metre inc plugs or spades