I'd been waiting to get hold of one of these little amps for a long time ever since I read about them
on one of the many hifi forums and then when I read that one of our readers was using the power amplifier version on the end of a Shindo Labs pre amplifier I just had to get one in for review…and fast. There seems to be a good few folk who are ditching their uber-expensive amps in exchange for these little class D affairs, so what gives?
Temple are a family business that sells direct to the public and are based in the UK. They offer a number of products including the amplifier we're reviewing here, monoblocks, a headphone and pre-amplifier, the Bantam Classic and the Bantam USB with everything coming with a 60 day no quibble money back guarantee plus three year warranty – can't say fairer than that then!
Just how tiny this amp actually is came as a bit of a shock if truth be known – they are very small indeed and come with just a push button on/off switch which glows blue when powered up, a volume knob and then round the back a pair of decent quality speaker binding posts and a single pair of stereo RCA inputs. One input, no switches and that's your lot. Now I don't mention this lack of facilities as being a bad thing at all as this is a low cost and purposefully minimal on features amp that to be fair satisfies my input needs most of the time. It's solid feeling, certainly reasonably well put together and offers up a surprising 25 Watts via a chip. On the rack it looks absolutely lost it's so small, but then size isn't everything and it coped fine with the heavy Ultra Black speaker cables I was using without being dragged down the back of the rack. The amp comes with a dedicated wallwart but many people are using a dedicated battery supply with reportedly very good results, though for the purposes of this review I'll be sticking to the standard PSU it arrived with. The paint job on the amp I had was a little lumpy in places but overall absolutely acceptable.
As I'd read so much about this amplifier being the best thing since part-baked foccacia it was straight in at the deep end for it and so I plumbed it into the main system. Now at around £200 (£189.99 to be precise) putting the Bantam Gold in the company of kit costing god knows how much would seem at first glance to be absolutely nuts, but the hype around these amps is huge and, as I mentioned, folk are using them in high-end systems in favour of much more expensive offerings and so I thought this was a warranted and legitimate exercise… but the review does need to be read in the context of a £200 amp in a £15K plus system.
During the review period I used digital files throughout with some being ripped as FLAC from CD and some being Hi Resolution downloads. The DAC used was the VAD DAC, the speakers hORNS Mummys and the cables were all Tellurium Q. Source was a laptop running JRiver and Bliss and a NAS for storage.
First impressions were very positive on Pink Floyd's "Wish You Were Here". The mids are nicely done, the bass is deep enough and nice and tight, but the top end was quite harsh I thought. I contacted Temple Audio about this and was asked if I'd run the amp in which I duly did for a few weeks before restarting the review process proper.
On my return to the tiny little Bantam I found it in many ways quite similar to the SoulNote amp we were reviewing at the same time – revealing, punchy and quite dynamic, but where this amp fell down a little in my opinion and in comparison, was still in the top end. Running in had calmed things down a good deal, but there was still a feeling that this amp wouldn't compete with the best out there at the frequency extremes. Now don't get me wrong as we're comparing a sub £200 amplifier with an €1800 amp and so the more expensive amplifier really should be better – and it certainly is to my mind. The Onix amp we recently reviewed was in some ways a better amp too, but again that is four times the price of the Bantam. Where the Onix was warmer and more forgiving the Bantam is ruthless and unforgiving and it's certainly a good deal leaner and less warm with a good degree of transparency.
On some hi-rez piano files I found the amp to render the sound a little unnaturally when compared
to the reference amp and this niggles at me quite a bit. However, the bass and mids with the Bantam Gold were thoroughly enjoyable and you get a really good portrayal of the stereo image in both depth and width. Vocals were very nicely portrayed and separated from the other instruments  in the mix.
Listening to "Closer" from the Deadmaus album I think I've discovered what this amp does really well (and I mean REALLY well) and that's that side-chained compression pump that is ubiquitous on modern dance and techno. Here the bass was really good and, despite what I've said earlier, so was the top end. OK, so we're talking about a specific genre of music here, but what was coming out of the speakers was deep, detailed and thoroughly enjoyable. Perhaps further burning in was beginning to pay dividends. On the strength of what I heard with lots of house and techno, I'd suggest that if you like these genres then this is a great choice of amp for you if you're on a budget and have reasonably sensitive loudspeakers – it really is very good indeed and everyone in the house listening was in agreement with this.
Now I'm going to allow myself to be sidetracked a little here but I'm forever banging on at people (read my rant here) that how in the 80s every teenager wanted the standard "beginners" system of a Dual turntable, a NAD amp and a pair of Wharfedale or KEF something-or-others  and it strikes me that what we have here with the Bantam is the modern day equivalent of the old NAD 3020 amps – something that gives you a great big slice of the audiophile pie but leaving you craving for more…if that makes sense. Jerry listened to the similarly priced Amptastic amp recently and enjoyed that a good deal, but sadly I don't have one here to do a direct comparison – I'd like to very much and if it happens I'll add a little post script. What I do have is one of the second generation T Amps from Sonic Impact and in a direct comparison the Bantam Gold wipes the floor with its older chip based counterpart – it's similar in flavour but you just get more of everything, more controlled and just "better" in every respect with the Bantam Gold.
Anyway back to the music and on with Chic's "Good Times" and we've got an expressive and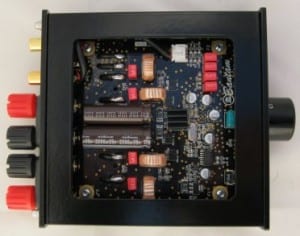 dynamic sound with great separation of instruments in the mix and a particularly tuneful bass – certainly no one-note-fart-fest here! On the Streets "Too Much Brandy" tune there's a richness to the bass but on other tracks from the same album the really deep bass can be a little much for the Bantam and it does struggle a little.
On most acoustic music I found the Bantam to be a real hoot and thoroughly enjoyed it. The Great Reunnion album I play a lot had musicians stood on the stage in the correct places and again the vocal was rich and well defined in its space. Horns were natural enough sounding but again I found pianos to sound ever so slightly not quite right.  

Conclusion

I don't think this amp is the panacea that some are claiming it to be, but I still believe that it is a very good amplifier that offers exceptional value for money and will offer a great introduction to what is available in the audiophile world without having to spend a fortune. I also believe that for a person starting out down the slippery audiophile slope the amp will allow them to climb a good few more rungs up the ladder with other kit without having to worry too much about buying a new amplifier and for that reason I think it is a great buy. If I was to be in the position of not having my main amp to use all the time then I would be happy to use the Bantam Gold, but I also think I would miss the added finesse, refinement and all round better quality afforded by what is after all a £6K amplifier.
If I was a teenager or anyone looking to get a great quality amplifier at a bargain basement price then the Bantam Gold would most certainly be on my shortlist. As I say, it will allow a buyer to upgrade other components before feeling the need to change the amplifier and in that time it will give a great deal of satisfaction and enjoyment I'm certain. In absolute audiophile terms if falls down in a couple of areas, namely at the extremes of the frequency spectrum, but who cares to be honest – it's £190, performs brilliantly in the main and you can play with power supplies to satisfy the tinkerer in you should you so desire.
In the main system it did a very good job, but was bettered by the significantly more expensive amps we had in to compare it to…and so it should be.
As a low cost amplifier to use in a second system then this really is going to be very hard to beat in my opinion…and so I bought the review sample.
Build Quality – 8/10


Sound Quality – 7.5/10
Value for money – 9.5/10
Overall – 8.3/10
Price when reviewed – £189.99
Recommended for those that want to have a great introduction to what is achievable in the audiophile world and who are on a budget. Very highly recommended to those looking for a very good and low cost second system amplifier presented in a format that is easy to accommodate even when space is at a premium.
Author – Stuart Smith