The Chord Company has launched Reference versions of its three most popular mid-priced interconnects. Identified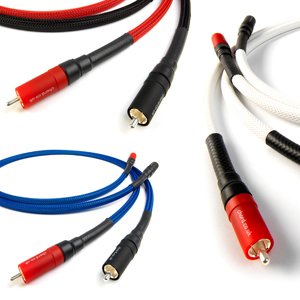 by the new 'Reference' suffix, the redesigned Cadenza Reference and all-new Chorus Reference and Anthem Reference, replace the existing models.

The three-strong range of Reference-level interconnects features the new VEE 3 plug, first seen in the new Crimson, Cobra and Chameleon cables launched in July, and the Chorus Reference and Anthem Reference are the first cables in the portfolio to use the company's ARAY technology, developed for their flagship Sarum Tuned ARAY series.

Cadenza Reference
0.5m pair £195; 1m £220; per extra metre £60
Chorus Reference
0.5m pair £260; 1m £350; per extra metre £190
Anthem Reference
0.5m pair £330; 1m £450; per extra metre £240