The DirectWave Directors interconnects recently appeared connecting some very nice equipment at the Bristol 2014 Hifi Show.
The Directors are a parallel design twin conductor cable utilising ultra pure silver, gold plated conductors. Each conductor has thick Teflon tube covering then the cable is covered with a copper braid which is connected to ground at one end in a pseudo balanced configuration. Utilising WBT's top of the range Nextgen RCA and silver solder for maximum signal transfer and covered in a nice black braid sleeping the Directors look very well finished, simple and elegant.
Derek Robinson, Managing Director of DirectWave who constructs the Directors completely by hand and to order sent along a set of 1m for me try in my system.
Our initial chat to point of delivery was very quick and the cables come pre-burned in as standard, which is great for the customer to be able to demo the cables instantly. Note to other cable manufacturers – send your cables for review pre-burned, it's MUCH more convenient for us guys!
The cables come in a stylish box, adding a nice touch of pride of ownership whereas too many cables these days arrive in Jiffy bags and plastic sandwich/freezer bags despite having a considerable price tag attached. Although the packaging cannot help the sound quality it's nice to have some consideration to packaging and DirectWave gets a tick here.
The Sound
There's always a first noticeable aspect or impression to any system change and the Directors gave fantastic separation without damaging the flow of the music. They retrieved details very well if not a little cleaner and leaner in the midband than the Oriron Symphany Oranges which are my day to day cable. This allowed for more articulation of the timbre and lacked a little bit of its body.
Turin Brakes 'Underdog' displayed a vast soundstage of clearly depicted instruments, acoustic and light electric guitar notes were easily ascertainable and a clean vocal was presented. The undertones of the midrange made way to a tauter and precise bass image, allowing for good layering properties and information to be conveyed.
I am used to hearing this track with a little more flavour, coloration? I wouldn't say so just a little more body, however thinning down on the body a little allowed for more upper bass information with more perceivable detail.
I felt a lack of harmonic richness again on bass guitar during John Martyn's 'Solid Air'. There was plenty of detail conveyed, but overall a little tighter at the very bottom, which becomes more noticeable at higher volumes, throwing the balance ever so slightly towards the cleaner upper frequencies. I do tend to listen louder than most people however.
Sound staging and layering once again was exceptional and Martyn's vocal was fantastically portrayed along with plucked strings.
The slightly cleaner nature and tautness of the cables worked in harmony on Moloko's 'The Time Is Now'. I can't say I have often heard as much information from this track and there was a perfectly neutral controlled vocal which shone strongly from a solid centre focus and harmoniously with other soundstage details, making for a rather enjoyable and better take on this track than I was used too.
Listening to some more upbeat and rhythmic music such as an array of recent and past pop music the Directors are incredibly controlled and just don't show any hints of grain at all. Dynamics were strong at both ends of the scale, possibly a little shy of the lowest note fullness, but an undeniable quality of punch that really bounces the music along.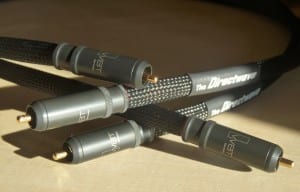 Silences were golden adding a great feeling of space and realism to the overall sound, The DirectWaves also add a really addictive plus point to that out of the box sense of holography and three dimensionality.
The slightly richer lower mids of the Oriton's took a couple listening sessions to get used to being without and the more detailed representation of these areas portrayed by the Directors really grew on me and I found myself exploring a great deal of music, concentrating quite heavily on this area of the sound.
In Chris Jones' 'Angel From Montgomery' snare drums were absolutely on the money, lower bass notes were accurate and cymbals rang true. The slight cleaning up of Chris' vocal was a nice surprise to me as it didn't lose any body, yet seemed to register with fewer undertones and had a more legible feeling of accuracy. This is a favourite of mine along with 'Long After Your Gone' from the Moonstruck album which opened up an extension of bass notes I hadn't heard from the Directors up until this point.
So my earlier reflections on hearing 'less fullness' in the very lowest notes are actually a reflection of a lesser coloration in general to some lower notes as here the notes were extremely extended and controlled, weighted and accurate.
So I concede, the DirectWaves are in fact portraying a truer representation of the music and I can categorically state this as the past two tracks are very well known to me in their entirety.
'Blanket' by Urban Species has a sultry vocal from Imogen Heap with big strong weighty bass notes fully extending through a sleazy, smokey, intimate little back street Brooklyn Jazz Club. The Directors really helped the system to create Heap's vocal in a pure manner. I'm used the bass sounding fuller at its extremes, but with these cables in there was an upper roundness, with a more detailed articulation – a little less smooth but with more organic hit.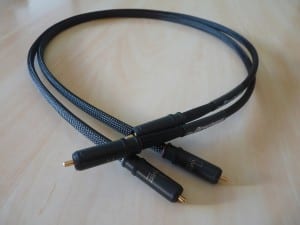 Conclusion
With a realistic top end full of detail and air the Directors from DirectWave are a neutral to clean cable that is wonderfully controlled and arguably 'truer' to the music. They are definitely not a warm sounding, coloured cable and their neutral midrange reflects this. I am firmly the type of audiophile who runs away at speed from analytical overly detailed sounds and the Directors even with their tauter bass still do not fall into that category. Later reflections on this area of the sound actually confirmed to me that the lower frequency response is also truer to the music.
Their controlled and fast edges are representative of silver done correctly, exceptionally well timed without the smear or lag, giving a soundstage of huge proportions.
They are a really noticeable change in a system and if you feel your setup is lacking clarity and presence, then I urge you to try these cables. They inject life into the sound without overstepping the mark and I'd imagine a beautifully smooth vinyl rig would benefit well with their characterisation.
At first glance they come across as quite clean, on further inspection they show themselves to be accurate and controlled as I for one found out during the course of this review.
Build Quality – 8/10
Sound Quality – 7.5/10
Value For money – 7.5/10
Overall – 7.6/10
Price at time of review £360 – 1m pair
Recommended – For accurately describing the music without coarse hardness and reflecting a true representation of the material played.

Danny Worth