THE HIFI PIG SELECTION BOX–DIVERSIONARY STRATEGIES FOR THE MODERN WORLD #3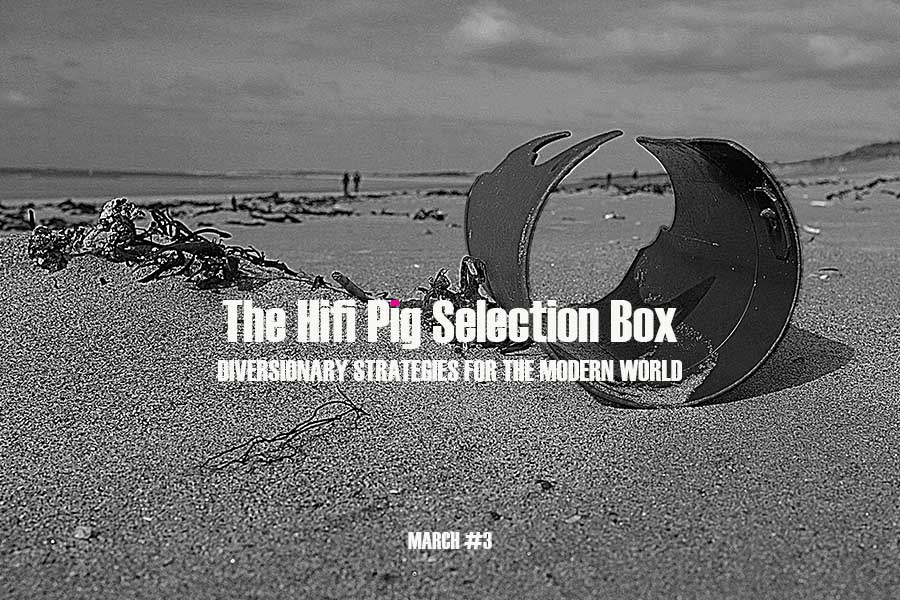 Inspired by the seventies children's television program Why Don't You, HiFi Pig is putting together a fortnightly digest of links to music, literature, film, and more to inspire, motivate and stimulate you into exploring beyond your typical sensory comfort zone.
Each fortnight we will assemble a selection box of links to things we have unearthed and found interesting, fascinating, thought-provoking, or just balls-out entertaining.
PLEASING NOISES
BANDLAB (Virtual Online Recording Studio) (Band Lab)
ANDREA BOCELLI: MUSIC FOR HOPE – LIVE FROM DUOMO DI MILANO (Andrea Bocelli YouTube)
KAZUYA SATO SHINOBUE FLUTE CONCERT LIVESTREAM "THE SONG OF THE CHERRY BLOSSOMS CARRIED IN THE SPRING BREEZE" (£15 Cross Media)
'TRUE POLISH TECHNO' BY FANFARA AWANTURA (Polish folk melodies to a techno beat played by a 9-piece Big Band. Automatik)
THE NEIL YOUNG ARCHIVE (with links)  (Hifi Pig)
INTRIGUING ARTICLES +
HOW TO STOP YOUR HOUSE PLANTS DYING (BBC)
FOR THE LOVE OF MUSIC – EPISODE 1: IS THERE NO SUCH THING AS BAD MUSIC? (Abbey Road/Bowers & Wilkins)
NEAR DEATH DRAMAS ON A RUSSIAN SPACE STATION (National Geographic)
REAL TIME DIALOGUE WITH A SLEEPING PERSON IS POSSIBLE (Current Biology)
THE MOST AMAZING BOWLING STORY EVER (D Magazine)
GRIPPING FILM, TV, ART & EVENTS
AHEAD – LIVING WITH AND AS A HEADLESS PERSON  (Short of the Week)
COMEDY AT THE COVID ARMS LIVESTREAM – THE COVID ARMS BIRTHDAY BASH (Tickets £2 & £10)
FORMULA 1 – DRIVE TO SURVIVE (Netflix)
THE DEATH OF MARAT (Artnet)
BRIAN JOHNSON MEETS DAVE GROHL (YouTube)
Dip in or binge – the choice is yours!
What's been diverting you? Let us know and we may well include it!
Content may not be suitable for all and Hifi Pig/Big Pig Media are not responsible for the content of external links/sites.