In the last four years the Cranage show has really become established. It is now a firm fixture on the Hifi show calendar with exhibitors and visitors alike loving the sumptuous surroundings, free parking and free entry and the general atmosphere of the show. It really is a breath of fresh air, Cranage Hall itself is the perfect mix of conferencing/event facilities and hotel, so there are rooms to suit all exhibitors. The layout also makes it easy to follow the flow of the show with exhibitors grouped into different areas. Being a two day show now takes the pressure off the exhibitors and has given it a very chilled out feel and the visitors certainly appreciated having more time to enjoy the ever growing list of rooms. This year there were over 40 exhibitors in total showing a wide variety of gear, from the more affordable to the higher end.
We really enjoy being Media Partners with the show and put a lot of work into promoting it and making sure we have plenty of our team there, it's a very nice place to meet up. Kris and his team pull out all the stops to ensure everything runs smoothly, as do the hotel staff. It pays off though as it is very obvious that Cranage is attracting more than just the 'traditional audiophile' with plenty of couples and families attending. It's also a great place for any serious music lover to visit with loads for sale in the 'Vinyl Village'.
It really shows the high level of the exhibitors of the show when it becomes difficult to judge what was our room of the show, and the recipient of our Hifi Pig Loves You Award. As always this award is given, not just for great sound but also for the enthusiasm of the exhibitors, how they look after their audience, what kind of music they play and the general ambiance and look and feel of the room. The standard of the show was exceptional and it has been very tricky to narrow down, but here is our shortlist and winner…it really was VERY difficult and we'd like to say a massive Hifi Pig Well Done to absolutely everyone who attended the show!!!
Vinyl Passion Music Room had a great room, downstairs and just around the corner from the bar. The combination of their upgraded Linn turntables being used with Kralk Audio speakers was exceptional and Mark was very welcoming and full of info on the gear on show. We ordered a pair of the Kralk Audio Elites as soon as we heard them some time ago and can't wait for them to arrive.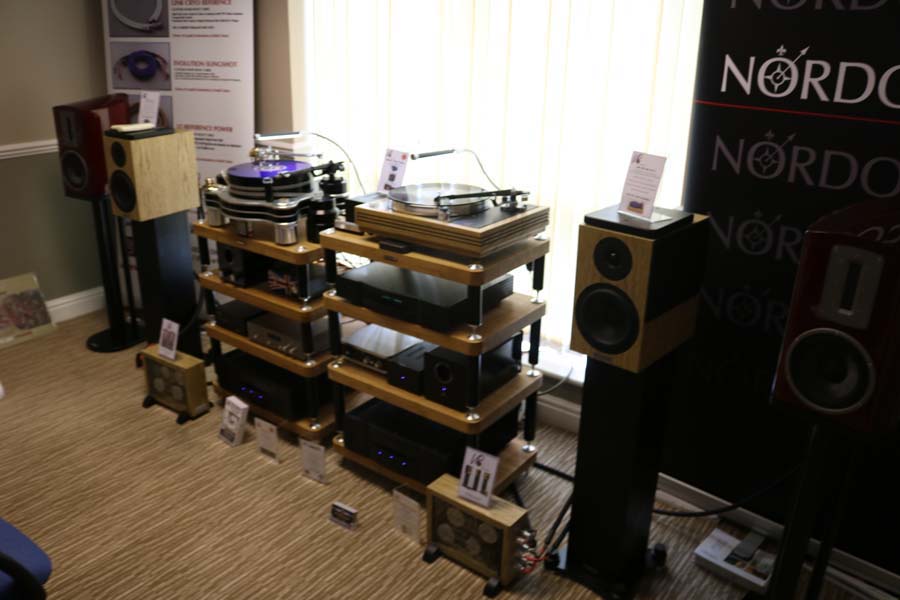 Also on the lower ground floor Karma AV had very nice set up featuring Mark Levinson with JBL. When we were in there for a listen they were using the smaller JBLs which were a £2500 pair of studio monitors, the sound was detailed and engaging with the Karma guys being very welcoming and professional.
You can't really find a warmer welcome than in the Soundkaos room, indeed Martin and Ursula have won the Hifi Pig Loves You Award at Munich in a previous year. Their Liberation open baffle loudspeakers have had their final tweakings and are now sounding amazing. We really love the unconventionality of Soundkaos's design, their attention to detail and of course the way they look after their audience.

Hifi Hangar are another previous winner of our award, and with good reason too. These guys achieved one of the best sounds of the show with a sub £4000 system that featured Pylon loudspeakers from Poland. Steve and Sarah are great hosts and have a fantastic music policy (Infected Mushroom nearly blew the roof off). We have not visited their shop but I am sure their regular customers get treated as well as the show goers and these guys deserve huge success.
Jonathan Billington at Music First Audio deserves a special mention. His room was airy and calm and he was using his most loved format of Reel 2 Reel tape. He takes a lot of time to source interesting and enjoyable music. We were treated to music from La La Land and unfortunately were not able to catch the playing of St Pepper 's in it's entirety…but reports were very good.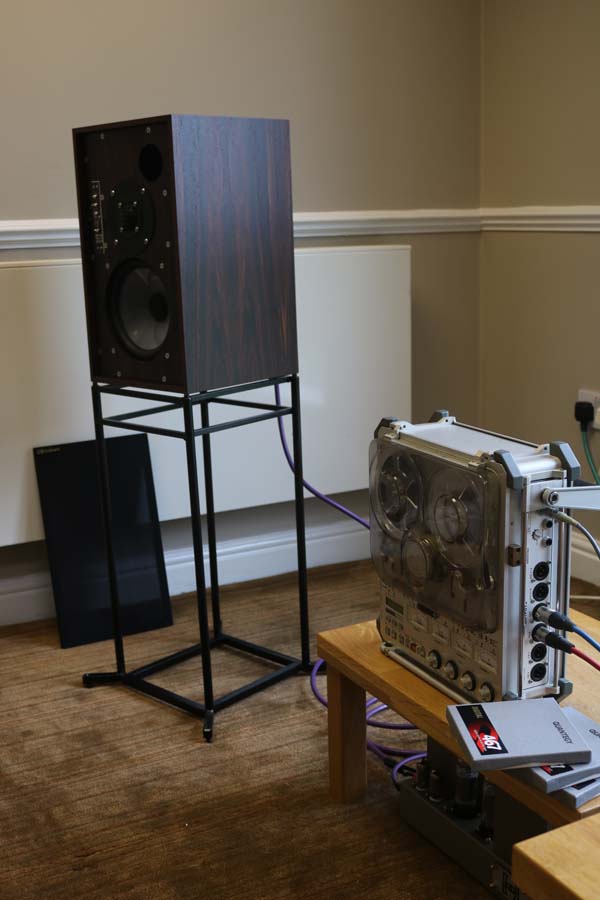 Now here's where it gets a bit complicated. We found it very difficult to chose between this final contender for the prize and the actual winner, in fact we changed our minds a few times it was that close. BD Audio had won the award previously and they were back with the Tune Audio Animas again this year. The wood panelled Babbage room was the perfect setting and it felt like walking into a friends lounge to listen to music for the afternoon. Jack from BD and Manolis from Tune were on hand to give visitors all the info that they needed…but more importantly they just played plenty of music, and non of that plinkety plonkety rubbish either. Sat in a wood paneled room in a stately home in front of an array of lovely hifi gear you may have been expecting some classical music to be played. Instead we got David Guetta and the Pixies…which went down very nicely! Great equipment, lovely people and a top music policy…what's not to like! The guys were already planning their return for next year with Tunes flagship high end horns…can't wait!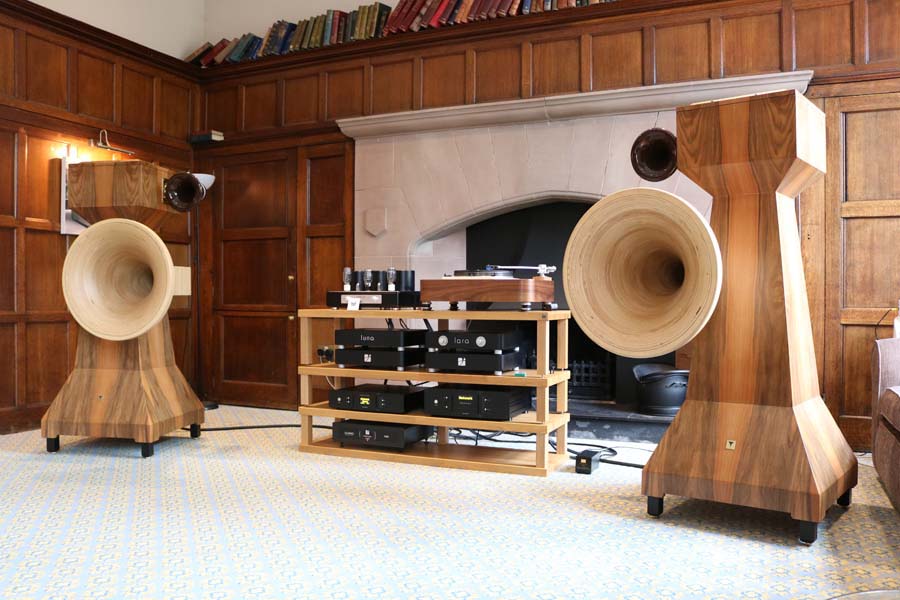 And so to our winner…
It actually quite surprised us that G Point Audio hasn't won before…in fact they have been very close on a number of occasions. With their well put together and very good looking exotic systems, Greg from G Point showcases a lot of gear that we know and love, such as hORNS and Lampizator. In their main room Appleton there was a very High End feel with the eyecatching hORNS Universum 3 loudspeakers having the space they needed to really shine along with My Sound amps, Lampizator DAC and Albedo Metamorphosis Mono -crystal interconnects and speaker cables and Albedo Monocrytal silver Gravity power cables. Its a beautiful room and the gear really lived up to it. Not content with just one room the friendly and helpful team had carried the striking red and black theme to a smaller room with the new hORNS Aria 2 loudspeakers and a much more affordable system. Again the sound in here was excellent and the room was being run by one of G Point and Malvern Audio's happy customers. Greg from G Point had also worked together with Malvern Audio Research in the Wright room which featured Ming Da UK and, again, hORNS speakers. So it's a well deserved win of the Hifi Pig Loves You Award, for Greg and his G Point team, definitely going the extra mile to give us just what we want at a hifi show. Out of this world and exciting looking and sounding hifi, delivering a top musical experience in a friendly and welcoming atmosphere….well done!