No, it's not Captain Kirk's oversized ion hairdryer on the Starship Enterprise, nor is Dr.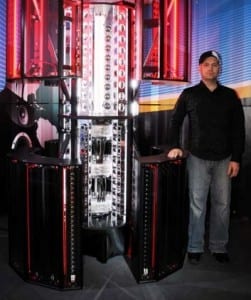 Emmet Brown's latest model of the flux capacitor from the time machine!
This beast is the brainchild of Andrea Pivetta and Italian electronics designer and will be on show at the Munich High End Show.
What visitors to High End 2013 show will experience, is an amplifier, which can quite literally be "walked  in". We jokingly spoke of "walk-in" amplifiers back in the seventies with large American amplifiers, but this really is a walk in amplifier. There's a fine line between genius and madness, but where else would an exhibit like this be displayed, if not at the High End?
The 6-channel  amplifier is a twelve-sided cylinder, but its structure completely changes once the power is switched on. It divides itself into six separate sections to reveal all the electronics. As you can't always find a power supply which provides 160 kW, a bi-power system was installed so that the amplifier can also be operated with an output of 3 kW.
A sum of over €1,500,000 has been invested in the construction of this beast …the product is currently not for sale, by the way.
Technical data:
Power output:       6 x 20,000  watts RMS Class A
(max. total power output:  160,000  watts)
Dimensions:
1250 x 1900 x 1250 mm (width x height x depth,  closed)
1850 x 2500 x 1850 mm (width x height x depth,  open)
Weight: 1,500 kg