This month John Scott continues his Classic Album series and takes a look back at David Bowie's The Rise And Fall Of Ziggy Stardust And The Spiders From Mars. What else? 
Sometime before 7.00AM on 11 January 2016 I opened up the BBC News app on my Ipad, read the headlines and closed it again.  Two minutes later my son told me that David Bowie had died.  That couldn't be right, I argued: it was his birthday on Friday and he had just released a new album.  Neither of these events precluded the possibility of Bowie's passing of course, but they seemed like the easiest available straws to clutch at.   Anyway, I said, finding a more plausible excuse, there is nothing on the news about it.  At that moment a notification popped up on my Ipad and over the next few minutes I watched as the news spread exponentially; the internet exploding with shock, grief and confusion.  It was a hoax; it wasn't a hoax.  It was definitely a hoax; it definitely wasn't a hoax.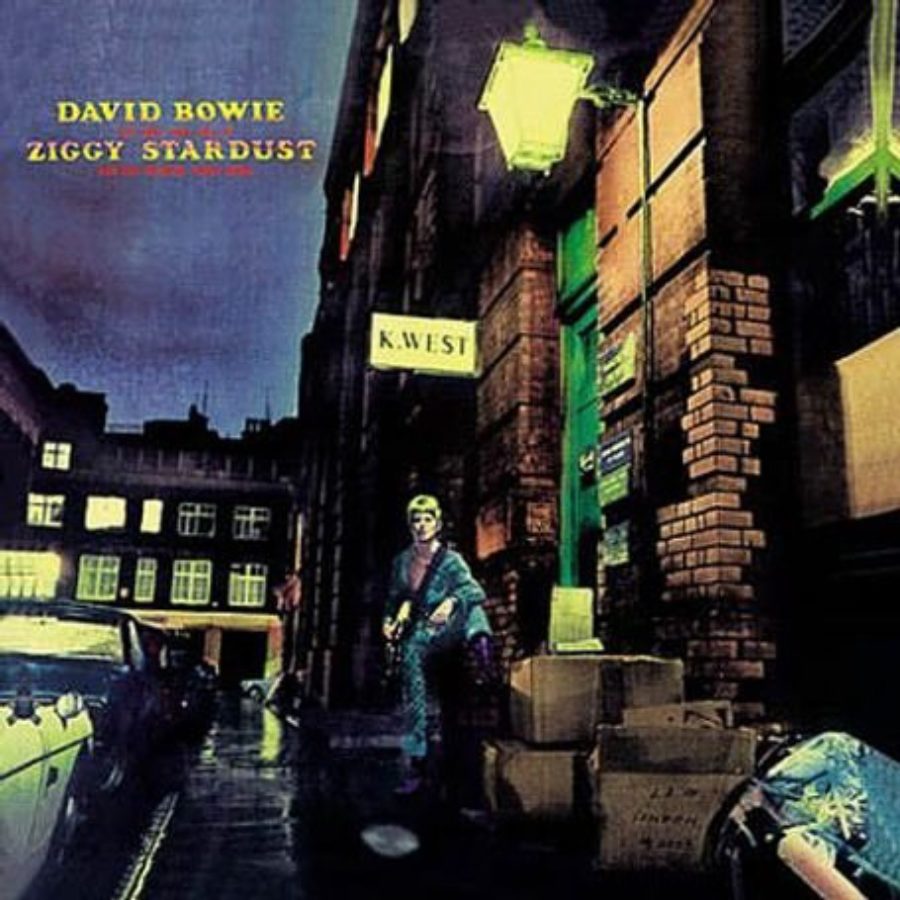 It definitely wasn't a hoax.
Since his passing there has been much mention of the C word; not the cancer that took him but the word that was often used in connection with him: chameleon.  Chameleons, however, change to blend in to the background, to disappear.   Bowie changed to stand out; to be outstanding.  And by changing himself he changed the world around him.  He may not have invented Glam Rock or New Romanticism but like a musical midwife he created an environment in which those genres could be born and would flourish.  He was the man who sold the world a new version of himself with each album release; if you didn't like any particular Bowie iteration then it didn't really matter; other Bowies were available.  He transformed from neo-Newley through Major Tom and Ziggy Stardust, to the Thin White Duke. When he retired these personas it seemed that we couldn't allow him to return to being simply David Bowie and so the catch-all soubriquet -The Dame- was bestowed on him with great affection and good humour. As a result of his continual evolution, Bowie meant different things to different people at different times and so his popularity spread across the generations like possibly no other pop star had done before or will do again.  He told us that we could be heroes and showed us how it was done. Right to the very end.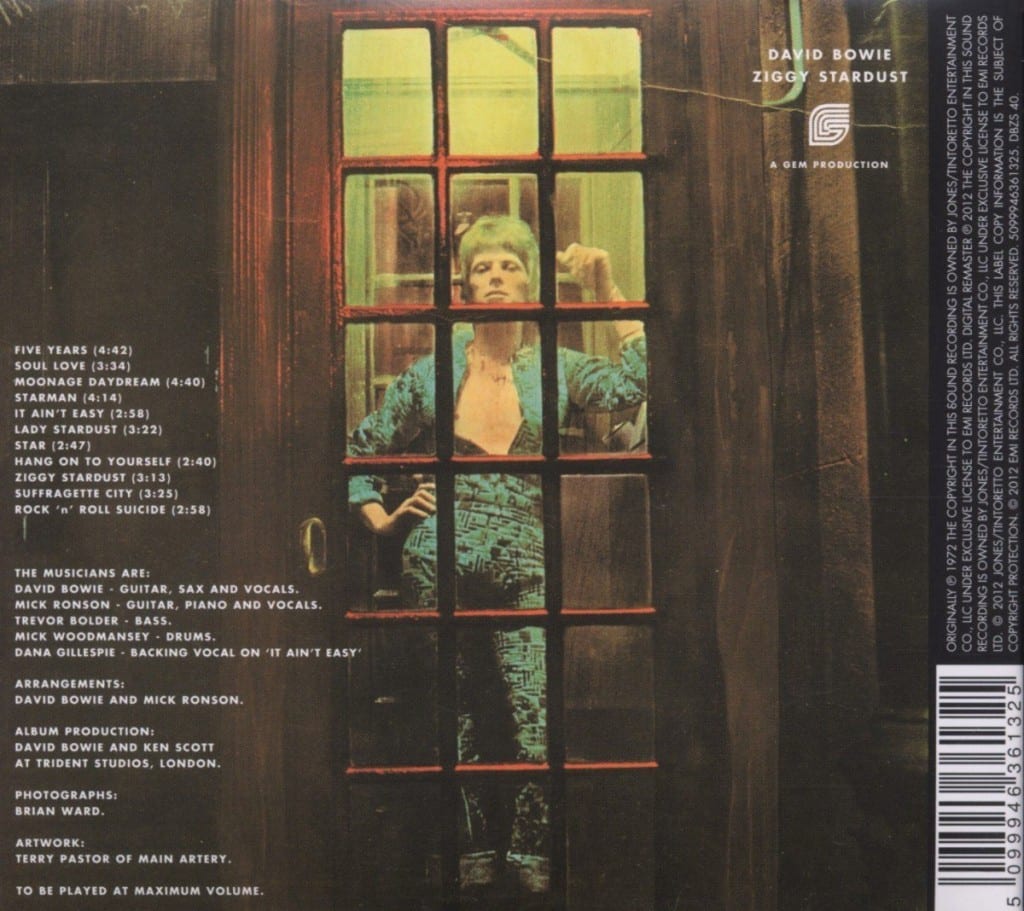 It was inevitable that this month's classic album would be by Bowie, but which one to choose.  If we disregard Pinups purely on it being an album of cover versions, then arguable any of the other albums he released during the Seventies, from Hunky Dory to "Heroes", might have a decent case made for its inclusion.  Even as I write this, I'm struggling to narrow it down from three strong contenders.  Which one will it be?  Only one way to find out; start writing. (you, of course, already know having read the title).
The Rise And Fall Of Ziggy Stardust And The Spiders From Mars (The other contenders were Station To Station and Low by the way) arrived in 1972 as if it were from another planet.  Bowie had to some extent paved the way for Ziggy with The Man Who Sold The World in 1970.  Filled with hard rock, proto-glam songs about madness and monomania, the album featured nascent Spiders Mick Ronson and Woody Woodmansey and its controversial cover of an androgynous Bowie in a dress gave us our first real glimpse of his propensity for change and capacity to shock.  The Ziggy Stardust album would have seemed like a natural progression but Bowie had another bunch of songs to get out of the way first and in any case the world was not yet ready, Ziggy's time had not yet come.  1971's Hunky Dory was, in the main, a slightly softer, more mainstream collection of pop songs.  Bowie's individualism as a songwriter shines through and there are hints of what is to come in songs like Changes, Oh You Pretty Things and the darker Bewley Brothers.  Hunky Dory also saw the arrival of third Spider Trevor Bolder on bass.
Where Bowie had previously played with characters and with his image, Ziggy Stardust was his first full-blown persona.  To all intents and purposes, The Rise And Fall Of Ziggy Stardust and The Spiders From Mars is Ziggy Stardust album and Bowie would become Ziggy for the tour that followed. The album tells the story of a dying Earth and a god-like alien pop star who brings a message of hope but is destroyed by his own success.  Bowie's talent for tapping into the zeitgeist – Space Oddity had been released days before the Apollo 11 moon landing – was once again bang on the money.  Pop music was in need of another phenomenon, something to shock and excite and Ziggy had it in spades.  The look of disbelief on our parents' faces as Bowie/Ziggy appeared on our television screens said it all.  The Generation gap had just got a whole lot wider.
Five Years' dry as dust drums (these would be quoted on You Feel So Lonely You Could Die from 2013's album The Next Day) take us to a place where market squares and milk floats coexist with Cadillacs and Chevrolets; where the alien Ziggy comes to save the alienated earthlings.  In the real world, many of Bowie's fans felt he was doing the same for them.  Often considered to be a concept album, The Rise And Fall Of Ziggy Stardust And The Spiders From Mars is really just a loosely-themed collection of songs that allow us to create a story for ourselves and the themes: Love (Soul Love), fame (Star), betrayal (Ziggy Stardust), salvation (Starman) and death (Rock 'n' Roll Suicide) resonated with both young pop fans and older rockers, rocketing Bowie to a whole new level of stardom.  Bowie, Ronson, Woodmansey and Boulder fused retro rock with sci-fi futurism and the world went wild but on 3 July 1973, Bowie/Ziggy announced his retirement.  Ziggy burned out but, thankfully, Bowie was far from finished.  For more than forty years he would blaze his way through rock music with his unique sound and vision.  We simply will not see anyone like him again.
VITAL INFORMATION 
Released – 16 June 1972
Recorded – Trident Studios, London
Genre – Glam Rock
Length – 38' 37"
Label – RCA
Producer – David Bowie, Ken Scott
TRACK LISTING
Side One
1.Five Years
2.Soul Love
3.Moonage Daydream
4.Starman
5.It Ain't easy
Side Two
1.Lady Stardust
2.Star
3.Hang On To Yourself
4.Ziggy Stardust
5.Suffragette City
6.Rock 'n Roll Suicide
John Scott