Theta Digital has started shipping the updated Casablanca IVa Immersive Sound Preamp/Processor.
Built on the same basic platform as previous Casablanca preamp/processors, the Casablanca IVa continues the looks of its predecessors while making changes and improvements to the under-lying circuitry.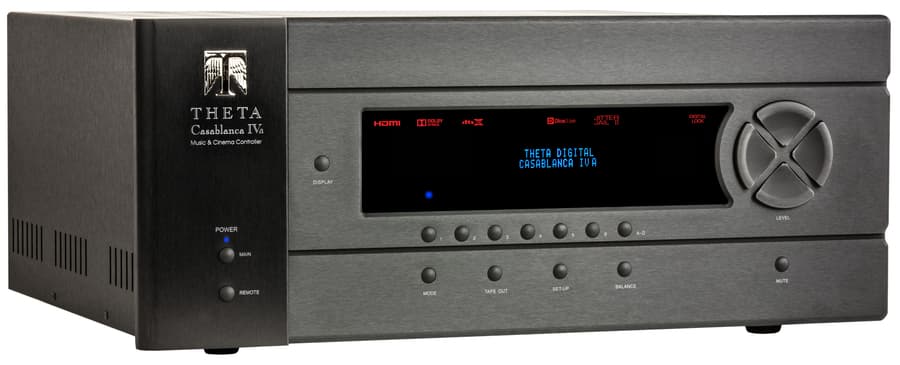 First and foremost is the use of two new TI DSP processor chips to add 7.1.4 channel output capability and decoding for both Dolby Atmos and DTS:X, the immersive sound formats found in many Hollywood's block-buster movies. Both formats, of course, include upmixing of stereo and surround material to the 3-D audio experience. Dolby Surround is included to extend Dolby encoded material. DTS Neural:X does the same for anything encoded in DTS. For PCM material, albeit stereo or multi-channel, the user can freely choose either upmixing technology. The revised digital topology also removes the Sample Rate Converter (SRC) used at the input to the DSP board in the earlier Casablanca III HD and IV.
The Casablanca IVa also adds a new Digital Direct mode that passes on any signals arriving in the digital domain in their native format and channel count and continues Theta's traditional Analogue Direct mode that passes analogue signals unmolested. Dirac Live® Digital Room Correction and Optimization continues with the ability to measure and correct all 12 output channels. Theta's proprietary Jitter Jail II™ is also included to reduce distortion based on timing errors in the input signal. The Casablanca IVa has 4 HDMI inputs and one HDMI output. The HMDI 1 input is HDCP 2.2 compliant.
MSRP for the Theta Casablanca IVa is $17,995.00. Theta Digital's DAC output card or cards or Theta's 12-channel Balanced Digiout card are additional. Theta is also pleased to continue its long standing policy of allowing owners of previous Casablanca preamplier/processors to upgrade to the Casablanca IVa. The cost of the upgrade depends on the actual model submitted. The cost to upgrade the Casablanca III HD to the IVa is $6,495.00. While upgrading the Casablanca IV is only $2,995.00.
According to Dave Reich, Theta Digital's Chief Engineer, "We are thrilled with the performance of the new CB IVa. It offers outstanding sound virtually without compromise for any digital or analogue signal".