Theta Digital are now shipping the new Dreadnaught D modular main amplifier, designed and built in their Montebello,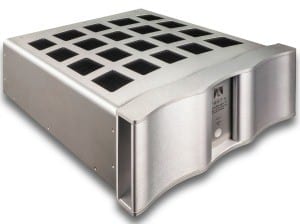 California manufacturing facility.
Designed to accommodate up to 8 channels of amplification, the Dreadnaught D has a built-in power supply using dual power cords, power switches and toroidal transformers plus 4 slots designed to receive proprietary Theta Digital amplifier modules.
There are three modules available for the Dreadnaught D, all based on the Hypex N-Core class D amplifier circuitry.The stereo amplifier module is rated at 225W RMS per channel at 8 ohms and 400W at 4 ohms with no more than 0.05% THD from 20 Hz to 20 kHz. One of the two single-channel modules has identical performance.The other bridges the two modules to deliver over 500W RMS at 8 ohms with over 800 W RMS at 4 ohms.
The Dreadnaught D is available in platinum or black, in standard or rack-mount chassis with either 117V or 230V power supplies.
Pricing depends on the chosen configuration, for example MSRP for 225W x 7 is $9,995.00; 400W x 3 plus 225W x 2 is $10,695.00. Stereo amplifiers are available with 225W x 2 at $6,149.95 and 500W x 2 at $7,445.00.