Thomas Scherer is the Managing Director and chief creative force behind the German loudspeaker manufacturer Thomas Scherer Audio Engineering. TSAE make just two loudspeakers at the moment, the striking and very contemporary looking transmission line Evince and the more conventional looking sealed box loudspeaker Elation.
Your History
How did you get into/what was your first job in the industry?
Loudspeaker development has been a hobby for me for around 30 years. As I've observed, many of the current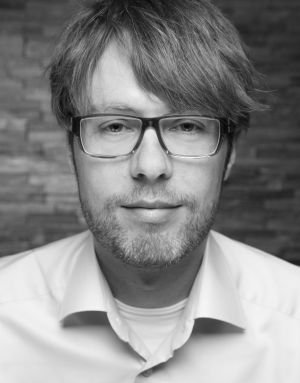 developments in the market are size optimized for transportation – i.e. as many cabinets as possible have to fit onto a container. Hence I assumed that there must be a niche for products with focus set on something different, like for instance contemporary design. I always keep up to date with the newest driver technologies and continuously balance these with my design ideas. Some time ago I discovered a full-range driver as a perfect match for the EVINCE loudspeaker design and this encouraged me to start my own company. Thus my first job in this business is being Managing Director and Main Development Engineer at the same time.
Who or what was the biggest influence on your career?
Not so much an influence on me rather a discovery that has greatly influenced me and my designs: Transmission line loudspeakers are traditionally seen as being really difficult to build.  Nowadays we are using a measurement method (we call it "Tonal Measurement") which allows us to depict the dipole characteristics of a Transmission Line Loudspeaker at low frequencies, which in turn relieves the tuning of its bass response. Many full-range drivers sound nasal or dull to me and the real frequency response is not depicted with conventional measurement methods. With our method we are able to tune the required filters properly and as a result we achieve a correct transient response. Now the speaker shows a perfect tonality with "drive in the bass".
Proudest moment/product you're most proud of?
May be the statement of an experienced audio-distributor that our products are more appropriate for experienced listeners not looking for superficial sound effects.
You and your system
What was your very first system?
The first system worthy of mention was a ADC 2000 CD-player and a  Muscial Fidelity A1 with some DIY speakers.
Tell us about your system history
Only the ADC 2000 CD-player is worn out, everything else is in use.
What component/product do you miss the most/wish you had never got rid of?
I never sold one.
Best system (or single component) you have ever heard (no brands you represent please…!)
May be the speakers of AudioNec together with Aurender, a Trinnov Optimizer (room equalizer) and some sort of 80kEUR DAC
Tell us about your current system(s)
Scherer EVINCE and Scherer ELATION speakers
At home Clearaudio Champion (turntable) with ACE-H, SAC-Icon (amplifier) and a Teac T1 (CD-transport) with Teac D-T1 (DAC); in the lab I use a Cambridge azur 840C (cd -player), 840E (pre-amp) and a 840W (main-amp).
Background for my selection is more or less that I prefer to work with neutral systems for verification and loudspeaker development.
The state of the industry
What's your view on the valve renaissance of the past 20 years or so?
I appreciate it and I prefer the sound of good valve amps, if we talk about Canor,  Airtight or Kronzilla, to name a view. Actually, I switched over to present my speakers with valve amps. Sometimes listeners are expecting a richer sound than they are used to hear in hifi-stores.
The way you work
Presuming the measurements are fine, what do you listen for when assessing products?
Critical voices to check for tonality or harshness, piano for audible distortion, instrumental (high-hat, timbal, trumpet, etc.) to evaluate the heights and attack of the system
Your sound preference -'Smooth, listenable musicality', 'forward, driving, 'foot-tapping', involving sound' or 'detailed neutrality and transparency'?
I value "listenable musicality" as the most important. Luckily our speakers are also quite driving with a detailed neutrality thanks to our advanced tuning.
Your preference – Full-range floorstanders or freestanding mini monitors with a sub?
If the design and sound is excellent, I don't mind if its tall or small. The system must fit to the room and equipment.
It's all about the music, man…
What is your favourite recording?
Getz / Gilberto featuring Carlos Jobim
Tell us about your 3 most trusted test recordings
I've burned my own sampler with helpful tracks for testing to keep the basic testing phase most efficient. It contains tracks from Marla Glen, Sara K, Jamie Cullum, just to name a few.
What are your most embarrassing recordings/guilty musical pleasures?
If I hear something like that, I  switch the radio channel immediately. Hence I cannot even hear the name of those artists ;-)
Having safely ushered  your loved ones out of the house as it is burning down to the ground, you ignore all standard safety advice and dash back inside to grab just one recording – what is it?
Toyah – The Changeling or may be Weather Report – Black Market. It would be difficult for me to get out in time ;-)