Hifi Pig's « Headphone Month »  continues with Stuart and Harry Smith's thoughts on the little Tisbury CA-1 Headphone Amplifier that is made in the UK and costs £349
Tisbury Audio are a small company based in the UK that currently makes just two products, the Mini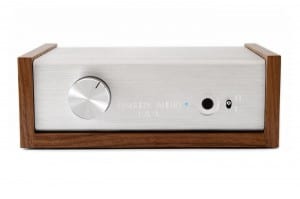 Passive Preamplifier that we took a listen to and enjoyed a few months ago and the product on test here, the CA-1 Headphone Amplifier. On the Tisbury Audio website the company make a point of stressing that the majority of the parts that make up the CA-1 are sourced from British manufacturers. The price of the unit is £349 including free international shipping and a three year warranty which all seems to be very reasonable indeed.
Out of the box the first thing that strikes you is how light the CA-1 is and this is in no small way down to the fact that a wallwart power supply is used. The second thing you notice is that it's actually quite an attractive beast with its solid American black walnut side cheeks and bottom "plate" which compliment the 3mm aluminium enclosure pretty nicely. OK, this isn't going to win any international awards for its aesthetics but it's simple, functional and good looking. Size-wise the CA-1 is 204 x 170 x 74 mm so it's pretty compact and bijou.
Round the back you get a couple of good quality RCAs for inputting your source, in this case our reference Valve Audio Devices DAC 10 fed via USB from a dedicated laptop running JPlayer and JRiver and playing FLAC files, there's an on off toggle switch and the socket for the power supply to plug into. Flip it round to have a look at the front panel and this too keeps things to a functional minimum. There's a proper quarter inch jack Neutrik socket, an Alps Blue Velvet pot, a toggle switch for the high and low gain output modes (6 dB (2x) and 16 dB (6.3x) gain) and an LED to show you it's plugged in and functioning. Build quality looks to be simple and of a good quality. The CA-1 has a nifty little muting circuit onboard which essentially disconnects your precious headphones if the AC power supply is interrupted or switched off.
For the purposes of this review the main cans used were the 20 Ohms Audeze LCD-XC headphones we have in for review and have listened to extensively but we'll also be trying it out with some other cans.
Sound
Tisbury claim the noise floor is very low with the CA-1 and it is, there's no distinguishable noise whatsoever as far as I can tell on the low output or high output at normal listening levels and with no music playing you have to turn the volume pot all the way to the top to get any noise at all. With regards volume it goes plenty loud enough with the Audeze' and I wouldn't think anyone but the most hard of hearing, or those with a deaf wish would need to crank this up to anywhere near the max –Tisbury give a figure of 3.4V and 725mW at 16ohms and 8.3V/115mW at 600ohms. With the more demanding HifiMan HE 560s you need to crank the volume pot a bit but again all is well and likewise with the Sennheiser HE 800s and their IE 800s.
Immediately on plugging in the 'phones and putting on the tunes it's pretty clear that this is a good sounding little box with good transparency that allows you to get on with listening to the tunes. Eels' Novacaine For The Soul shows there to be a really nice sleek sound in the upper frequencies and vocals. The strings are lush, full and luxuriant. In the lower end there's bass there but I'm not sure it has the required heft to it that I enjoy with this kind of tune. Likewise on the Body Count track Bowels Of The Devil I just feel there's something missing, as if the amp is being a little on the polite side.
However, popping on the wonderful Kathryn Williams' Crown Electric album you are rewarded with absolutely gorgeous vocals and a great lush feel to the strings (again) that defies the moderate asking price of this little unit. I'm reminded here of my old 300B PSE amp (no bad thing) and it comes as a bit of a surprise as it's clear that what we have here with the CA-1 is a refined and sophisticated sound that will immediately appeal to those that listen to "audiophile" type music or enjoy a more well-mannered sound.
Reviewing kit can be a soul destroying pass-time at times as you need to concentrate and listen in a critical way, but with the little CA-1 I genuinely found myself just listening to Williams' record the whole way through and loving every minute. Bass isn't the deepest I've heard but it's ok for this kind of music.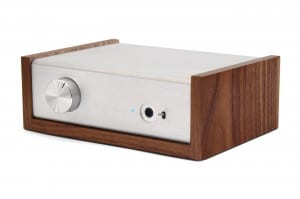 Gil Scott-Heron and Brian Jackson's Winter In America is one of my go to records to get an idea of what's happening with relation to getting a feel for the recording space and with the CA-1 in place it's a pretty good effort. Not as good as the best I've heard, or as good as my own reference, but very acceptable for the asking price. The soundstage is not as wide as I would have liked but again, at this price it's very acceptable. Vocals appear to be slightly pushed to the fore but the tops are smooth and slightly rounded out.
Chie Ayado's version of the Beatles Don't Let Me Down from her Good Life record again plays to the strengths of the little Tisbury unit. The piano is natural sounding and there is a good insight into the performer's very distinctive voice. And this is what I mean about this unit appealing to those that like to listen to audiophile music; push it too far with music that demands a more dynamic sound and it loses out to the competition a little – here I'm thinking of the likes of Deep Purple's Made In Japan version of Smoke On The Water which although sounding OK didn't inspire me and get me rocking as it should.
Conclusion
The Tisbury CA-1 is a fine sounding little headphone amplifier that does have some limitations when presented with rock and more complex bass heavy music. Some will enjoy this some won't.
For those looking for a relaxed but accurate presentation without bells and whistles then this is a very good choice for the money.
Jazz fans will love it and with female vocals it's a lovely little unit with an audiophile sound that will surely appeal to a good number of people.
It drove all the headphones I used with it admirably and with good control over most of the frequency range and does have a slight valvey feel to it- think 300B midrange.
Overall the Tisbury is a unit that deserves to do well and given its price point I'm sure it will.
Stuart Smith

Build Quality – 8/10
Sound Quality – 8/10
Value For Money – 8.5/10
Overall – 8.17/10
Price at time of review – £349
Recommended for those looking for a smooth, audiophile sounding headphone amplifier that gets on with the job at a good price.
And now it's over to our tame teenager in residence Harry to give his perspective on the Tisbuy CA-1
Tisbury Audio is a relatively new company that only makes 2 products at the moment (the CA-1 and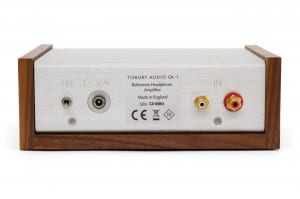 a passive preamplifier).
I was given the Headphone Amp, the Challenge Amp 1 to review that retails for just under £350. For my review I used it with a Schiit Modi DAC and various pairs of headphones.
The amp looks great and stands out from the crowd with its bold design.
The brushed metal chassis is enclosed with wood which gives it a "retro" look. It is very tactile with the contrasting use of materials. It's also not too "in your face" and can sit proudly on any desk or Hi-Fi rack.
Most importantly this amp is handmade in the UK. It's great to see that Made in England stamp on a relatively low priced product.
The layout is very simple: one knob to increase or decrease the volume, a switch to change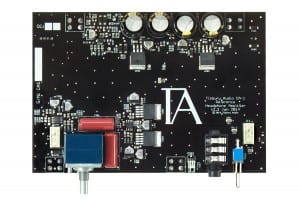 between high and low gain and an ON/OFF switch on the back. Couldn't be more simple!
Not only is the design fantastic, the build quality is also exceptional. It feels solid but also surprisingly lightweight (thanks to the external power supply.) To be fair this is the level of build quality that I expect from a Made in England product, though sadly this is not always the case.
To test the sound I tried to listen to as many music genres as I could (dance music, folk, rock, jazz, dubstep, and hip hop.) Obviously avoiding classical music (which I can't listen to for more than 2 minutes…)
This amp is very "true to the music" and can easily show the flaws in a cheaper pair of headphones. Thankfully Tisbury offer a 30 day free trial so you have the time to find what sounds best with it before you actually buy it.
I personally thought it sounded best with my own pair of NAD viso hp50s which I also feel are very "true to the music".
The sound is tailored towards strong female vocals and punchy guitar riffs. It also brought dance music beats to life.
However I thought the track that sounded the best with the CA-1 was 'Loose yourself to dance' by Daft punk, the signature Nile Rodgers guitar rhythm has never sounded so good. I could actually pinpoint where all the instruments were in my head which is very impressive.
The sound stage is very wide and provides plenty of bass. The mid and the top end are very bright and colourful. It brings a lot of life to the music and is versatile enough to be enjoyed by lovers of all kinds of music.
I didn't experience any background noise and no irritating buzz that you can find with a lot of amps. There is no "pop!" when turning the amp on and off that I have found with other amps, both of which are great plus points in my view.
All round the looks and sound combine to an almost perfect headphone amp for the price (£349 is a lot of money but considering the quality that you are getting it is valid).
A definite recommendation for anyone wanting to enter the Head-Fi world, on a smaller budget.
Harry Smith
Sound- 9/10
Value- 8/10
Build quality- 10/10
Overall- 9/10