Rod Alexander does some running repairs…
Some hi-fi companies are just instantly likeable. I'm not exactly sure why. An easy-going friendliness helps – the kind of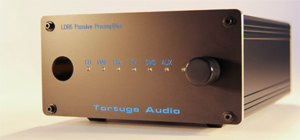 attitude that sees staff excited to speak to a real customer, calling to ask for advice about a product. Maybe it's humour and a general refusal to take themselves too seriously. Tortuga audio definitely fall into that camp, with a website that pulls off the trick of being both informative and light-hearted, along with a head honcho whose default state of mind is "No problem! Can do!"
Founded in 2010 and based in Cape Coral, Florida, Tortuga Audio is the brainchild of
Morten Sissener, an engineer and blues guitarist, who emigrated from Norway to the US as a young boy in the 1950's. Morten puts his love of engineering down to growing up surrounded by the tools, tinkering and hands-on mechanical genius of his merchant mariner father. Clearly, some of that rubbed off – though given Morten's love of music and computer technology, setting up a high tech, high end audio company has an air of inevitability about it.
Selling direct from their website, they have just one product – a passive pre-amp, currently available (in single or six input versions, priced at $1195 and $1475 respectively). Tortuga Audio have ambitious plans for their product range though, with an active pre-amp nearing completion and scheduled for release soon.
An inauspicious start
Unfortunately, some things are just not meant to be. While securing Tortuga Audio's LDR6 passive pre-amp for review was straightforward enough, getting it released by UK Customs from its impounded status was anything but. Days of unsuccessful negotiation with Her Majesty's Customs & Excise (and an eventual £226 customs charge) later, I finally received the unit I'd so been looking forward to reviewing, the Tortuga Audio LDR6. Utilising light dependent resistors (LDRs) in place of the customary potentiometer or stepped attenuators, it promised to be an intriguing listen.
Unfortunately, my problems didn't end there. In a wonderful demonstration of perfect Anglo-American co-operation, the US Postal Service and their UK counterparts managed to near destroy the unit in transit, forcing me to undertake running repairs, stripping the unit down and replacing broken components. An inauspicious start…
Technology
Tortuga Audio argue that LDRs provide greater transparency and less colouration than conventional resistive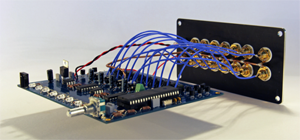 elements and that their extensive  R & D has seen them overcome the problems that have prevented LDRs from becoming attaining widespread use in audio signal paths through their development of complex algorithms to compensate for their innate non-linearity. In fact, they claim that the LDR6 is "…superior to preamps utilizing even the best audiophile grade potentiometers or stepped resistive attenuators"
Visually, the $1,475 LDR6 sits firmly in 'Ugly Duckling' territory. A matt black, bluff, rectangular aluminium extrusion, featuring bolted-on front and back plates (with post-paintjob machining leaving the plate edges exposed) it's a look I find hard to describe as better than 'acceptable'. Mark Levinson it aint. A lower profile case would help it to look a lot less 'industrial' – and is perfectly feasible, given that the majority of the unit's innards is just air. Maybe Tortuga Audio have a slight 'perceived value anxiety', who knows.
What the LDR6 lacks in looks it more than makes for with functionality. Boasting 6 inputs, full remote control and even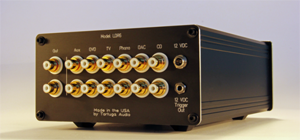 a 12v trigger output, to control compatible partnering components downstream, it's fuller featured than any other stand-alone single-ended passive I've used. Incredibly, Tortuga Audio have even managed to replicate all the control features on the remote into a single, front panel-mounted encoder knob. The 1dB attenuation steps provided seamless volume adjustment. A feature I loved was the gentle ramping up or down of volume when you hit the mute button. It's just, well… kinda cool.
Listening
Passives tend to have a neutral, open transparency, with fluidity rather than etch or glare. The Tortuga Audio LDR6 possesses all of those typical passive pre-amp attributes, but adds something which isn't going to sound too complementary – starkness. I'll explain. There is just a sense of absolutely everything having been stripped free of fuzz and imprecision. Instrumental placement isn't approximate or inferred. Instead, instruments are precisely located at a fixed and exact distance from the others with the space between performers and the characteristics of the recording environment jaw-droppingly obvious. With good recordings – William Fitzsimmons 'The Sparrow and the Crow' on the Naim label, for example, the LDR6 produces a sound completely free of colouration, with a soundstage that was just consistently deeper and better resolved than with any other passive pre-amp I have ever used.
Compared to my usual passive pre-amp – utilising a Bourns 91A potentiometer and solid core silver in extruded PTFE (for those that really, really must know) bizarrely, the LDR6 almost seems to have punch and drive at the bottom end – despite them both having an identical, 100k ohm, input impedance. For good measure, the Tortuga unit showed my passive to have both some upper midrange dryness and to just not be at the races as far as soundstaging was concerned.
Conclusion
In practical terms, the LDR6 isn't perfect. As it's a passive pre-amp, you'll need to make sure that you aren't caught out by a source component with insufficient output voltage or high output impedance or by power amps with low input impedance if you want to avoid the resultant lifeless, uninvolving sound. Virtually all likely partnering sources will prove compatible, as will the vast majority of power amps, but if you want the reassurance that only 'try before you buy' can provide, Tortuga Audio even offer a 30 day free trial!
UK Customs intransigence, the 'destructive tendencies' of the US and UK postal services, remedial repairs – the pain was all worth it, as suitably matched, sonically, the LDR6 is an absolute gem. Jaw-droppingly transparent, with faultless microprocessor control, this pre-amp provides a level of transparency usually the domain of hair shirt enthusiasts, with the convenience of remote control.
Is it, as Tortuga Audio claim, "…superior to preamps utilizing even the best audiophile grade potentiometers or stepped resistive attenuators."? Well with a 30 day free trial open to all-comers, you decide. Me? It's possibly the most transparent pre-amp I've yet used.

Author – Rod Alexander
Want to read more hifi reviews?