Back in 2019, French High End Hifi brand, Totaldac, launched their d150 horn loudspeakers, primarily to demo their DACs and other equipment at Hifi Shows and in their showroom.
Now Totaldac has announced the d150-anniversary loudspeakers, which are used in the Totaldac auditorium and at shows, and are available to order.
Vincent Brient, Totaldac's creator, told us: "These speakers are the result of 23 years of experimentations to give a realistic and natural sound".
High Efficency Horn Loudspeakers
The d150-anniversary loudspeakers are high resolution and high efficiency loudspeakers, the bass is also a high efficiency driver. The bass cabinet and the horn are both driven by your amplifier, without the help of an internal amplifier and without need of an external subwoofer.
They have a sensitivity of 97dB @ 2.83V/1m. In room response +/-3dB: 28Hz-20KHz. Impedance is 8ohm. They have a 150Hz crossover frequency making the speaker close to point source, a 860mm diameter wooden horn made of 100mm thick wood and a 15inch bass driver with neodymium magnet.
The speakers can be placed close to the rear wall, they come in at 1.42m high and each of the two parts of each speaker weighs 60kg. They are made in France.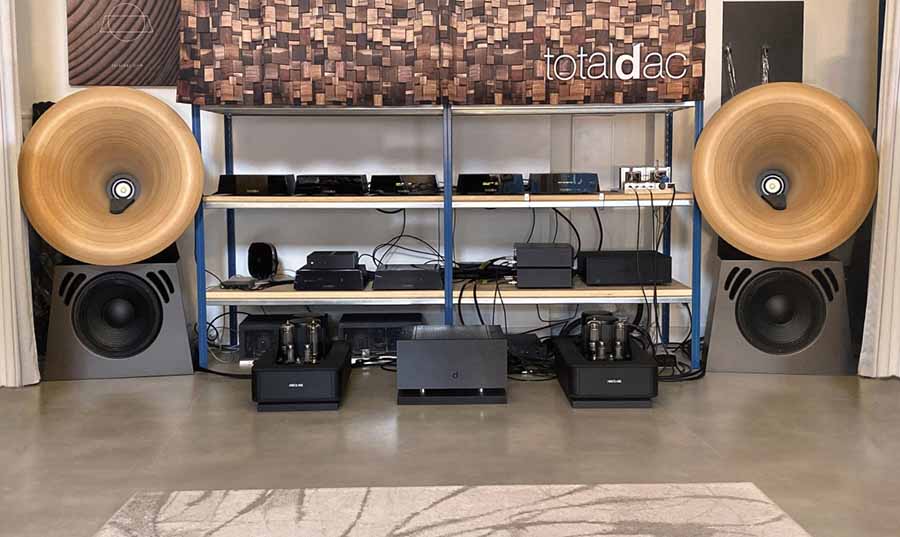 Price
Toraldac d150-anniversary speaker, a pair, excl shipping: 39000 euros incl VAT in Europe, 36000euros excl VAT outside of Europe.