A quality loudspeaker for just € 390? Lionel Payne, in his first review for Hifi Pig, takes a listen to the Triangle Elara LN01 Loudspeakers 
The Elara LN 01's are the smallest in a new four strong range of loudspeakers brought out by the French company, Triangle, a company that first started producing their wares way back in 1980. They measure 291mm x 165mm x 291mm and weigh in at 4.5kilos. They are accompanied in the range by a centre channel speaker (LN 02) and two floorstanders (LN03 and LN04) and all four models are available in two finishes – piano gloss black or piano gloss white. My review pair are black and I was immediately struck by their beautiful finish. If only all loudspeakers were this gorgeous ! They are a rear-ported bass reflex two way model with a 28mm silk dome tweeter and 135mm concave mid/bass driver. An interesting point about the Triangle designed silk dome tweeter used in these models is that it is the first ever silk dome tweeter that Triangle have used since their inception. They explain that using this type of tweeter has allowed for a less complicated crossover design as simplicity and good looks were the initial design brief for this range. The front baffle is 21mm thick with all other sides being 18mm. The tweeter has a specially designed front plate collar which helps to reduce reflections. The supplied grilles are attached via invisible magnets and there is not a screw fastening to be seen anywhere. I should point out at this point that I was so happy with their appearance the grills were never tested sonically. However, it would have been remiss of me to not check the fit and finish of them and I'm pleased to report that not only are they also very attractive but they fit with good accuracy and the magnets have a strong pull to them.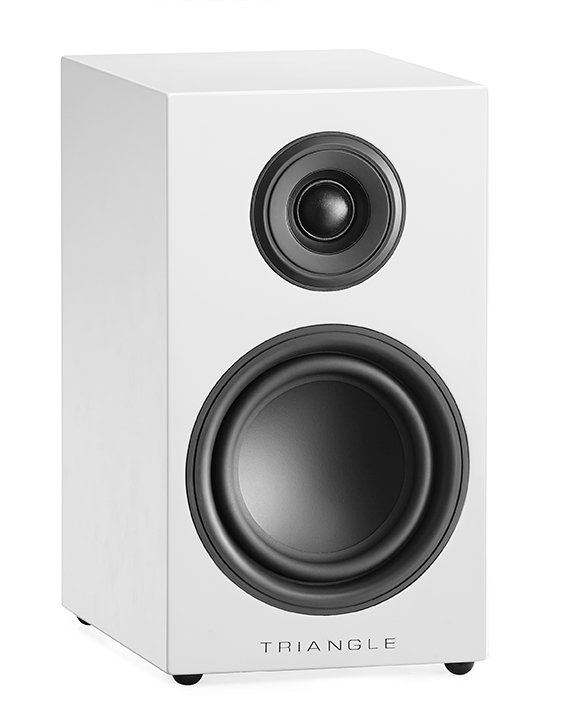 Triangle recommends that they are kept at least 40cm from the rear wall (obviously for the rear port) and at least 2metres apart. I found that as long as these two criteria were met they weren't too fussy about placement. For the major part of my listening I had them on 600mm spiked Atacama stands and in free space as their bass content was admirable without the need for reinforcement. This positioning also helped to get a better soundstage which was fairly impressive. Also, because of their relatively small size I tested them in nearfield conditions as a desktop pair. They worked reasonably well in this situation as long as the volume wasn't turned up too high because my desk is up against a wall and the rear port came in to play as the volume increased.
Sound 
When I initially hooked up the LN 01's I immediately felt that the treble output was a little reticent as well as having a slight hardness to it. This can often be the case with new, out of the box, loudspeakers so a period of run-in ensued before any serious listening would take place.  I should also explain that due to my current circumstances I couldn't leave the speakers running all day and night to run-in but rather I had to be in my "mancave" almost all the time they were playing. This was mainly due to my wife's superb hearing and not being able to sleep if she can hear the slightest unnatural sound.  Therefore a period of listening to these loudspeakers on a daily basis followed and I gradually heard the significant improvements to their sound, virtually on a daily basis. The treble did sweeten up immeasurably although I have to say the overall balance of sound left me wanting just a little more high frequency content. It's not that there was any information lacking but just that, again, I felt the treble output a little reticent. I did speak to my contact at Triangle and he offered a perfectly good explanation for this – namely that I was driving these loudspeakers with quite a high-end amplifier (Musical Fidelity Tri Vista 300) and they were were far more likely to be driven by more budget type equipment, a lot of which may have a bright balance to their sound, particularly low-cost Class D amplifiers. Pretty sound thinking if you ask me ! What did strike me through this period and beyond was how good the bass was. Not to say it reached herculean depths as we all know that is nigh on impossible from such a diminutive size but the low frequencies on offer were both informative and enjoyable. They certainly know how to boogie. I have to say that despite them not having the midband clarity of a Harbeth or my own Impulse H2's I could happily live with these as my main speakers for a time. Listening to London Grammar's debut album If You Wait highlighted how good these little speakers could be. In the opening track Hey Now they convincingly portrayed the atmosphere of the song and Hannah Reid's vocals shone through with tremendous clarity and presence. Just as it should be really.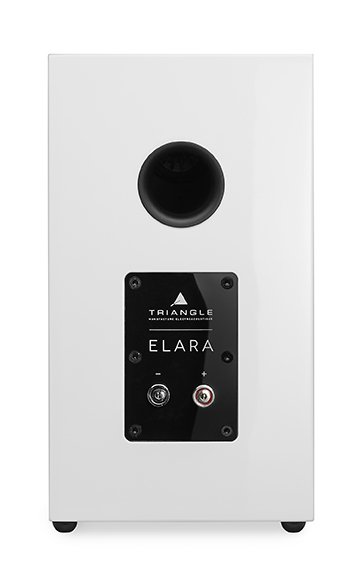 One track I enjoy using as a review tool is Nitin Sawnhey's Tides from his Beyond Skin album which mainly is the interaction between a pianist and drummer where the drummer almost exclusively is using cymbals and high-hats. I use this track to highlight the quality of treble reproduction but, strangely in this case, I was drawn more to the power of the accompanying piano. Another track I use, as do both Dominic and Dan of these pages, is Biscuits For Breakfast from Fink's excellent live album Wheels Turn Beneath My Feet. This track is also a good indicator for how the top end is conveyed and the Elaras do a lovely job with a sweet and informative treble replicating the cymbal strikes throughout the track. The penultimate track of this well recorded album is called Sort Of Revolution and the Elaras really showed their abilities conveying Fin's laid-back vocals with real credibility as well as producing  a sweet top end and the driving bass lines with the odd thwack of the kick drum coming through with good depth despite their diminutive size.
I have to be honest and say that I really enjoyed my time with the Elara LN 01's. They are to my eyes aimed firmly at the lifestyle end of the market and the range including a centre channel version shows they are also aimed towards home theatre use. My guess is that many of them will end up as rear speakers in an all Elara home theatre set-up and I'm positive that they will be more than suitable for that purpose. However, for the asking price of 400 Euros they represent good value as an out and out stereo pair, particularly where room is at a premium. The driving bass rhythms these produced made them a real joy to listen to and, for me, their looks are sheer dynamite ! 
Pros:
One of the best looking loudspeakers, if not the best, for anything like this kind of money.
Wonderful rhythm and bass really creates the boogie factor.
Cons:
Slightly reticent treble output but nothing else at this price point.
Price 390 Euros
Lionel Payne