I've always enjoyed Triangle loudspeakers ever since I first heard a pair on the end of some valve amps at an enthusiasts hifi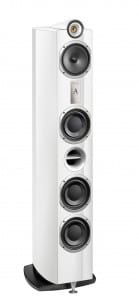 show about four or five years ago. Since then I've had the opportunity to hear several more pairs including the range topping Magellans and have never been disappointed with their sonic abilities. I also like the ethos of the company; they're inclusive and as well as having the relatively mega-bucks Magellans, they have the cool, funky and very affordable Color range and several ranges in-between to suit all pockets. Triangle loudspeakers, in France at least, are available not only in the rarefied atmosphere of the high-end retailer, but also in more down to earth "high-street" outlets.
Here for review we have the top of the Signature range, the Alpha, which is certainly an impressive looking three-way loudspeaker. It stands 1.3M high, has three fibre glass bass drivers, a paper cone mid-range driver and Triangle's die-cast aluminium horn tweeter which sports a 2mm titanium dome originally developed for the Magellan. The Alpha has a front firing port, a nominal impedence of 8 Ohms (down to a minimum of 3.3) and a sensitivity of 92dB. For the duration of this review I've been using our Tellurium Q Iridium that gives out around 17 Class A Watts per channel.
The review pair arrived in white in very substantial and well thought out packaging that is certainly a two man job to get the speakers out of. In the box is a cleaning cloth, a pair of white gloves, a very basic but detailed enough owner's manual, a warranty coupon and a little metal key device that I never really found a use for. Set up and placement is a doddle with the Alphas having a substantial plinth of their own built in, with an adjustable footer at the front to change the angle the speakers point in. The Signature Alphas are stable enough on the floor and should be safe enough should you have small children running around. Around the back are some very high quality and simple to use binding posts – two pairs to allow for bi-amping or bi-wiring.
The Signature Alphas proudly sport a "Handcrafted in France" plaque and the whole of the Signature range is conceived,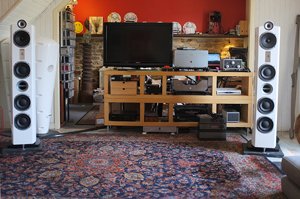 designed and implemented in France at the company's facility in Soissons. The cabinets themselves are constructed from seven high density fibreboards of 3mm each which are press bent to shape and bonded to give an overall thickness of 21mm. The knuckle rap test has the cabinets sounding pretty much dead which is reassuring. The finish on the speakers is really rather nice and blemish free. They're a big speaker but they're pretty narrow so they don't dominate the room and the cabinet itself bows in the middle making the narrower at the front and back than they are at the sides – have a look a the pictures to see what I mean.
Sound 
Upon plugging the Signature Alphas in for the first time I have to say that I was a little underwhelmed at what I was hearing. There was a feeling that the Alphas were constrained and closed in and they certainly sounded nothing like I've heard Triangle loudspeakers sound before. A distributor friend who knew the Triangles were arriving for review phoned and asked what I thought of them and I said at the time that I thought they sounded pretty dull and lacklustre. However, I kept playing the speakers and they do loosen up and start to sound better (lots) pretty quickly. With this in mind I'd suggest that straight out of the box you are not getting the real deal from these speakers and it is worth spending a little time banging some tunes through them for a few days before really starting to listen with anything like a critical ear. To temper this paragraph I must confess that this review has been a long time coming as I know that once it's published the Signature Alphas will be winging their way back to Triangle…I've really
enjoyed my time with them.
For the duration of their stay here at Hifi Pig the speakers have been set up in our main living space, well away from side walls and back walls and toed in towards the listening position. To be fair to these loudspeakers they have been pretty unfussy with regards to positioning, but they do prefer to have a little space around them. The best seat in the house obviously gives you the best soundstaging and there is a pretty narrow window here, but off axis listening is pretty enjoyable too.
Once the speakers have had time to loosen up for a few days the first thing that hit me was how much like the Magellans they sound. They're perhaps not perhaps as ultimately sophisticated and refined as their bigger siblings, but there is definitely a family sound going on here – lively and dynamic – which I really enjoyed.
At lower volumes and listening to Massive Attack's Blue Lines record there is a really nice and energetic feel to the sound with the Signature Alphas. Nothing is overly emphasised or over done as can sometimes be the case with some loudspeakers, as if they are trying to over compensate for something being lacking at low volumes. Crank the volume up and you simply get the same feeling only louder.
Stereo image is solid and whilst it is not as wide as some, it is still very good front to back. Bass extension is good and low with good control and even with the bass heavy Blue Lines there is never a feeling of boom or their being too much of the lower frequencies, which can lead to a mushy and uninvolving listen with some loudspeakers.
At higher frequencies there's sparkle and shimmer to the hats and I think this is a positive aspect of the Signature Alphas –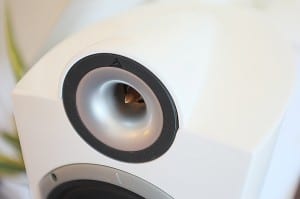 chatting with some people there was a couple of folk who suggested the Triangle sound was over the top at higher frequencies, but I just don't get this accusation in any way! To me this alleged "over the topiness" is just that they are experiencing more high frequency information and as such more detail across the board than they are used to .
The Signature Alphas have a big sound that at the same time has poise and balance which when combined with their speed and excitement makes for a toe tapping listening experience.
Flipping over to the recently released Cheek to Cheek by Tony Bennett and Lady Gaga (a great album with a classic big band sound) you really get a sense of this being a live orchestra playing in front of you, albeit on a slightly diminished stage. On the tune Anything Goes you are presented with the band positioned behind the vocalists with each of the individual sections and instruments being easy to pull out of the mix. Drums are tight which add to the great timing and feeling of rhythm and pace that these speakers add to proceedings. On the vocal, which here is slightly forward sounding, there is a good insight into the little inflections and intonations of the singers' voices – Lady Gaga has a great jazz vocal style by the way!
I did find myself reaching for harder dance music like the stuff that Bonzai used to put out and the Triangles do this style with aplomb – the sound is perhaps a tad more refined than is absolutely necessary for this style of tune but the speakers' punchiness, oomph and slam really do play to the strengths of this genre.
Switching back to real instruments such as with Goblin's Beyond The Darkness and there is a naturalness to the instruments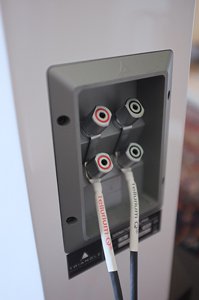 with huge amounts of detail being brought out of the recording across the spectrum. I do think the horn tweeter employed in these speakers is responsible for much of this apparent detail and resolution. Much in the same way that a super tweeter adds space and airiness to a loudspeaker, the tweeter on the Signature Alphas adds something that is indefinable but effective. On the Goblin record there is a tune called Trumpet's Flight, which needless to say has a trumpet featuring as the main instrument, and the Triangles allow this instrument to cut through the mix to appear more prominent, but without overshadowing the rest of the instrumentation.
Conclusion 
As previously mentioned, I kept hold of the Signature Alphas for a long time and so thanks to Triangle for their understanding. Truth is I could have had this review finished a good month or so ago, but I really have enjoyed my time with them so much I didn't want to give them back with any haste.
The speakers as reviewed are hugely entertaining in a dynamic and punchy sense, with an ability to bounce along through tunes in a fashion that is sure to get your feet tapping to the' music, but that is only really half the story with the Signature Alphas. As well as this punchiness you also get the impression that this is a really refined speaker that can do subtlety too. I'm really inclined to say that these offer a good deal of what the big Magellans bring to the party at a fraction of the cost… and that is high praise indeed.
The Signature Alphas don't prefer one genre over another and are equally happy to pump out techno as they are to playing more subtle music and this is a good thing for those with a wide taste in music.
On the negative side the casing which covers the tweeter (the bit that sits on the top of the speaker) is a bit "just stuck on" and I'm not a huge fan of the driver surrounds or the plasticky bass port ( you can cover the fronts with the grilles but I didn't even have them out of the protective covering), but then round the back the plate for speaker binding posts and the posts themselves are amongst the best I've seen… Overall fit and finish is very good other than my issues with the casing for the tweeter and given the finishes available there will be a style to suit most tastes.
Stuart Smith
Build Quality – 8.25/10
Sound Quality – 8.5/10
Value For Money – 8.15/10
Overall – 8.3 
Price as reviewed £ 6800
Recommended for listeners looking for a serious loudspeaker that delivers excitement and subtlety in equal measure when needed.