UK AUDIO SHOW 2021 SHOW REPORT AND PHOTOS
Ian Ringstead attended the recent UK Audio Show 2021 and here gives his thoughts on the show along with photographs taken at the event.
Eighteen months of Covid-19 certainly tested us all and one of the major frustrations for me was missing HiFi shows. We could indulge in treating ourselves to new or second-hand kit to lift the blues and raise our spirits, but actually going to see and hear new audio equipment hasn't been so easy. Shows can be the catalyst to inspire our imaginations and tempt us to regroup or rethink our systems.
The UK Audio show was held at De Vere Hotel, Staverton Estate in Northants and it certainly attracted a good attendance on the Saturday I was there. The rooms were on the compact side (small) for many of the exhibitors, but having an optimistic approach helped, as all shows have compromises and to the naysayers, I say realign your negativity. Many comments I saw after the show on social media just griped and if you are expecting perfection you'll be disappointed every time. And let's not forget that the exhibitors put in a lot of time and effort into putting their rooms together, not to mention carting it to the venue.
Nearly all the rooms at the show were full most of the day (with lulls of course) and because they were generally small and no standing was allowed due to Covid restrictions. I hoped it encouraged the exhibitors who had the courage to exhibit, as well as visitors, that the world can be a good place… and it gave a much-needed boost.
I saw a lot of new names (to me) and one was Emilen Audio who are a British company making a range of solid-state electronics, interconnects and an interesting active loudspeaker. Prices were in the thousands and the active speakers were £25,000, so not for the faint-hearted. The build quality was excellent and so if they do have their products reviewed one day take a close look.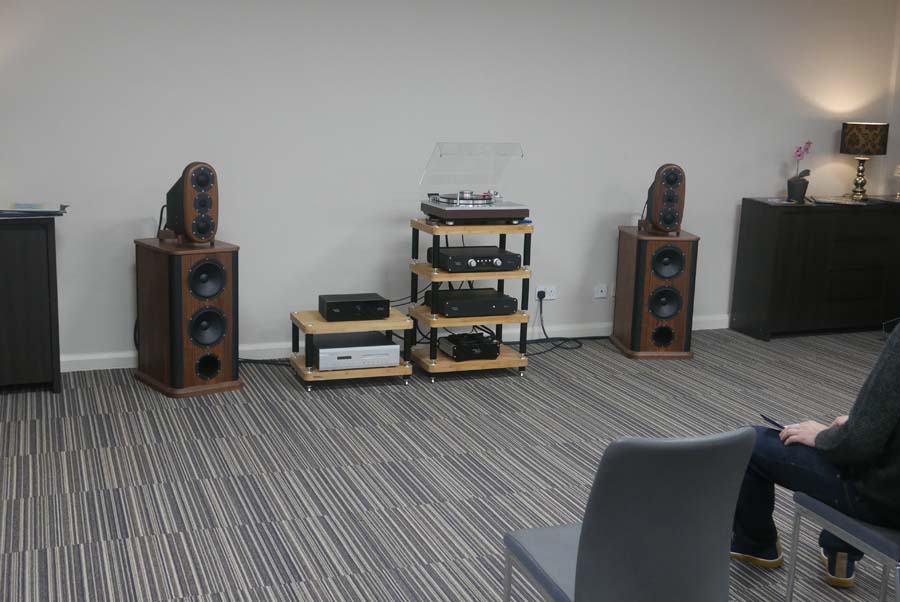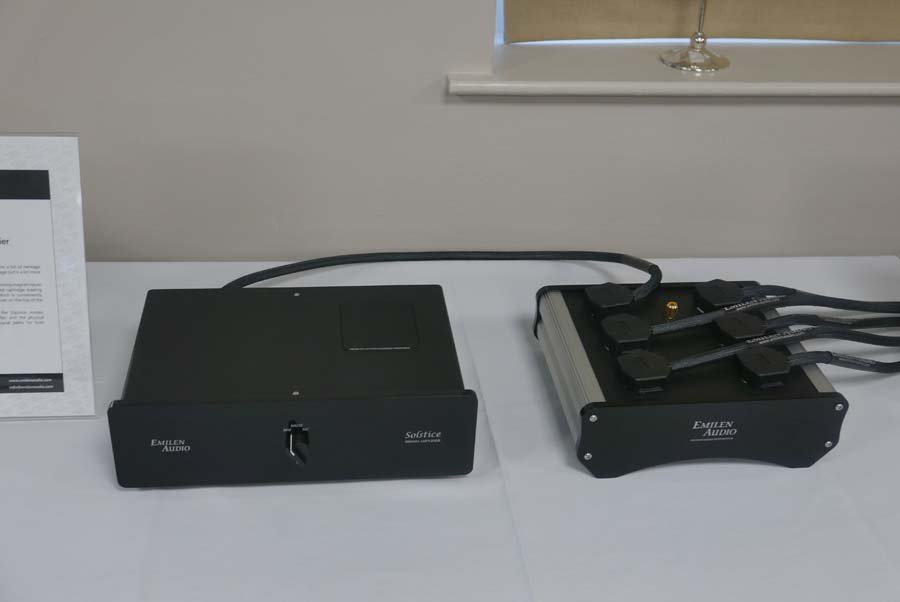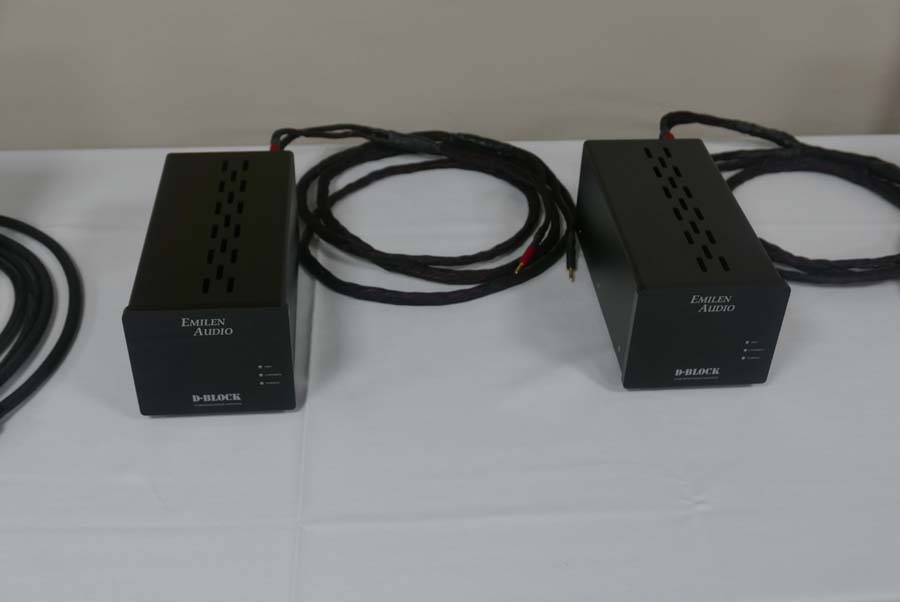 The American Audio Company are as the name states dealers in US audio products. KLH are a blast from the past and a vintage brand alongside JBL etc. Still going strong as a speaker company (formed in 1957), the speakers I heard had the classic vintage look of the '60s and '70s. They were the model fives and come complete with matching stands for £2000. Like a few brands from that era, they have a three-position acoustic balancer control on the back panel so the user can adjust mid/upper output level to suit individual listening rooms acoustics. Some may regard this as an unnecessary gimmick, but I feel it could be useful to tame some rooms acoustics. There were several other selected products from well-known brands being distributed such as Anthem, Totem and Parasound.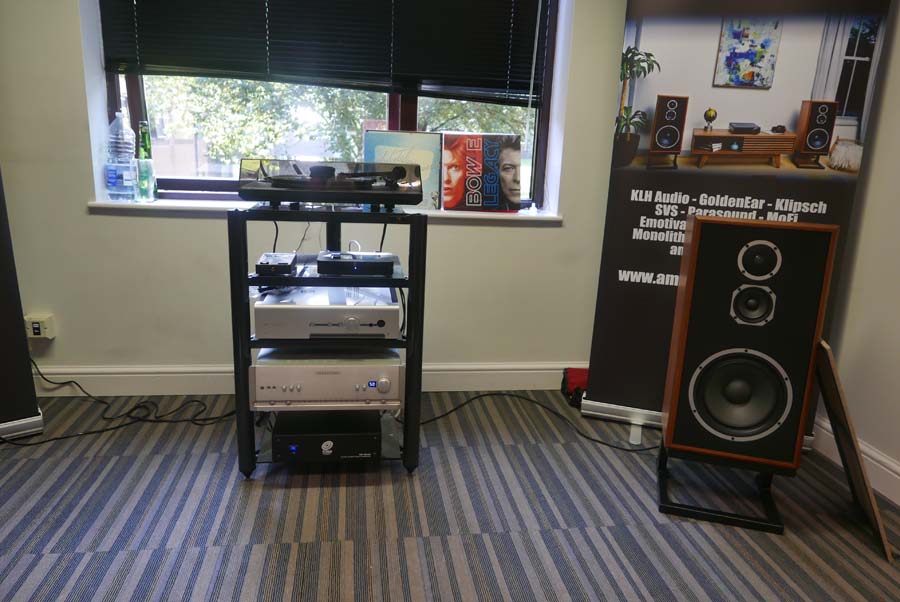 Audio Dreams are a UK company based in Birmingham whose owner Stefano Funes was originally from Milan but lives here now, and he sells products including Italian brand EAM Labs along with speakers from Ophidian Audio, a brand I know very well and reviewed many times. The Ophidian Mojo 2 was being demonstrated to great effect and amazing listeners new to this brand. Many were looking for a hidden subwoofer in the room when of course there wasn't one.
Audio Note UK established by Peter Qvortrup over 30 years ago and based in Brighton had two rooms and I just had to hear both. Peter Qvortrup is an audio guru and perfectionist who has built a world-class business making some of the finest audio equipment you can buy. Valves are the heart of this brands electronics along with the highest /best quality components, many manufactured by Audio Note UK or under license to their exacting standards. The UK makes the electronics whilst the speakers and turntables are made in Austria. The smaller AN room had a level one system in it (Audio Note have five levels in their hierarchy, and needless to say the higher you go up so does the cost, dramatically so in some). This system had a Cobra integrated valve amplifier coupled with a CD Zero player, TT1 turntable and a pair of AN K stand mount speakers. A modest system for a few thousand pounds that played way above its price level. A wide range of music was being played and the public could make requests. The second room was a lot bigger and had a level two system in it around £25,000 to £30,000, I think. The room was run by Peter's son Daniel, a very knowledgeable young man who played a very wide range of music from classical right through to Rage Against The Machine. It sounded superb and the interesting thing about Audio Note speakers is that they are always placed in the corners of the room at 45 degrees and give an amazing spread of image and lifelike sound. One of the best sounds at the show for me and my wife.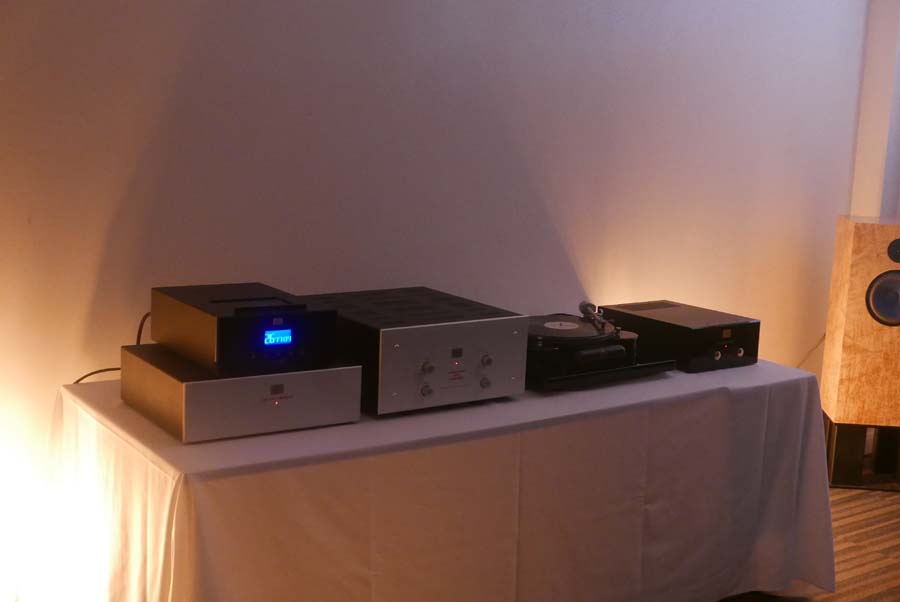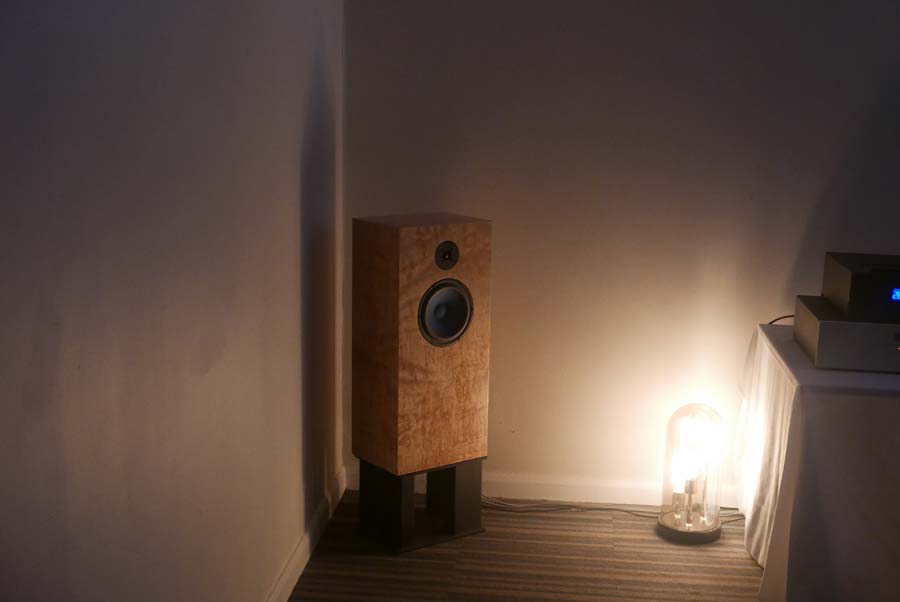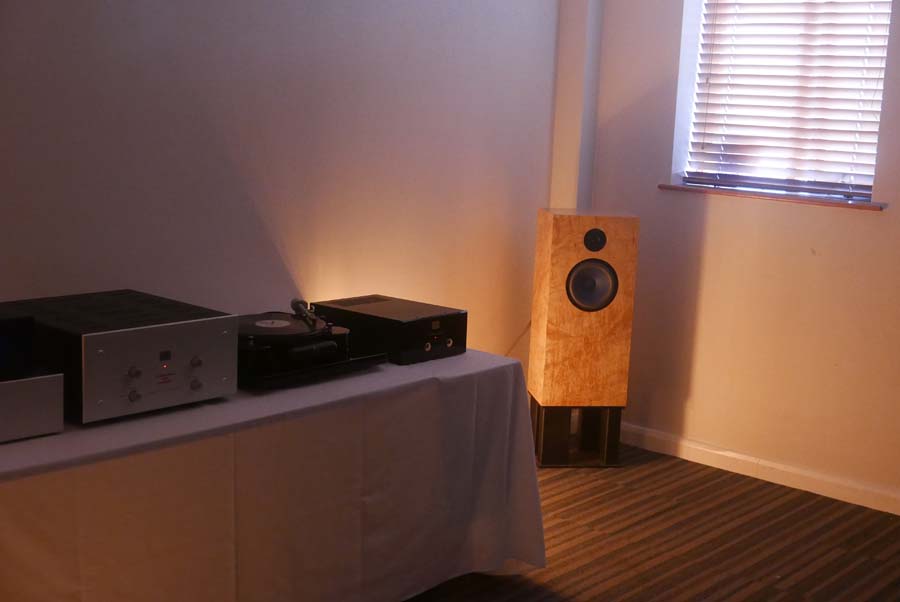 Chord Electronics were collaborating with Bayz-Audio of Hungary to show off the Counterpoint loudspeakers at over £100,000 a pair. For the super-rich don't disregard the technology that has gone into them for these sounded excellent on the brief listen I had and I have heard their smaller brothers in Munich that also impressed me. Like Ferrari's etc, I will never be able to afford them, but the opportunity to see and hear them is a treat.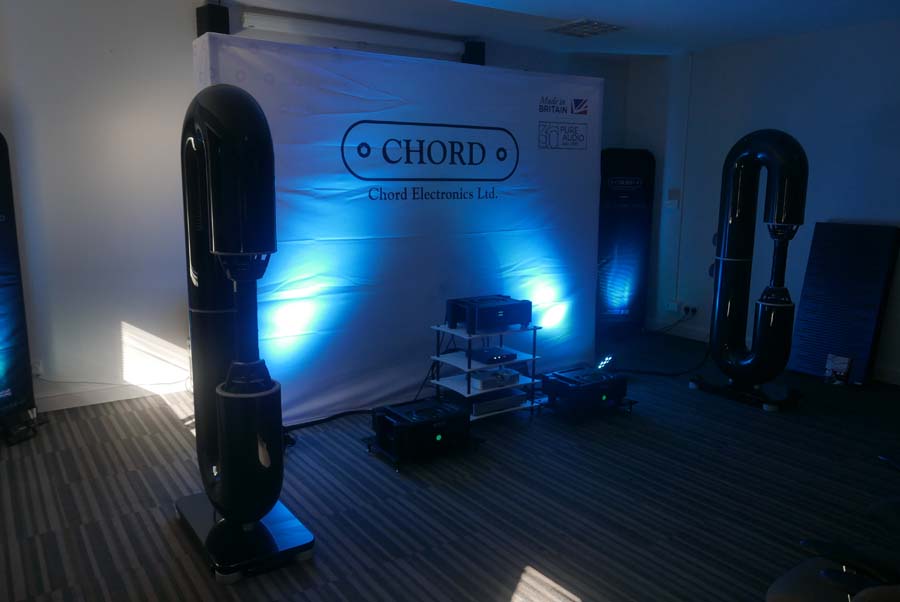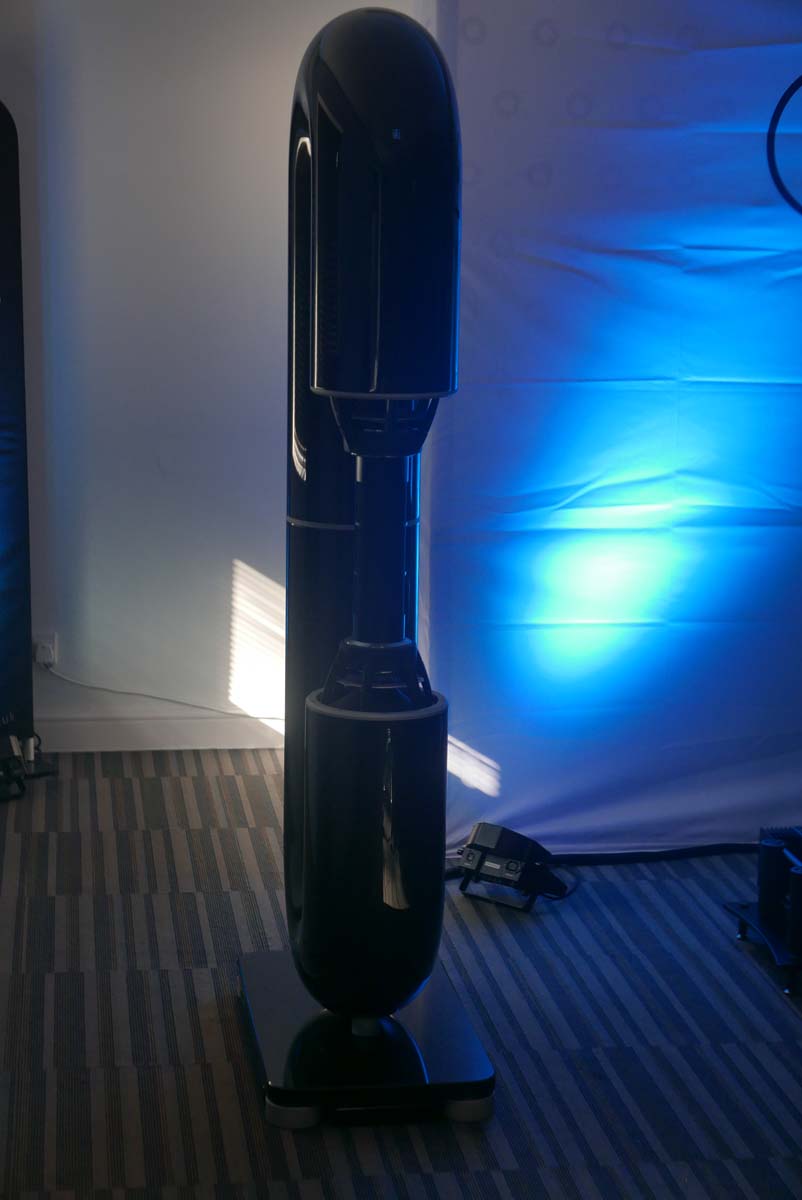 Kerr Acoustics had their new K320 Mk 3 floor stander on show and although the room was small, they sounded very good. I've known Jess Kerr from his beginnings at the Whittlebury show some years ago and he has made great inroads into the quality speaker market. The challenges of the smaller rooms made me think if the systems still sounded good then it was a credit to the designer and their products. A Max Townshend Allegri Reference preamp was accompanied by a PS Audio Perfect Wave streamer/transport and Long Dog Audio monoblocks with Townshend seismic sink isolation platforms and Fractal cables. Expensive, but again worth considering if your pocket can take the hit.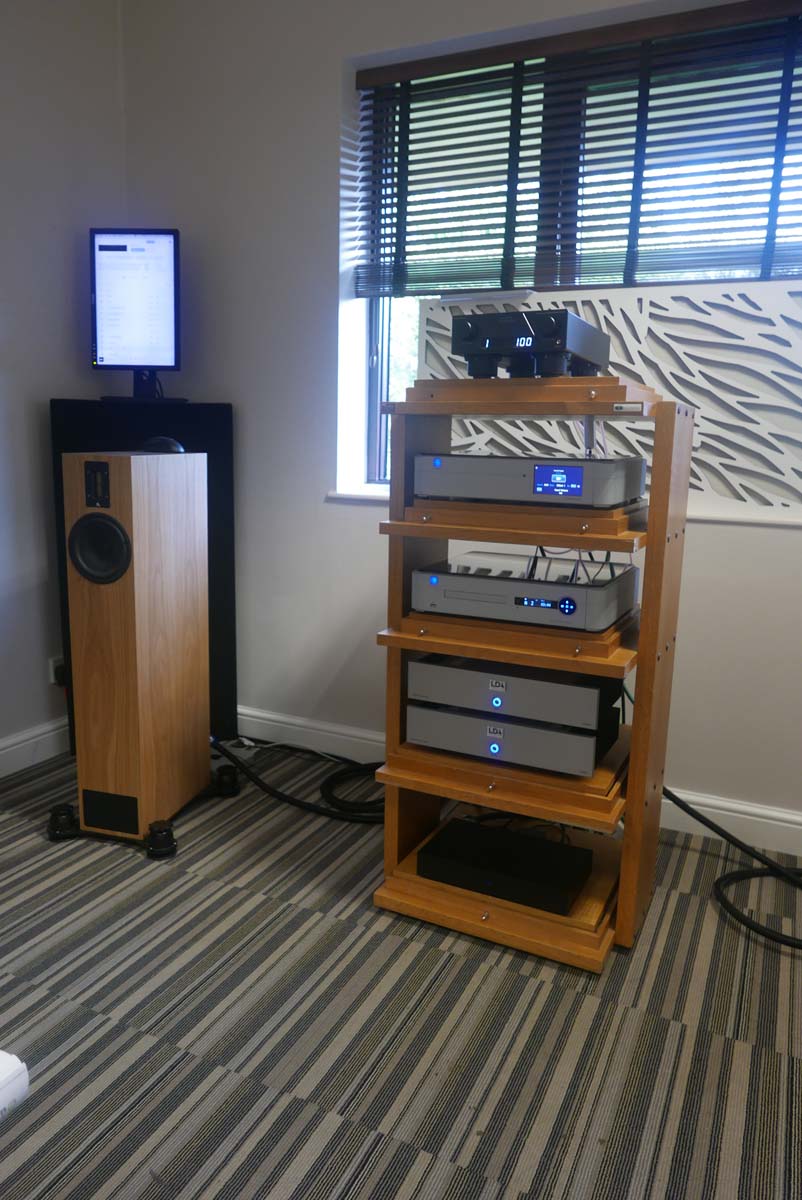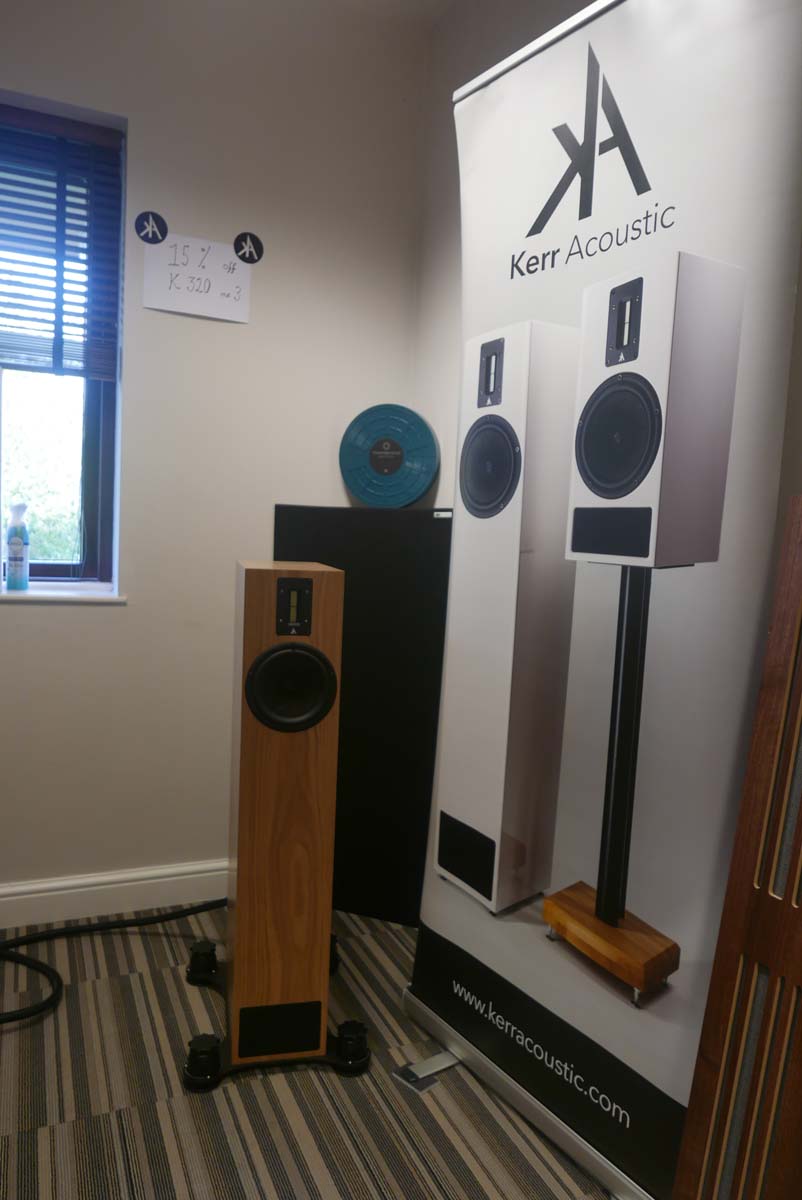 Midland Audio Exchange have exclusive rights to the distribution of a few high-end brands. Amongst these was Leben from Japan who make legendary valve amps that are highly sought after in audiophile circles. A classic vintage look with superb handmade build quality and parts built to last decades – I love their look and would really love to get my hands on a unit to try out. Dr Feickert turntables were also on dem', another excellent product that has had variable success and distribution in the UK and finally Lavardin from France whose amplifiers made quite a stir years ago with their unique design approach. I wish John at MAX all the best in having faith to back these and spread the word.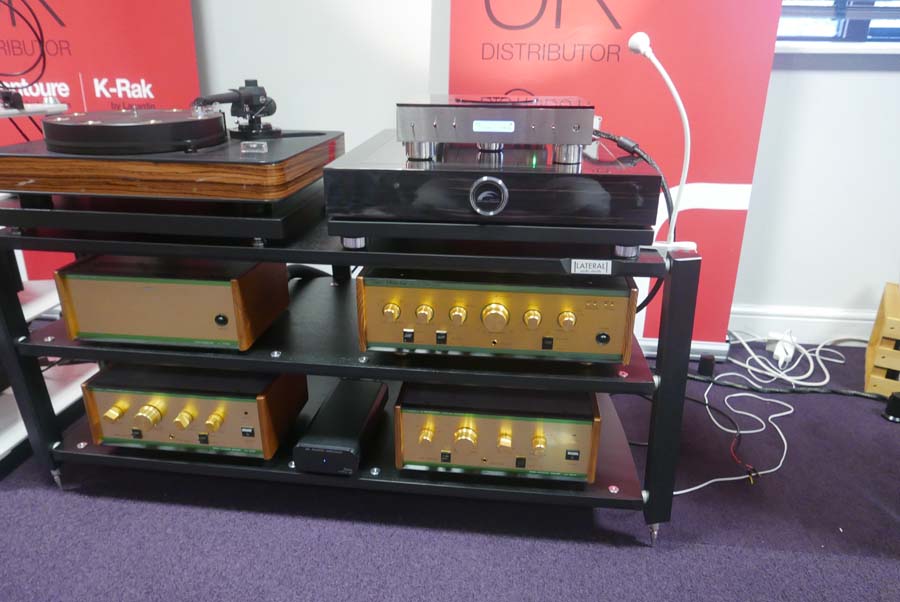 Monopulse is a company that I have seen at shows for some years and the owner and designer Allan Hendry believes that for loudspeakers to sound realistic then they must be time-coherent and phase-coherent. I listened to them for 15 minutes or so on a variety of streamed music and they were impressive. There are two main models that can be passive or active and start at £1200 up to £2500. The speakers are sold direct to the public to keep costs down and in my opinion offer excellent value for money.
Jonathan Billington of MFA (Music First Audio) as always had a minimalist set up using his cherished Nagra reel to reel machines feeding an MFA passive pre, his power amps and driving E J Jordan Marlowe loudspeakers. Jonathan is a quiet unassuming character who is passionate about his products and music. He lets his equipment do the talking and boy did they talk!  Reel to reel is certainly a niche area of audio that is still regarded by some as the pinnacle of sound. Whatever your views on this subject the sound was sublime and so easy on the ear and several visitors to the room commented on how good the system sounded. I love Nagra anyway so Jonathan had me won over to begin with. Products that really speak to one's emotions.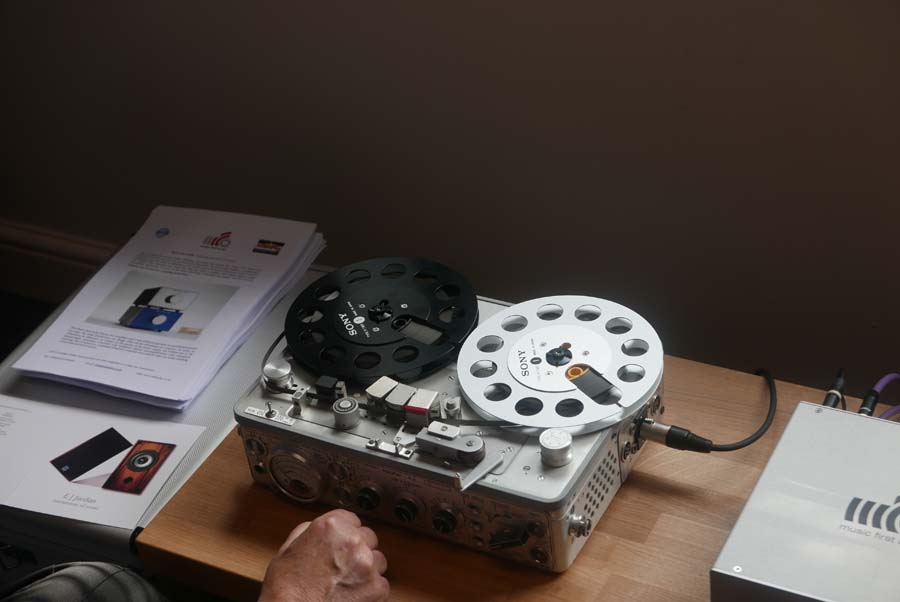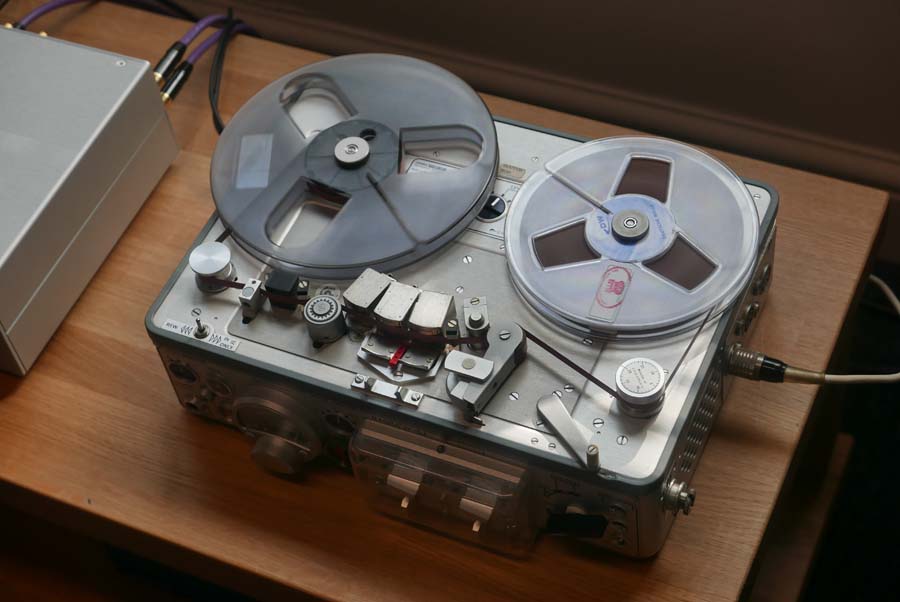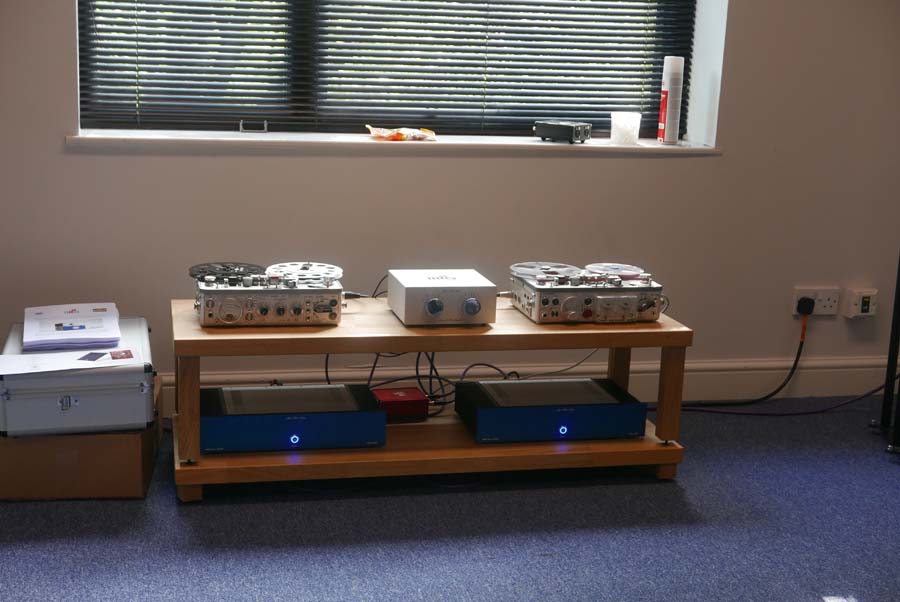 Mycetias Audio whom I reviewed very recently had a packed room every time I passed it showing off the Vulcanian speakers and the class D amps Nick has designed and builds along with the speakers selling directly to the public. A new entrepreneur on the HiFi scene. I hope he flourishes with all the new brands out there.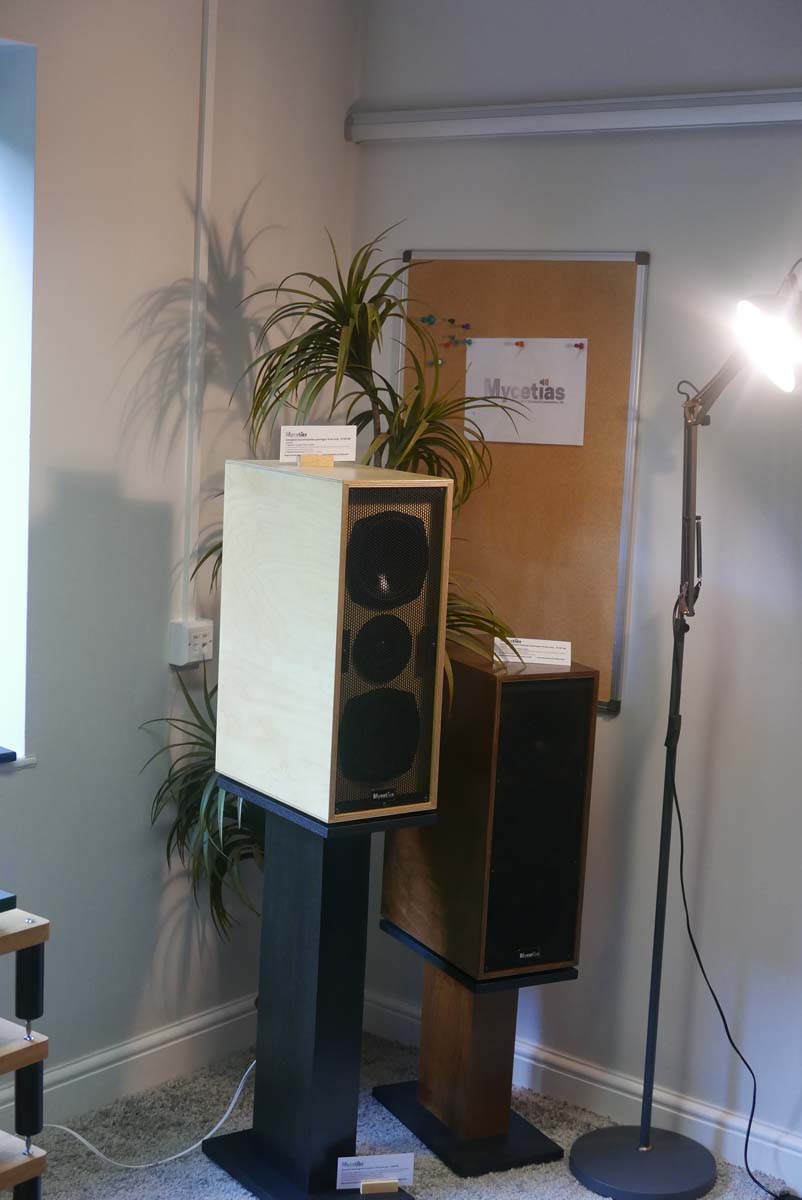 Node Audio Research Ltd from Cambridge are a serious company showing off their Hylixa Signature speakers at £30,000 a pair. A complex design to build, the remarkable sound is only possible by using lasers to fuse its complex design from particles of Glass and Nylon. The speaker mimics the form of the human head to create a lifelike sound. They are very futuristic and made to order to each customer's finish preferences. Buyers are invited to visit Node's factory in Cambridge to discuss and listen to the Hylixa.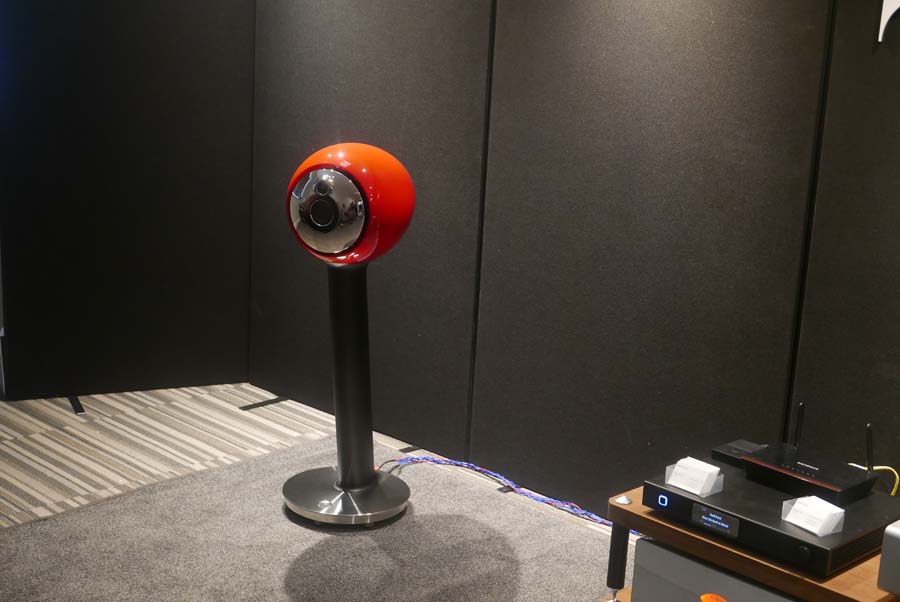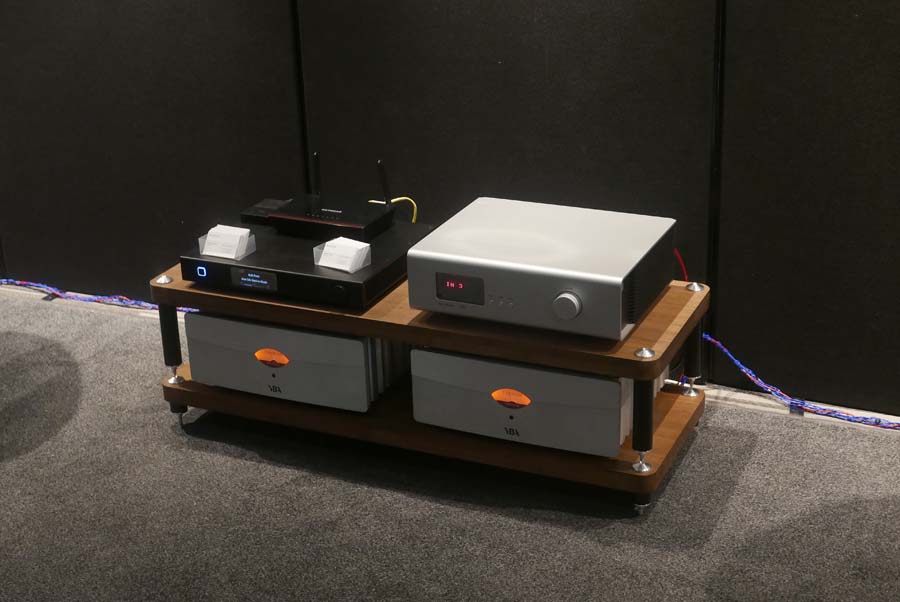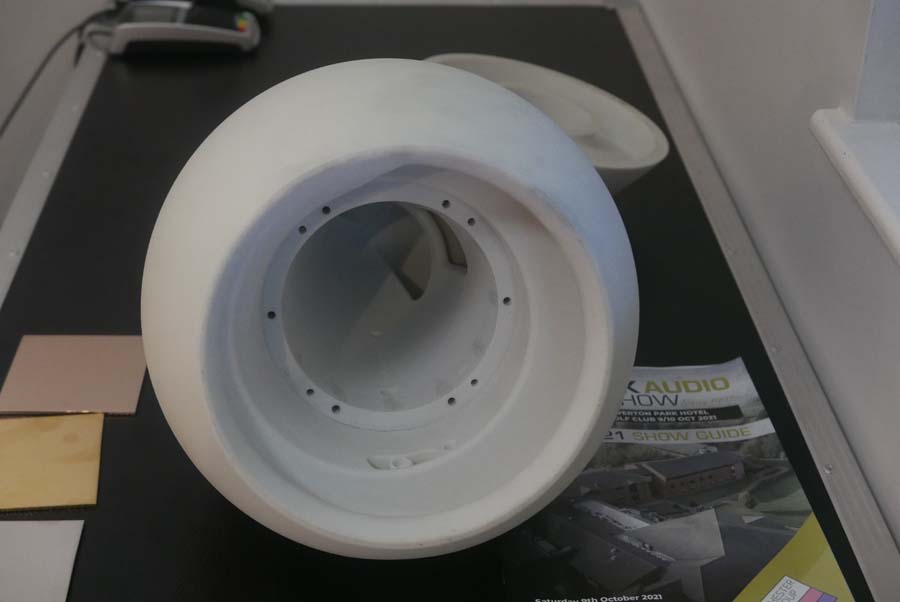 Russel K had their new Red 120 SE compact floor stander playing and looking very smart and svelte. They worked well in the small room so they were a good choice by the manufacturer and are worth seeking out at a dealer for.
An unusual brand totally new to me and I am sure many others at the show was Taylor Acoustic a company from Budapest in Hungary. There was scant info with just a few leaflets to take away and no pricing anywhere. The speakers were beautifully made and ranged from large floor standers that looked expensive to more compact stand mounts with dedicated stands. The music being played wasn't to my taste so it was hard to judge them properly but they had promise. It's a pet hate of mine when companies don't engage with the public and provide information, especially prices. The company on their website and Facebook page have minimal info and again no prices, wanting prospective customers to contact them.
German brand Fink Team were represented and had their KIM loudspeakers on demonstration.  I can hear why Stu liked them so much when he reviewed them.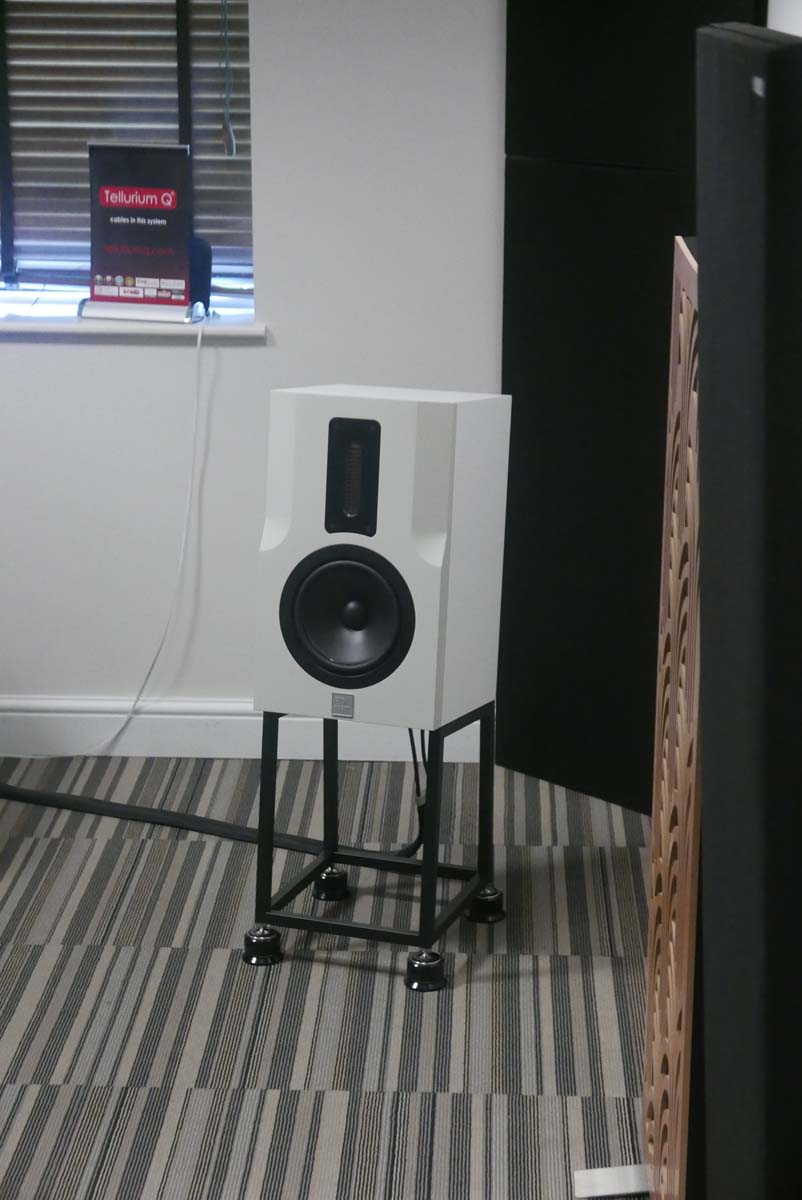 Paul Benge's HiFi Traders were present with suitably high-end kit from TAD, Holbo, Pilium and Silbatone.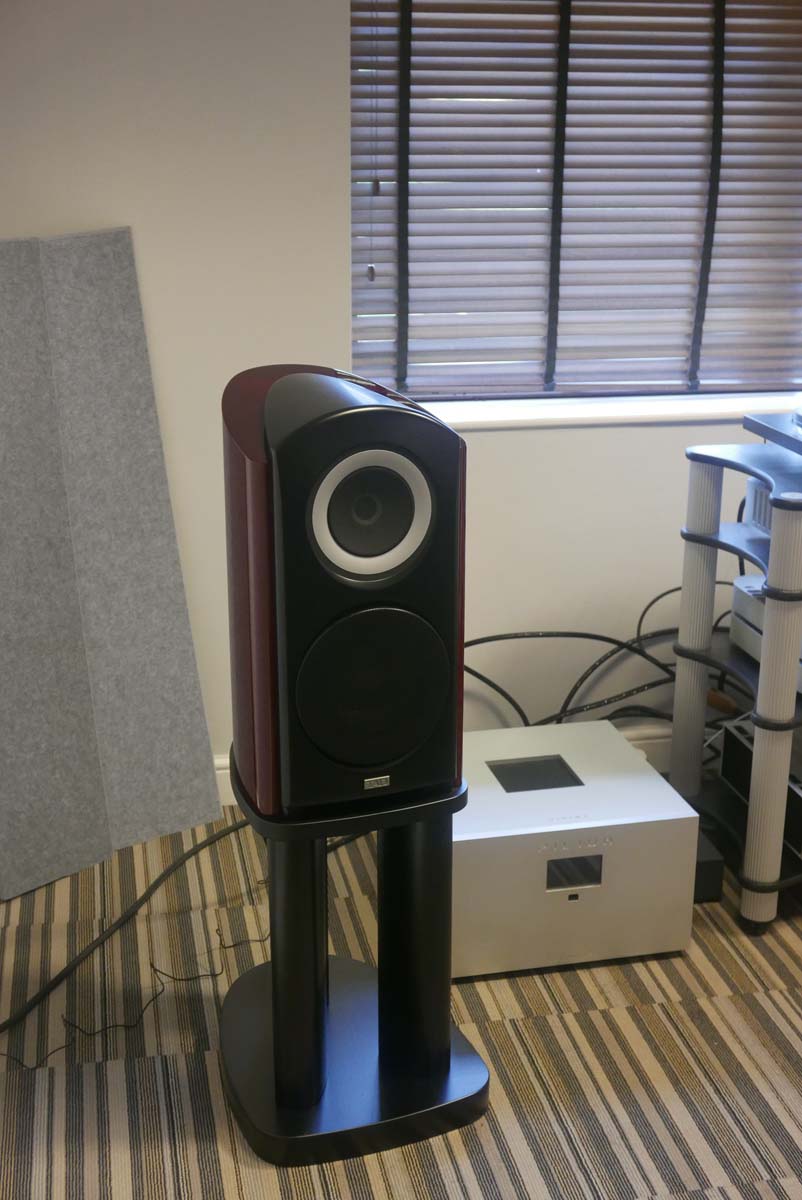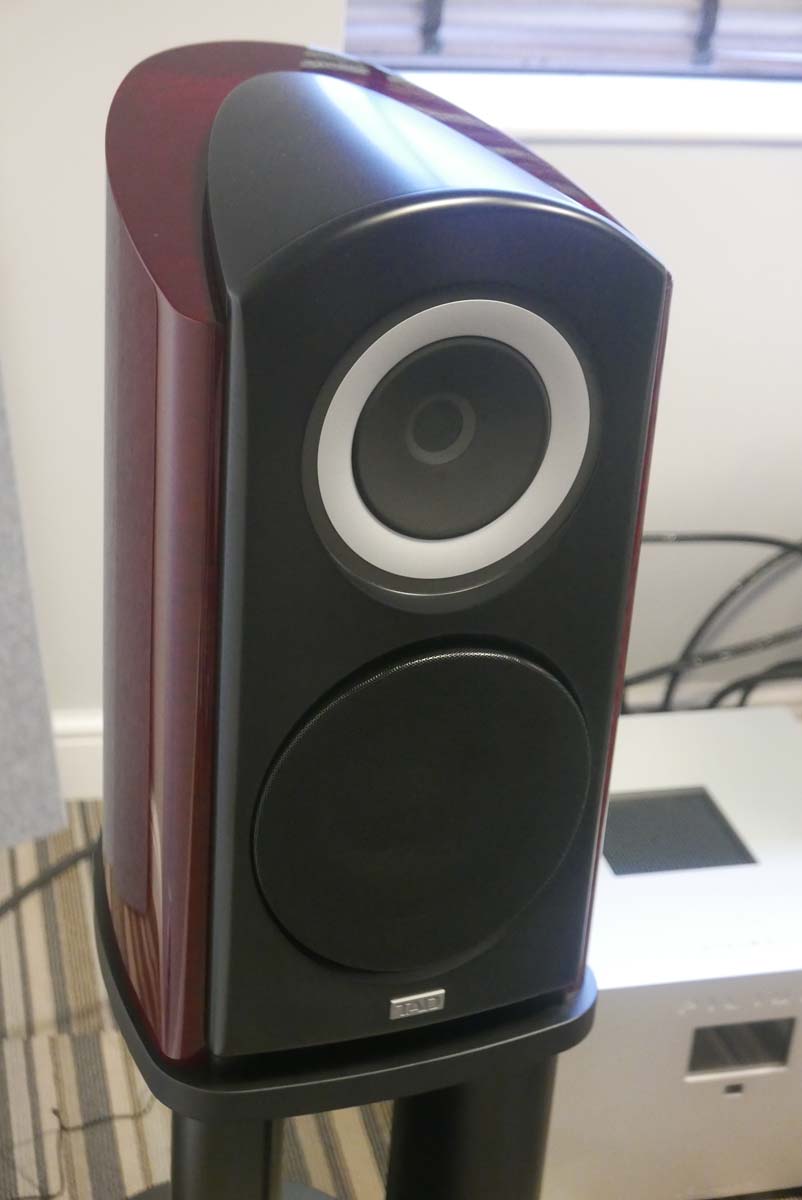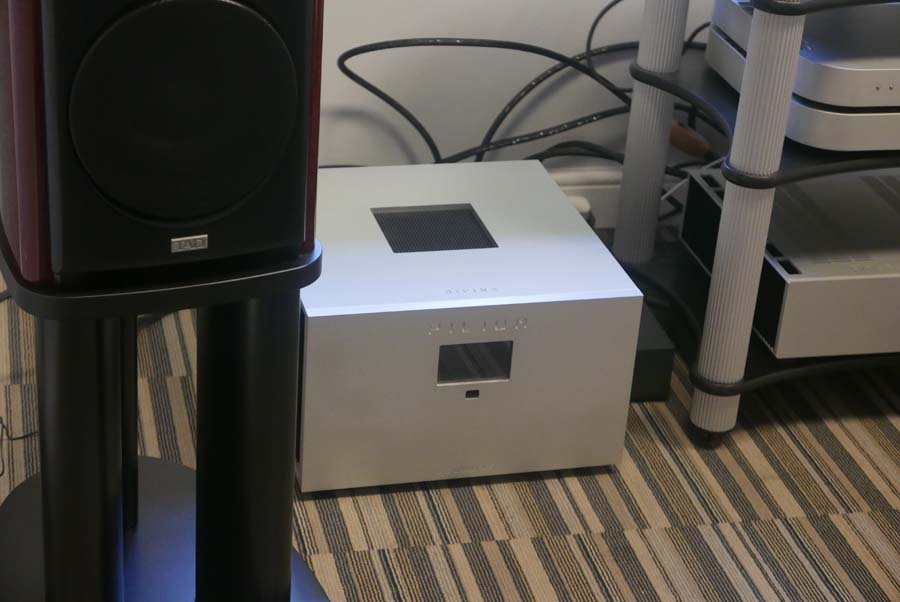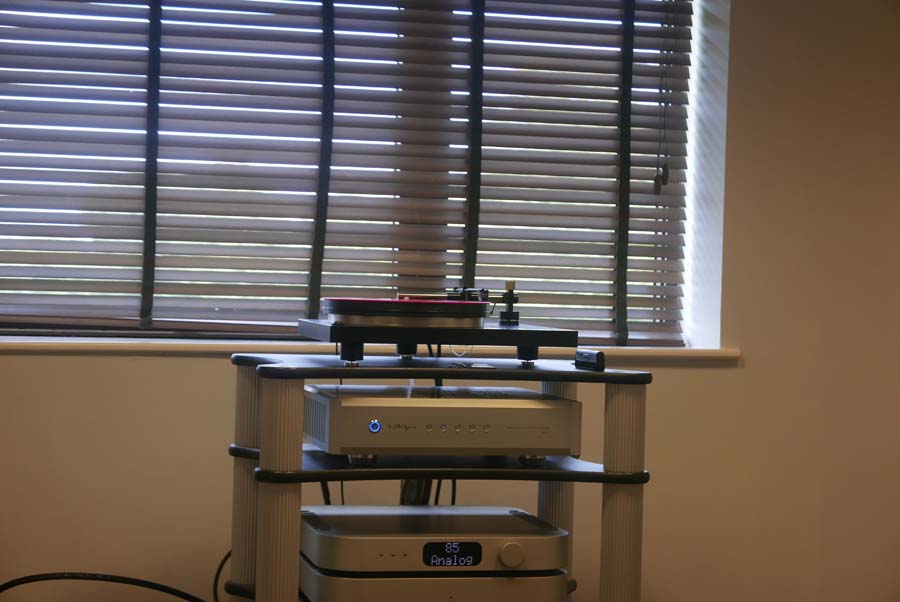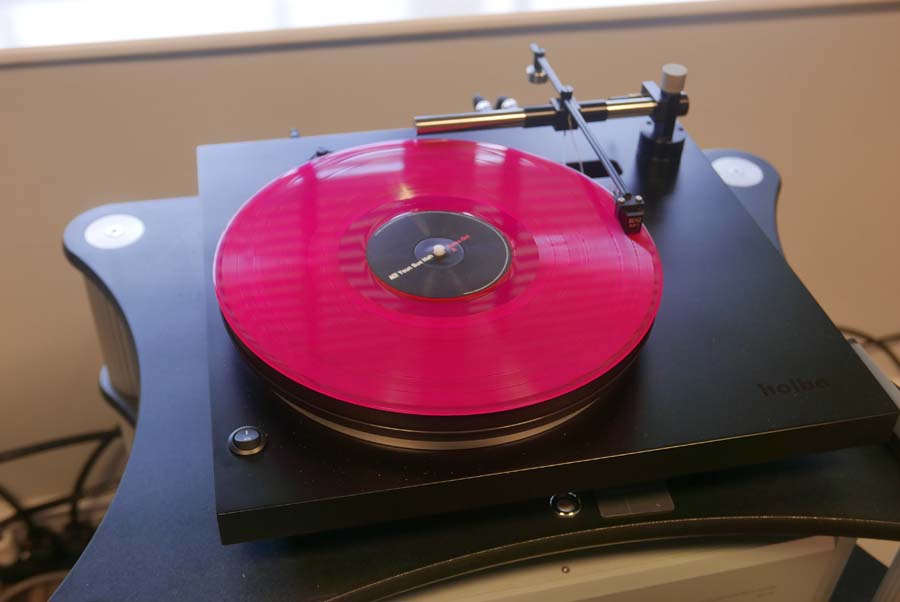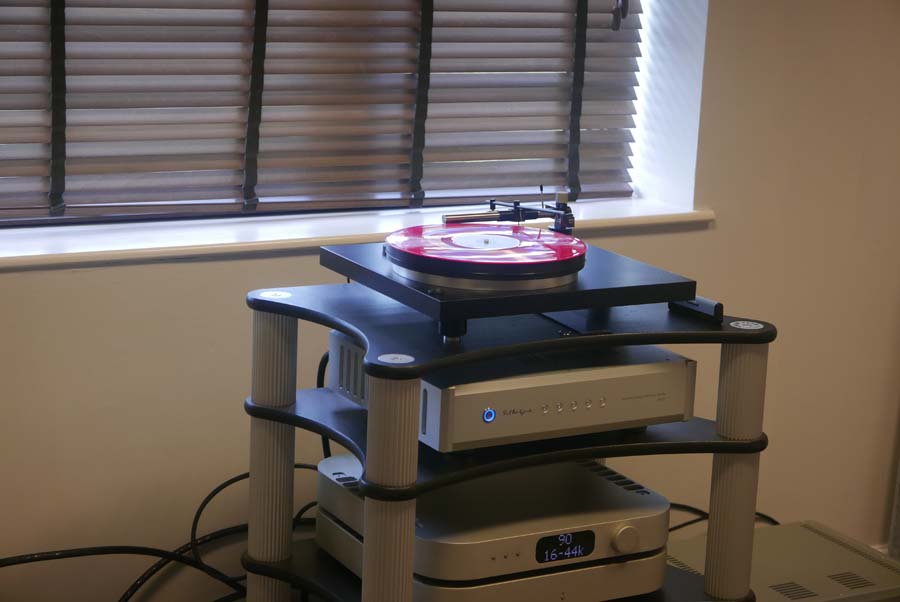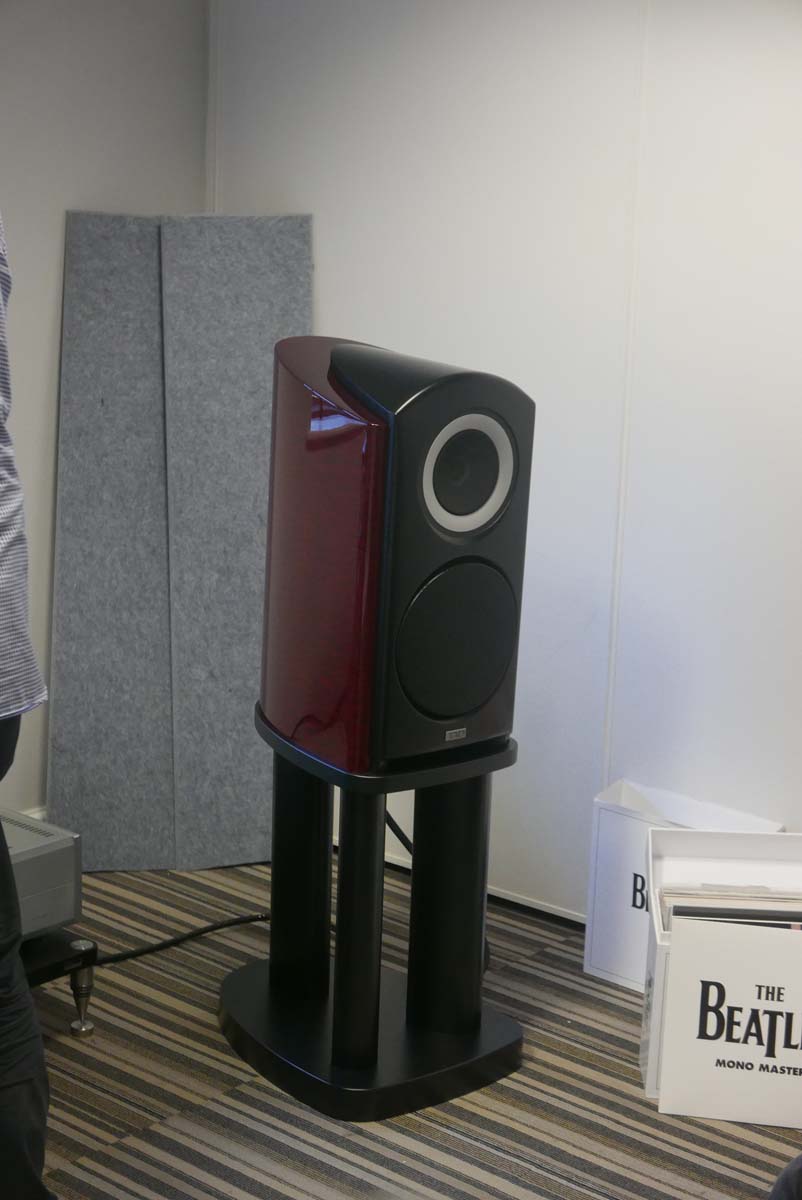 A room I was very keen to see was Alchris Audio and Missing Link. People may well remember Kralk Audio from a few years ago who I reviewed several times. Alan Clark is a superb craftsman and designer and when his previous brand was shut down many felt robbed of a great brand. The good news is Alan has risen again from the ashes like a phoenix and formed Alchris Audio – named from the amalgamation of his and his partner Christine's first names. Alan has based totally new designs on some classic older brands such as Celestion and their Ditton 66 (now reincarnated as the AR66) amongst others. Using modern materials and high-quality components and factory CNC'd cabinets to speed production up and maintain quality, Alan has created an exciting new range to suit all tastes and pockets. Look at his website for more details. The room was so busy I had little time to listen and even later in the day it was still busy. Many people were obviously keen to see and hear this range along with Mark Sears turntables and cables. Mark recently lost his partner in life and business to cancer so he has made a limited-edition JM 12 turntable to commemorate Jan's memory and £200 from every sale is donated to Doncaster cancer ward as a thank you for all the care they gave Jan during her illness. There is an interview with Alan Clark in the latest HiFi Pig Magazine which you can download for free.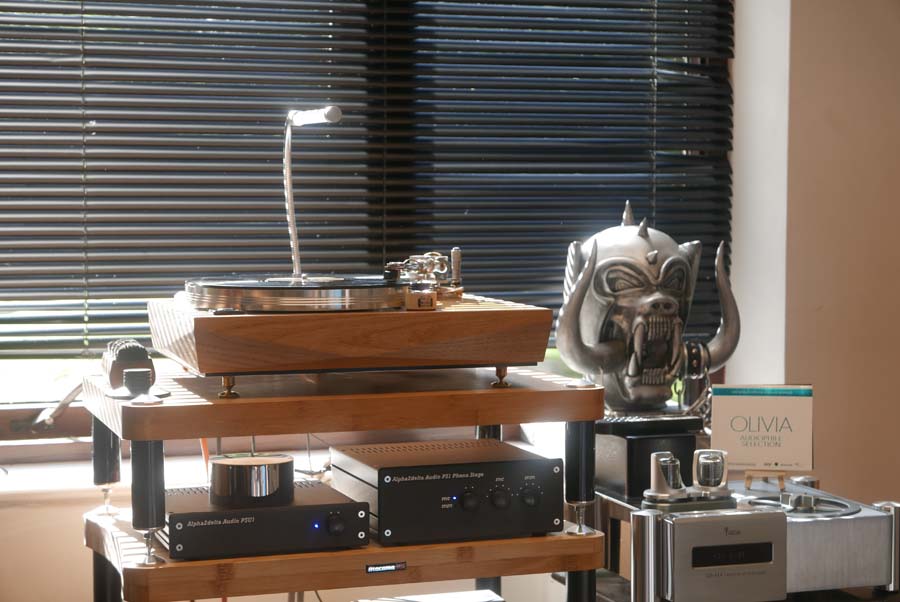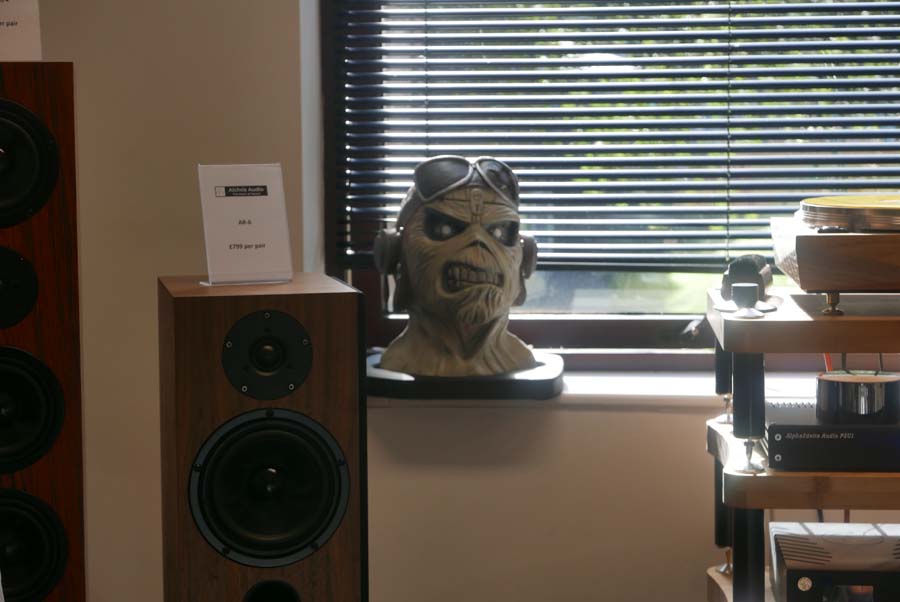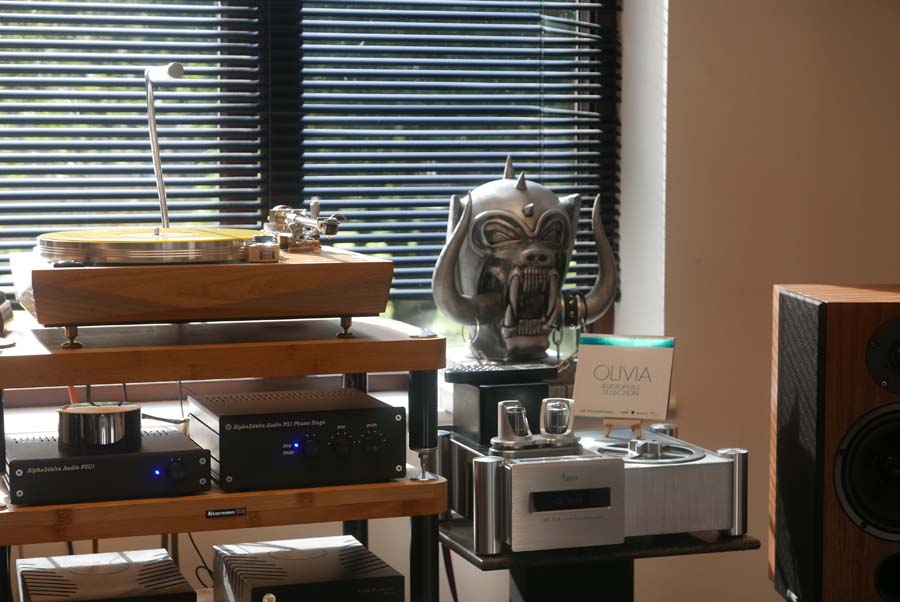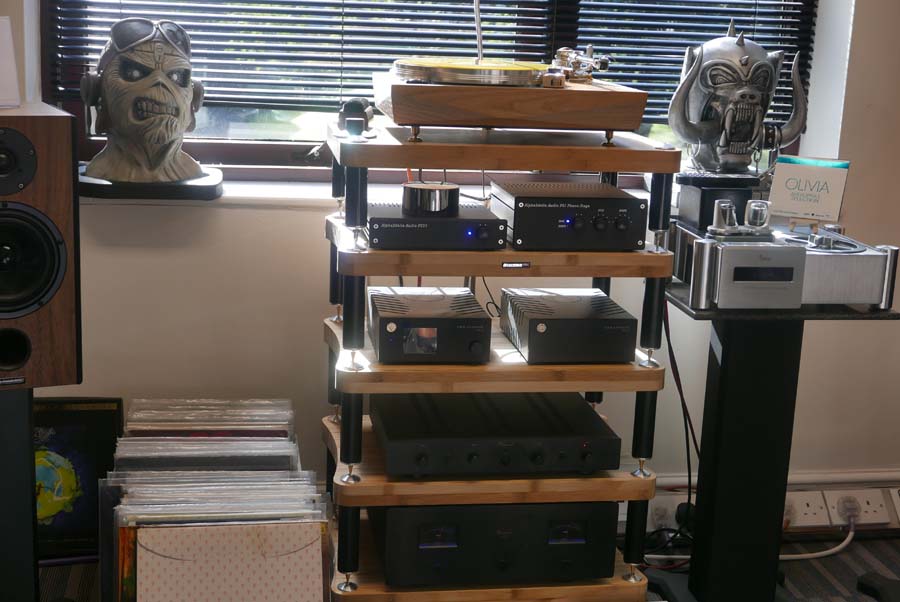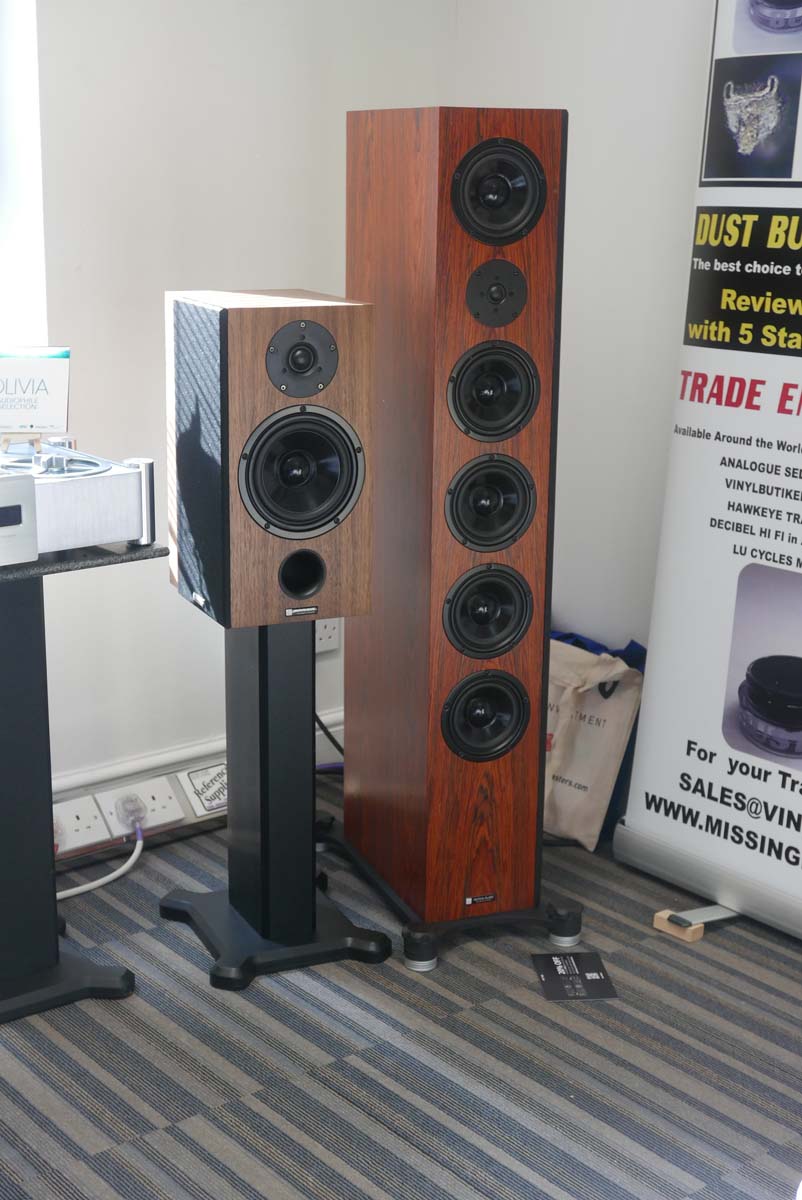 Time Audio had a large room with brands Audio Exklusiv and Diapason. The electronics covered a wide range of options and the Diapason Astera speakers, which are beautifully made and very sculptural in true Italian style, are a treat for the eyes and ears at nearly £8,000. On a table to one side were some beautifully hand-carved speakers by Antonio Camini the Diapason Karis Wave Limited Edition at £6750 and matching carved stands at £4320. I'll have two pairs, please. Yet another alternative group of products to salivate over.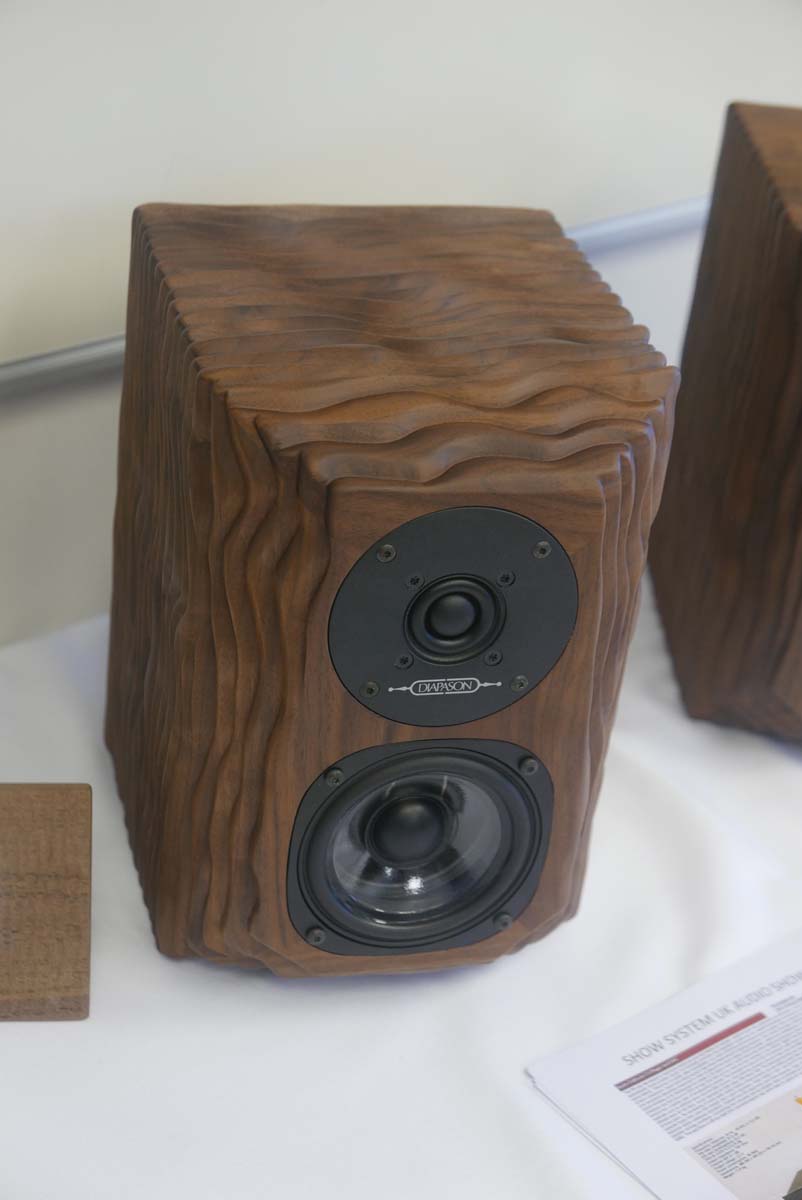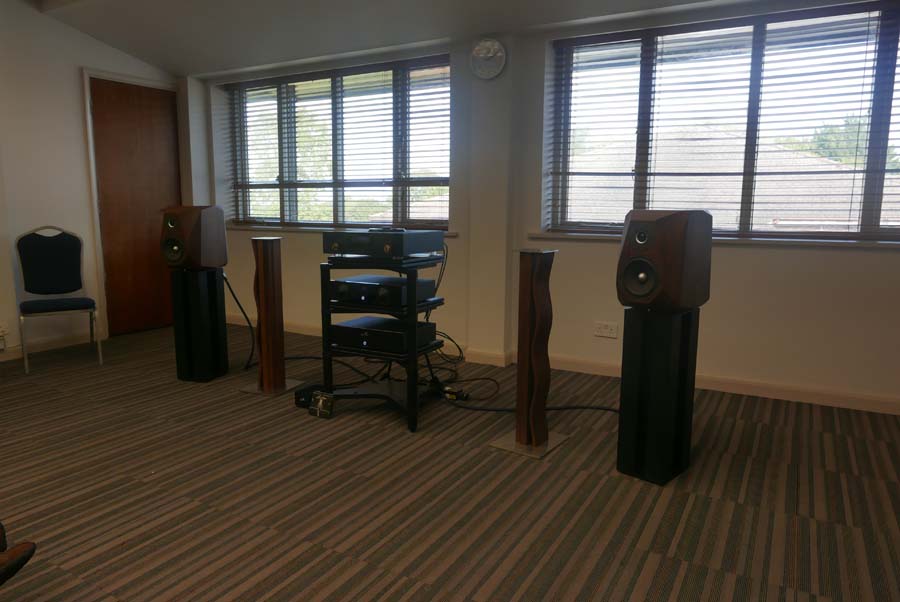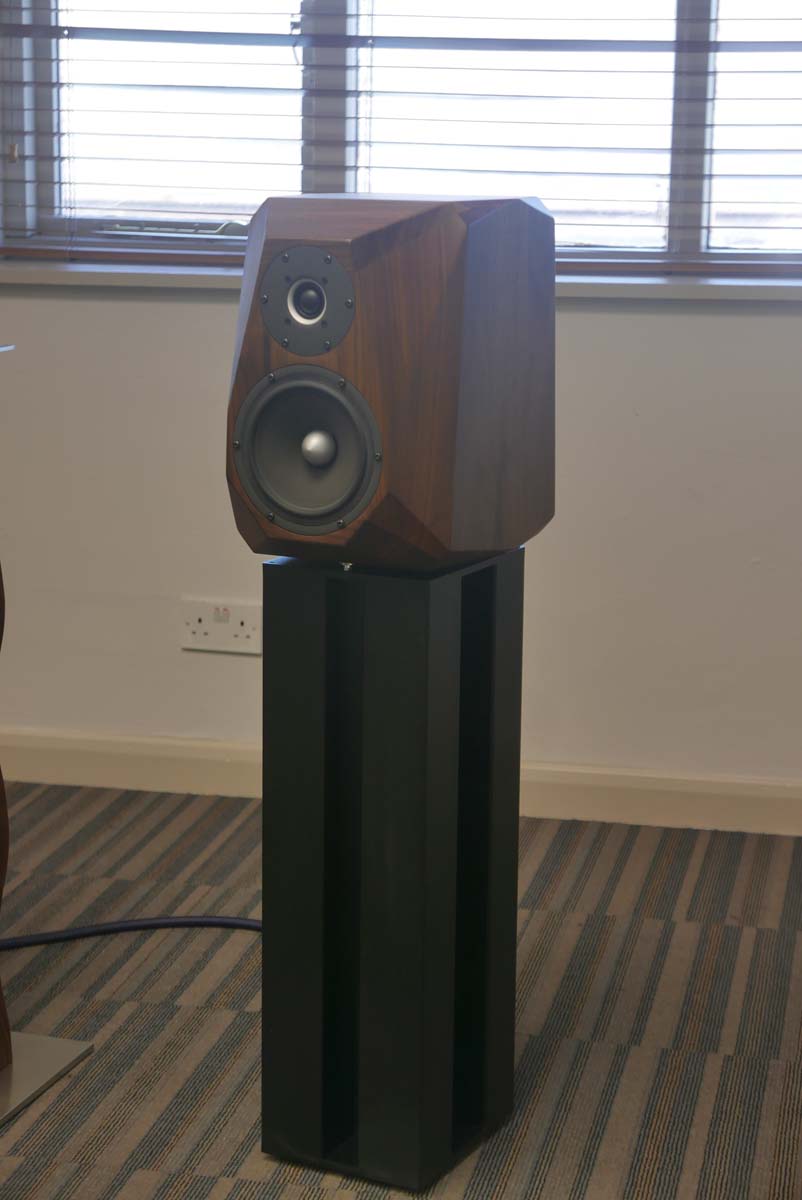 A large room had amongst its wares a company from Hamburg in Germany called Lyravox. They had two models of speakers on show, the large active Karlotta at £25,000 and also a much smaller stand-mounted compact model the Karlsonn at £16,000 a pair. The latter is a two-way bass reflex system designed for monitoring. They are beautifully made (as you would expect for the price) and from a German company, the quality is spot on. Some orchestral classical pieces were playing in the room as I entered and the dynamics were brilliant and bass was really extended. I assumed it was the larger Karlotta's that were playing, but no! I have to say I was mightily impressed for such a compact speaker but they are a premium price. You can even use DSP software from a laptop to match them to the room. What's not to love?
Static displays had amongst them Acoustand Audio from Gainsborough who I first saw at Cranage the other year. Lee Drage makes sublimely engineered products especially turntable arms and accessories. He made a beautiful model finished in a fabulous purple hue that even a few years on looks superb. A range of his new arms and accessories were also on show.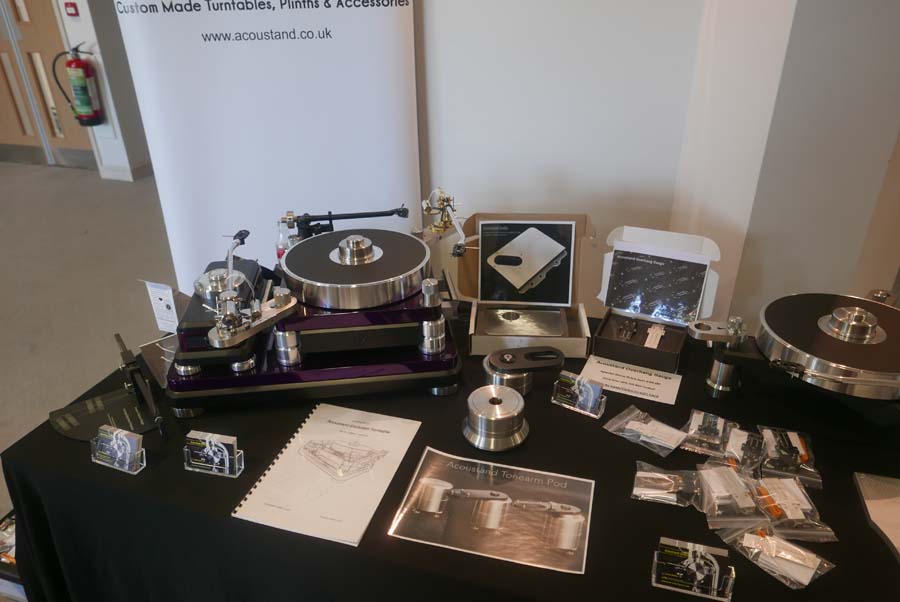 Clarity Cap was showing their exquisite range of handmade exclusive components that are very expensive, but for purists, they are a must-have component to use.
Atacama Audio had their usual display of excellent racks, speaker stands and accessories. I have an Evoque Eco 60-40 SE2 in bamboo and love it.
A name from the past, Alphason, was a pleasant surprise. They used to make the highly regarded HR-100S tonearm and now they have produced the HR-200S using modern design and materials. I shall await more news and hopefully see reviews in due course.
There were many more rooms we couldn't see due to the pressure of time in one day or they were simply too full at the time. Apologies to those rooms and companies, maybe next time.
As I said in my introduction this was a good show with a lot to give and admire despite all the usual show gripes. Bristol 2022 is in February and then there is Munich in May and NW audio show Cranage in June. Covid changed our lives in 2020 but it hasn't stopped companies from being innovative and filling our lives with sonic joy.
FULL GALLERY OF IMAGES FROM THE UK AUDIO SHOW 2021
Ian Ringstead