Skinny Puppy commence a short European tour with a rare UK show at the O2 Forum in north London on 30th May. It is the first visit to the capital since 2010 by the group, who are widely acknowledged as pioneers of electro-industrial rock and were a formative influence on artists such as Trent Reznor of Nine Inch Nails, Marilyn Manson, Grimes and many more.
Formed in Vancouver, Canada in 1982, the core duo of cEvin Key and Nivek Ogre originally conceived Skinny Puppy as an experimental dark electro-pop project. Releasing seven studio albums over the next decade on the locally based Nettwerk label, they toured North America many times (and Europe once), and built a loyal fan base among electronic, industrial, rock and gothic audiences.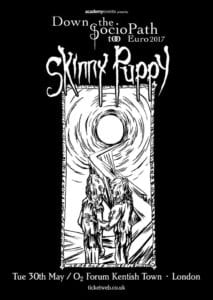 Well known for their theatrical, horror-themed live performances and videos, they also drew attention to issues such as chemical warfare and animal testing. Following a major label deal that yielded one album and derailed the band (third member Dwayne Goettel also died prior to its 1996 release), Key and Ogre spent several years years concentrating on a number of side projects, although they did reunite for a one-off concert in Dresden in 2000. They eventually reformed in 2003 with Mark Walk completing the current trio and have released four further studio albums, the most recent of which is 'Weapon', released in 2013 on Metropolis Records. It stands as a commentary on the glorification of gun culture and horror at the devastation wreaked by weaponry.
Shortly after the album was released, the band discovered that their music had itself been used as a 'weapon' by the US military, who had tortured prisoners at Guantánamo Bay with it, as well as songs by Metallica, Rage Against The Machine and others. They subsequently invoiced the US defence department for $666K.