Keyboard maestro Vangelis has personally overseen the remastering of Delectus,  a 13 disc retrospective collection comprised of a selection of his solo albums and those recorded with Jon Anderson of Yes. 
Presented in a lavish box, the 13 albums are accompanied by a 64 page book.  While this is a great collection for the Vangelis fan, I was disappointed to see that as the collection features the albums that he recorded for the Vertigo and Polydor labels  between 1973 and 1985, some of my personal favourites – Heaven and Hell, Albedo 0.39, Spiral and the Blade Runner soundtrack – are absent as, they were released on RCA and EMI.  Despite this, there is plenty to get your teeth into and it is fascinating to hear the variety of influences that Vangelis has incorporated into his music over the years.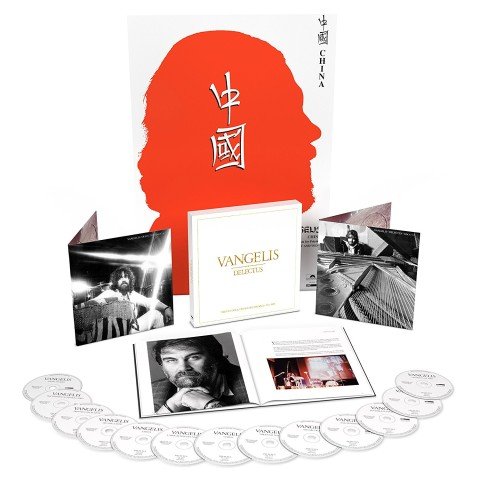 Earth, from 1973, will come as bit of a surprise to anyone used to Vangelis' later electronic albums.  Here, his keyboards – mostly a treated Hammond organ – largely take a back seat to guitar, drums and bouzuki.  As well as Vangelis' keyboard textures, the album features some vocals from Robert Fitoussi who would go on to have a hit single in the 1980s with Words under the name of FR David.
Also released in 1973, L'Apocalypse Des Animaux was actually recorded in 1970 while Vangelis was a member of rock band Aphrodite's Child with singer Demis Roussos.  These tracks formed the soundtrack for a French natural history documentary.  Considering that it is nearly forty seven years old, the album sounds remarkably fresh; almost  any of these tracks could be used on a similar project today and not sound dated at all.
Next up is China from 1979.  China makes much more use of synthesised sounds, its powerful pulses and chords conjuring up a vision of  China's vast landscape and rich history.  While not strictly a concept album, it's use of Chinese musical influences ensures that it's nine tracks have a thematic cohesiveness that makes for a really immersive listen.
Disc 4 in the set is See You Later from 1980.  Being of the 80s (although only just) it does suffer from a more dated production style – drum machines, fretless-styled synth basses and vocodered vocals all feature.  Titles such as I Can't Take Any More, Suffocation and See You Later suggest that perhaps all was not quite rosy in Vangelis' world at this time; there is a definite oppressive air about this album. Memories of Green is a lovely listen though, reminiscent of the more ambient tracks on Eno's Another Green World.
Antarctica is from 1983 and is another soundtrack album, this time to a film by Koreyoshi Kurahara.  This time the 80s production is more sympathetic to the music and Vangelis does what he does best, creating big sweeping themes that create their own images.
1985's Mask contains 6 tracks, titled Movement 1 to Movement 6.  As the titles suggest, this album has a symphonic influence, the tone is generally dark with chanting vocals reminding me of Rosemary's Baby or The Omen.  It's not always an easy listen but it is a rewarding one.
Confusingly, the next disc, Opera Sauvage, is from 1979 and is another nature documentary soundtrack.  Containing some synthesiser tones that are instantly recognisable as being by Vangelis, it is a gentle album with some celtic influences, as made plain by the track Irlande.
Disc 8 brings us back to the 80s (1981 to be precise) with what is arguably  Vangelis' best known work, Chariots Of Fire.  The title track (although it is actually called Titles rather than Chariots Of Fire) has become synonymous with nearly every athletic event of the last thirty years but despite that,  it has lost none  of its charm or power.  The other five tracks that make up what would be side one of the LP are each evocative in their own way but it is the single suite Chariots Of Fire –side two, if you will, that really shines here.
Soil Festivities is from 1984 and returns to the theme of nature.  This is not a documentary soundtrack this time though but a stand alone studio album.  Vangelis stated that he made it because he wanted to make music, not because he wanted to sell a million records.  Like Mask, which it precedes, it's tracks are titled as Movements.  Opening with a clap of thunder and a rain storm, the albums themes are given more time to develop than would be possible in a soundtrack album and although it is a slow burner, it is one of Vangelis' most rewarding albums.
Invisible Connections from 1985 (released after Mask) is often considered to be the third part of a trilogy with that album and Soil Festivities.  Perhaps Vangelis disagrees and that is why the albums are not presented chronologically in this set.  Perhaps not though, who knows?  In any case,  invisible Connections again sees a set of longer tracks – only three this time.  This album is without doubt the most challenging in the set, although not in the same league as the RCA-era Beaubourg, a dissonant tone poem that was such a difficult listening experience that many people dismissed it as a throw away contractual obligation exercise. Invisible Connections' opening track is so sparse that there may be more spaces than notes, but this is not necessarily a bad thing. Waiting to hear what happens between the spaces manages to be invigorating and relaxing at the same time.  One thing is for sure, you are not going to whistle this one in the bath like you might do with Chariots Of Fire.  Track 2, Atom Blaster, carries on in the same vein but with with more percussive sounds this time.  The final track, Thermo Vision, remains light on tunes but is a bit more dense, if someone ever does a reboot of 2001 A Space Odyssey, I could see parts of this working perfectly in the final reel.
The last three discs of the set comprise of the albums that Vangelis made with Jon Anderson of Yes: Short Stories, The Friends Of Mr Cairo and Private Collection.  Short Stories mixes experimental pieces like the opening track Curious Electric, with more commercial tracks like I Hear You Now which sounds like Steve Winwood's Arc Of A Diver on quaaludes but still managed to be a hit.  The Friends Of Mr Cairo contained another couple of hits in I'll Find My Way Home and State Of Independence which Donna Summer turned into an unlikely smash.   Private Collection is perhaps one more Jon and Vangelis album than anyone who is not either Jon or Vangelis really needs but it's pleasant enough and deserves its place here.
All in all, Delectus is a really enjoyable set of albums, one to be savoured over a period of time.  It's a pity that we couldn't have had the RCA years as well, along with the essential Blade Runner soundtrack but if you have anything more than a casual interest in Vangelis' music, Delectus is well worth your time and money.
John Scott