Voxtok, a Frano-American company with their R&D team based in the South of France, announces the launch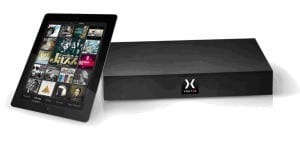 of AudioCapsule, an audiophile-grade player and a music server, controlled from your smartphone, tablet or Smart TV. Combining a premium quality player, a multi-room music service, and a CD-ripping feature, AudioCapsule also comes with a high-capacity internal storage, and provides access to cloud-based services.
AudioCapsule can be pre-ordered from today at an early bird retail price of 1199€, with a one-year subscription to related services included.
Voxtok has also launched its Accelerator Program. Users are invited to share their opinions and ideas, and to play a vital role in designing upcoming features of AudioCapsule.
AudioCapsule will be available from November 16th 2015, full price will be 1999€.