VPI wanted to get back to their roots with the Prime and to create a table that offers quality hi-end sound while taking advantage of improvements in technology. The Prime has been designed to have a curvier and more attractive appearance than other turntables and yet has the footprint to accommodate a 10 inch 3D printed tone arm.
The Prime is said to be a doddle to use… press the start button, move the tone arm into position by hand and then lower the needle with the special lever. The needle will then softly drop into the groove and the performance will begin. The attention to detail in the construction of the Prime ensures that the operation and playback is as beautifully smooth as you would expect from a super table.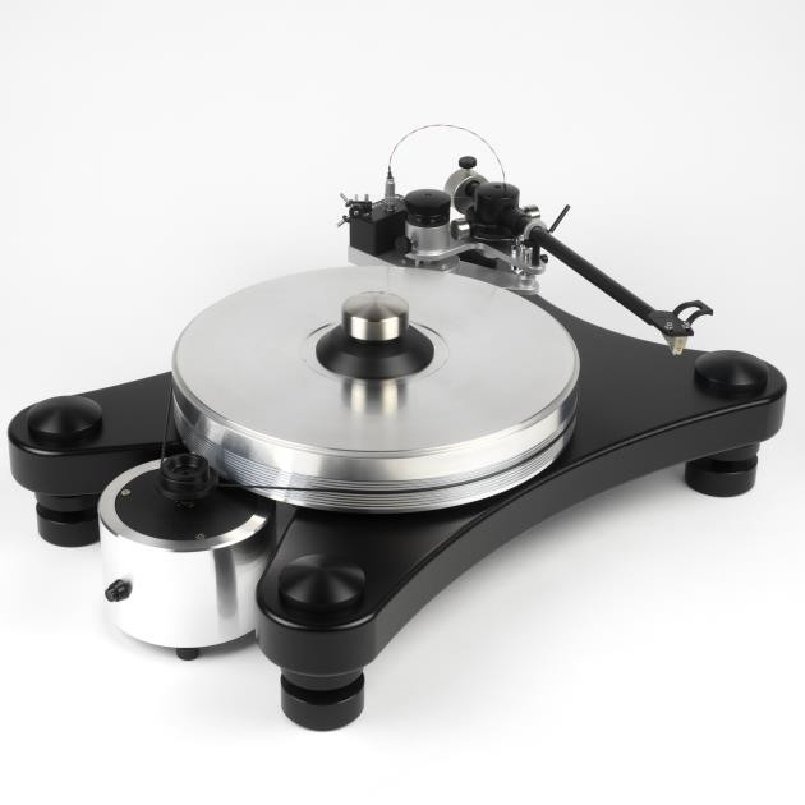 The 3D printed arm represents a step forward for Prime says the company's press release, as the improved technology and increased volume in printing and supply allowed VPI to create the tone arm that they wanted and at a lower than usual price.
The Prime is the first solo performance design by Mat Weisfeld (the son of VPI's founders and all round nice guy) and is equipped with an ultra-low noise 500RPM motor, the 3D tonearm and isolation feet and record clamp – all tooled especially for the Prime.
RRP: £3,750
Features 
10 inch 3D arm
VTA Tower for VTA/SRA on the
Classic 20 pound platter and
Outboard 300 RPM motor
New "Prime" feet which offer improved isolation and better mechanical grounding.
Stainless Steel/Delrin record
The Prime is also available as a package with the SDS, Synchronous Drive System.
Tech Spec
 The Turntable: 
Chassis made of black textured vinyl over MDF with an 11 gauge steel plate bonded to the underside.
Four solid Delrin corner assemblies designed for isolation and mechanical grounding.
A 300 rpm 24 pole AC synchronous motor capable of high torque and quiet operation installed in a separate aluminium and steel machined
Inverted bearing – hardened stainless steel shaft, 60 Rockwell chrome hardened ball, spinning in a phosphor bronze bushing and sitting on a PEEK thrust disc.
20 pound damped platter machined from 6061 aluminium to +/- .001" in a 39" circumference
Motor pulley has an accuracy of +/- .0005"
Wow and flutter: >.1%
Speed Accuracy: >.03%
Rumble: >85db down
Overall Dims 21 3/8″ x 15 3/4″
Footprint is 19 1/2″ x 13 3/4″
54 lbs packing
The Tonearm: 
Pivot to spindle: 258mm
Effective length: 4m
Overhang: 4mm
Offset angle: 19.98
Average RMS distortion: 311%
Internal wiring: premium Discovery wire, optional Nordost
New design 3d printed one piece body for the ultimate in resonance
Full length copper shielding tube
Adjustable side weights for finer azimuth
Built in "Easy lift" finger
Offset stainless steel counterweight for
Easy setting of VTA/SRA in thousandths of an inch, calibrated and
Adjustable anti-skate.
Available Upgrades: 
Periphery Ring clamp
HR-X Centre Weight
Synchronous Drive System (SDS)
Single Motor Flywheel (must be used with SDS).