Warwick Acoustics Ltd, the company behind the SonomaTM Model One and APERIO Electrostatic Headphone Systems, has announced the launch of a new Limited Edition APERIO.
Warwick Acoustics is a UK-based audio technology business focused on "creating remarkable listening experiences in personal and automotive audio".
APERIO Headphone System
Following the launch of their flagship headphone system, The APERIO, in Europe & North America in 2019, Warwick Acoustics has announced the 'World's First Reveal and Launch' of a new look APERIO – the Limited Edition 24 kt Gold APERIO.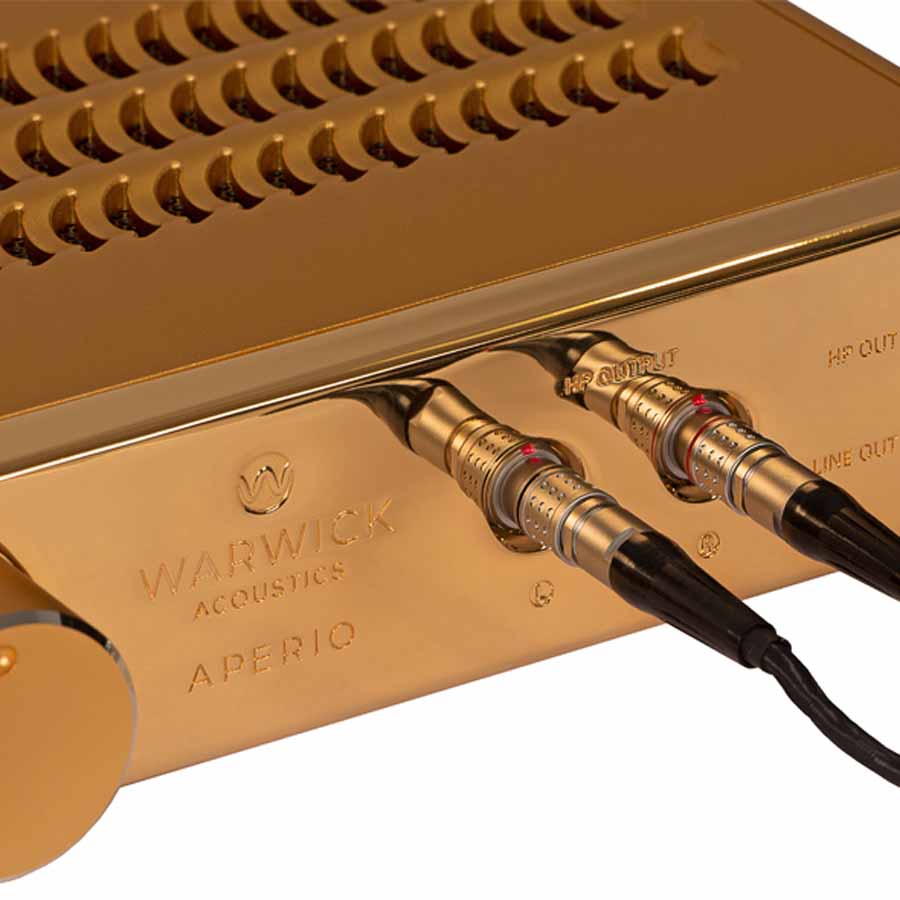 The APERIO, designed and manufactured in the United Kingdom, was developed with the most demanding professional audio creators and audiophiles in mind. Warwick say it is a reference studio monitor headphone system for High-Resolution Audio recording, mixing mastering and production applications. With an integrated reference-performance DAC, analogue and network connectivity, the APERIO can also be used as a stand-alone full function pre-amp at the centre of high-end audiophile systems.
Limited Edition Gold
The Limited Edition Gold APERIO was created for "the discerning music enthusiast seeking the most unforgettable and remarkable listening experience delivered in a one of kind, eye-catching, headphone system".
The headphone grilles, hardware, and Amplifier front panel have all been custom hand-finished in 99.9999% pure 24 Karat Gold. Each Gold APERIO also bears a unique individually numbered 'Limited Edition' nameplate that sits on top of the Amplifier.
It is plated and hand-finished in the United Kingdom's historic 'Jewellery Quarter', Birmingham, United Kingdom, which has been described by English Heritage as 'a national treasure'. In addition to the Gold finish, the system uses the highest grade and closest matched BD-HPEL transducers.
The Limited Edition Gold APERIO is being launched today at the Chengdu International Headphone Expo in China. It will be available immediately in the China region exclusively from Warwick Audio's distributor, Max Digital.
APERIO Specifications
Headphones
Configuration Open-back; circumaural type
Transducer Balanced-Drive High Precision Electrostatic Laminate (BD-HPEL)
Effective Diaphragm Area 3570 mm2
Frequency Response 10 Hz – 60 kHz
Output Level (SPL) Compliant with EN 60065/A12:2011 (EN50332) when driven by APERIO electronics (for all inputs); digital input: ∽ 104 dB; analog input: ≥ 106 dB (continuous, est.)
Ear and Headband Cushions "Cabretta" top-grain, sheepskin leather; perforated surface on ear cushions
Input Polarized, 4-pin, self-latching connectors for left and right channels
Drive Cable Dual mono, shielded, ultra-low capacitance; silver-plated OFHC ultra-fine stranded copper, with silicone insulation and Kevlar reinforcement; 2 meter length
Weight 405 grams (14.3 oz.), without cable
Electronics
Balanced Analogue Inputs Dual (female) XLR jacks; switchable (high / low) input range; 18 dBu / 10 dBu
Unbalanced Analogue Inputs Dual RCA jacks; switchable (high / low) input range; 5.0 Vrms / 2.1 Vrms
USB Digital Input Type B jack; USB 2.0; accepts digital audio formats up to 32-bit / 384 kHz PCM and DSD (DSD64/DSD128/DSD256) via DoP or Native
Network (Ethernet LAN) Digital Input RJ45 jack; DLNA-compatible; accepts digital audio formats up to 32-bit / 384 kHz PCM and DSD (DSD64/DSD128/DSD256) via DoP or Native
AES3 (AES/EBU) Digital Input XLR (female) jack; accepts digital audio formats up to 24-bit/192 kHz PCM
S/PDIF Coaxial Digital Input RCA jack; accepts digital audio formats up to 24-bit/192 kHz PCM
Line Outputs Balanced and unbalanced, high current outputs; +5 dB gain; switchable
Digital Formats PCM: 16-32 bit / up to 384 kHz; DSD: up to 256 fs DoP and Native
Digital Signal Processing (DSP) 64-bit (double-precision) fixed-point processing at native sample rates
Switchable Gain Rear panel switch; high level / low level selection for balanced analogue input (professional audio and consumer levels) and unbalanced analogue input
Source Selection Multi-position front panel selector with indicator LEDs for all sources
Level Control Front panel, 31-position; digital and analogue domain volume control (HP & Line Out)
Status Display Front panel, 51 mm, full colour, QVGA, TFT LCD (240 x 320 pixels)
Display Functions Digital readout and bar graph of volume control setting; display of digital audio data format; display of rear panel analogue input (gain) settings; display of Ethernet and USB data link transmission lock; display of detected fault modes and output clipping
Auto Fault Detection Automatic detection, display and protection for: output amplifier clipping, unplugged connections and malfunctioning wiring, over-temperature conditions and internal electrical faults
DACs 2 x dual mono, 32-bit / 384 kHz DACs with balanced outputs, for PCM & DSD inputs
Amplifier/Energizer Balanced, discrete MOSFET, high-bias, single-ended Class A output; dual-mono topology, including power supply; 1800 VDC bias (charge) voltage
Distortion + Noise < 0.001%
Bandwidth > 65 kHz
Enclosure CNC-machined 6063 aluminium; earth-grounded
Power Supply External: world voltage compatible (90-264 Volt AC, 50-60 Hz); 24 Volt DC, 200 VA (8.333 A), fixed frequency, class B-compliant SMPS
Internal: isolated, dual mono; switching and ultra-low-noise linear regulation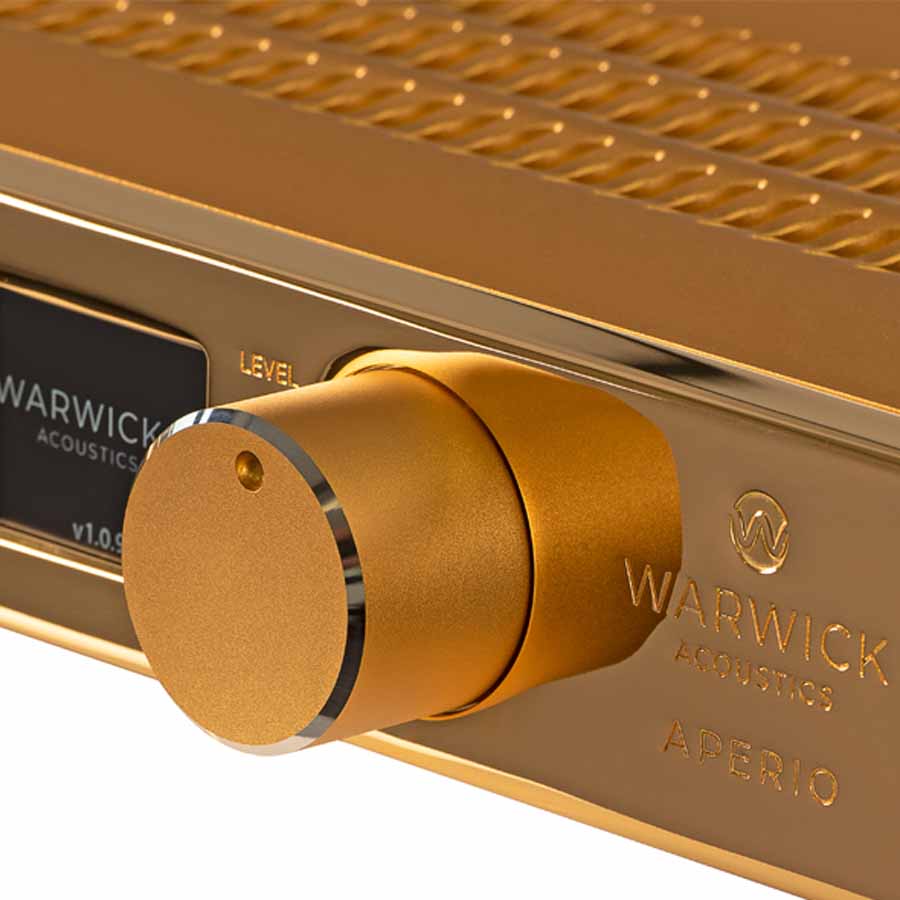 Price
The Limited Edition Gold APERIO will retail at US$35,000 / £29,995. Pre-orders can be made for early 2021 delivery. Other exclusive custom finish options will also be available very soon.