The fourth and final report from the fantastic XFI Hifi show in the Netherlands. If you would prefer to read the coverage in order then please click on the links below.
Bird's Eye View Of The XFi Premium Audio Show 2019
ATC, Benchmark, MUTEC and PSI AVAA
This room had a distinctly "studio tech in the home" feel to it with all the brands included having a good heritage in the professional audio sphere.
ATC is perhaps best known for their loudspeakers but back in February they announced that they were introducing their CD2 CD player and SIA2-100 2-channel integrated Amp/DAC and they joined a range of audio electronic products and loudspeaker systems designed and built in Stroud in the UK.
MUTEC are best known for their clocks such as the MC-3+ Smart Clock USB interface and REF 10 master clock.
Benchmark first made a name for themselves in the audiophile world with their DACs and we reviewed their DAC3 HGC way back in 2017 and then in April 2018 they announced their new amplifier which you can read more about here.
The room had overall a good sound but the room itself was being pushed a little hard for its dimensions resulting in a bit of bass boom.
The Funk Firm and Exposure
Exposure is a brand that I first became aware of when I was first getting into Hifi many more years ago than I care to remember and so it is nice to see the brand once again making a name for itself on the international stage. It's also good to know that their products are British "from design to finish". Earlier this year they added a CD player (yes, the format is still very much alive thank you very much). Interestingly they also launched their VXN active analogue crossover which sits between preamplifier and power amplifiers and I think is a very exciting product.
Funk Firm is also a British brand best known for its turntables and somewhat legendary Achromat. However, the company does much more than this and produce a range of accessories and upgrades for audiophiles.
At XFI we were treated to a very warped (i've tried to capture just how warped) copy of a Paul Simon record which, despite the wobble, sounded very decent.
Schitt Europe
I have a lot of time for Schitt, whose products are designed and manufactured in the States, they produce a wide range of products that simply do what they say on the tin, have a funky marketing message and always sound splendid, particularly given the often very competitive price point.
At XFI we were treated to a little desktop system, which is similar to one that I was using until I realised I was getting far too drawn into the music and not doing enough work, and it sounded very good. Genuinely, if you are looking for a great desktop system without spending a fortune then this could well be a solution for you – the form-factor and the neat "rack" look great on a desktop too. However, since launching with their smaller products the company has diversified into more high-end and bigger products which have been very well received on the world stage.
Aspera
Aspera are actually a Belgium company and there were a good few Belgium companies at the XFI show which is testament to the clever location and easy access. The turntable in this room is by TW Acustic Raven 1 from Germany. It has a 12Kg platter (the whole weighs in at 30Kg) and the chassis construction is 60 mm aluminium, ceramic blasted and black or matt silk anodised. It has three feet in stainless steel with adjustable in height. The platter is a 60mm Delrin based composite material developed by TW-Acustic in combination with a 40 mm wide stainless steel outer ring. The bearing is bronze with a 16mm hard metal shaft with ball on top, which rotates on a pressure ring of 'Material S ®  with TW-Acustic saying "This is a special low pressure PE based material with a very low friction coefficient and a very high wear resistance, so that a long maintenance-free life is guaranteed without extra lubrication". The motor is integrated into the body of the turntable.
All electronics are from Denver-based PS Audio and the speakers are YG Acoustics Carmel model which have a claimed response down to 32Hz and have a BilletCore™ ultra-high-rigidity mid-woofer and ForgeCore™ ultra-low-distortion tweeter.
The wonderful looking stand is from Artesania Audio from Spain.
This room was very nice indeed with a wide and open sound with a controlled bass-end and light and airy top-end.
Aequo Audio, Taiko Audio, Total DAC and CAAS
Aequo Audio are speakers made in the Netherlands which we first came across a couple of years ago and immediately fell in love with. We reviewed the Ensis speakers you see here and without hesitation gave them our highest accolade and commenting " These are as good a pair of loudspeakers that I have had the pleasure to have in our listening room (and I include our current reference Avantgarde Duo XD in this, though their presentation is obviously different). Presentation is clean, uncoloured and powerful when it needs to be – and likewise subtle when there is the call for it. Dynamically they are brilliant. They present every nuance of a performance or piece of music with dazzling detail and yet remain an easy listen." It's probably easier if you read the full review.  Oh, and look at that finish on the speakers in the last image – beautiful!
The streamer in the room was from Taiko Audio that is also a brand based in the Netherlands. The SGM Extreme server (on the floor front left) costs from €24 000. The Taiko Audio SGM Extreme's hardware architecture is a dual multicore CPU's running under a Taiko Audio custom assembled operating system built from the ground up using the Windows 10 components designed for industrial controller applications with SOTA process schedulers. All data and software storage is non SSD and utilizes "non SATA, non volatile solid state storage modules". The Taiko Audio SGM Extreme is powered by a linear power supply with choke regulation and a large capacitor bank using Dueland and Mundorf capacitors. Music files can be stored in the internal storage up to 24 TB or in a NAS (Network attached Storage) The standard software suite is Roon with the delivery of the data stream to JPlay which delivers the data stream to the USB controller. The stands are also from Taiko Audio.
The DAC is from French brand Total DAC who we have covered many times in these pages and reviewed here . You can read about their interesting D1 Driver here too.
CAAS are based in Hifi Pig's HQ neck of the woods in North Yorkshire. Their Elysian 100 monobloc amplifiers (Back left and right) use "Coupled Symmetric Drive" (CSD) topology which they say " allows bespoke zero feedback circuits to operate at high speed with very low distortion levels. The CSD input stage consists of a fully balanced symmetrical differential stage with a small voltage gain using ultra-high linearity complementary transistor pairs, operating in class A mode with NO feedback. This stage drives a balanced symmetrical push pull voltage amplifier stage again operating in class A mode with NO feedback and a moderate voltage gain. CSD is essentially two true zero feedback amplifiers operating in parallel to increase bandwidth and reduce THD, IMD and TIM." They operate in Class A up to 20W whereafter they go into Class AB. They use no capacitors, being directly coupled from input to output and use dual transformers.
This room was very, very good with a wide and open soundstage, controlled and accurate bass and a lovely mid-band presentation that just drew me into the recording and the recording space. One of my top rooms, easily and one I could have spent much longer sat listening to tunes in.
Goldmund
Goldmund is a high-end brand out of Switzerland and whilst we have seen their products many many times, I personally have never had the opportunity to take a listen to them and spend a decent amount of time with them so when I heard they would have their Prana active loudspeakers at the XFI show I was quite excited to finally experience them properly.
The Prana are the smallest in the Frame series of Goldmund speakers and this was the first time they have been demonstrated in Europe, though they were launched at AXPONA in the States earlier in the year. They can be played wired or wirelessly and here they were being used wirelessly using a Mac Mini with Roon partnered with Qobuz and Tidal. Frequency response is down to 35Hz and they have 2 x 175W amps for tweeter & mids and 1 x 250W for the woofer. Drivers are 1 x soft dome tweeter, 1 x 7" medium and a 1 x 9" woofer. Inputs are via 1 x digital S/PDIF input or a wireless audio input.
The Pranas will play 24/96 files but believe that 16/44 is plenty good enough and who are we to argue with this being one of the highlights of the show for me. The sound is fast and detailed, deep and controlled and I loved it. They also look fantastic, though I'm sure others would beg to differ – I would certainly give them house room! The concept here is "Plug, Play, Enjoy"!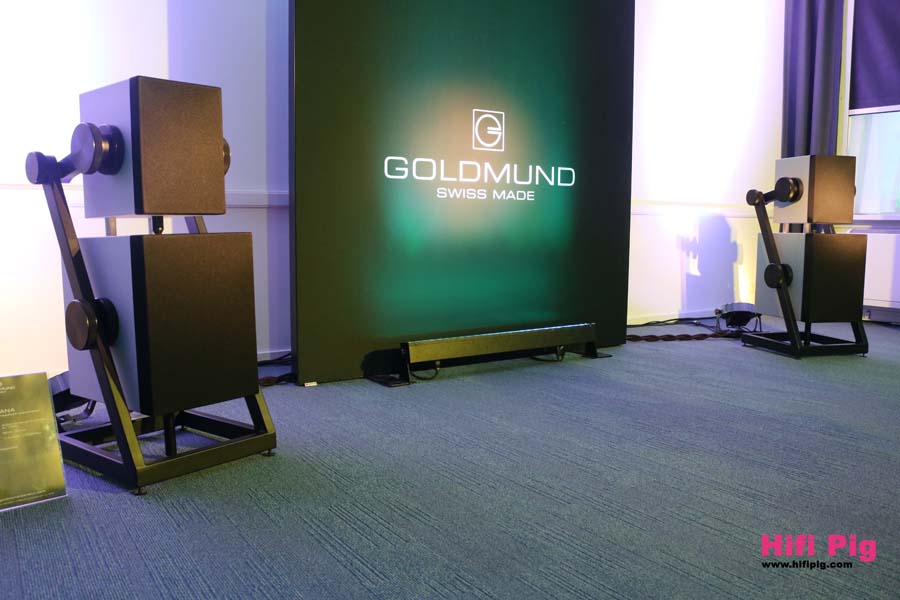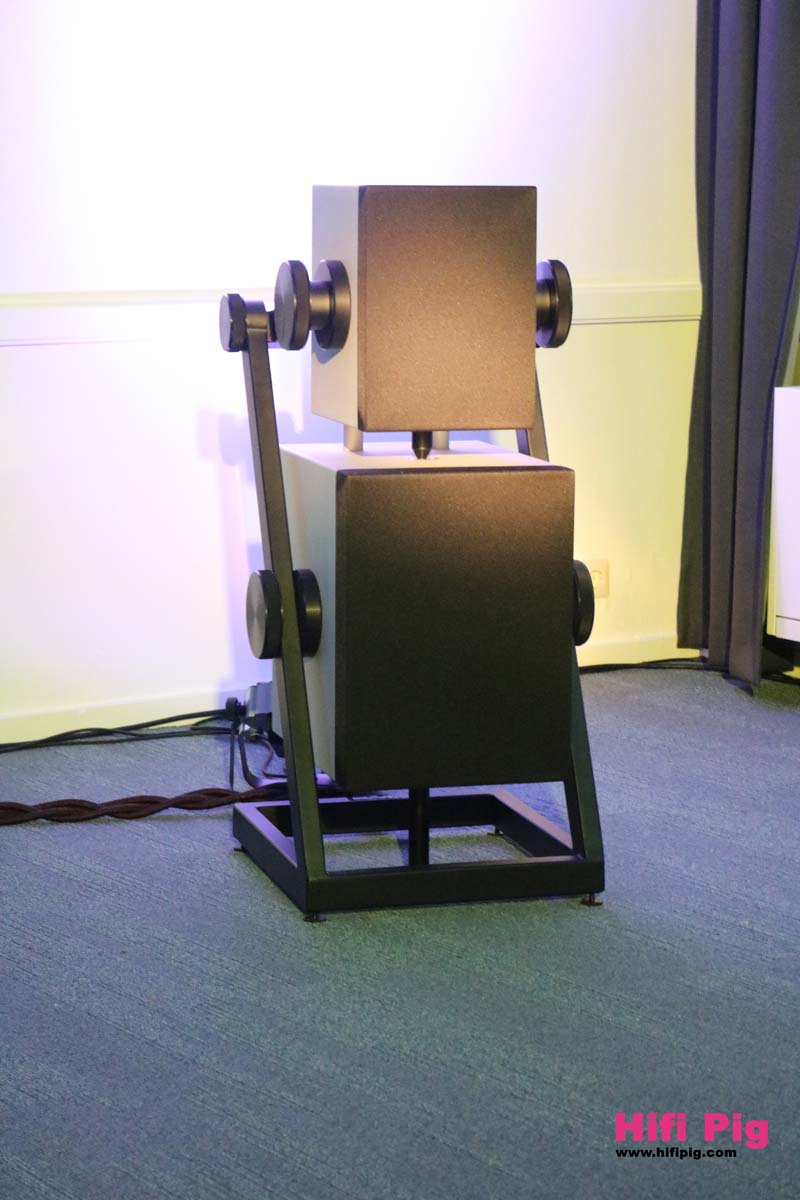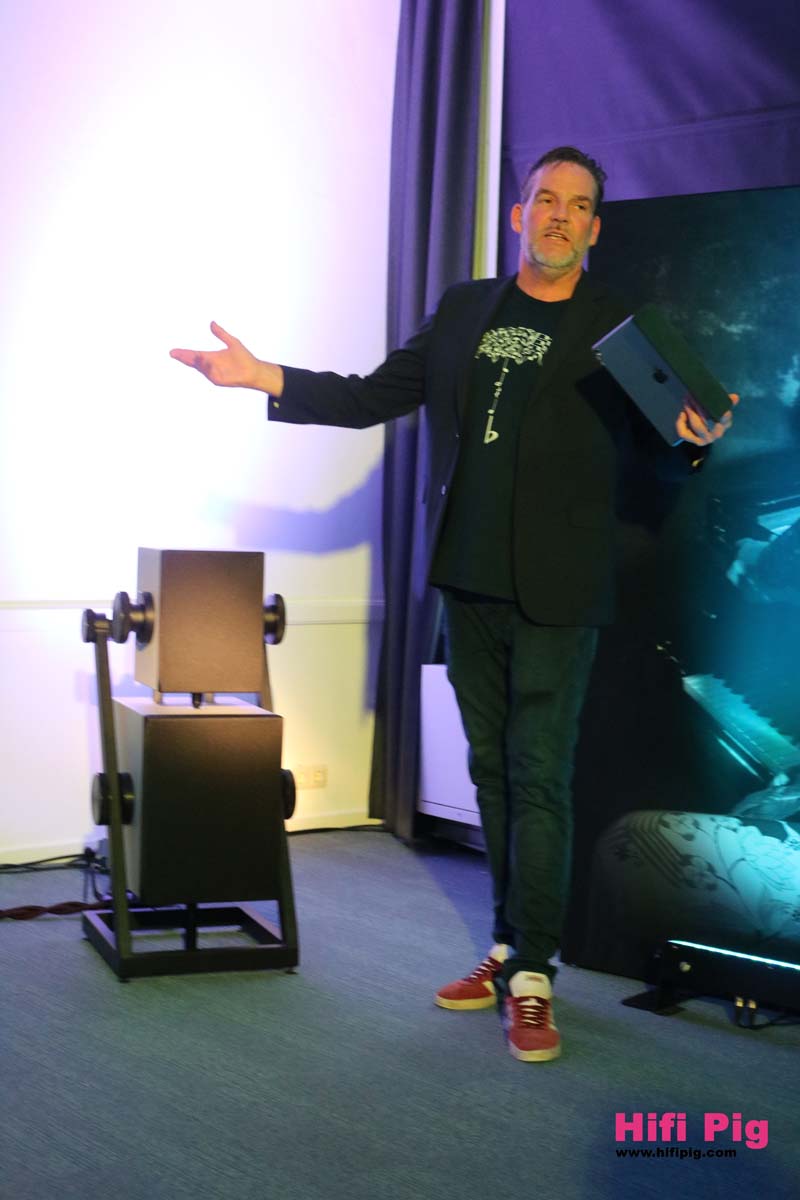 Vitus Audio and Joseph Audio
ALERT! OK, there's going to be a bit of gushing here as I was absolutely bowled over by this room and for me, it represented one of the most beautiful sounding rooms that I have EVER encountered in show conditions…and I do not say that lightly at all. I could have sat and listened to this setup all day I enjoyed it so much, in fact, had Linette not reminded me I would have forgotten to take any photographs.
The speakers are the Joseph Audio Pearl 20/20 Graphene which were making their European Debut at the XfI show in Eindhoven. I have been a long time fan of Joseph Audio speakers and Jeff, the owner of the company, must be one of the nicest and unassuming folks in the industry. Listening window response is within 2dB from 25 Hz to 20 kHz, they are a 3-way Series/Parallel Asymmetrical Infinite design with a Slope Crossover at 2.5kHz & 130Hz. we asked Jeff for a couple of lines about his newest speakers and he came back with "The Graphene midrange was the starting point of this newly upgraded Pearl, but that's not the only change to the midrange driver. It has a new motor system and suspension with a stronger magnet at its heart. As the new driver evolved, we were able to hear deeper into familiar recordings, uncovering details that went previously unnoticed. Yet this was coupled with a richness of tone that lent a sense of ease to the presentation. The new midrange required us to revisit and newly optimize the crossovers to take advantage of all that we were hearing." so there you have it, straight from the horse's mouth as it were.
The amplifier is the frankly stunning Vitus Audio SIA30 amplifier made by Hans Ole Vitus and which we first encountered at the Munich show earlier in the year. This 55kg, €35 000 really did wow us when partnered with the Joseph audio speakers and is an integrated design with 2 x unbalanced RCA inputs and 3x true balanced XRL inputs. You can have an optional phono stage which will add to the cost and there are 2x unbalanced RCA inputs for this. There is also an optional DAC/Streamer with 1x AES input, 1x SPDIF (RCA) input, 1x Ethernet for streaming, 1x USB supporting up to 2x DSD, 1x Optical input for TV ect. Outputs are 1 set balanced speaker outputs and 1x unbalanced RCA pre-out for active subs or bi-amping. Specifications-wise you get  30W Class A in 8ohm RMS, 200W high biased Class AB in 8 ohm RMS with the power rating pretty much doubling into 4ohms.
My notes are scant other than to say beautiful, but I do remember commenting to Hans that this system just did it for me in every respect…I'll not repeat the exact words I used for fear of offending readers! I think it was Nils Lofgren playing in the room on one of the tracks whilst we were in the room but can't be certain. The speed and attack on guitar were visceral and utterly believable with the sound almost enveloping you. This was as lifelike a presentation as I've ever heard at a show and I say all this fully in the knowledge that I will never be in a position to own this combo – that doesn't stop me dreaming. To put this into context both Linette and I came out of this room talking excitedly about what we had just witnessed in an almost "we've just had a religious experience" kind of way.
Thrax, TAD and MSB
Frank Vermeylen runs Very Fine Solutions and this room was put together by him and his team, but given that we had just come out of the room we had I was a bit concerned for him and the set up which comprised of: a Pink Faun 2.12 server with Roon/Tidal and the MSB Reference Transport going into an MSB Discrete DAC with dual power supply. The amplifier was a Thrax Ares integrated with phono module and the turntable was the Thrax Yatrus with carbon arm and Audio Technica ART-1000 MC. Loudspeakers were TAD Evolution One and cables were by Synergistic Research. room Treatment was by Artnovion. I needn't have been as this system gave a fine performance of Roger Waters' Thrilled To Death.
The turntable from Thrax uses a "vibration-free" direct drive brushless DC motor with integrated bearing and an electronically controlled "hyper stable" speed for extremely steady motion. It has a multilayer platter with special damping and a low resonance and adjustable suspension system. It will play all your 33s, 45s and even your 78s.
The Ares Integrated from Thrax is described as a single chassis audiophile system that is modular so you can add things such as a phonostage and features two mono amps with two independent power supplies and transformers. It also features a non-switching output stage arrangement isolated by a single-ended buffer that Thrax says "Delivers Class A liquidity and texture without the associated heat".
Now, I'm not usually a fan of TAD when I've heard them at shows, and I've heard them many times. I don't know why; is it the setup, is the room too big, am I sat in the wrong place….but here at XFI I had the opportunity to sit bang in the hot seat for a few minutes and the sound was fantastic. The imaging particularly was breathtaking with one particular sound seeming to come from very wide and forward of the front right speaker. The system as a whole was composed, in control, and very much a high-end system "on song". Another great room!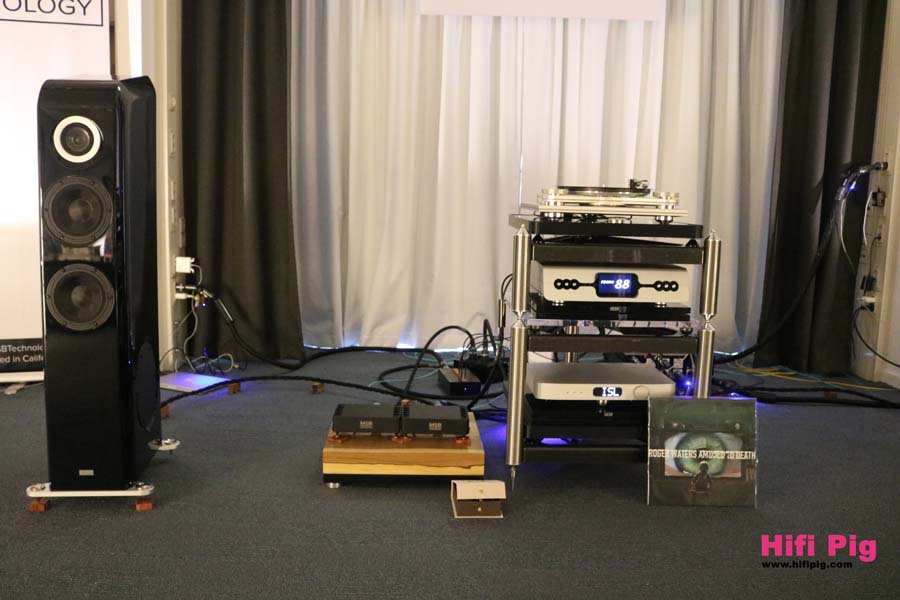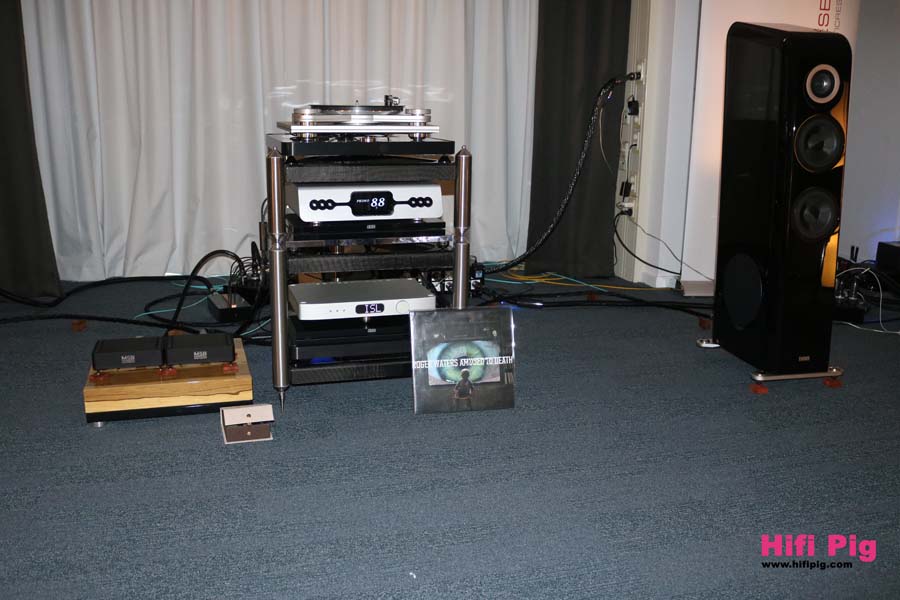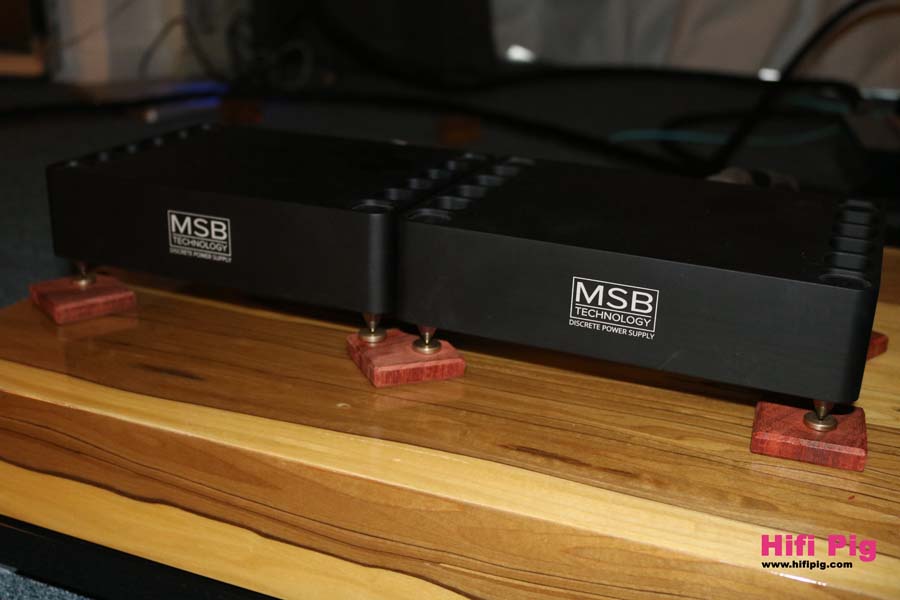 Audio Import with Airtight, Audio Note, Dr Feikert and GIP Labs
If esoterica is your thing, and I am a bit partial it has to be said, then this was the room for you. The speakers from GIP Laboratories (Japan) were wholly new to me and I had to do a bit of research to work out what they were. If this research is correct, which I think it is, they are the GIP Monitor 1 and here they are being driven by an Airtight amp (Japan). The turntable is from Dr Feikert and CD from Audio Note (UK).
The sound in this room was again very good indeed and really played to the kind of sound I enjoy from big horns and low powered SET amps. I sincerely hope this is at XFI next year so I can have an extended listen on vinyl.
AVM and Waterfall
This room was rammed and despite waiting for a little while we just could not get a seat…and that is a good thing, showing that the brands in the room have certainly got something right. I'm not going to really pass judgement on the sound of the room as I couldn't get a good place to listen but judging by the numbers and the smiling faces visitors were certainly appreciating this room a great deal.
Merril Audio, CEC, Bespoke Audio and Guru
The speakers in this room are the Guru Q10s that were originally designed for pro use and to be timbrally accurate, in time and in space. Bass is said to go down to 30Hz  and they are 87dB sensitive with an impedance of 5ohms. The enclosure type is a Helmholtz resonator and is made of MDF and aluminium. It's not a massive speaker measuring just 300 × 252 × 232 mm and having a speaker complement of a 20.5mm soft dome tweeter and a 102mm mineral fibre cone. They can be stand-mounted or placed on a shelf with Gurus saying they can be used for: Small to medium-sized rooms or for nearfield monitoring. They are a lovely looking little speaker and something that will fit in many a modern home.
The preamp is the TVC pre from British manufacturer Bespoke Audio which we reviewed here.
Now the amplifiers are very interesting as I've been a long time fan of the amplifiers of Merrill Audio and actually use their Thors in the mid-priced system as our reference. They are Class D and we were early adopters and have long been singing their praises. However, Merrill has gone much higher end with his latest offerings and in this room we have the middle model of their new Element range, the 116. In the US they are €22K and use 8lb of copper per monobloc…WOW! They give out 300W into 8Ohms and that doubles all the way down to 1200W into 2Ohms. These are a stunning bit of workmanship and all credit to the Merrill team. I do want a pair but will have to wait for a lottery win!
This room was just lovely with an unforced feeling that just let the music flow out of the speakers and with bass being powerful and low without being overblown. I also loved the look of this system – high end but without shouting about it!
Hifinesse and The Gryphon
We'd arranged to have a meeting with Rune Skov at the show at some time and now we were close to the closing of the show and we arrive at his room unannounced and with the door locked whilst he gave one of his legendary demonstrations of the wonderful The Gryphon's products. Fortunately, the guys from Hifinesse waited for a lull in the music and found us new seats (and water) in what was an absolutely packed room – THANKYOU!. Gryphon needs no introduction and so I'm not going to give you a rundown on the kit list and let you ogle over the photos. What I will do is try and convey something of the feeling you get when placed in front of this kind of high-end audio system from Denmark – I could just say breathtaking but that makes for a pretty short reading.
I like the way Rune does his demonstrations. No stats, no figures, no specs, he just introduces the music and lets the system do the rest. First up was some Sonny Clark Memorial Quarted with the track Voodoo – look it up it's great. I've heard this track a couple of times at dems and what really strikes you (quite literally) is the visceral feeling you get from the drums. This system is dynamic and hard-hitting when it needs to be, but when required it relaxes itself and the listener get right inside the inner detail of a tune. This is what high-end audio offers the listener and whilst it comes at a price, it is a price worth paying if you are able. There was a moment that I was lost in the track listening to the contrebass and the sheer amount of detail that was coming through was terrific with me hearing every slide of the player's fingers on the fretboard. Next up we had a complete change in direction and some opera. Now regular readers will know I'm no fan of opera but this had me holding back the tears sat at the back of the room. Utterly believable that the singer was in the room in fron of us if I closed my eyes and the detail and texture… next came another complete change of direction with Trentemøller and his analogue bass-infused tunes from Denmark. Again the sound was breathtaking with you being able to hear right into the sounds being created.
Another one of the very best rooms for me.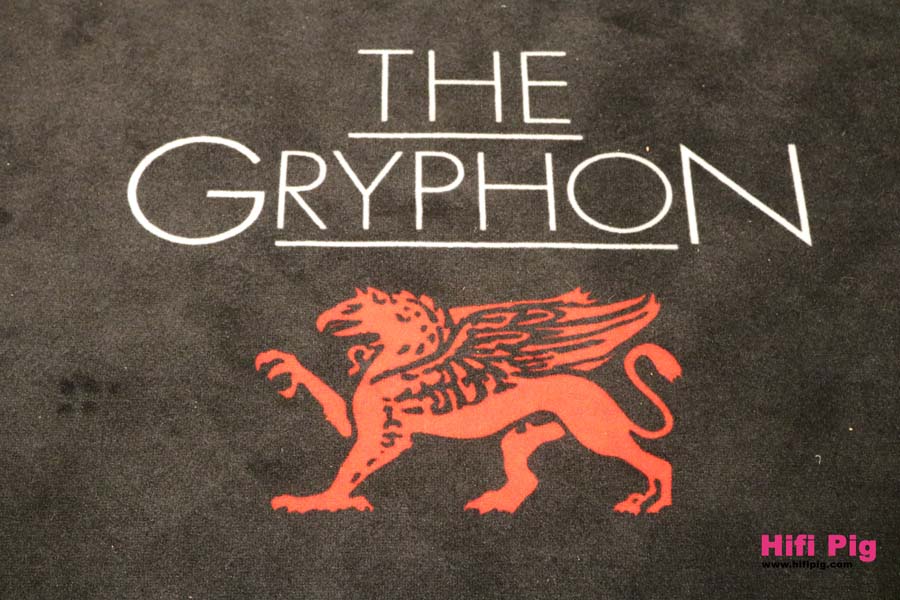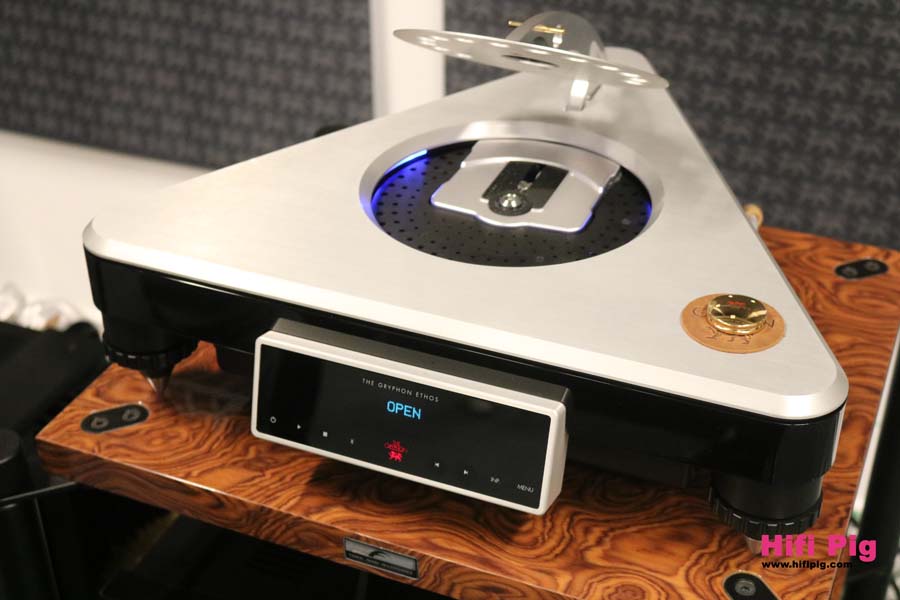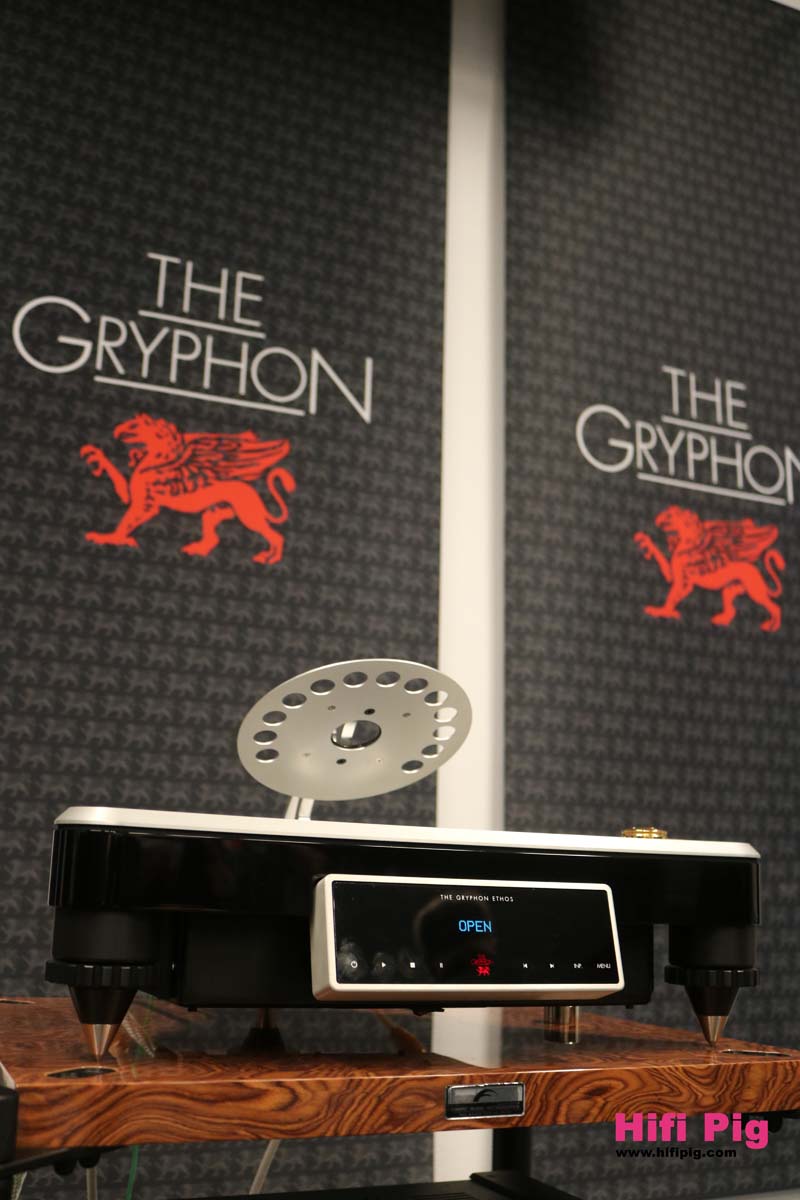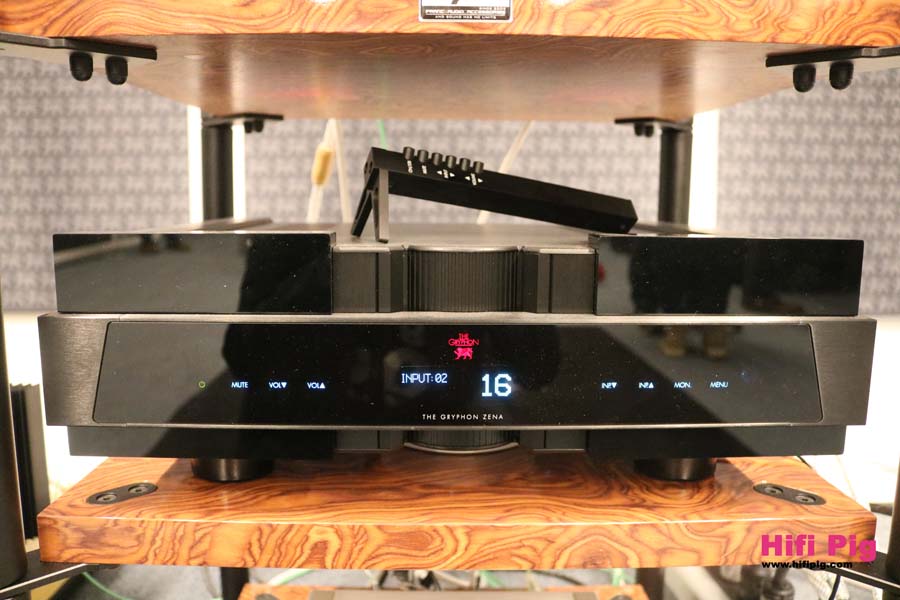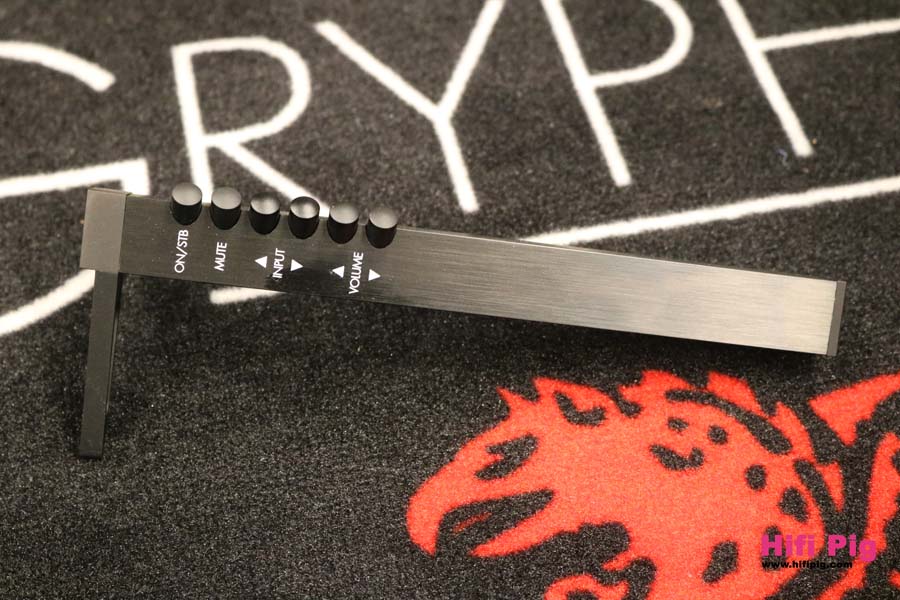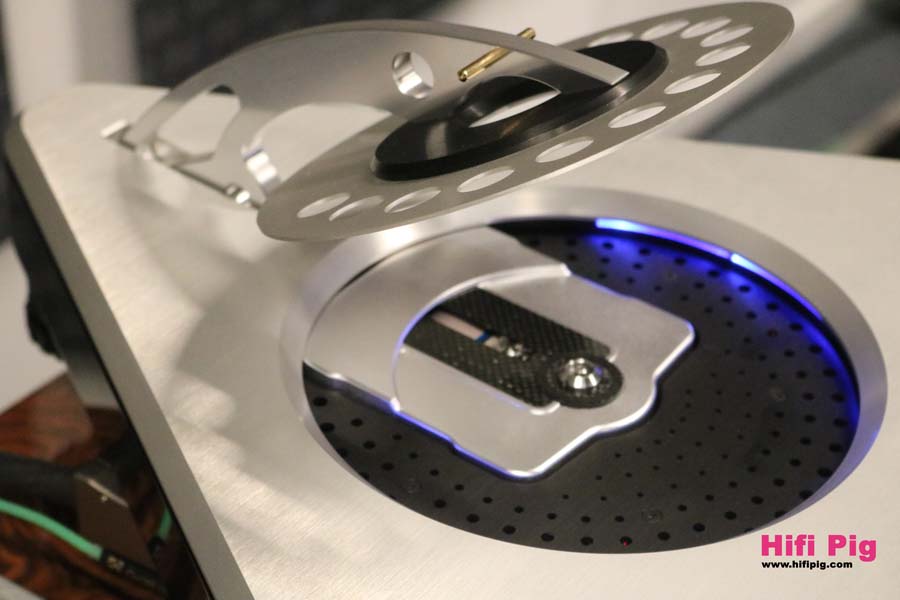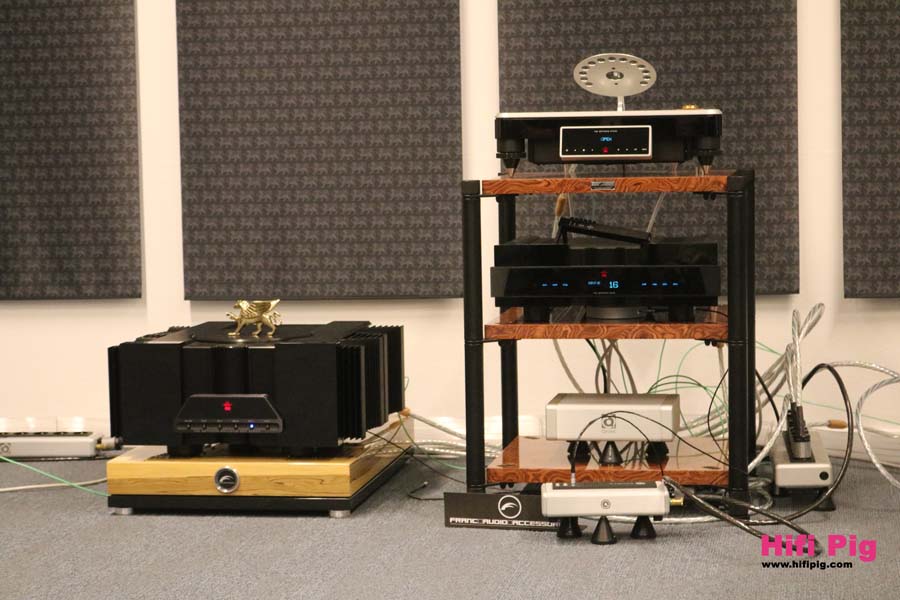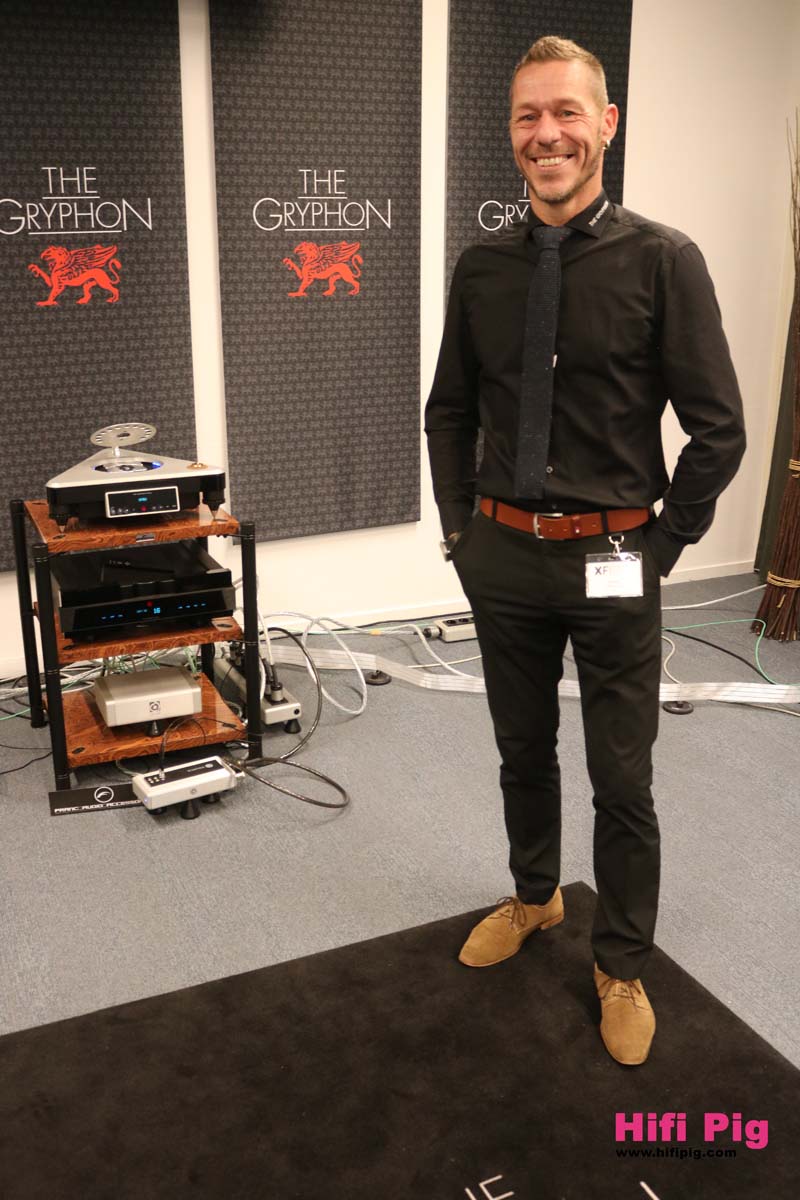 Soulines, Dartzeel and Morel
Even before the track started properly I knew what was about to play – Neil Young's Old Man and that has to be a good sign.
The turntable is the Soulines Kubrick DCX that I reviewed (and loved) over five years ago and which you can read all about here.
Dartzeel provided the electronics but the unusual speakers had me completely baffled (excuse the pun). On closer inspection, they were by Morel and were standing on the aforementioned Seismic Podiums by Townshend. They are the wonderfully names Fat Lady and cost €41 630 (and forty cents). The unusually shaped cabinet is made of a composite of carbon fibre and fibreglass.
What I got from this and the live recording of Mr Young was a real sense of the space the recording was made in with a real "i'm there" kind of feel to it.
Marantz
Marantz rooms will never be the same without Ken Ishiwata who we had just started to get to know well when he and Marantz parted company. He engaged people in the system and the music and the room just didn't feel the same without him – perhaps I was flagging after a very long weekend! Great to see proper acoustic panels from GIK being used in this room though!
Musical Connections with Moon by Sim Audio, dCS and Gauder Akustik
It's nearly the end of the show and everyone is flagging but this room was full to overflowing and so sadly all we can do is bring you the photographs of some rather exceptional (we've heard it all before) kit. Next time at this show we'll make a beeline for this room.
Transtec
Now, this was an interesting room full of old and new kit and with a special emphasis on Quad and Tannoy. Quad 2812s (I think) were playing some Dire Straits and it sounded tight and fast with the audience clearly lapping it up. Lots of lovely vintage gear too in this room so enjoy the pics.
Pure Audio Project
First of all a massive apology to Ze'ev of Pure Audio Project for getting to his room a couple of times when it was locked and there was a private dem' and not having the chance to get back and have a proper listen to these new open baffle speakers. Secondly a huge thanks to Ze'ev for allowing us to use his photos from the room which, given the number of people in the room, very popular indeed.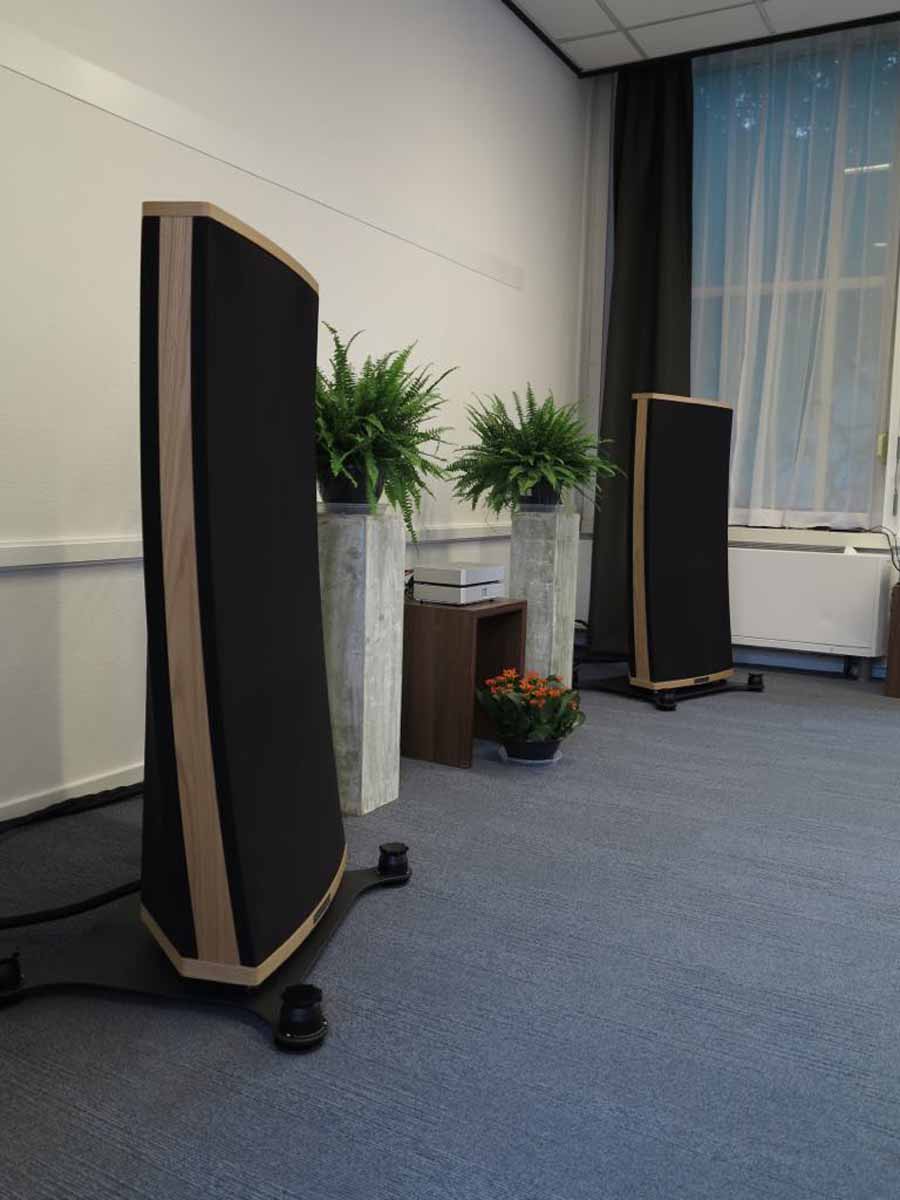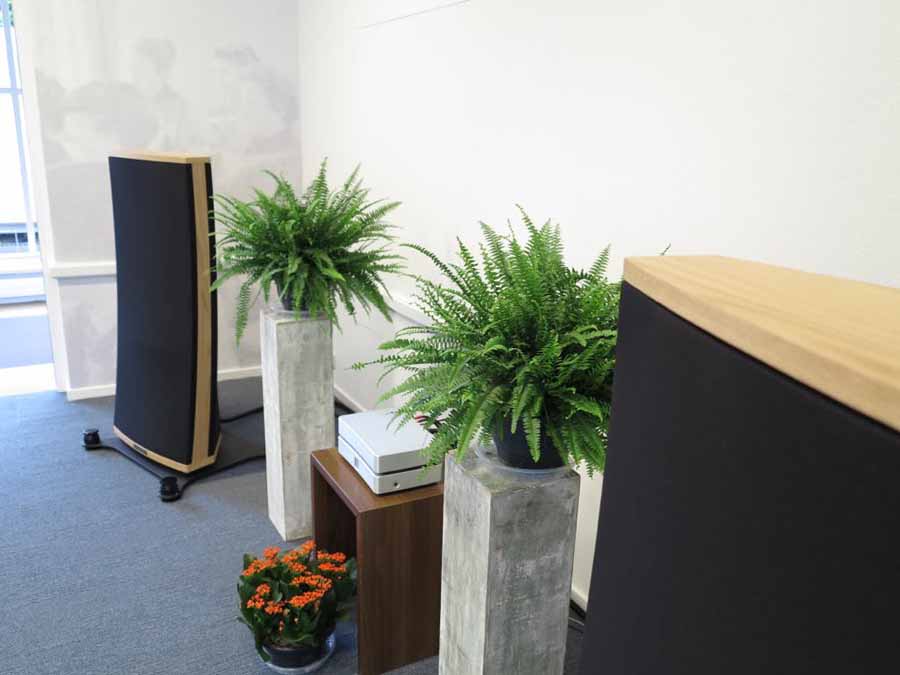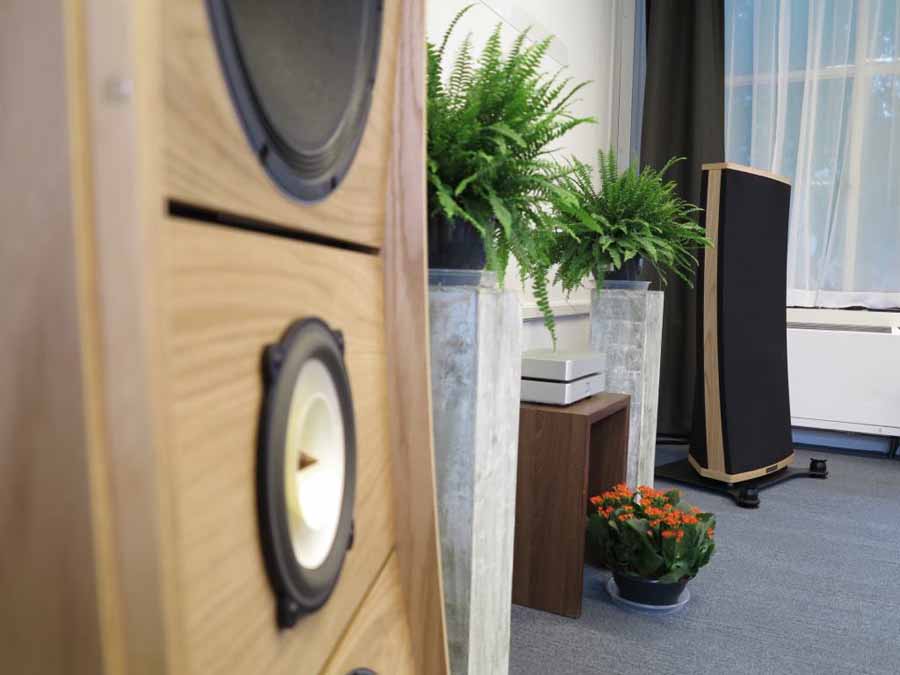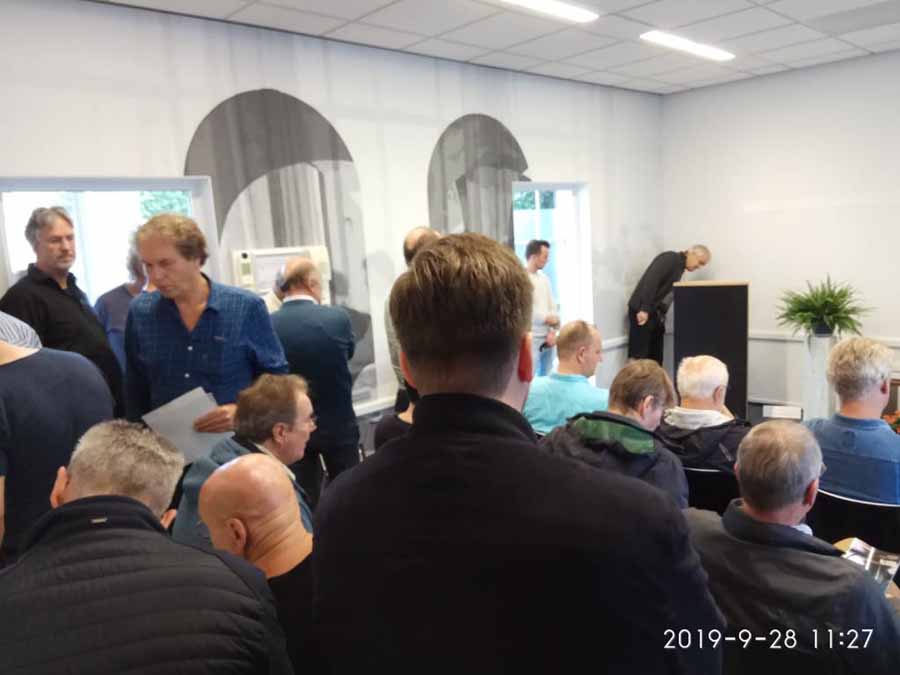 Headfi and Static Stands
And Finally…
a massive thank you to Ton van der Veeken and the whole of the XFI team for making Linette and I feel so welcome at the show. It was brilliantly organised, well laid out and the quality of the rooms was exceptionally good. Crowd numbers were high but apart from in a couple of very popular rooms we never felt like we were fighting to get into rooms. Speaking of the crowds of visitors; what a wonderfully enthusiastic lot who were only too happy to share their experiences of the show with us.
Until next year…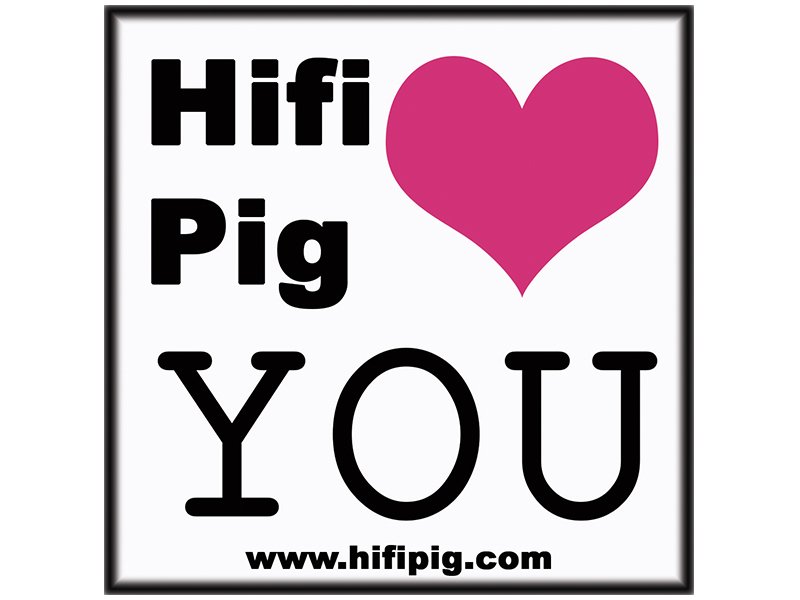 READ ALL HIFI PIG'S REPORTS FROM XFI 2019