More from Linette's coverage of the Audio Video Show Warsaw 2018, here are her favourite and 'Star' rooms from the Golden Tulip and the National Stadium.
Hifi Pig coverage of all the rooms is coming from Stuart, but, as I usually do with shows, I picked out my personal favourites from each venue.  It has to be said that the quality was so high that this was a very difficult task. Basically, a special room that I really liked went on my shortlist. These rooms were overall well planned, well put together, looked great, had enthusiastic and helpful staff and sounded fantastic…they made me happy to be there. I found it impossible to pick just one 'Best in Show' room as I liked many for different reasons, whether that was sound quality, music choice or general ambiance.  These rooms, with just that extra thing that gave me goose bumps and made me want to stay for much longer than I should, got a 'star'…it seemed to be the fairest way of doing it. The very best sounding rooms had high quality rather than high volume.  I think the best test of a system is how it sounds at a volume that you can still speak over.  These top systems sounded unforced, well balanced and did not need pushing to the limit…
If you would like to read Part 1 of my report first, then please click here. You will find my favourite rooms from the Sobieski Hotel, along with hints and tips for seeing the show, getting around Warsaw and trends that we picked up on.
The Golden Tulip
 The Golden Tulip is a stone's throw from the Sobieski, however you do need to cross the intersection of two very busy roads, so it may take a little longer than you think to get there. Even though there are only eight rooms of the show there, they are bigger rooms and contain some of the most high end gear that you will find at the show.  It is well worth visiting, we took a late lunch on Saturday and then spent a couple of hours sampling the delights of the Golden Tulip. Normally the Golden Tulip is open for the whole show but this year it didn't open until the Saturday.
STAR ROOM – Lampizator and Sveda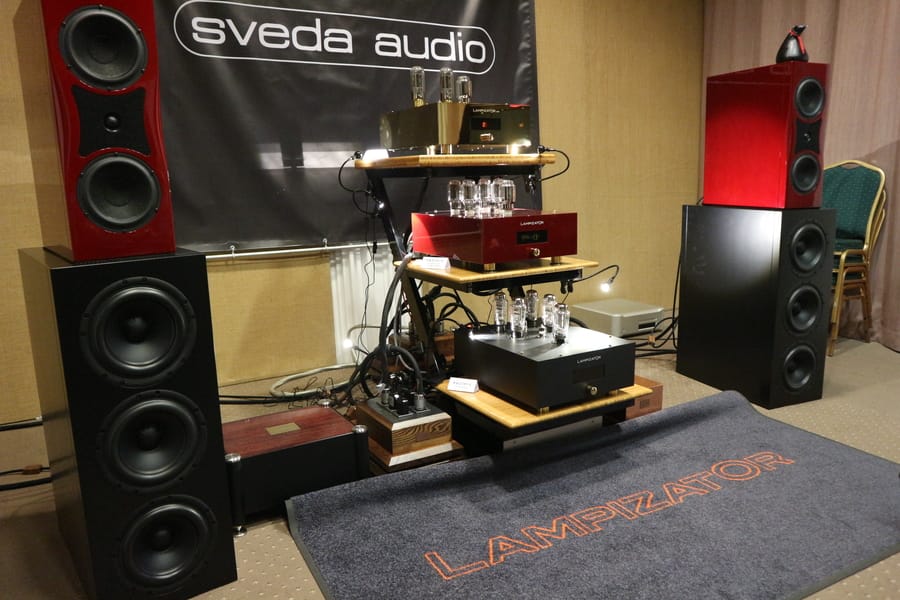 This room had the same brands in it last year, but I think the sound was even better this year. Something just works with the Lampizator gear and Sveda monitor speakers and the room also looked stunning with a black, red and gold theme. The room was packed, it is always packed, the Polish fans really support Lukasz of Lampizator and they have a big love of valves (Lampy is Polish for valves). On show was the new range topping Golden Gate 2 DAC and one of the Pacific DACs. The sound was exceptionally natural and this is a room I could have sat in for hours.
STAR ROOM – Fink Team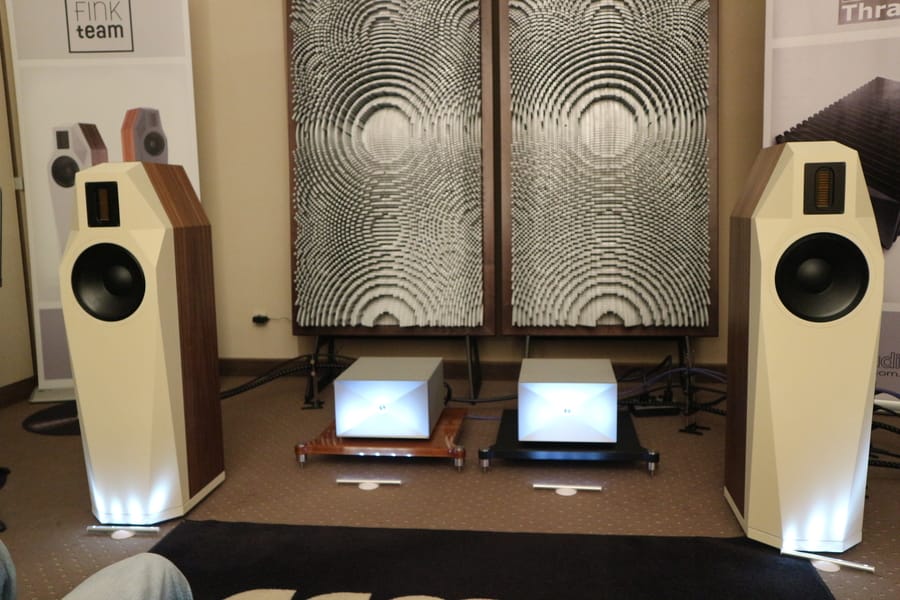 Fink Team were in a good sized room with their Polish distributor, RCM and were showing with Thrax. Fink work as consultants for many big name speaker manufacturers but are now producing speakers under their own time. Borg was launched this year in Munich, see our coverage here for more info, and offers a more domestically friendly speaker than their flagship WM-4. The two way floorstander with ribbon tweeter is a gorgeous, futuristic looking design and the sound is superb. It has complete detail in the tops with a good heft of bass and delivers a very listenable sound. Again, the system did not have to be driven too hard to get the best from it, very impressive.
Boenicke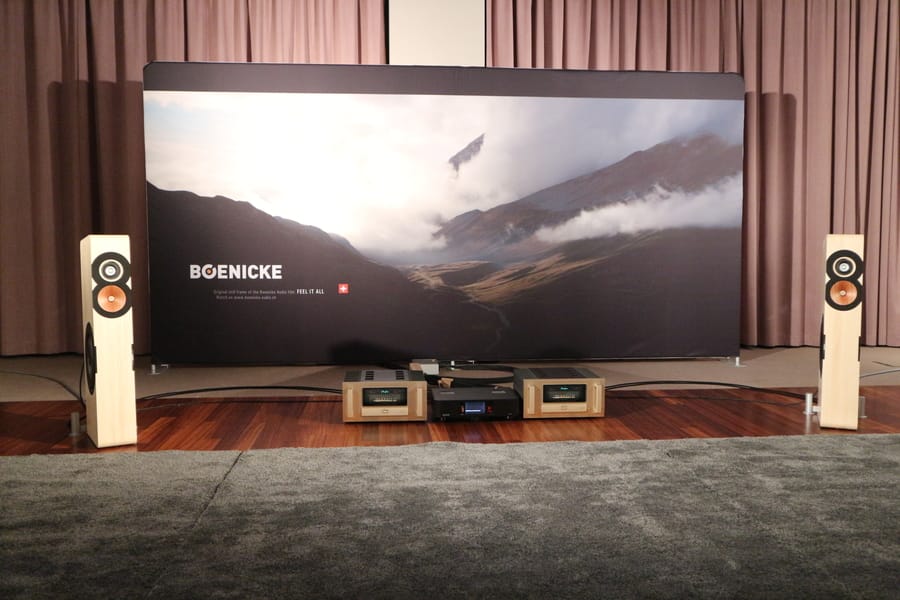 These Swiss speakers always amaze me, we have had the smaller standmounts in for review and were amazed at how they fill the room.  The W13 SE+ floorstanders looked diminutive in the large room they were in at the Tulip, but again they coped brilliantly, giving an expansive and engaging sound. The system also featured Accuphase (which I like a lot) and Crystal Cable. Whatever they are put with, I have never heard Boenicke not sound impressive.
STAR ROOM – Natural Sound
Miro Krajnc, from Slovenia makes not only his own speakers under the Soulsonic name (the Hologram X speakers, which have what they claim to be the biggest ribbon tweeter in the world, are pictured below) but also works  with Natural Sound to make the simply stunning Samurai speakers. What sets the Samurai apart is the ribbon tweeter sat within a horn.  This just does something wonderful to the sound and music sounds incredibly natural and easy to listen to. This was one of my favourite rooms last year and the Samurai are on my list of speakers that I would like to own. They make a bold statement visually too and Miro had some new finishes, one of which looked very much like a tiger's skin owing to the grain and the colour of the veneer.… The Natural Sound Samurai Tiger Edition does have a ring to it!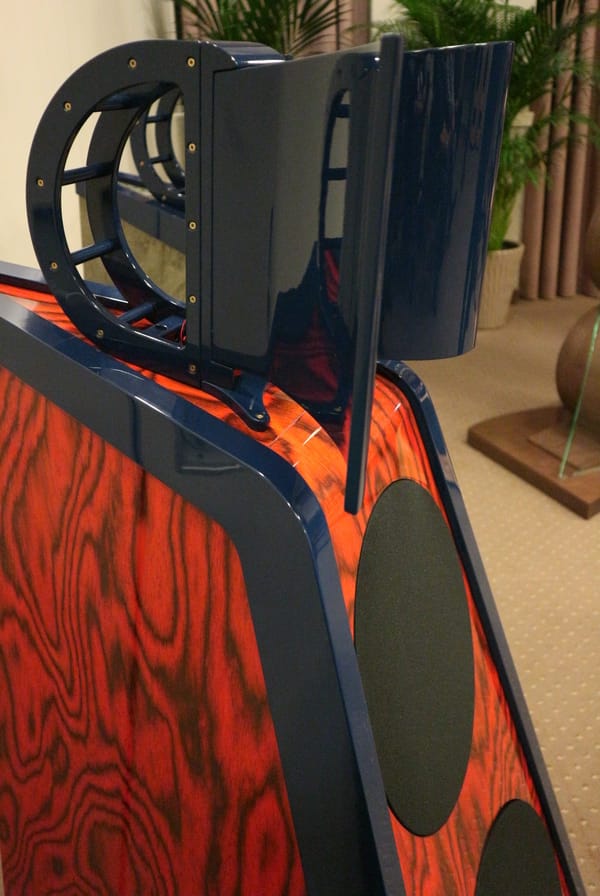 The Samurai were partnered with a Vertere SG-1 Standard Groove record player, Audio Tekne TFM2000 integrated amplifier and Audio Tekne TEA2000 phonostage. The Hologram X were running with an MSB Select DAC,  Audio Tekne TFA8675 and  Audio TekneYamamoto monoblocks. Speaker cable for both systems was the new and very high end, Tellurium Q Statement. I know people sometimes complain that high end hifi is too crazy looking or too expensive, but we need these wonderful creations to keep the industry fun.  Let's face it we can all look at a Lamborghini or Ferrari and appreciate its qualities but probably drive something much more sensible!
Ayon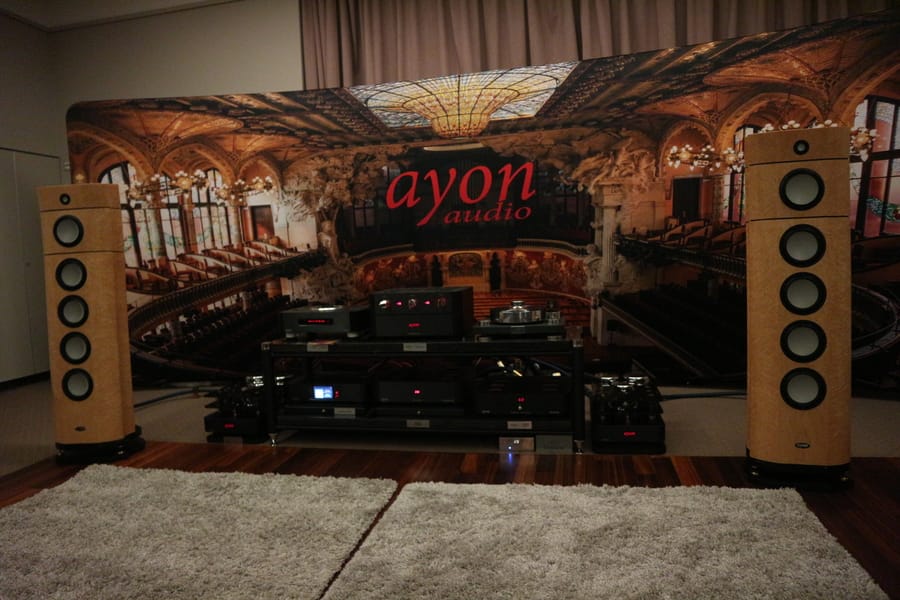 I spotted some of my favourite drivers, ceramic Accuton, in the Ayon room, well I was pretty sure that they were.  I did a bit of digging but Ayon don't name the drivers on their website, though I believe that they are actually Accuton but custom made for Ayon.  For me these drivers with a decent cabinet gives a great sound, they are exceptionally fast.  The Ayon room did not disappoint. A wonderfully huge sound but well controlled.  Not sure of the model of the speakers but they were pretty big and had that 'Focal' lean towards the listener.  The electronics were also Ayon.
PGE Narodowy (The National Stadium)
The stadium is yet another hifi show in itself. It is probably the most corporate of the venues and expect to find lots of big, international names there.  Also you will find a lot of AV gear, big screen TVs and projectors, plus there is a large headfi area. We went on Sunday and it was very busy (some rooms we just could not get into they were so full) there are loads of young people, lots of families with young kids and everyone looks like they are really enjoying themselves. A lot of the rooms were run by big, Polish distributors with many well known brands.
STAR ROOM – PMC/Esoteric/Oracle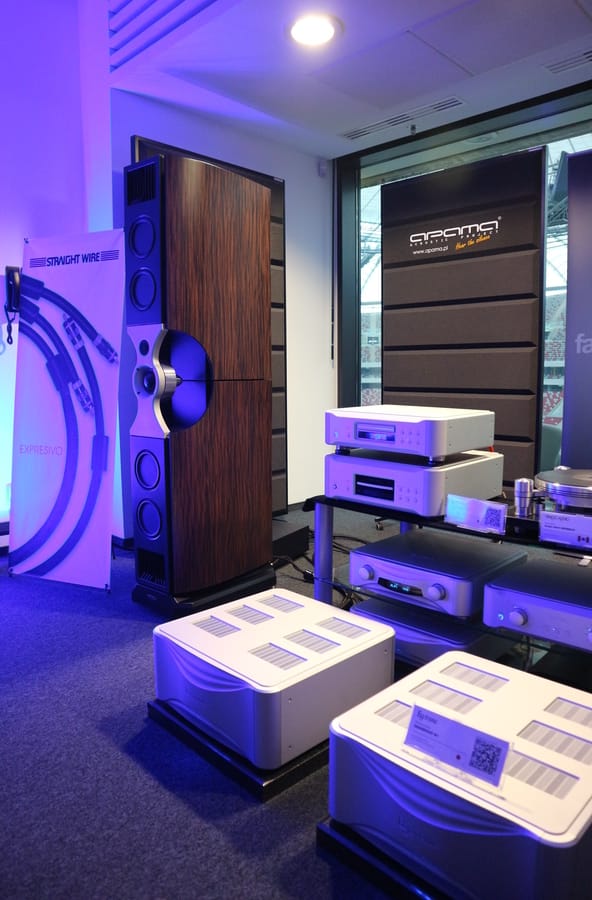 I think I am falling in love with the PMC Fact fenestrias. We first heard them at their launch in Munich and I love them every time that I hear them. This room was wonderful, the sound was so unforced and the detail incredible.  Even sat so close to them they performed amazingly. And, to be fair, they are not that expensive when you compare them to the flagship speakers of some brands.
Quadral/Unison Research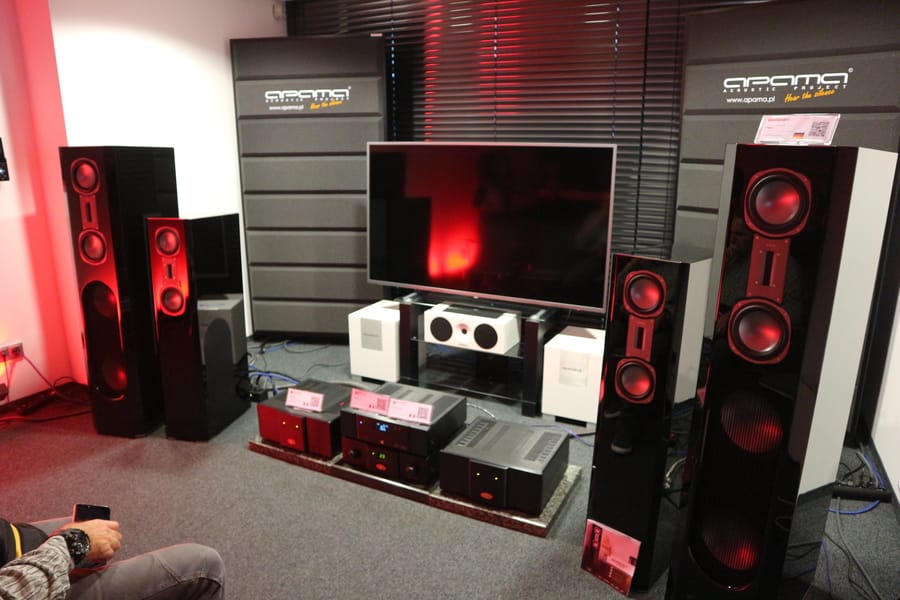 The combination of these two brands was a good one and they complemented each other giving a clean fast sound, very enjoyable.
Fyne Audio
Fyne Audio are making a big name for themselves both at home and abroad and they are  doing a lot of shows to get their word out there.  I think that they deserve to do very well and they have sounded great when ever we have heard them. Here their top of the range F1 10 loudspeakers were partnered with Synthesis and Oracle Audio, very pleasing sound.
Audiovector/Tellurium Q/Auralic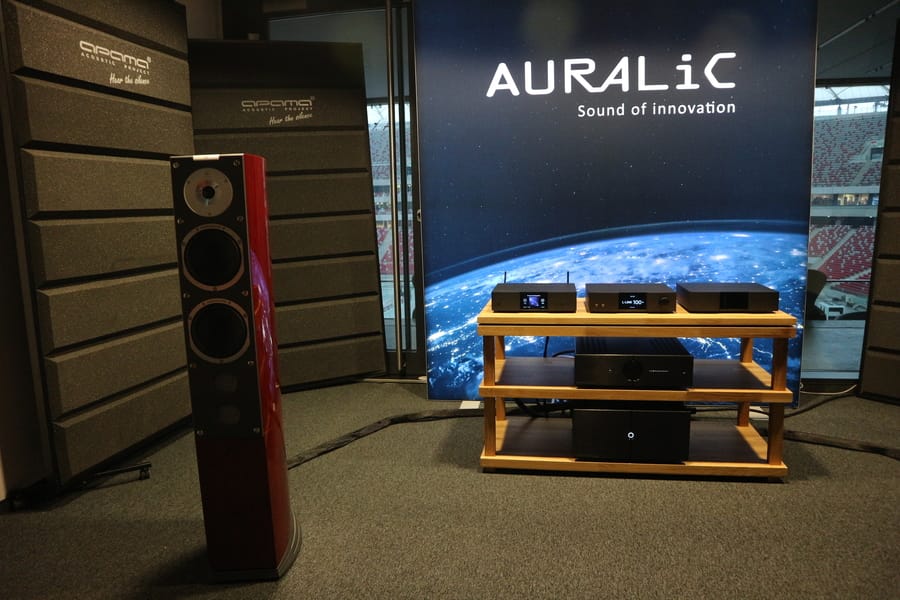 Audiovector are another speaker brand that I really like.  The Danish company really has something with their design and make very accurate, dynamic loudspeakers.  In the Auralic room the sound was very good indeed. Auralic were showing their Aries G2 streamer, Vega G2 DAC and Leo GX reference clock. The sound was accurate and clean, very nice indeed. Tellurium Q cables were being used here too.
STAR ROOM – Chord Electronics/Audiovector/REL/Cardas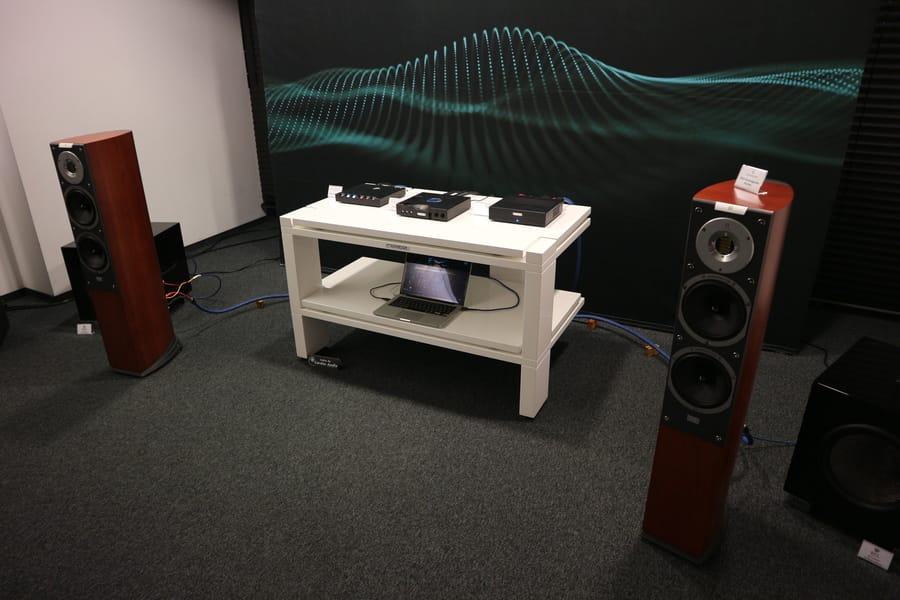 Just to reinforce my feelings about Audiovector, they were also working perfectly with Chord Electronics, who were using them with REL subs and cabling by Cardas of the USA. This room got a Star rating because everything sounded right. Colin from Chord was vey happy with the sound he was getting from the TToby, Hugo 2 and the Hugo M Scaler set up…apparently visitors were pretty shocked at the power they were getting from what are some of the British brands smaller products. One of the things that I like about Chord is that yes, they do make very high end gear but the technologies trickle down to be affordable to audiophiles of all financial levels, without a loss of quality.
STAR ROOM – Gryphon
It was fantastic to see Rune Skov back with the wonderfully high end, Danish brand, Gryphon. As Flemming Rasmussen, the founder  of Gryphon, retired earlier this year it was important that the brand retained its identity with a familiar face at shows. Gryphon gear is unashamedly big, solid, masculine hifi to look at,  but the sound, though powerful, always retains its delicacy. Rune joked that they were running a 'small Gryphon system' for the show…I suppose it was compared to some of their gear, however the sound was anything but small. The system consisted of the Diablo 300 integrated Amplifier with the Diablo DAC module and the PS2-photo stage module, Scorpio S CD-player and the Mojo S 2-way Speakers, cabling was Gryphon VIP.
STAR ROOM – hORNS and J Sikora.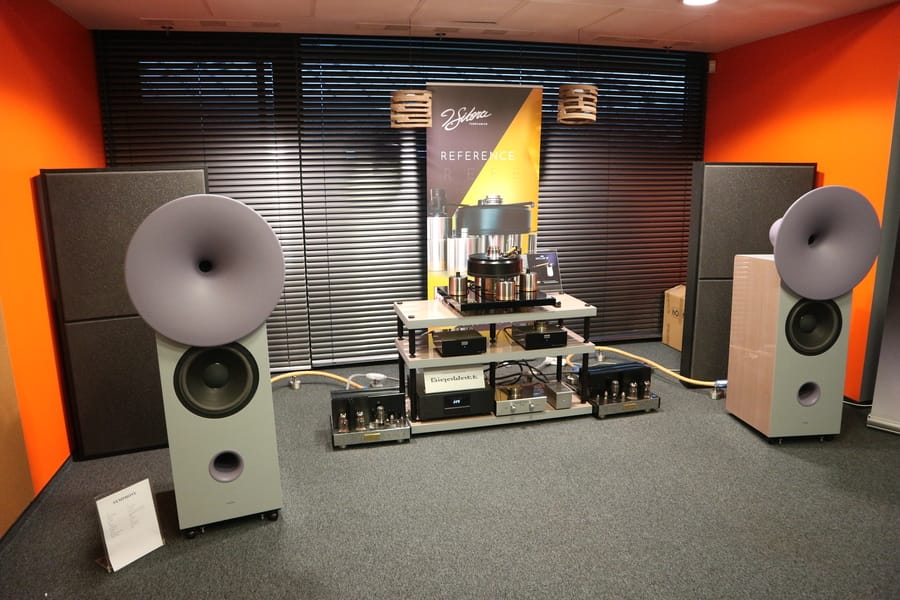 A cracking Polish combination.  I make no secret of the fact that I love hORNS speakers, having owned their Mummy for some time. (They only went out of the main system when we got the Avantgarde Acoustic Duo XDs). Sikora had the world premiere of their new 15g Kevlar tonearm which is a12″ unipivot with oil damping, the wand being a Kevlar conical tube. The tonearm cables are monocrystalic silver from Albedo. The turntable was the J Sikora Reference, and what a beast it was too. The big hORNS Symphony speakers filled the room with ease, sounding wonderful.  I am also always impressed with the styling and bold colour combinations of the speakers.
So that's it from me, there is still much more coverage of loads of other rooms at the Warsaw Hifi Show to come, use these links to read the coverage that we have already posted. I hope to see many of you at the Audio Video Show Warsaw 2019!
Linette Smith
Warsaw Audio Video Show 2018 Report Part 1
Warsaw Audio Video Show 2018 Report Part 2
Warsaw Audio Video Show 2018 Report Part 3
Warsaw Audio Video Show 2018 Report Part 4
Warsaw Audio Video Show 2018 Report Part 6
Audio Video Show Warsaw 2018 – A Bird's Eye View Part 1