Following on from our "not-review" of five free Android apps for audiophiles Hifi Pig has put together another selection of free Android apps that audiophiles may find useful and fun. 
PlatterSpeed – Vinyl Tool
This little app does what it says on the tin…it helps you calibrate the speed of your turntable to 33 1/3 or 45 RPM using a 3150 Hz test tone….of course you'll need a record with this tone on there and the company recommend a specific one to use.
Not used this app, but again it looks fun and will satisfy the tweakers and measurement fanatics out there in audiophileland.
Seismograph
Max at Townshend Audio really ought to take the credit for bringing this app to our attention and it certainly makes for an interesting demonstration of his isolation products. Basically you place this on your speaker, or any other bit of kit, walk around the room and watch the seismograph go crazy as your feet hit the ground. The more isolated from the ground your kit, the less the seismograph will jump around.
If you are looking at isolating your equipment efficiently then this is a useful little free app will help you find out if you have been successful or not.

Audiophile Test (Hearing Test)
The general purpose of this little app is to tell you if you can hear the difference between low and high quality MP3 files. Good fun… many will not want to share the results I fear. Relies on you having good quality headphones already I would suggest…and perhaps an out-board DAC….and headphone amp.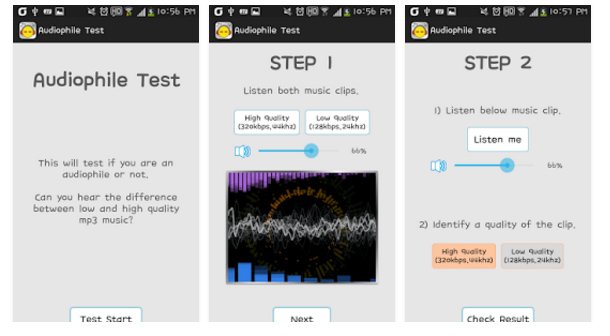 Box Tune Calculator
Another free app for making speaker enclosures aimed at the audiophile DIY market and the car audio. It's a pretty comprehensive toolkit of an app to be fair including a nvented box calculator, Wedge box calculator, Box volume calculator, Port size calculator and an ohm calculator so you can work out the overall impedence of your speakers based on how you wire them and the individual impedences of the drivers you use.
There are wiring diagrams and a cut sheet to help you put your project together. I'm certainly no DIYer to I've not used this one but it looks intuitive enough and should be a useful one for folk to have in their arsenal.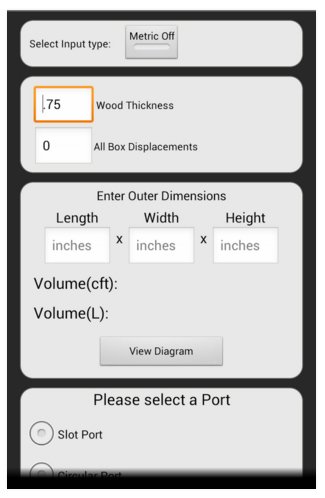 Perfectone
Perfectone is a nice little free Android app that aims to get your speakers in the right position for your room. The bumph on Google Store says "Using a revolutionary new algorithm to calculate Reverberation Time, PERFECTONE determines the best place to put stereo speakers in YOUR room".
To use it you turn down the volume on your device, press the button and a graph is displayed. You then add your room dimensions and are told where your speakers will be best placed. Far more easy to use than the screen grab would initially suggest.
It's an easy to use app and the science does seem to be solid enough with it. However, I would only ever use something like this as a rough-guide and then fine tune by ear.