The Hegel H95 Amplifier is an upgrade from the company's H90 amp but there has been no price hike from the £1500 asking price of the previous amp. Alan McIntosh takes a listen.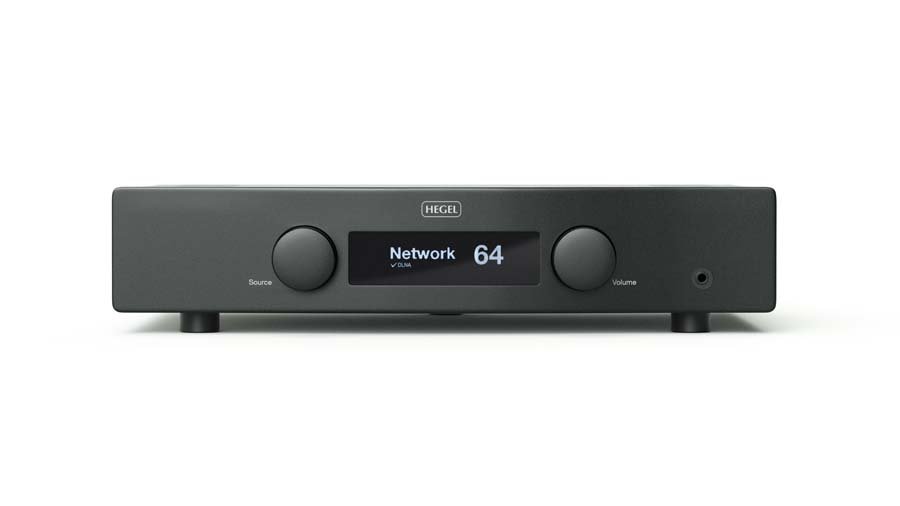 I've increasingly been an avid fan of Hegel for a couple of years since I came across them at some shows and then invested in an H190 amplifier after really being sold on them at the North West Audio Show hosted at DeVere Cranage (cant wait to get to back in November this year !). Since owning and loving the H190 (see my recent review) I recently bagged myself its little brother, the H90, for my second system based in my dining room come home office. Like many of us, I'm spending far more time there instead of being on and off planes or visiting my local company's office, so I've been investing in it. (I don't know about you but my lockdown spending on hifi is borderline addiction level!). When Bill Leigh at Auden Distribution, Hegel's wholesale partner in the UK, contacted us to say there was a new H95 coming soon but still under embargo and would we like a sneak preview I didn't need to be asked twice. Having the H90 and H190 puts me probably in quite a unique position comparison wise, so it was going to interesting to find out more!
CONSTRUCTION
Like all the Hegel range the H95 is an understated Norwegian design of simple elegant casing with a clear to read, white text OLED display (offering source, volume, digital depth/frequency and settings menu information) flanked by a source selector, and volume rotary knob. In this case in the same dark matt black, its power button secreted below the front so as not to spoil the aesthetics and a 6.3mm headphone socket sitting to the lower right and the clean Hegel logo above the digital readout.
Around the back we have plenty to play within the digital domain with 3 Toslink/optical, 1 digital coaxial and 1 USB input as well as RJ45 Network input (for firmware updating and also for streaming audio) reflecting the ongoing pivot of many listeners who want streaming integration and less physical boxes either from web sources such as Qobuz or Tidal, or who have NAS solutions,  as well as those who already have digital sources such as CD transports, Hi-Res streamers and laptops, as well as TV's for those with home cinema setups. It's also fully Airplay and Spotify connect enabled.
Essentially the H95 is the H90 but reworked extensively to substantially upgrade the digital end of things and bringing the same high quality and (beautiful sounding) integrated DAC, network and streamer electronics from the H190 downstream, as well as minor tweaks to the power and analogue stages. This overcomes the issue of the H90's DAC and network functionally becoming somewhat obsolete in the near future and beyond upgrading sound quality, introduces things like IP identification and an element of future-proofing via firmware upgrades over the internet via the on screed OLED menu,  as well as Spotify Connect (lacking on the H90). Additional features include being able to configure each input to allow for Home Theatre bypass and setting up things like maximum volume level individually for speakers vs headphones, as well pre-configuring startup volume (however this does require the more advanced R8 remote control that comes with the H190 and above and is available to purchase separately for around £95 (at time of review)
The streaming capability is extensive and includes "wake on LAN" meaning (for the non IT doctorates among us) that the amp can be in "off" mode and you can wake it up by simply streaming to it. Handy if you are sitting close by in your PJ's on a Sunday morning with a nice coffee and do not fancy actually having to get up to physically turn it on. The H90 is fully UPnP/DNLA compliant so you can choose the control application you prefer to suit your phone or tablet  – getting around the often frustrating situations of either being given a proprietary app that is clunky or being limited to either Android or iOS. For iOS I'm using MConnect and for Android my app of choice is BubbleUPnP – both work equally seamlessly with the H95. Connection to the Hegel couldn't be simpler – simply plug in a LAN/Ethernet cable from your router and you can "see" it is a rendering device on the app like you might see a Sonos or Sky box etc. Then simply stream from Qobuz, Spotify, Tidal or your NAS box as you desire.
From the analogue lovers among us (and I run up to 3 analogue sources at any one time) there are 2 unbalanced RCA inputs as well as one variable out if you fancy adding a power amp. For those running a Home Theatre setup, the inputs can be set as fixed via the Hegel's updated settings. Solid quality speaker binding posts (banana or bare) and an adequate unfussy plastic remote complete the picture. Hegel remotes are universal and will run other components in the range. You also get a lovely, simple yet informative manual with Hegel's typical Norwegian landscape cover design – user manuals often get overlooked by manufacturers, so again it is a point of praise here for Hegel.
The H95 is rated at 60W per channel into 8 ohms, with a minimum load of 2 ohms, has an industry-leading "grip" (speaker damping) 20 times that of most, with less distortion thanks to their proprietary SoundEngine 2 technology and a signal to noise ratio of more than 100dB.
Anders, Bent & Joakim are the trio of musical magicians responsible for the H95's design and posit the SoundEngine2 technology as the key to why they (and others including myself )say Hegel sounds better. Acting somewhat like an internal noise cancelling system, the SoundEngine 2.0 computer is "listening" to what's being fed into the amplifier and samples the outgoing signal and uses any differences to calculate a correcting signal a bit as a noise-cancelling headphone does. So while you may "only" be getting 60W you are getting a "class-leading" 60W!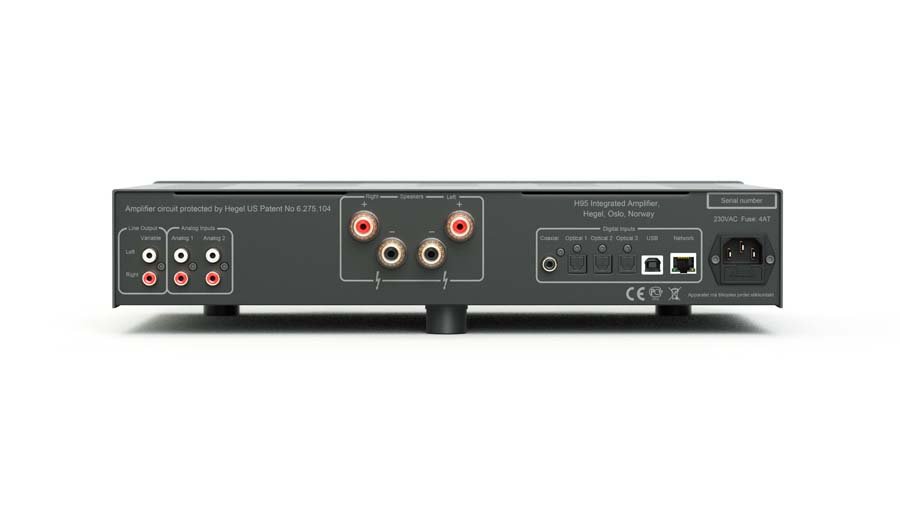 SOUND QUALITY
Having the H90 already here I find myself being able to compare the upgrades to the H95 side by side which is not something I am sure often happens.
As usual my first test with most analogue components is the Abbey Half-Speed master of Simple Minds' New Gold Dream (81/82/83/84) – Someone Somewhere (In Summertime) gives away so much when a system is or isn't able to perform – its wonderful bass & percussion, great guitar and richness of melodies is a great background for comparison. The H95, as with the H90, does a great job and I'm happily tapping away to the rhythm and continue to do so through Catherine Wheel and Colours fly. The sound is refined and unmuddied, never over clinical or "shrill" – very organic without being too warm, and the grip is clearly in evidence keeping everything in order. That bass delivery is great but not at all bloaty!
Running from a Tape Project Master Copy 15ips ¼' tape of Sonny Rollins' Saxophone Colossus it's clear how great the analogue end of the Hegel is, and the SoundEngine2 keeping any distortion at bay as Max Roach opens with those drums on St Thomas – it just hits you, tight but alive, a joy to listen to – timbre and decay, in the room level reproduction but not "tinny" as they can sound if poorly handled,  in comes Rollins, the sheer neutrality of the H95 allowing that Sax to do its thing wonderfully.
The aim here really is to test out the digital end of things and to judge any gains over the preceding H90. For this I decided to stream from my Auralic Aries G1 to get a sense of the DAC in the H95, then I'd move onto streaming from the Hegel own system via UPnP/DNLA. Switching back and forth between the amps, swapping coax, power and speaker cables to retain as much consistency as I can. Cards on the table – this is no "instantaneous" (but is quick)  or "blind"  A/B and I'm a great believer that as reviewers at some point we are subjective, but it's an imperfect world we Audiophiles inhabit and I trust my ears as well as the next person.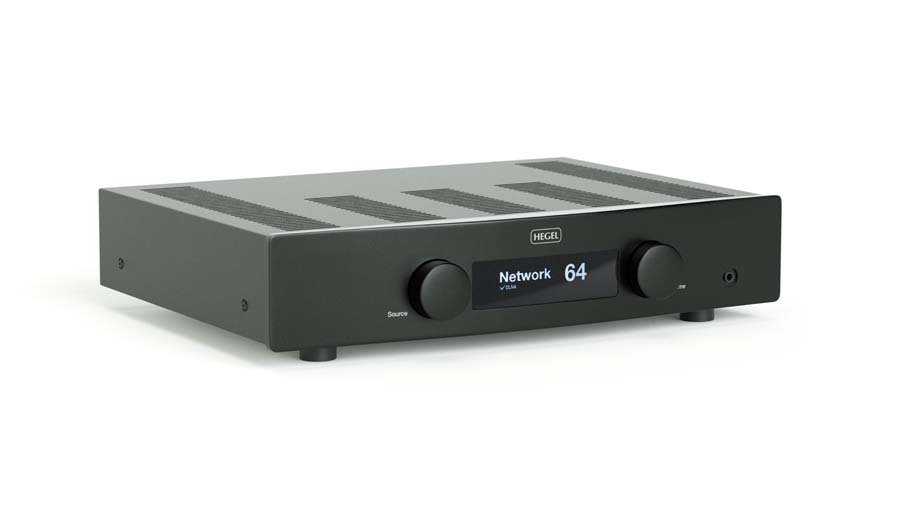 First up – Big Love from Fleetwood Mac's 2017 remaster of Tango in The Night (Qobuz, 24/96). Bam! A big step up indeed. That new DAC  simply adds a whole other dimension around bass fullness, smoothness over the whole spectrum, and is quite a bit more natural sounding than the H90 (which is very good to start with) – the jump is honestly much more surprising than I expected. I had to go back to the H90 to check and that I wasn't imagining things, The H90 is good for sure, but lacking the extra oomph the H95 brings to the table. It's not colouring the sound, but allowing it to breathe fully is my interpretation. The transparency, especially around mid's and highs, really is a joy and coming from warmer amps can actually take some time to get used to but once you are there you realise what you've been missing. The dynamics coupled with a pure black noise floor really offer up all the artist has to offer. Well played Hegel!
Over the next few days, trying different sources and music there was a consistently positive impact from the H95. It has the H90 looks but it's a whole new story sonically, and ever more so on the digital front than analogue where I felt there was a small improvement on an already very good delivery.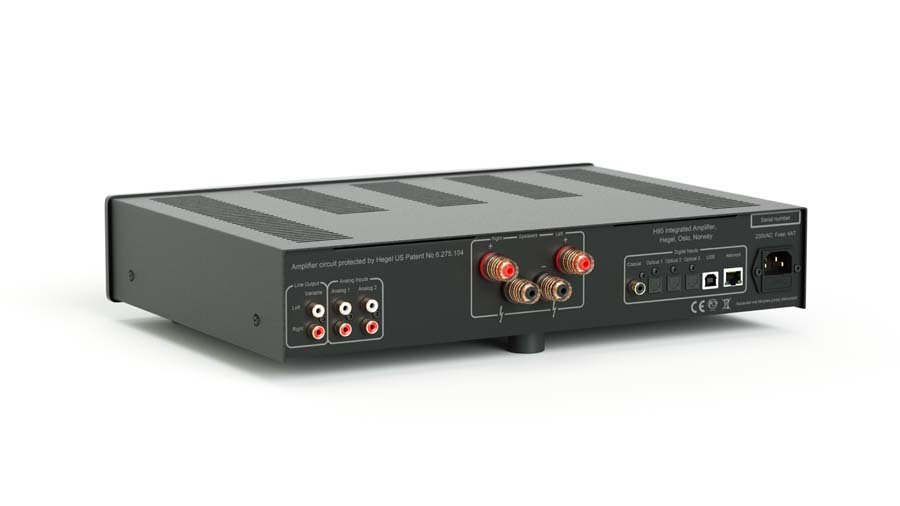 CONCLUSION
It was no surprise I'm sure to anyone reading this, that I was going to enjoy the H95. I'm already being an open fan of the Hegel sound, but it really was a surprise how much this H95 steps up from the H90 and for anyone not looking to drive an overly large room, or monolith scale speakers (Try the H190 or upwards for that) and who wants clean aesthetics, great streaming and digital transport options, enough analogue inputs for a turntable and maybe a CD and that wonderful low noise floor and beautiful organic and detailed signature Hegel do best, this must be on your audition list. Hegel I think are continuing to be a "one to watch" manufacturer who, if they continue on this line of quality and focus, can only go on to even bigger things. The upgrades on the already great H90 are well-considered and re-position the H95 as a front running contender in any race at this price point, or somewhat above I would say.
AT A GLANCE
Build Quality: Scandinavian minimal elegance with a rock-solid build and high-quality electronics and power under the hood. Matt black finish and styling are lovely. Adequate and unfussy remote.
Sound Quality: A step up from the H90 for digital, the already great Hegel sound remains overall combining incredibly low noise floor, clean but organic reproduction and feel and class-leading grip. Transparent, dynamic and crisp – a must listen.
Value for Money: At this price, with this level of sound quality, build quality, range of inputs and streaming capabilities included this is a no brainer! Incredible value.
Pros: Superb quality DAC and streaming capabilities, class-leading grip and low distortion, clean yet organic, unmuddied sound quality, very high-quality execution of build all round. Ease of setup and control.
Cons: Honestly at this price and with this quality I would have to be super picky so will settle on it being a bit light on analogue inputs for those rare among us with many analogue sources like cassette or R2R.
Price: £1500 rrp (same price point as the previous h90)
Alan McIntosh
Review Equipment: SL1210Mk3D (Origin Live Zephyr Tonearm, Timestep HE V linear PSU, Townsend Seismic Sink) , Hana ML,Vincent Pho700 Phono stage, Arcam CDS27, Auralic Aries G1 Streaming Transport , Tascam 32 Reel to Reel, WyWires Blue Speaker cable and Analogue IC's Chord Shawline Digital Coax (for Aries)  , Van Den Hul 3T XLR  (for CDS27), Amphion Argon 3s loudspeakers. Streaming from Qobuz and Tidal. iPhone 11s for Airplay &control application. MConnect/BubbleUPnp applications.
Specification
Power output 2 x 60w in 8 Ohms
Minimum load 2 ohms
Analog Inputs 2 x unbalanced (RCA)
Digital Inputs 1 x coaxial S/PDIF, 3 x optical S/PDIF, 1 x USB, 1 x Network
Line level Output 1 x unbalanced variable (RCA)
Frequency response 5Hz-100kHz
Signal-to-noise ratio More than 100dB
Crosstalk Less than -100dB
Distortion Less than 0.01% @ 25W 8 Ohms 1kHz
Intermodulation Less than 0.01% (19kHz + 20kHz)
Damping factor More than 2000
Dimensions 10cm x 43cm x 35cm (HxWxD), 11kg shipment weight