Welcome to Hifi Pig Quarterly, the new look quarterly e-magazine from Hifi Pig. 
AUTUMN/WINTER EDITION 2019
Get your free 142 page Hifi Pig Quarterly. Download your FREE copy now! 
FEATURES AND INTERVIEWS
ANTHONY LONGSTAFF PHOTOGRAPHY
MUSICAL JOURNEYS WITH MR DIBS
DEALER FOCUS WITH ELITE AUDIO
READERS' LIVES VIVEK  KUVELKER
UP CLOSE AND PERSONAL WITH DAVID SOLOMON
MEET THE FUTURE OF THE HIFI INDUSTRY
I USED TO BE AN AUDIOPHILE BUT I'M ALRIGHT NOW
HAPPY TRAILS WITH PAUL MESSENGER
FACTORY VISIT TO BOULDER IN COLORADO
REVIEWS
AUDIO RESEARCH VT-80 AMP AND LS28 PREAMPLIFIER
FEZZ AUDIO MIRA CETI INTEGRATED AMPLIFIER
RUSSOUND MBX-AMP STREAMING AMPLIFIER
SERHAN + SWIFT BRIGADIER MU.2 LOUDSPEAKERS
DIAPASON ASTERA LOUDSPEAKERS
MELLOW ACOUSTICS FRONT-RO  LOUDSPEAKERS
iFi xCAN AND xDSD SHOOTOUT
BEYERDYNAMIC LAGOON ANC NOISE-CANCELLING HEADPHONES
CYRUS SOUNDBUDS WIRELESS IEMS
MEZE AUDIO 99 HEADPHONES
TELLURIUM Q ULTRA BLACK II XLR INTERCONNECTS
WYWIRES BLUE INTERCONNECTS AND SPEAKER CABLES
SUMMER EDITION 2019
The Summer edition of Hifi Pig Quarterly is ready for download and it's a great edition of 183 pages. Download your FREE copy now!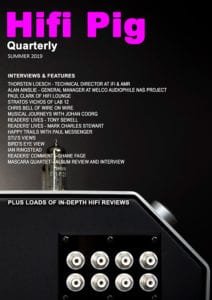 FEATURES & INTERVIEWS
THORSTEN LOESCH – TECHNICAL DIRECTOR AT iFi and AMR
ALAN AINSLIE – GENERAL MANAGER AT MELCO AUDIOPHILE NAS PROJECT
PAUL CLARK OF HIFI LOUNGE
STRATOS VICHOS OF LAB 12
CHRIS BELL OF WIRE ON WIRE
MUSICAL JOURNEYS WITH JOHAN COORG
READERS' LIVES – TONY SEWELL
READERS' LIVES – MARK CHARLES STEWART
HAPPY TRAILS WITH PAUL MESSENGER
STU'S VIEWS
BIRD'S EYE VIEW
IAN RINGSTEAD
READERS' COMMENT – SHANE FAGE
MASCARA QUARTET – ALBUM REVIEW AND INTERVIEW
REVIEWS
GOLDNOTE MEDITERRANEO TURNTABLE
EAT C SHARP TURNTABLE, E-GLO S PHONO & LPS POWER SUPPLY
LAB12 MELTO PHONOSTAGE
AUDIO NOTE UK JINRO INTEGRATED AMPLIFIER
EVA MINUET' INTEGRATED VALVE AMPLIFIER
LEEMA HYDRA ANNIVERSARY EDITION AMPLIFIER
IOTAVX SA3 INTEGRATED AND PA3 POWER AMPLIFIER
MICROMEGA M150 INTEGRATED AMPLIFIER, DAC & STREAMER
MITCHELL & JOHNSON 800 SERIES PRE AND POWER AMPS
ECLIPSE TD510 MK 2 LOUDSPEAKERS AND STANDS
NIME AUDIO DESIGN MYA LOUDSPEAKERS
KLIPSCH RP-600M LOUDSPEAKERS
TELLURIUM Q SILVER AND SILVER DIAMOND MAINS CABLES
TITAN AUDIO NYX HIGH CURRENT POWER CABLE
TRIANGLE AIO 3 CONNECTED LOUDSPEAKER SYSTEM
KANTO SYD STANDALONE SPEAKER SYSTEM
THE REST
FIND YOUR DEALER
SELECTED IMAGES FROM NORTH WEST AUDIO SHOW 2019
SPRING EDITION 2019
It's April and that means it is time for Quarter 2s edition of Hifi Pig Quarterly to be unleashed and is now available for free download, and once again it's a cracker of an edition spanning 219 pages and packed with content. Download your copy now!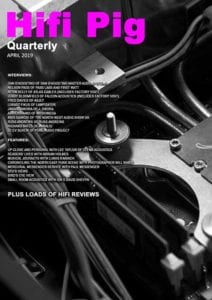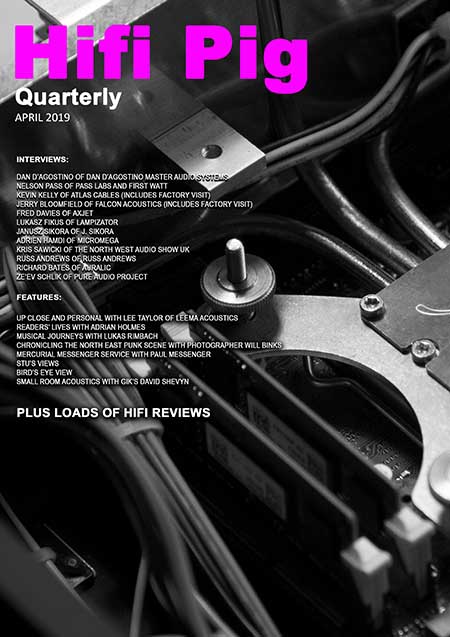 INDUSTRY INTERVIEWS 
DAN D'AGOSTINO OF DAN D'AGOSTINO MASTER AUDIO SYSTEMS
NELSON PASS OF PASS LABS AND FIRST WATT
KEVIN KELLY OF ATLAS CABLES (INCLUDES FACTORY VISIT)
JERRY BLOOMFIELD OF FALCON ACOUSTICS (INCLUDES FACTORY VISIT)
FRED DAVIES OF AXJET
LUKASZ FIKUS OF LAMPIZATOR
JANUSZ SIKORA OF J. SIKORA
ADRIEN HAMDI OF MICROMEGA
KRIS SAWICKI OF THE NORTH WEST AUDIO SHOW UK
RUSS ANDREWS OF RUSS ANDREWS
RICHARD BATES OF AURALIC
ZE'EV SCHLIK OF PURE AUDIO PROJECT
FEATURES
UP CLOSE AND PERSONAL WITH LEE TAYLOR OF LEEMA ACOUSTICS
READERS' LIVES WITH ADRIAN HOLMES
MUSICAL JOURNEYS WITH LUKAS RIMBACH
CHRONICLING THE NORTH EAST PUNK SCENE WITH PHOTOGRAPHER WILL BINKS
MERCURIAL MESSENGER SERVICE WITH PAUL MESSENGER
STU'S VIEWS
BIRD'S EYE VIEW
SMALL ROOM ACOUSTICS WITH GIK'S DAVID SHEVYN
REVIEWS
XAVIAN PERLA LOUDSPEAKERS
WHARFEDALE D320 STANDMOUNT LOUDSPEAKERS
MARTIN LOGAN ELECTROMOTION ESL X LOUDSPEAKERS
AIRPULSE A300 ACTIVE LOUDSPEAKERS
A.R.T STILETTO 6 V3-S LOUDSPEAKERS
ELECTRICBEACH BLACKWOODS LOUDSPEAKERS
DEVIALET EXPERT 220 PRO AMPLIFIER
MONRIO MC201 INTEGRATED AMPLIFIER WITH USB DAC
DIMD PP10 INTEGRATED VALVE AMPLIFIER
SYNTHESIS SOPRANO INTEGRATED VALVE AMP WITH DAC
BURSON BANG AMPLIFIER
NORD NC500 REV-D INPUT BUFFER BOARD UPGRADE
METRONOME TECHNOLOGIES AQWO CD/SACD PLAYER AND DAC
X-ODOS – XO|ONE CD RIPPING STREAMER
QUAD ERA 1 HEADPHONES
TELLURIUM Q ULTRA BLACK II SPEAKER CABLES
BLACK CAT COPPERTONE SPEAKER CABLE AND RCAs
CLASSIFIEDS
FIND YOUR LOCAL DEALER
January 2019's edition of Hifi Pig Quarterly is now ready for FREE download.  In it, you will find a whole host of great content over 279 pages. Download your copy now. 
INDUSTRY INTERVIEWS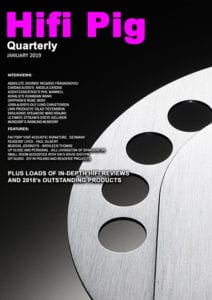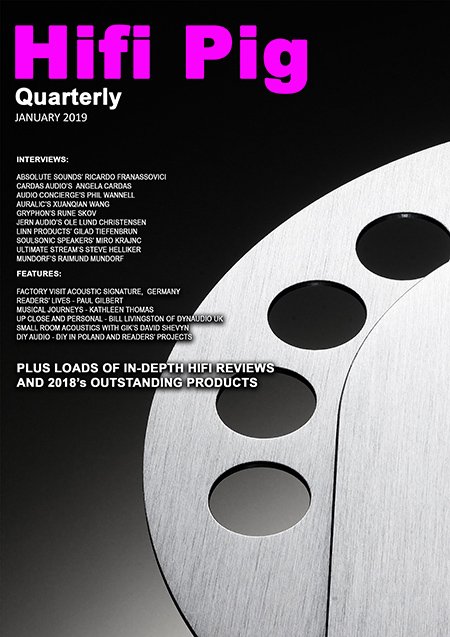 ABSOLUTE SOUNDS' RICARDO FRANASSOVICI
CARDAS AUDIO'S  ANGELA CARDAS
AUDIO CONCIERGE'S PHIL WANNELL
AURALIC'S XUANQIAN WANG
GRYPHON'S RUNE SKOV
JERN AUDIO'S OLE LUND CHRISTENSEN
LINN PRODUCTS' GILAD TIEFENBRUN
SOULSONIC SPEAKERS' MIRO KRAJNC
ULTIMATE STREAM'S STEVE HELLIKER
MUNDORF'S RAIMUND MUNDORF
FEATURES
FACTORY VISIT ACOUSTIC SIGNATURE,  GERMANY
READERS' LIVES WITH PAUL GILBERT
MUSICAL JOURNEYS WITH KATHLEEN THOMAS
UP CLOSE AND PERSONAL WITH BILL LIVINGSTON OF DYNAUDIO UK
BIRD'S EYE VIEW
STU'S VIEWS
SMALL ROOM ACOUSTICS WITH GIK'S DAVID SHEVYN
DIY AUDIO
REVIEWS
AUDIOZEN ALCHEMY INTEGRATED AMPLIFIER
AUDIOLAB 6000A AMP WITH DAC AND  6000CDT CD TRANSPORT
KR AUDIO VA 350i INTEGRATED AMPLIFIER
M2 TECH ROCKSTAR SEPARATES
CYRUS ONE HD INTEGRATED AMP AND DAC
SMSL A2 AMPLIFIER
GOLDNOTE IS-1000 AMP, DAC AND STREAMER
TAGA HARMONY DA-300 V.3 DAC
EXOGAL COMET DAC
BAKOON SATRI DAC-21 D2A
ROON NUCLEUS +
AUDIO PHYSIC CLASSIC 5 LOUDSPEAKERS
BOENICKE W5 SE LOUDSPEAKERS
FYNE MODEL F500 LOUDSPEAKERS
GOLDENEAR TRITON 5 LOUDSPEAKERS
JERN 14 EH LOUDSPEAKERS
RMB 40/4 LOUDSPEAKERS
TAGA HARMONY TTP-300 PHONOSTAGE
NASOTECH SWING HEADSHELL
SWEETVINYL SUGARCUBE SC-1
MCRU PRESSURE POINTS
KIRMUSS AUDIO KA-RC-1 ULTRASONIC RECORD RESTORATION SYSTEM
ISOTEK SUPER TITAN AND GENESIS MAINS CONDITIONER AND REGENERATOR
TITAN AUDIO CABLES AND POWER BLOCK
GEKKO PURPLE HAZE INTERCONNECTS
ISO ACOUSTICS OREA PUCKS
LIMETREE HEADPHONE AMP
BURSON CONDUCTOR VIRTUOSO V2 HEADPHONE AMP/DAC
FLARE JET 1 & JET 2 IN-EARS
MEZE 11 NEO IN-EAR HEADPHONES
DS ST-50 STYLUS CLEANER
PRO-JECT SWEEP-IT E BRUSH
INTEGRITY HIFI TRU-LIFT AUTOMATIC TONEARM LIFTER