The National Audio Show organised by the Chester Group seems to have settled comfortably into its current home at the Whittlebury Hall in beautiful rural Northamptonshire, England.
Quite a few of the mainstream brands and distributors were absent this year, but to be honest that just seemed to make room for other offerings that may well even have been more interesting and unusual!  The diversity of audio offerings at the Show was very wide and fascinating, and some excellent sounds were to be heard.
German manufacturer Backes & Müller are promoting a review that claims that it has produced the "Perfect Loudspeaker".  Hmm — interesting!  An active system with a digital room correction, the BM Line 35 speakers also feature a horn-loaded driver covering frequencies above 800Hz.
At just on £54,000 they don't come cheap, but the sound was very good – room-filling, dynamic and clear, and it's worth noting that the price includes expert setup of the system to customise the performance to your listening room.
A large range of BM speakers were on display ….
Sansui are back!  Well, this might not mean a lot to many readers, but back in my long lost audio-youth Sansui was a name to be reckoned with.  Just one Japanese audio company among many, but they made some very fine budget kit in the 1970s.  The Sansui 'green badge' electronics are still sought after today by those interested in vintage audio.  Henley Designs have now taken on the distribution of the current Sansui range in the UK and the new budget range of Sansui products were looking very interesting.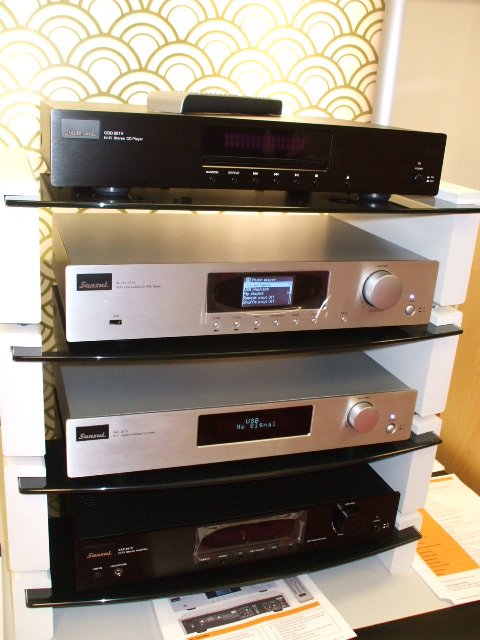 More from Henley Designs in a later report!
High End Cable introduced the new Raidho S2.0 floor standing, down firing transmission line speakers. These elegant speakers have the famous Raidho ribbon tweeter plus 2 x 115mm ceramic drive units.  They sounded wonderfully clear and lucid.  Also on display were the new version of the C1 standmount speakers with their beautifully designed stands – once again stunningly transparent and neutrally voiced.  Yum, I really enjoyed these!
G-Point Audio specialise in importing Polish high fidelity products into the UK.  A fascinating range of products – the excellent Absolutor pre-amp and Lampizator DAC/pre-amp have already been reviewed in Hifi Pig.  At Whittlebury, G-Point were featuring a truly amazing range of speakers from horns.pl.  The large and very black Universum 3 was beautiful to look at and stunning to listen to.  At £12k the pair, they seemed a true bargain to me.
Fidelity Art were playing their distinctively architectural Sandglass Fantasy speakers from Bodnar Audio.  At a tad under £3,500 for the standard finish, these seem quite competitively priced, considering their visual and sonic abilities.
New UK dealer BD Audio were featuring horn speakers from Tune Audio.  The boldly-named Marvel speakers use an eight-inch driver, radiating midrange frequencies directly, without any intervening crossover electronics, and with a downward-facing horn for bass. Treble reproduction is by a one-inch compression driver and epoxy resin horn. Photos really don't do these speakers justice – on a page they look a bit ungainly, but 'in the flesh' they are quite slim and interestingly attractive.  Driven by Ming Da valve electronics, including the superb MC2006 phono-stage already reviewed in Hifi Pig, the sound was bold and dynamic, although ultimate clarity was undoubtedly hindered by a very reverberant room.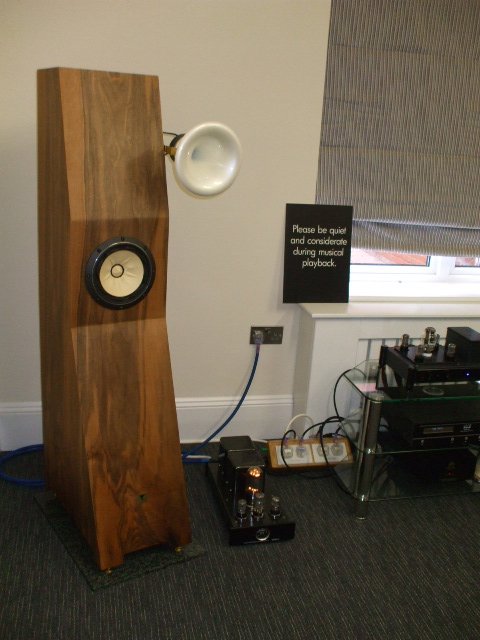 A stalwart of the English audio electronics scene for many years, the Albarry Music room featured their latest amplification and used Tannoy DC10a speakers to show off their considerable prowess.
The room also featured equipment support & isolation platforms by MusicWorks
Prometheus Audio is a small UK company headed up by George Thomsen who is originally from the North East (Sunderland) but now settled in Poole.  I have to confess to never having come across the company before.  It specialises in turntables and equipment supports – my goodness, the one on demonstration was beautiful!
The world-renowned spa-town of Bath is justly famous for its Georgian architecture and Roman municipal baths.  In English audiophile circles it is also known as the home of audio dealership The Right Note.  This year they featured Kawero Vivace speakers – very impressive and completely unknown to me before this Show!  Dynamic, full-range, transparent and open as the Texas prairie – what's not to like?!  They were very ably driven by VTL amps, and a Spiral Groove turntable, with mains power being cleaned up by VertexAQ filters.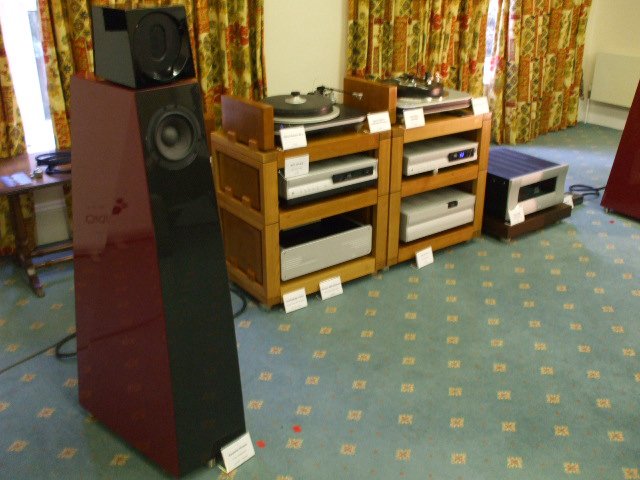 Icon Audio were showing a huge range of equipment – amps, source components, speakers; quite overwhelming!  I thoroughly enjoyed my time in the Icon room; there was a very wide range of sonic presentations on offer.  I was particularly impressed by the MFV3 speakers – specially designed to match lower powered valve amps – a very immediate and involving sound when driven by a small pair of valve monoblocks.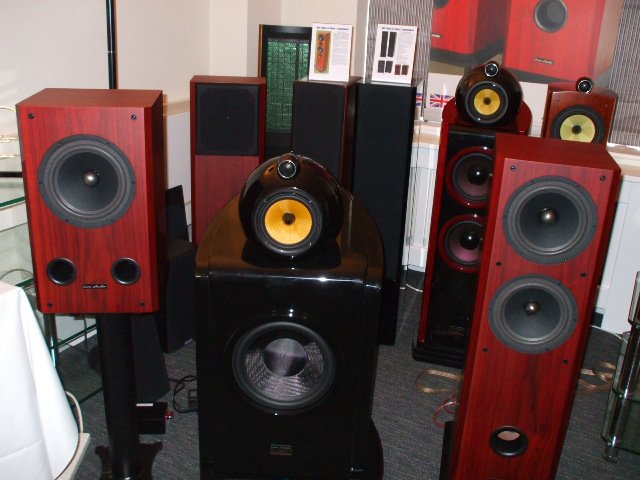 Many thanks are owed to all the exhibitors at the Show; it was an excellent event that I am sure was enjoyed by the many visitors.
Parts 2 & Part 3 of this National Show feature, covering many more excellent, innovative – and sometimes quite surprising! – audio offerings, will be appearing soon in Hifi Pig!
Author – Jerry