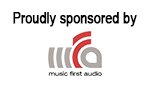 The North West Audio Show, or Cranage, as it is affectionately named after its location, has been growing steadily over the past few years.  From a bijou show with mainly local dealers and distributors to a major event on the international calendar. 2018 was the year when it all came together.  With exhibitors now flying in from as far away as Hong Kong and Israel, it had a truly cosmopolitan feeling.
It has to be said that this is just a lovely show.  It's in a fantastic location, entry and parking is free, the surroundings are sumptuous and luxurious and it is very, very well organised.  At no other Hifi Show do you get greeted at the entrance to a country house hotel by a smiling, friendly, professional Show Team who explain the layout and hand you a glass of fizz. Hifi Pig is justifiably proud to be involved with the North West Audio Show and long may it continue. Thanks also go to the hotel staff who looked after everything perfectly for us. Obviously, it is our job to bring you the coverage and the pictures…if you were there it's a great chance to reminisce and compare notes…if you didn't make it then you need to be there next year, the dates are already set and it should be magical.

Combining the best weather that the UK has had in ages, with a weekend of World Cup football and the F1 would generally be the kiss of death for many an audio show.  However, the venue, with plenty of outdoor eating and seating areas plus ample refreshments and the England match shown live on Sunday, meant that turnout was excellent and the visitors to the show were a welcome mix of audiophiles, Hifi fans and music lovers and many of them came in couples or brought the whole family.  This is how a Hifi show needs to be to flourish now and going forward. Cranage is a really great combination of both brands exhibiting themselves, dealers from around the country and distributors, so it gives the visitors a chance to experience the best Hifi from around the world and products that had been launched at Munich the month before. The standard was, once again, exceptional with exhibitors putting in loads of effort.
Speaking of Munich, Cranage gave the British public a chance to experience what I had picked out as the 'Best Demo' at this year's High End, Innuos Statement vs Innuos SE music server demo. Anthony from Innuos was there to support the Fanthorpes team and again wowed the crowds with his simple but very effective demo. It was interesting to see that Innuos were used in several rooms…they are gaining a strong reputation throughout the industry.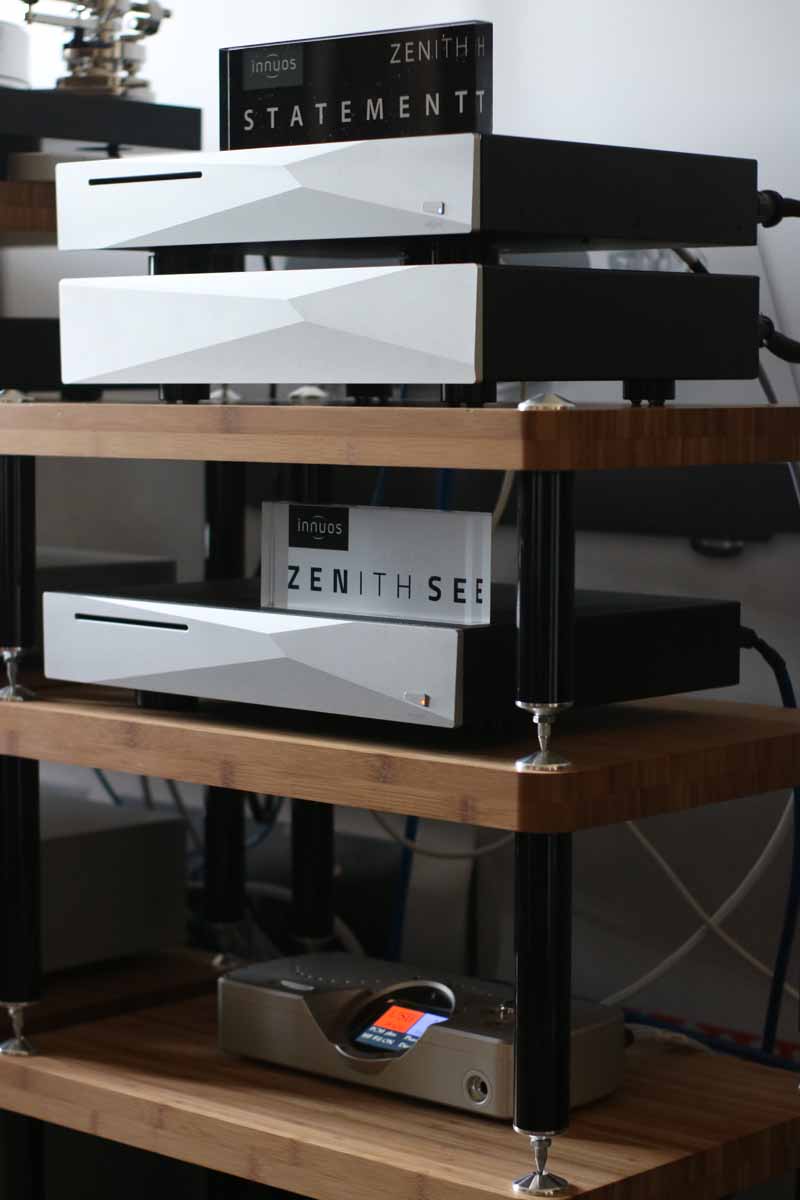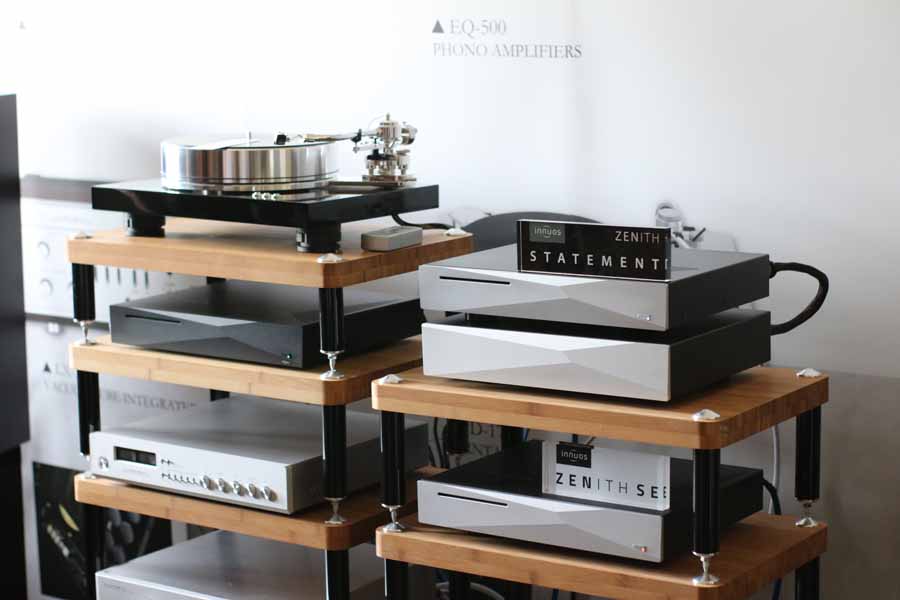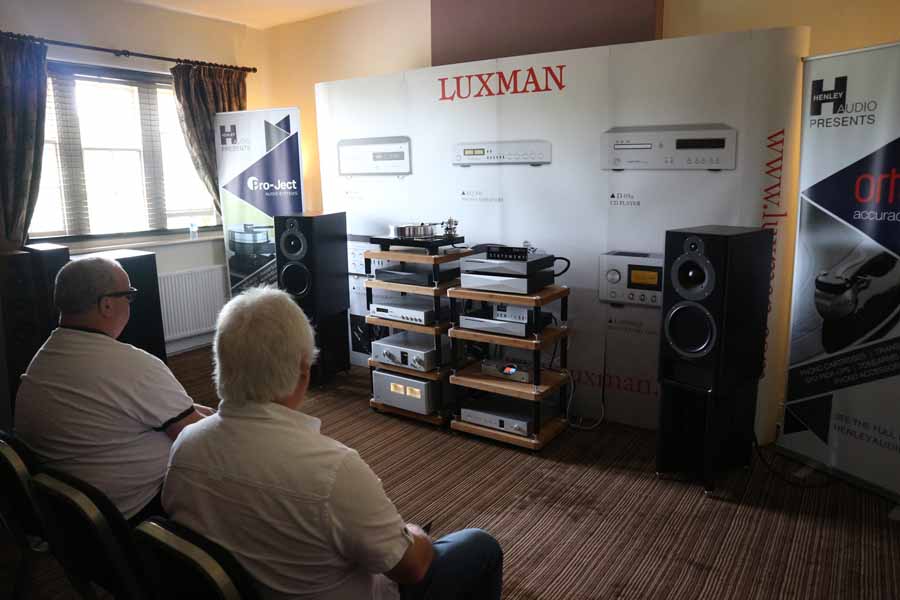 The Fanthorpes team also used a Pro-Ject Signature 10 turntable with Ortofon Cadenza Black cartridge, MF Nu-Vista Vinyl Phono Stage, Chord Dave DAC,  Luxman DA-06 DAC, Luxman C-900u and M-900u pre amp and amp, PMC FACT 12 and IB2SE loudspeakers with Chord Company Signature cables throughout. We were also very impressed with the system in their second room…this was going to be a static room but the Klipsch speakers and Luxman electronics worked perfectly so they decided to play them.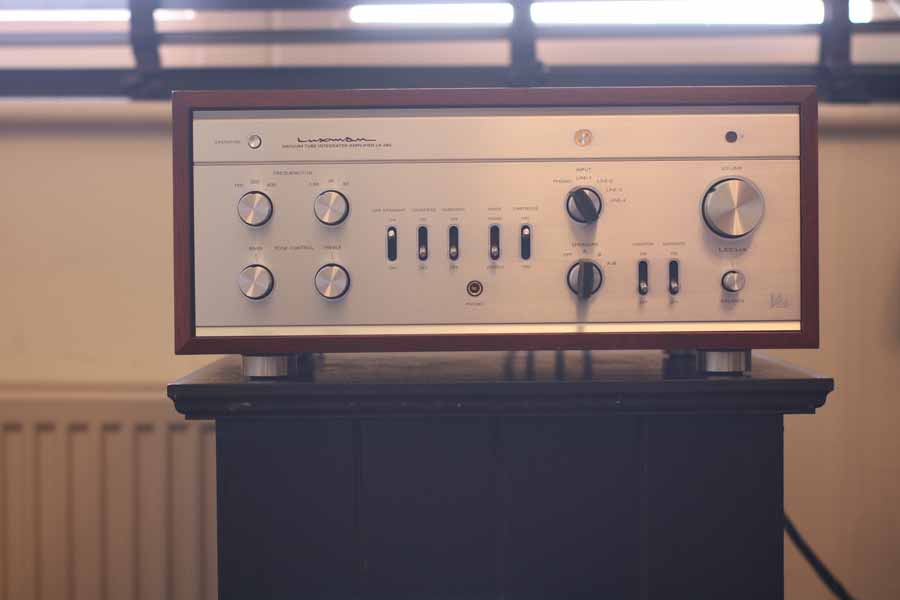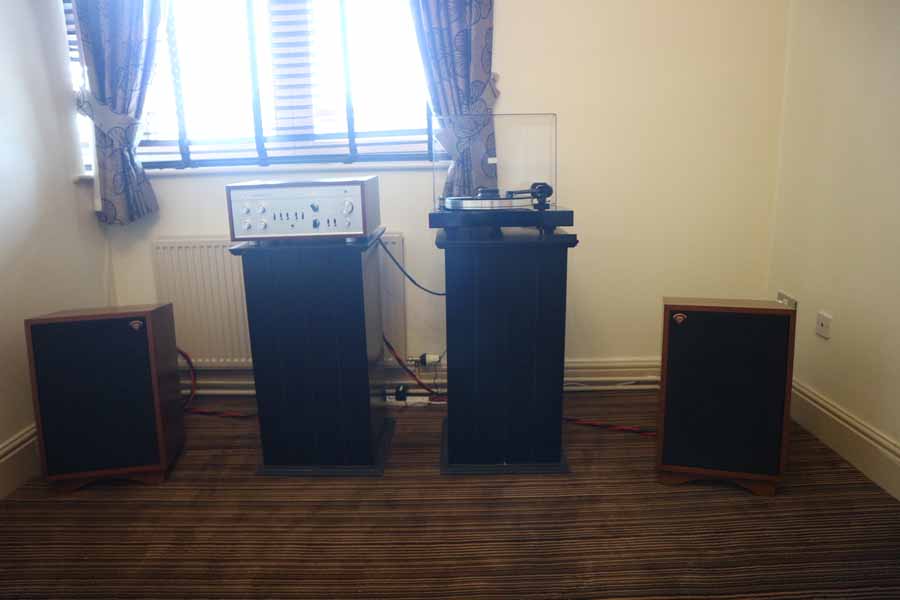 Also up in the 'Old' part of the hotel were CAD. They always have a simple but beautiful sounding room and this year their products were paired with the stunning Living Voice Avatar OBX-RW3, with external crossover, floorstanding loudspeakers.Readers of our Munich coverage will know just how much these impressed us at Munich.
Living Voice are known for their very, very high end Vox Olympian and Palladian horn systems but excel at a more affordable level too…though judging by the helicopters and supercars arriving at the show their bigger systems would not be out of reach for some visitors! The CAD products on show were CAD 1543 MKII DAC, CAD Audio Transport (CAT), USB I & USB II cables and GC1 & GC3 Ground Controls. Amplification was a Trilogy Audio 925 Integrated amplifier. And the stand was the Quadraspire X Reference equipment stand…we saw Quadraspire in several rooms.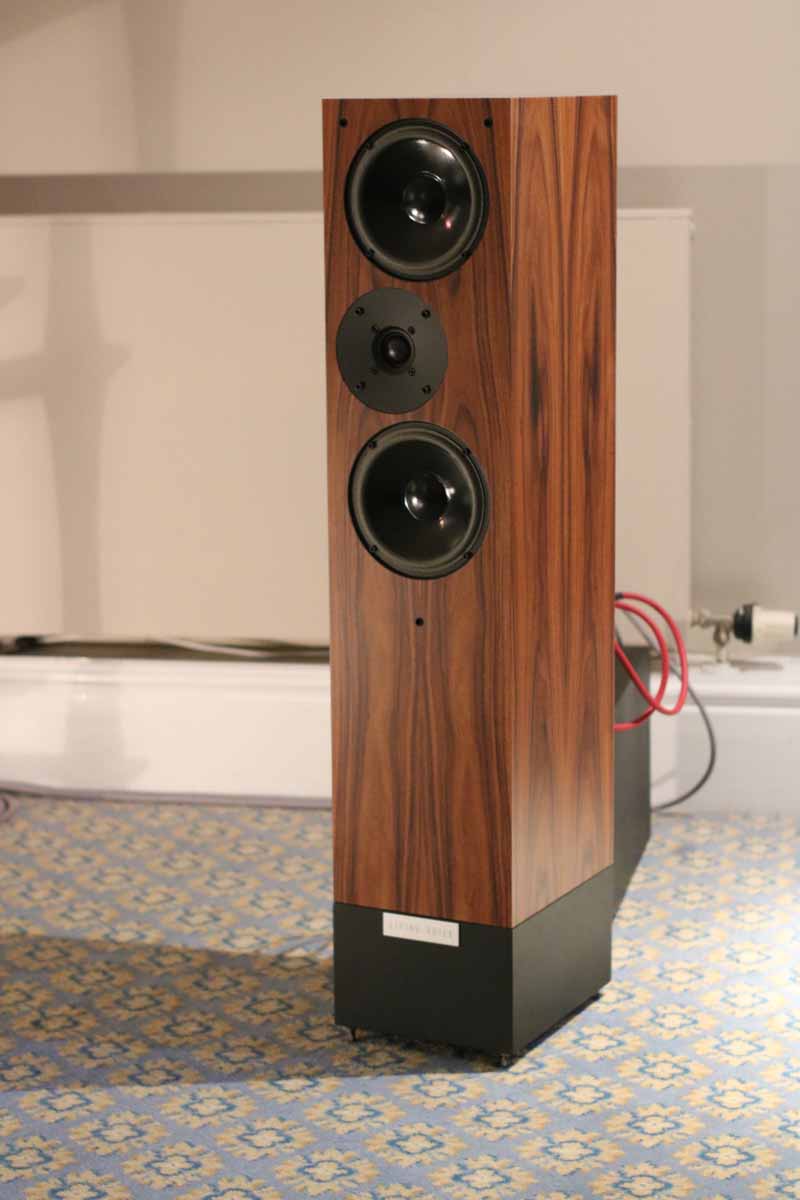 A favourite international brand of mine is SoundKaos from Switzerland.  They have an ear for sound paired with an eye for stunning design. Plus Martin and Ursula are two of the most sweetest people you could meet. I have loved their highly unusual Liberation loudspeakers before, they were there but we listened to the small but lovely standmount Vox 3. An impressive sound from a very diminutive speaker.
Over from the Swiss were Falcon Acoustics, a very British brand who were showing off their new Reference Series GC6500R loudspeakers. They come in some amazing veneer finishes and feature their own drivers. Electronics were by Emotiva. The room sounded superb and Jerry from Falcon is a lovely guy. They were also fresh from Munich so were a treat for the visitors indeed.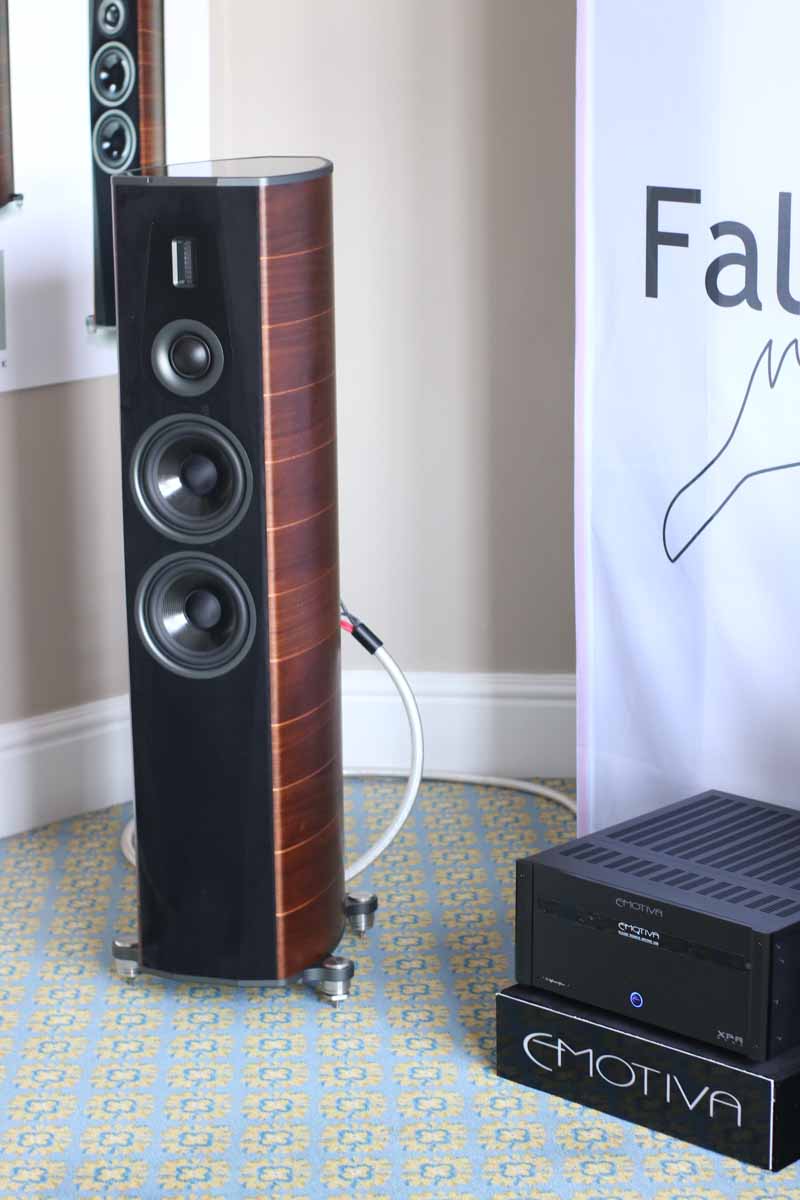 Also taking advantage of the older part of the building, in the wonderfully wood panelled Babbage room, were Sound Fowndations, who distribute several high end international brands like, ClearAudio, Furutech and Larsen. Chris played his usual mix of funky and often unusual tunes to a delighted audience.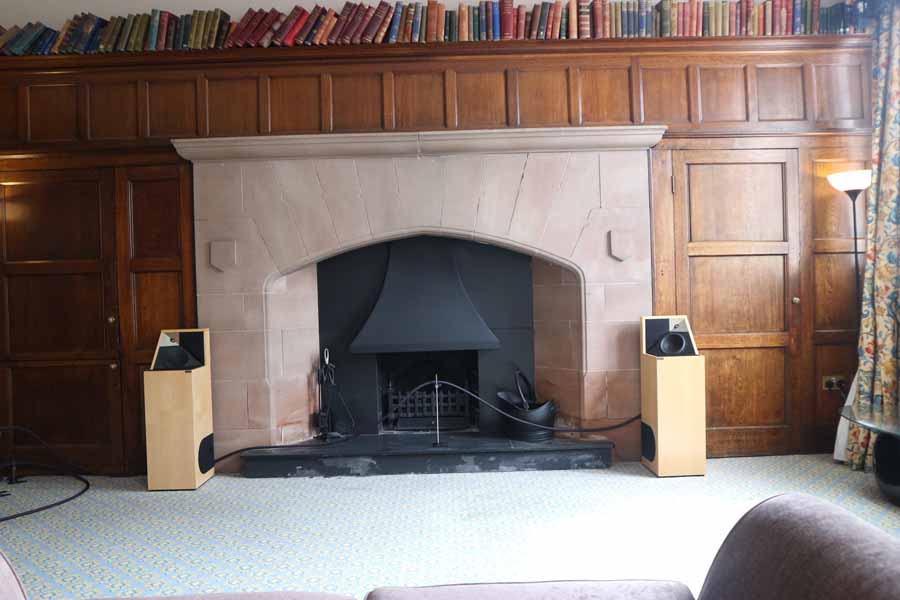 The hotel blends rather nicely from the old part of the building into the more modern part where large conferencing rooms and bedrooms are found. There are loads of stands in the hallway which Stuart has covered in his first report apart from Townshend who's platforms you will have seen in the PureAudioProject room in Stu's coverage, saving the day from vibrations! Some of their gear pictured below.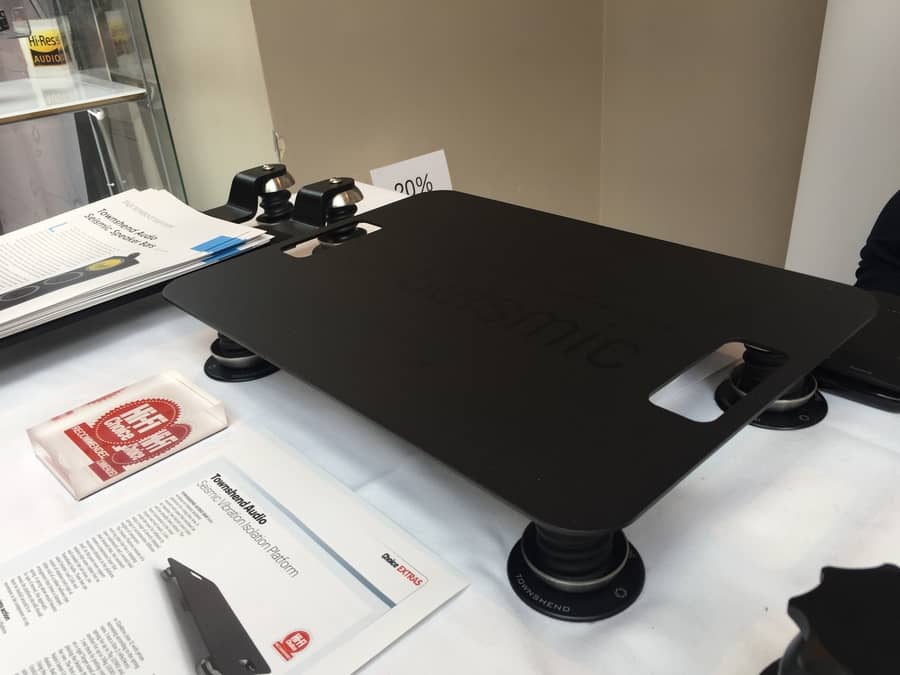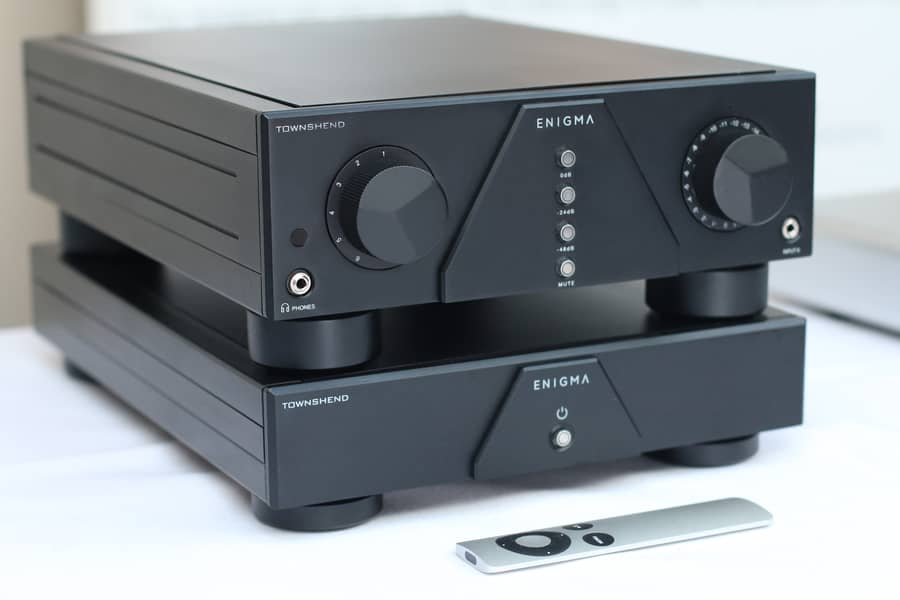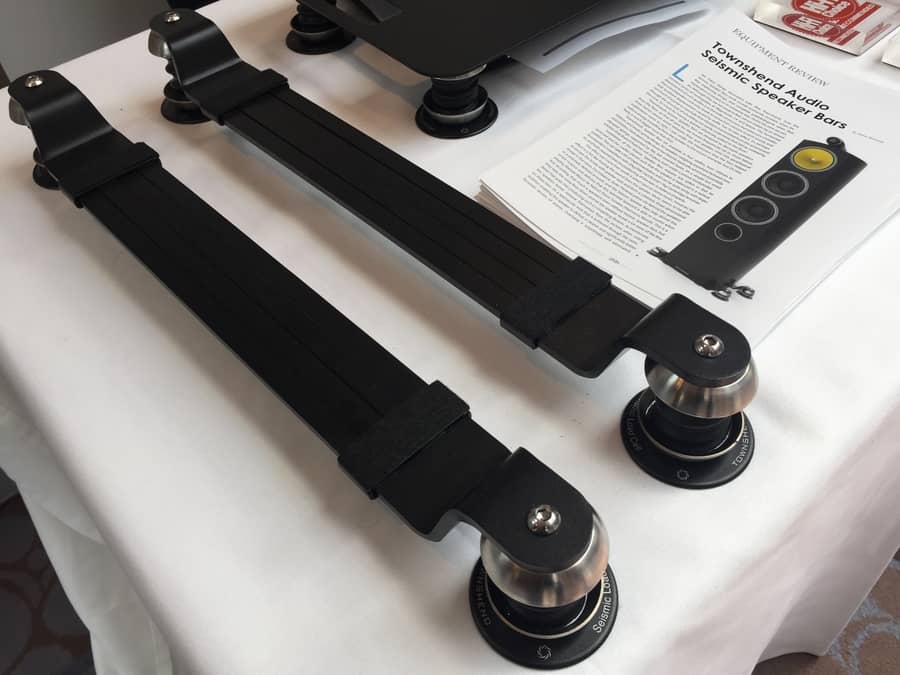 In the first large Baird room were Audioemotion who had come all the way down from Scotland. As well as treating visitors to a live gig from Scott Wainwright, they room was sounding excellent featuring brands such as Luxman, Auralic, b.audio, Gato and Triangle loudspeakers. They were using a stunning Acoustic Signature turntable too. They of course brought whisky with them!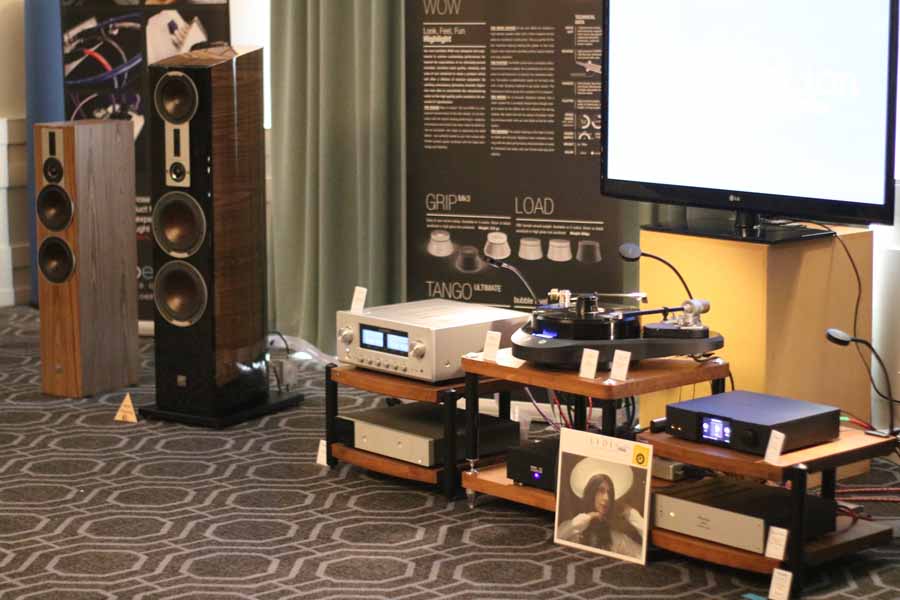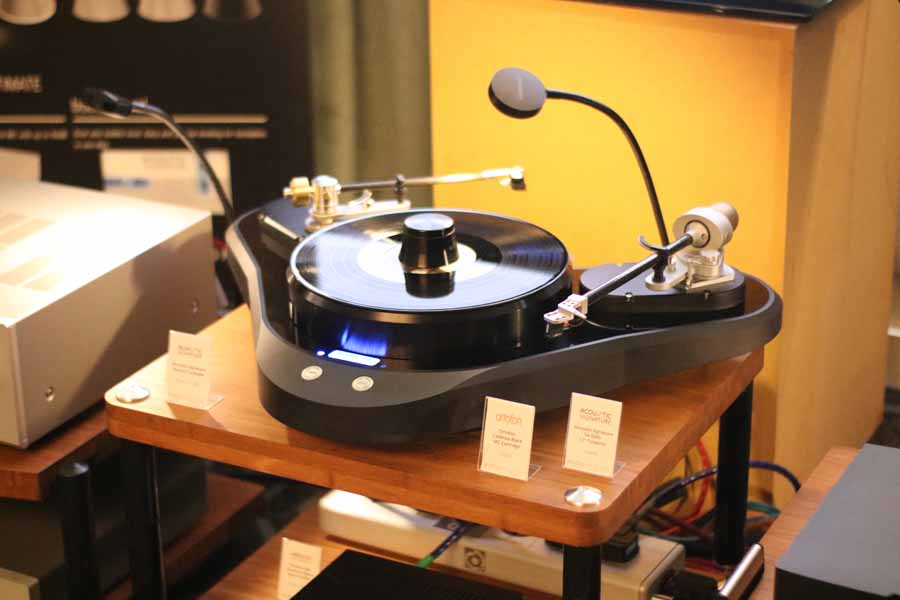 Over the corridor were Doug Brady Hifi.  They were running several different systems at different times.  I particularly liked the Art loudspeakers with Systemdeck turntable.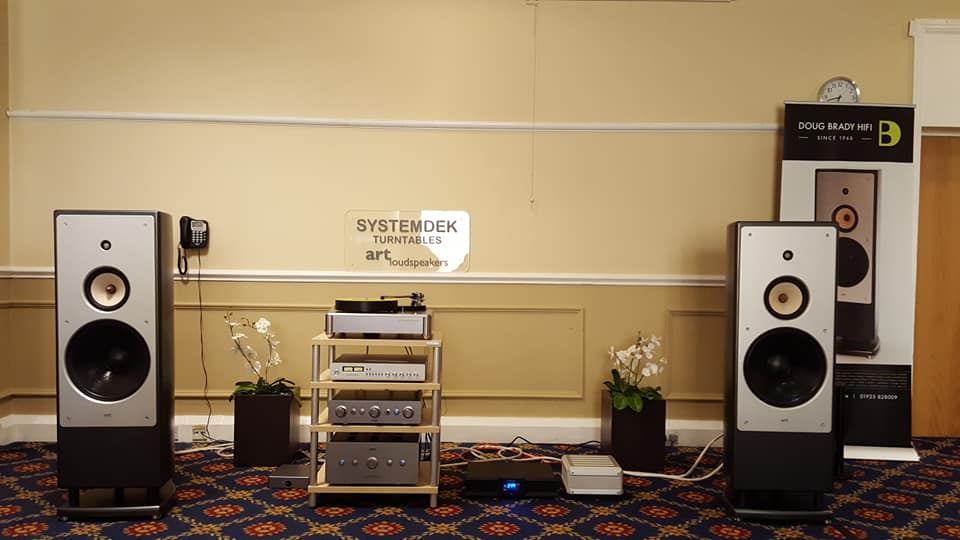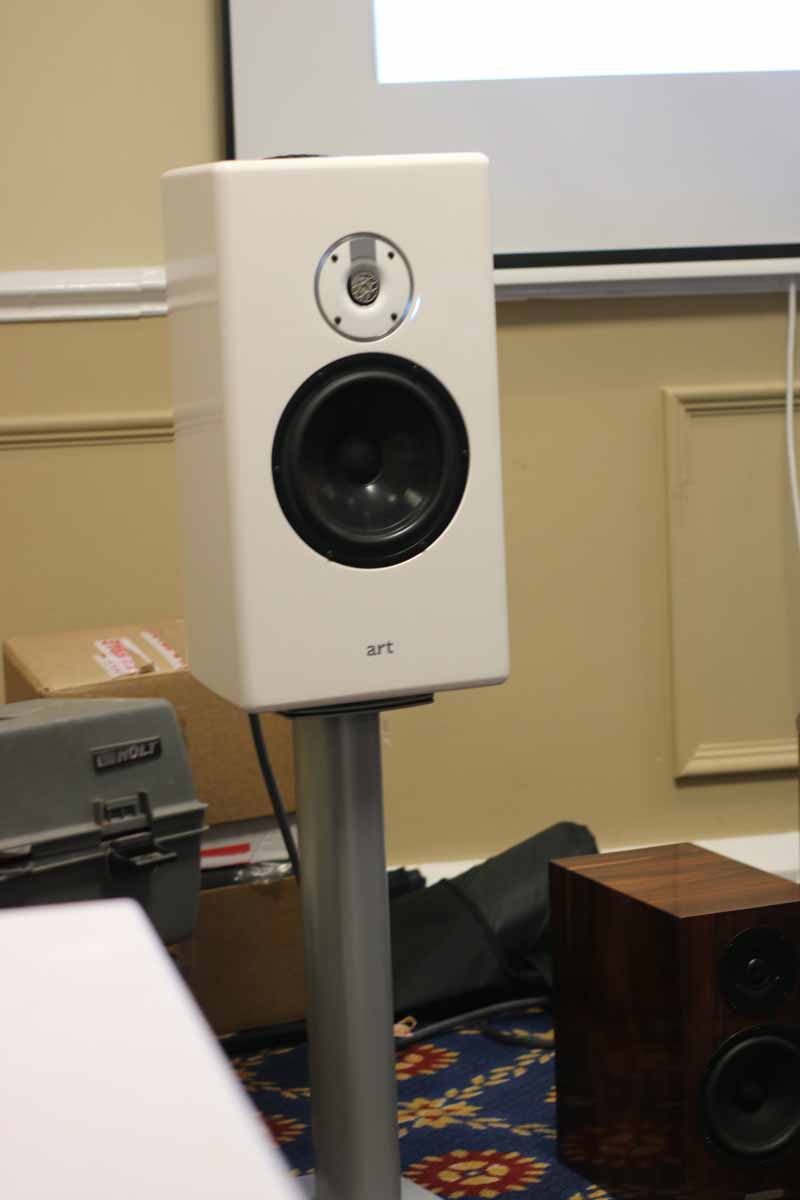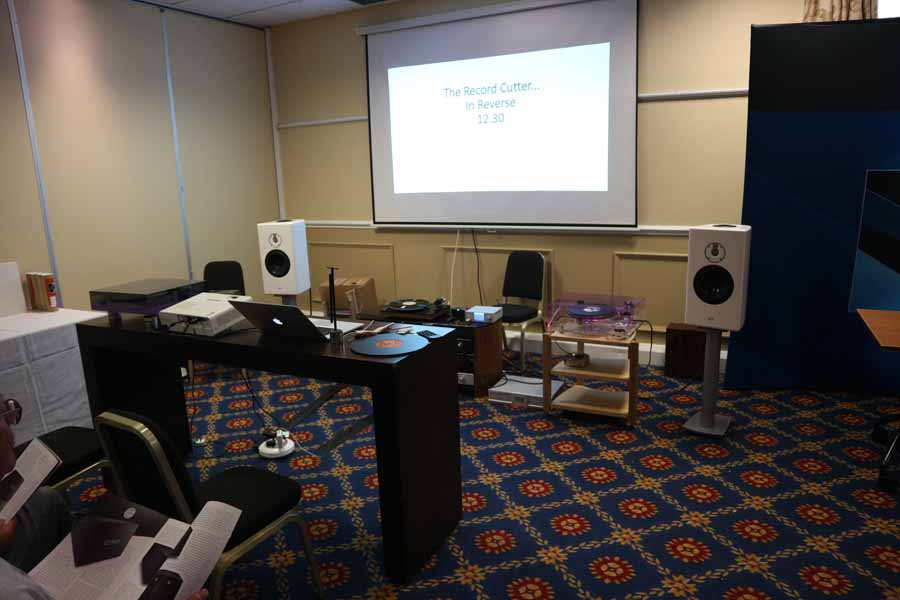 They also featured Primare, IsoTek, VTL, Westbrook and Funk Firm and played host to Arthur from Funk Firm who gave lectures each day. The room was getting a lot of interested visitors through the door when we were there.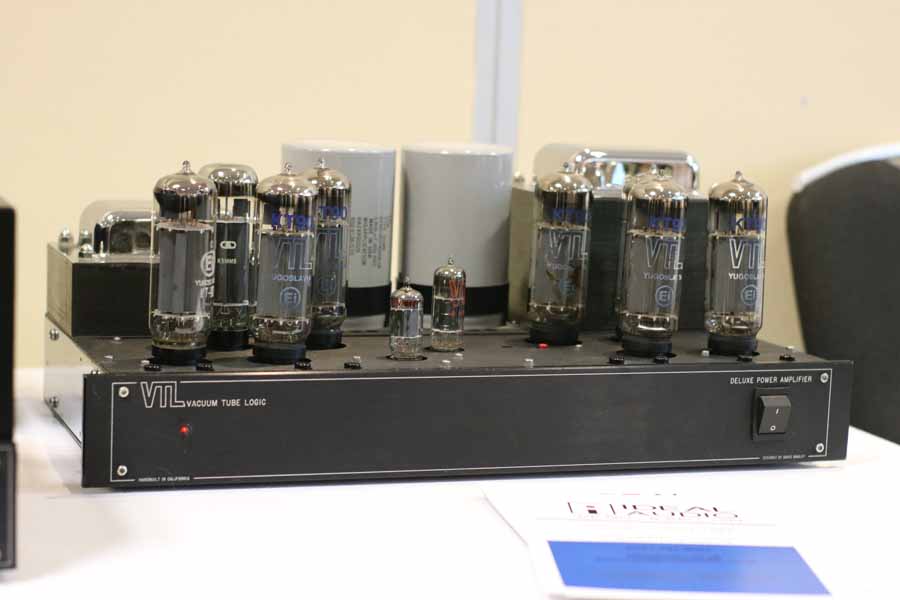 NuNu Distribution were playing some top tunes in their usual three rooms that make up the other part of the Stephenson suite. They are guaranteed to get visitors arriving in droves with brands including TAD, Quadral, Sonneteer and Oracle turntables. My particular fave was listening to Lady Gaga in the smaller Quadral room, great sounding and great fun.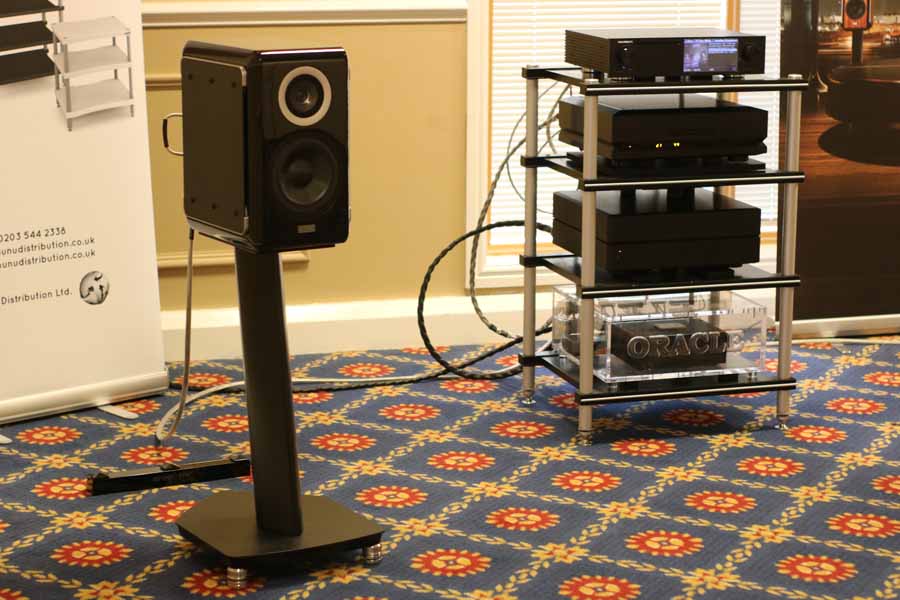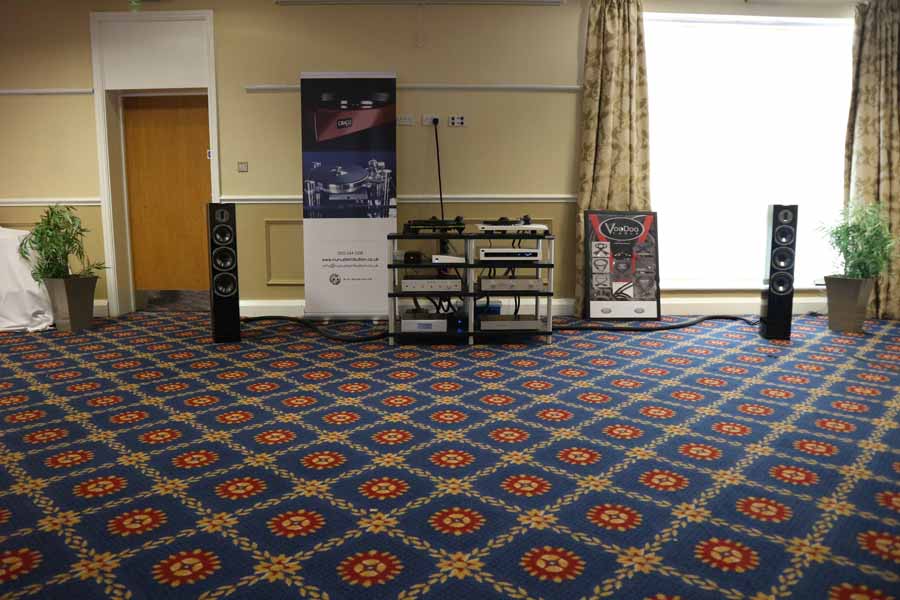 Just around the corner Pure Sound were in their usual room Newton. Featuring Pure Sound electronics including some rather nice valve amps and the rather fabulous Heco Direkt loudspeakers it was a great sounding room with fab music choices as always. Lovely people too and I will be forever indebted to Guy who, being tall, kind hearted and good at putting up banners, helped me with our Hifi pig banners before the show kicked off.  Top bloke!
Manchester based Brian and Trevor were also in their regular spot the Mercer Room.  They were playing both vinyl and digital formats and had several upgrade presentations from Booplinth, Quadraspire and Chord Cables. Their brands included Booplinth, Chord Cables, Puritan Audio, Quadraspire, Innuos, Linn and REL, with plenty of assistance from representatives from the brands.  Sounded great and was very informative.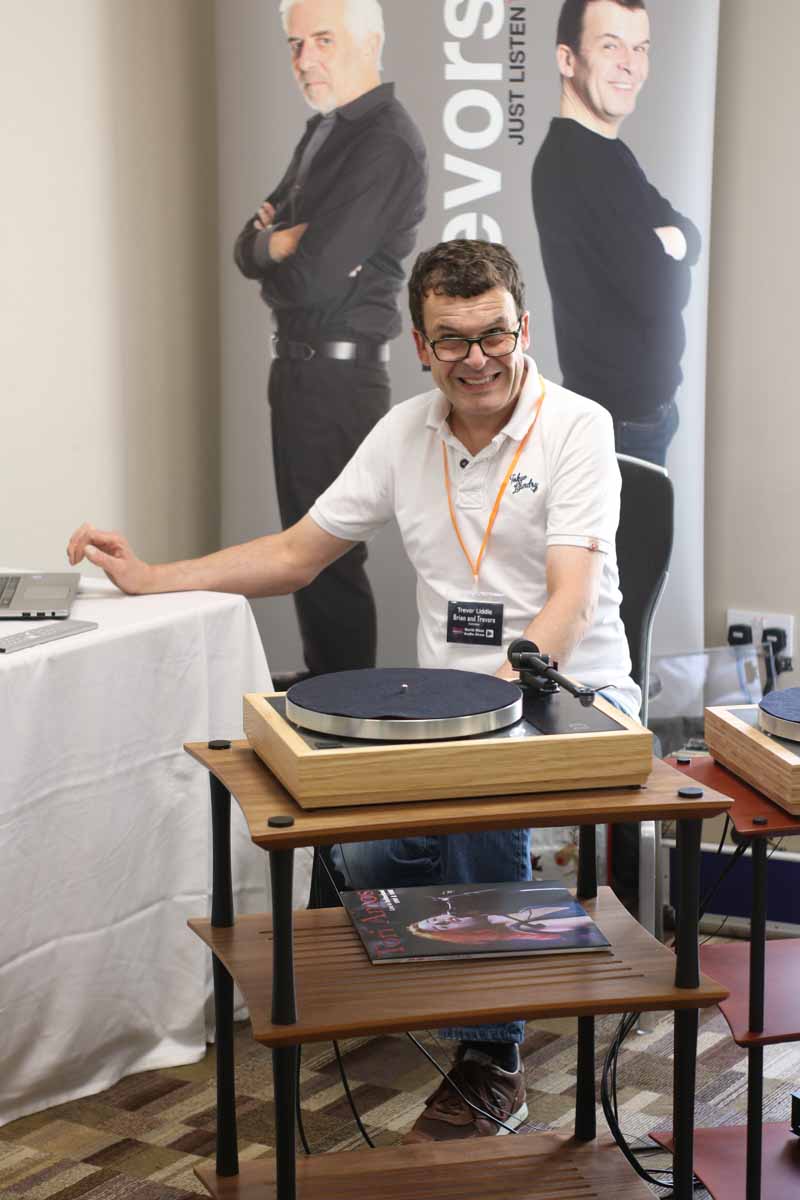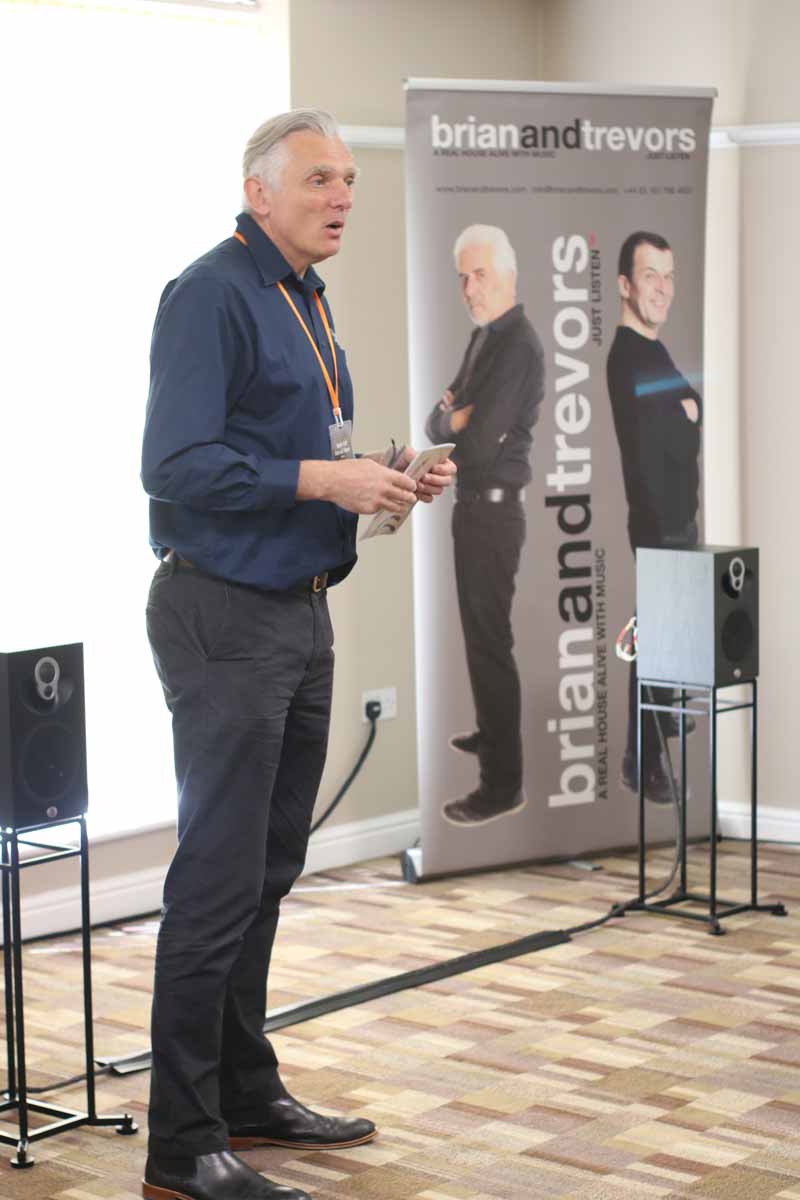 We then moved round into the smaller conference room and bedroom area of the hotel with smaller but also excellent rooms to discover.  Audio Counsel, also from Manchester had brought along an Audio Note system, however visitors got the double whammy of having a second Audio Note room further round at the end of the bedrooms with non-other than Peter Qvortrup himself of Audio Note. Possibly the biggest surprise of the show was him playing Slayer.  There then followed stories of meeting Rick Rubin and tales of Russian politicians that I probably can't repeat on here! Really changed my opinion of the brand.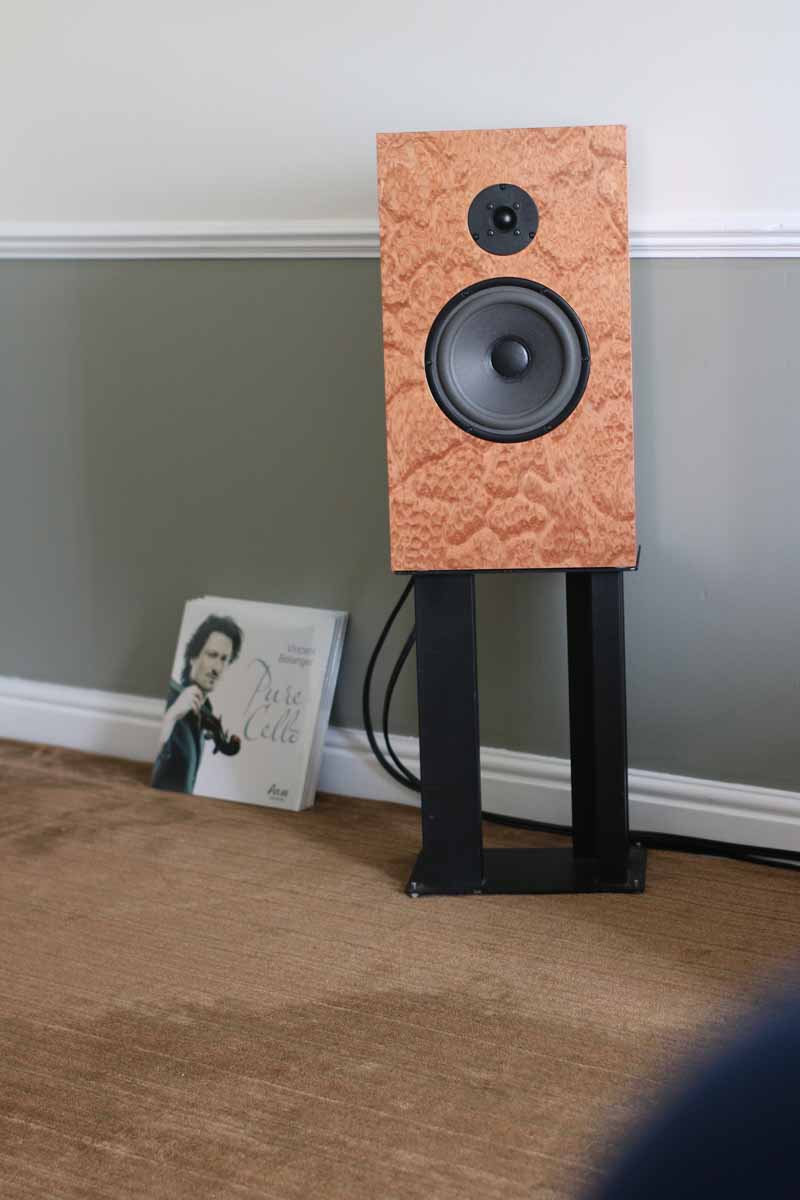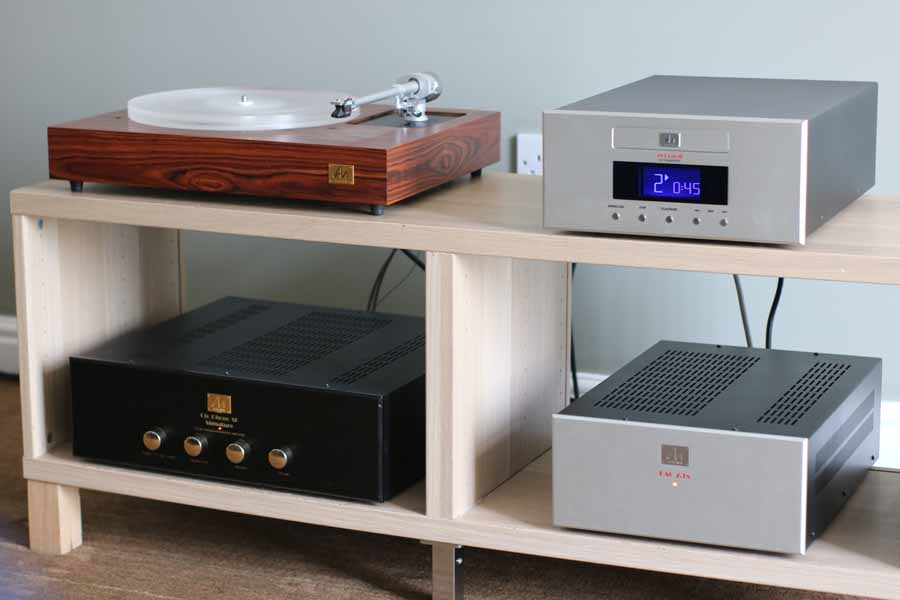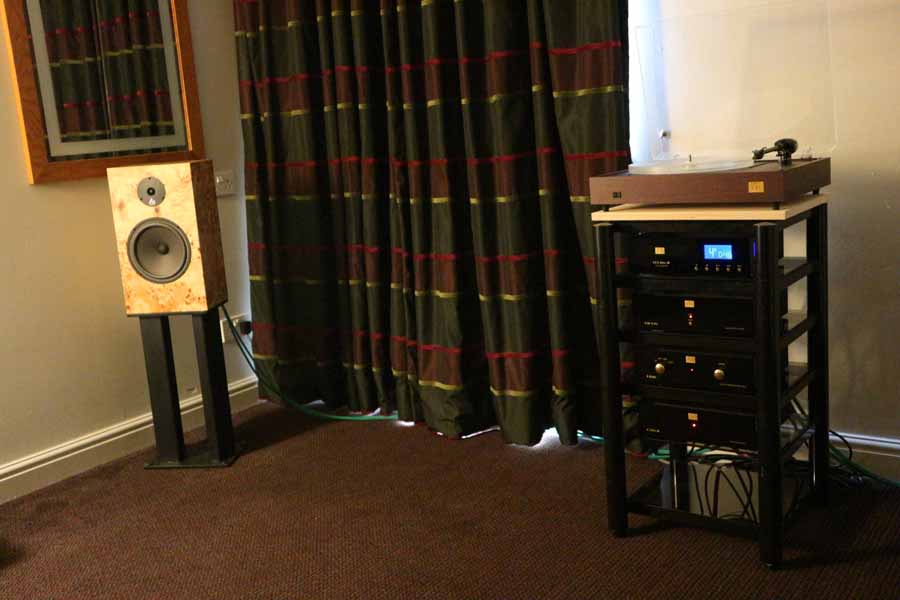 Markaudio Sota had two rooms next to each other. The first featured their new high end range, including their flagship Viotti Tower 2-way full range loudspeaker. These were a very punchy and expansive sounding speaker. The other room featured smaller speakers and included lectures on speaker building and driver design.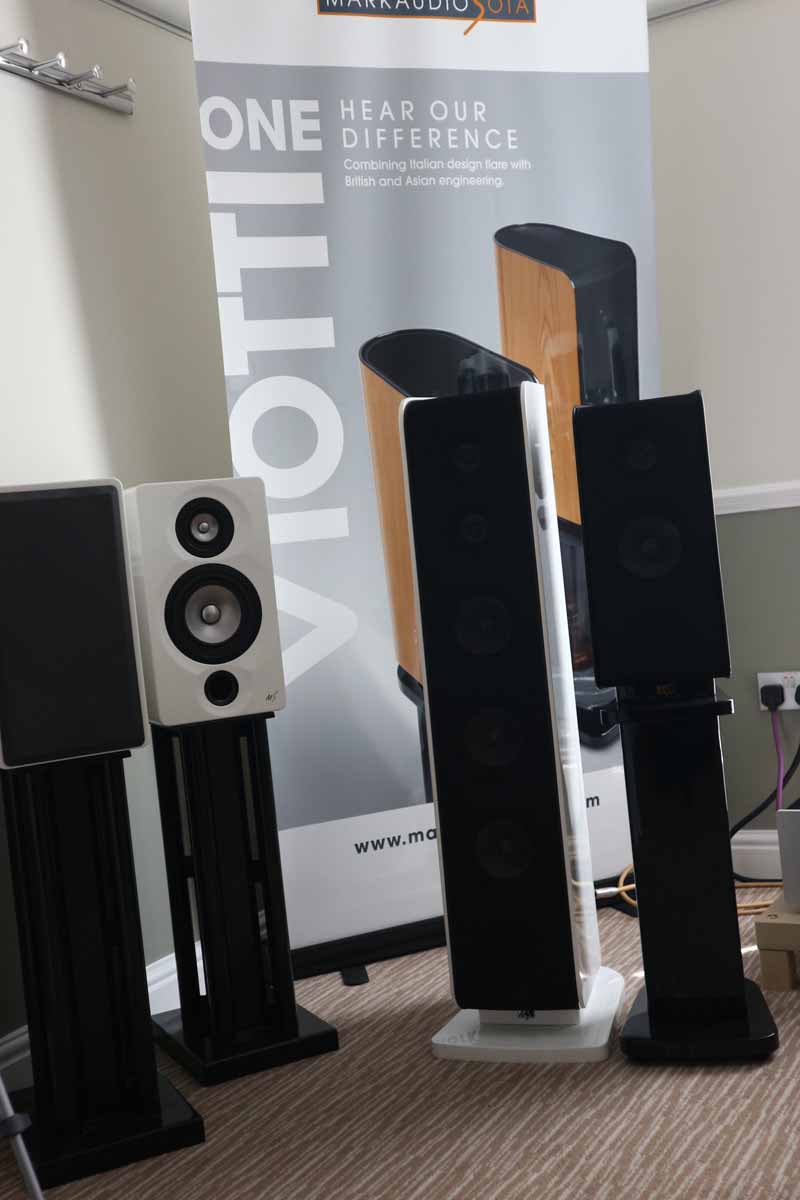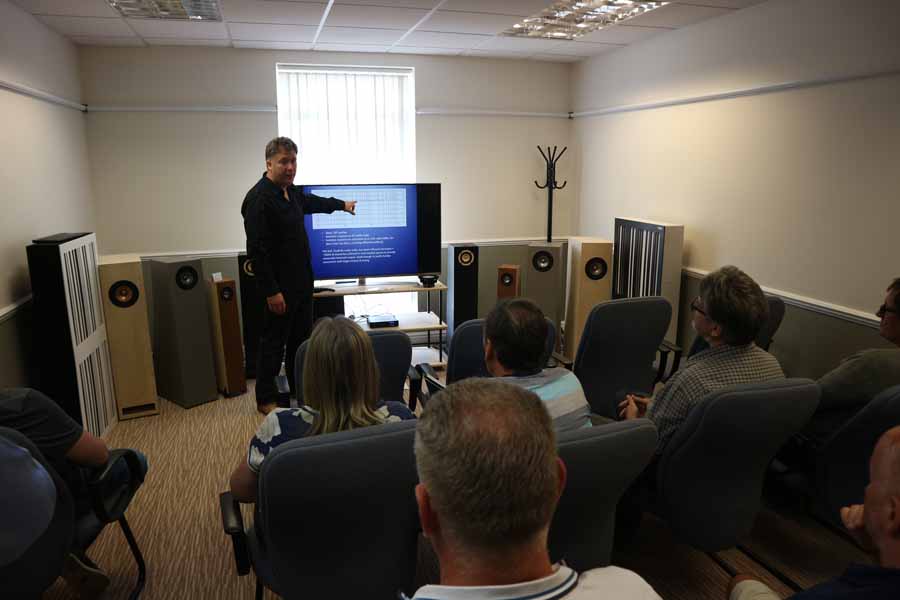 Next door was Music First Audio.  Jonathan was showing off his lovely new Senlac monoblocks and Baby Ref V2 pre with one of his much loved Nagra tape machines and Graham Audio loudspeakers.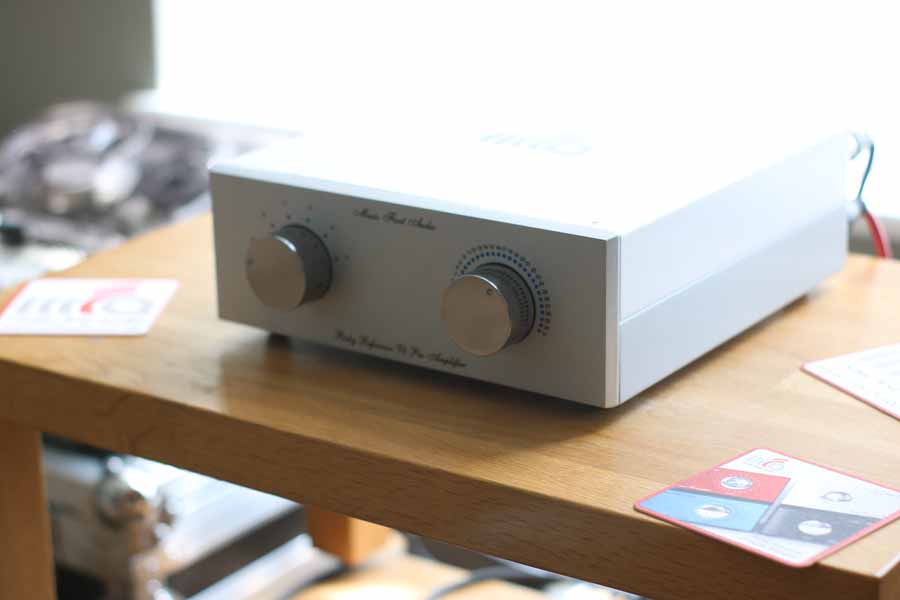 What I always love about the Music First room is that it is an oasis of calm, with his beautifully simple and straightforward gear allowing the music to shine through.  Jonathan always picks music that you are unlikely to hear elsewhere and it is refreshingly beautiful with one of the most honest and clean sounds that you are likely to hear.

Karma AV are a distributor that always put together a fantastic room at a show. Though I am not a massive fan of the traditional AV 'Huuuuuuge screen' set up, Karma do it much better and combine AV and Hifi really well, they also tailor their set up to match the show that they are at and go Hifi for a Hifi Show.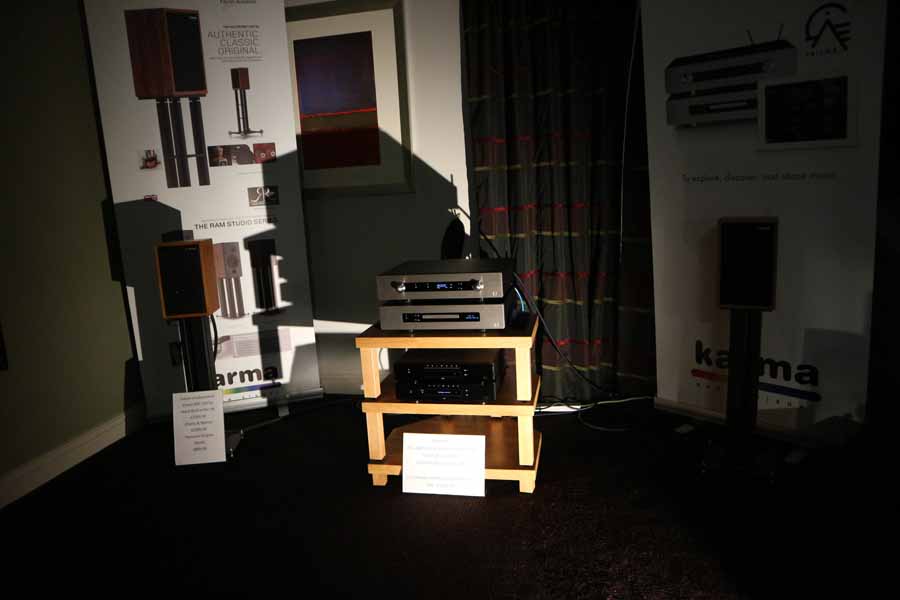 Bedroom 1 had the new Primare Prisma electronics with Falcon Acoustics which was brilliant, however they were also downstairs in the Aston room where they had Emotiva, Goldenear and JBL with Torus Power's mains conditioning. The big Goldenear Titan Reference speakers running with Primare and Emotiva was both visually and sonically stunning.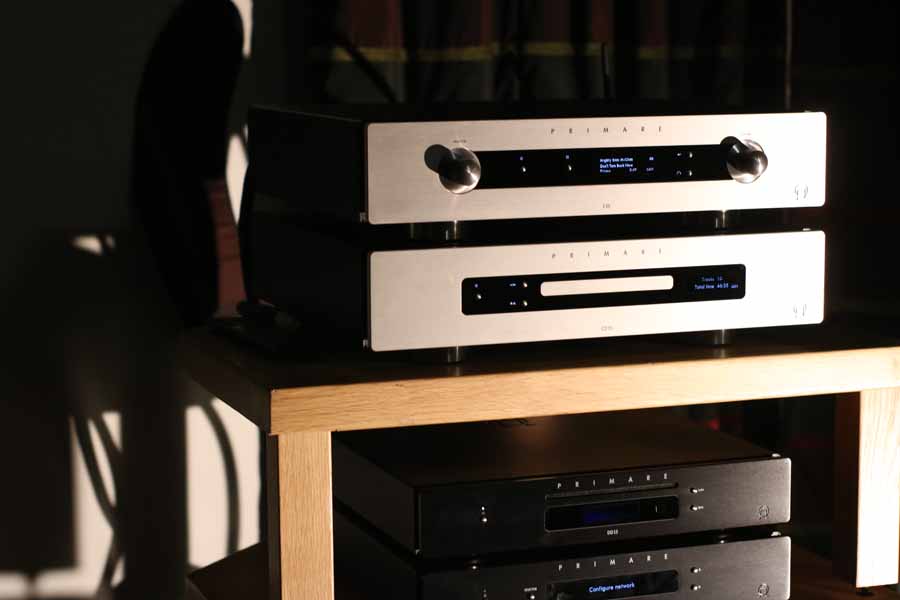 True Signal Audio Cables had the room next door featuring their range of cables paired with speakers that I had not heard before, from Shahinian Acoustics, these were the Obelisk . It sounded great in there.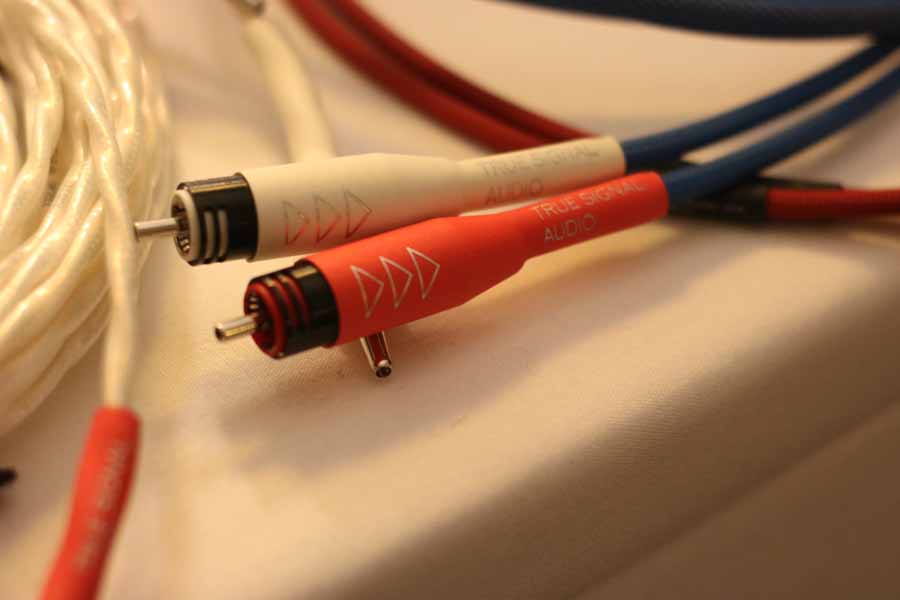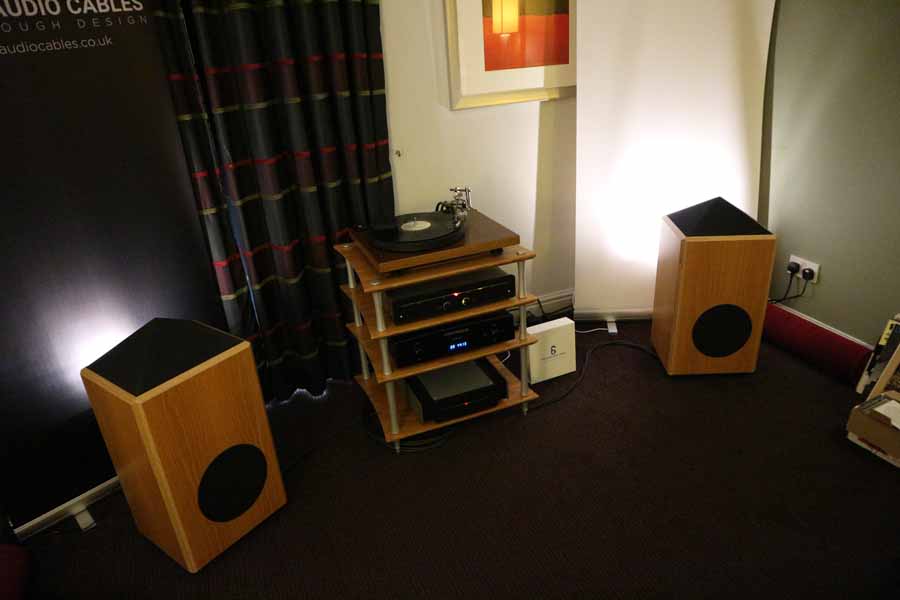 Buchardt Audio is a Danish based high-end loudspeaker manufacturer, who are selling directly to the consumer to keep down costs. They showed their little S400 prototypes standmounts which sounded very nice in the small room environment.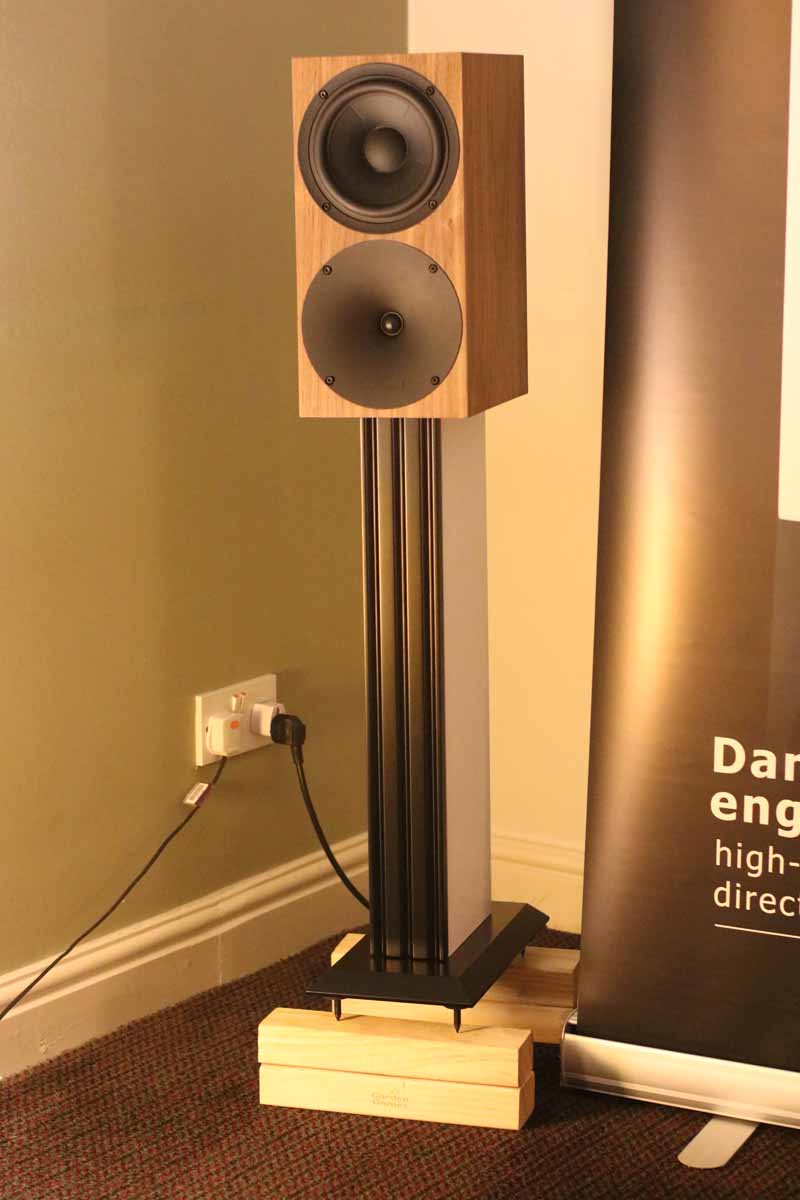 Mian Distribution had a very nice room next door that was packed full of Leema gear (along with Shaun the Sheep who was having a weekend away from Wales). They also featured nice racks from Solidsteel and Brigadiers Audio standmount speakers (who are a new brand to me).  It had a really musical and lively sound which impressed me.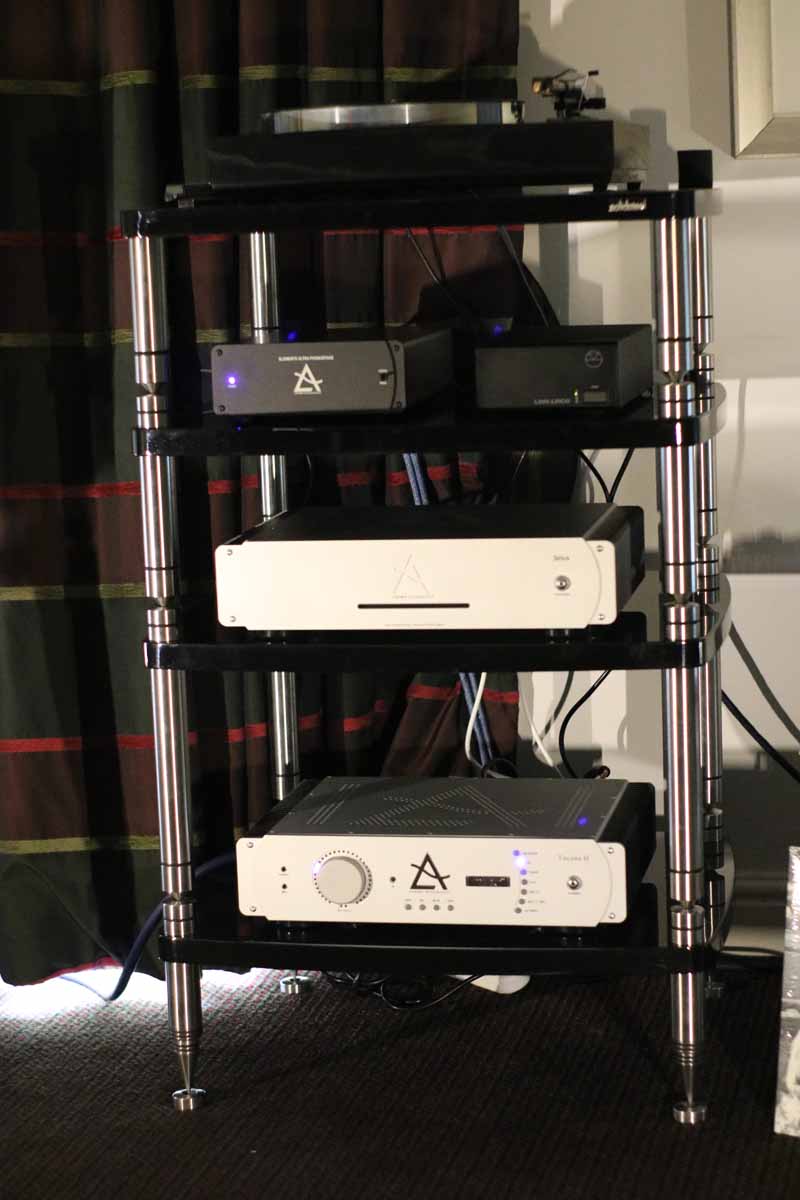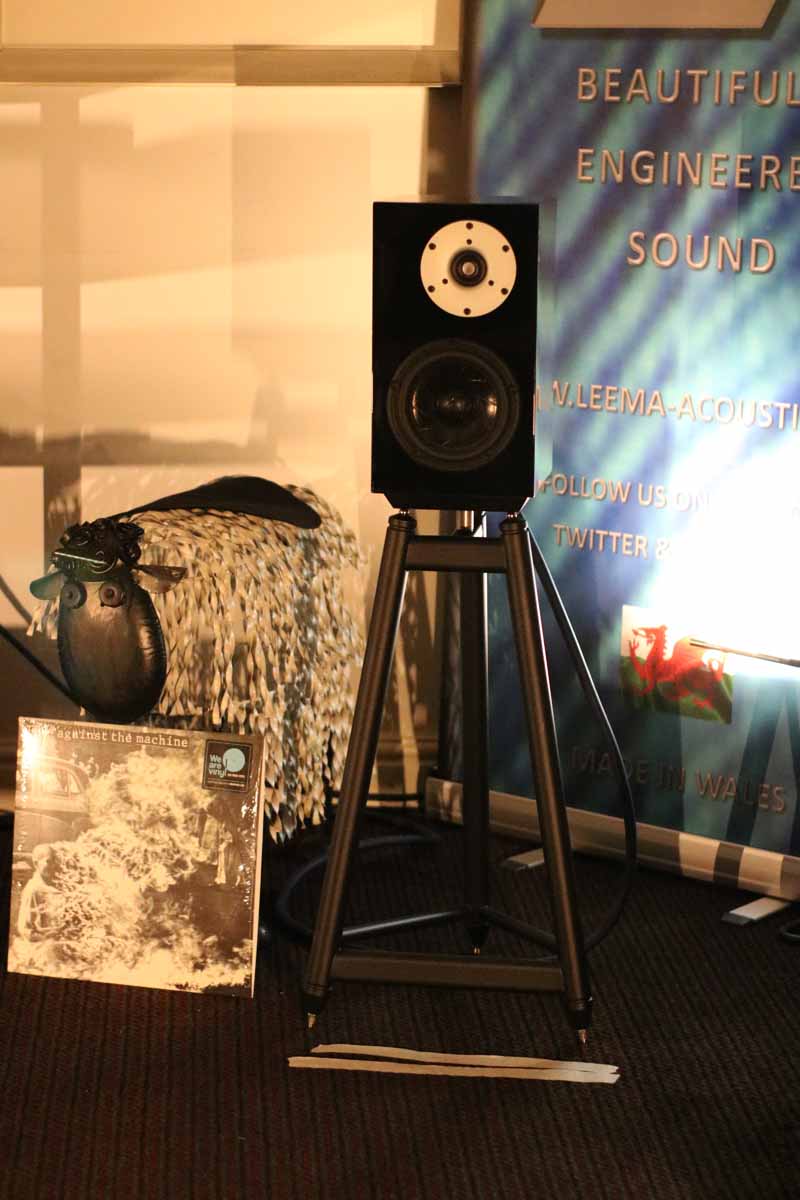 A bit further down the corridor was a very stylish room belonging to Node Audio.  A new brand with an interesting looking and sounding speaker and a stylish black and white set up. They are based in Cambridge, with a background in industrial design. The speakers on show were their debut product, HYLIXA, which were pre-production samples. Keep an eye on Hifi Pig for more info soon on this new brand.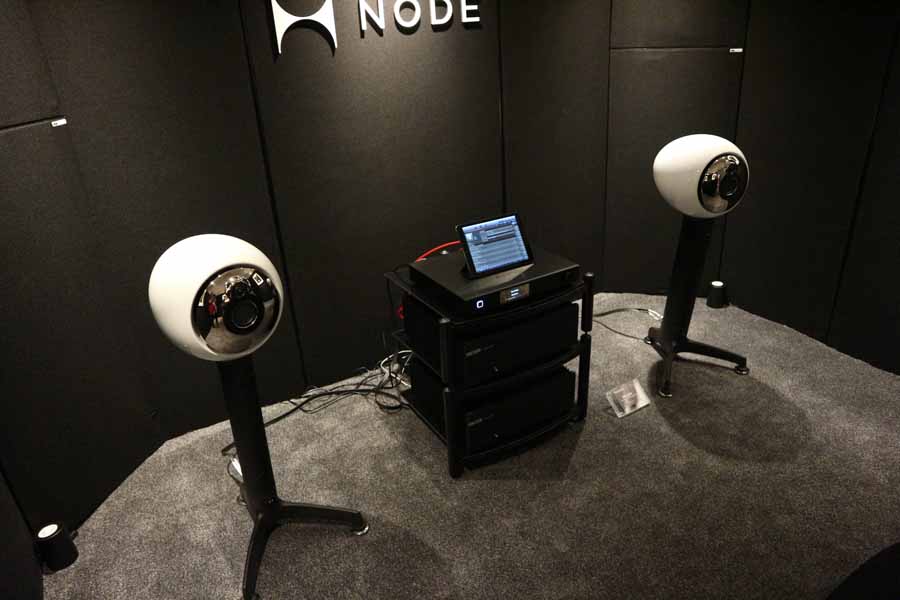 Nick in the Longdog Audio room does have an air of a Hifi Father Christmas about him. Always a consistently good sounding room. He was launching their new MCj3 hybrid phono amplifier. The full system was a Technics SL1210 powered by their linear power supply. MCj3 hybrid valve phono stage, Music First Audio pre-amplifier, LDA P6 monoblock amplifiers, Graham Audio loudspeakers, IsoTek mains conditioning and the room treatment was from GIK.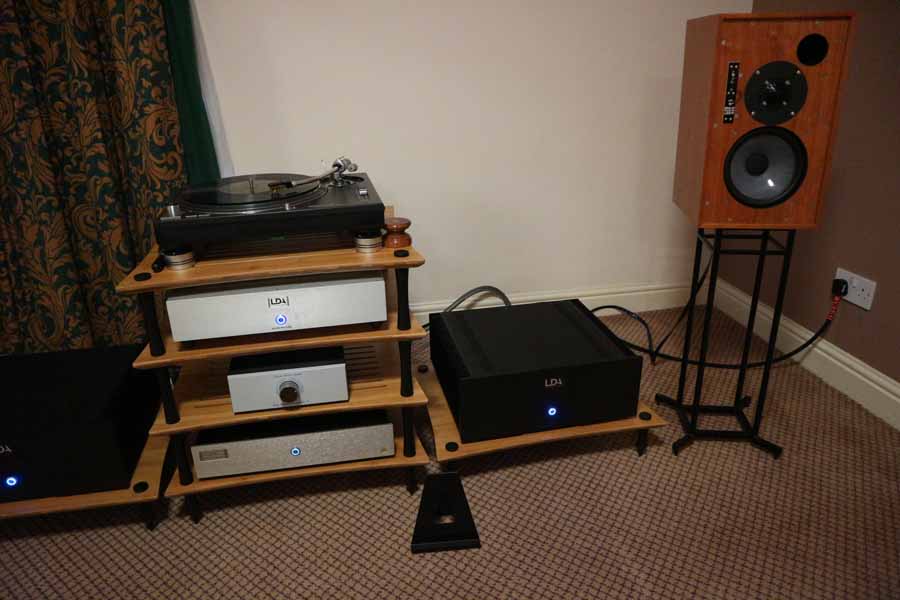 It is always a pleasure at shows to see Bob and Doug from Neat. They consistently pull a big sound from small speakers.  At Cranage they had the Iota Xplorers with a Raspberry Pi serving up media files to a Chord Qutest DAC, Naim Nait 2 amplifier and a Rega P6. Great sound and I love the new colours they are doing.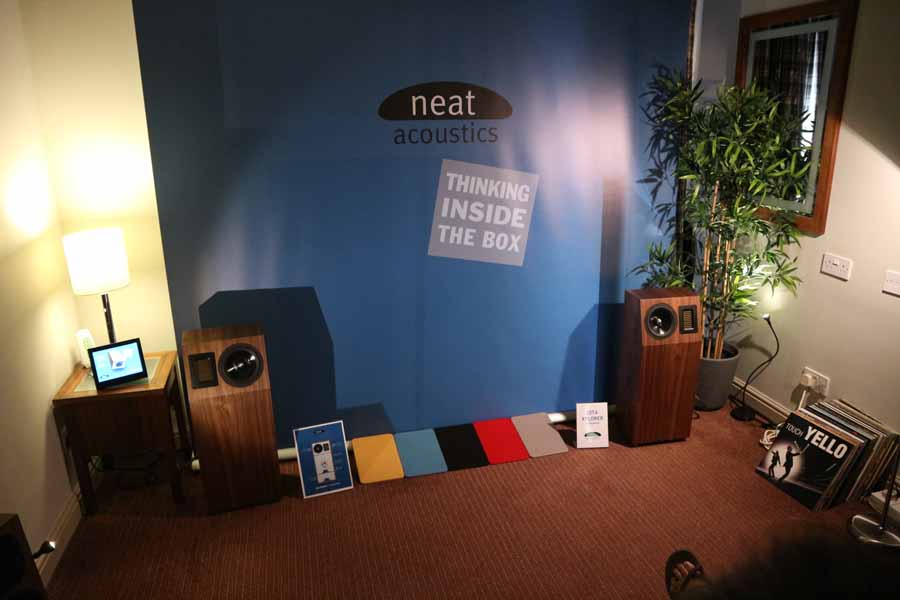 Ophidian are a young brand who have come a long way in a short time.  We have really enjoyed their speakers at shows and our reviewers like them a lot too. They didn't disappoint at Cranage with their new 5010 series speakers and pre and mono power amplifier setup from Exposure. It's great to see a young team doing well.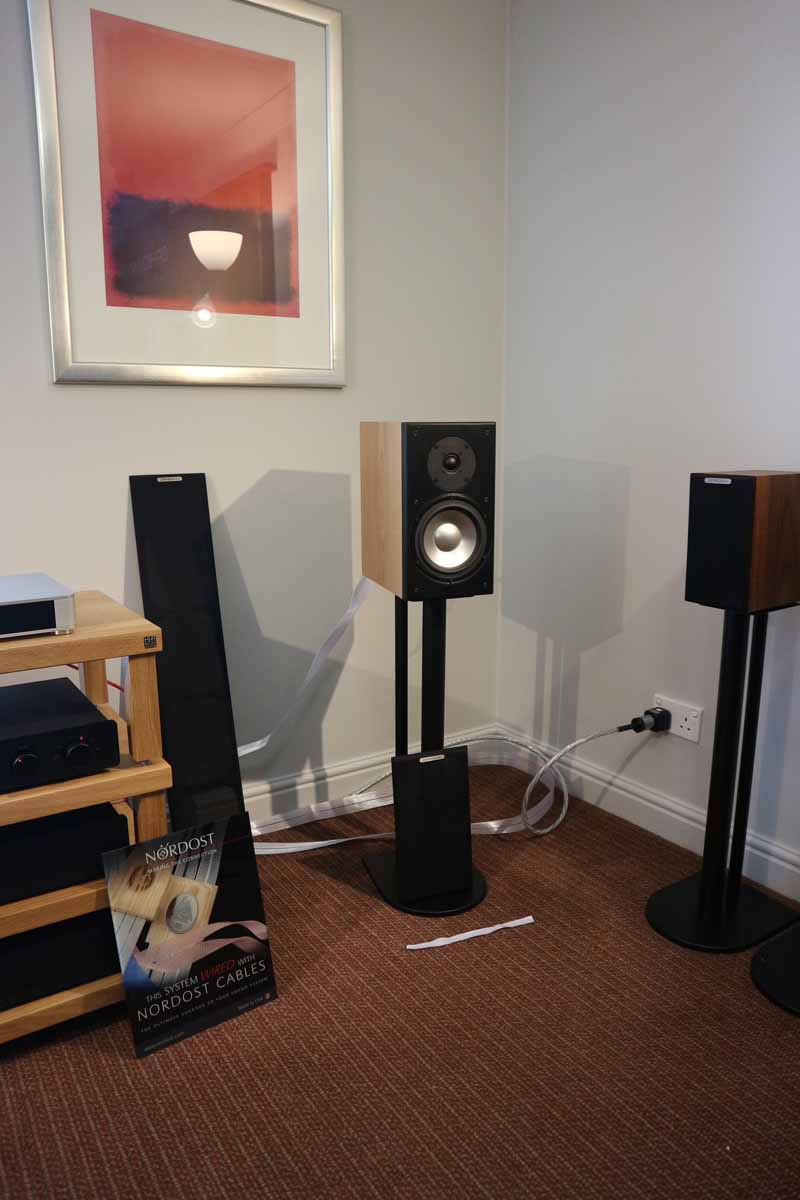 Henley Audio are Hifi show veterans and again had a cracking room at Cranage. They featured some of their main brands like Pro-Ject Audio, Klipsch and Unison Research. Always a pleasure to visit their rooms at shows.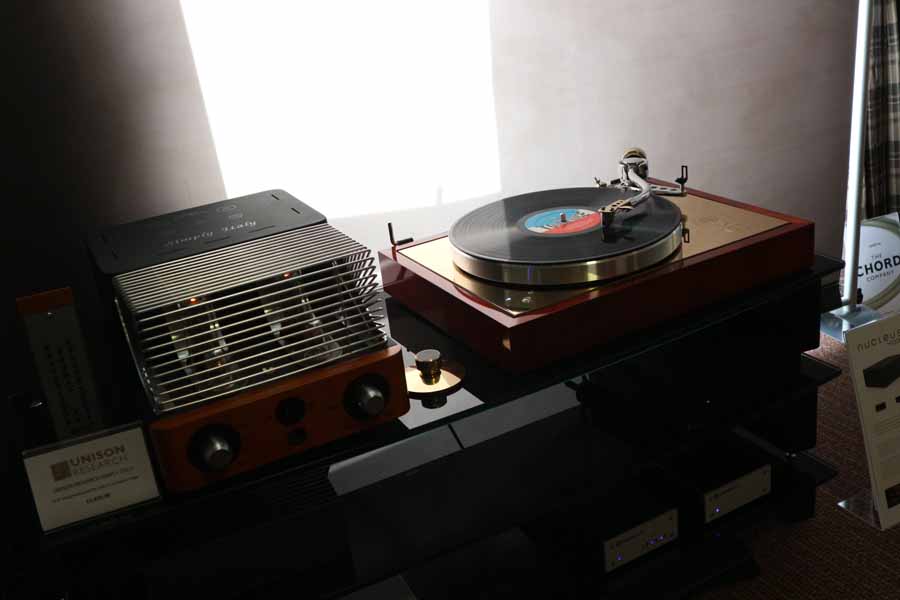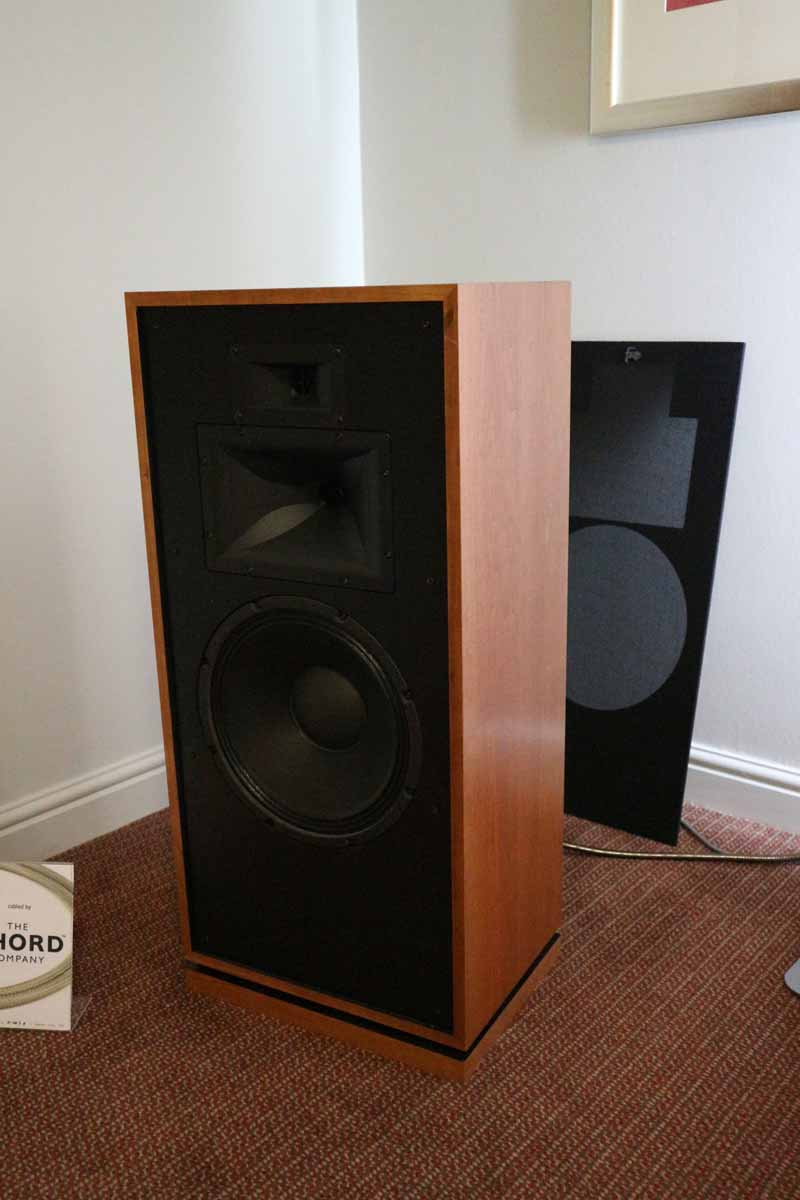 Laurence from Aeron had flown in from Hong Kong just to do the show.  He again had a 'fresh from Munich' UK debut in his Aeron C101 pre-amplifier/ headphone amplifier and Aeron P10 1 Class D Stereo Amplifier. This is a tiny, budget but totally solid system. Was nice to hear his turntable too. Very impressive sounds and the public loved it.  Welcome to the UK Laurence!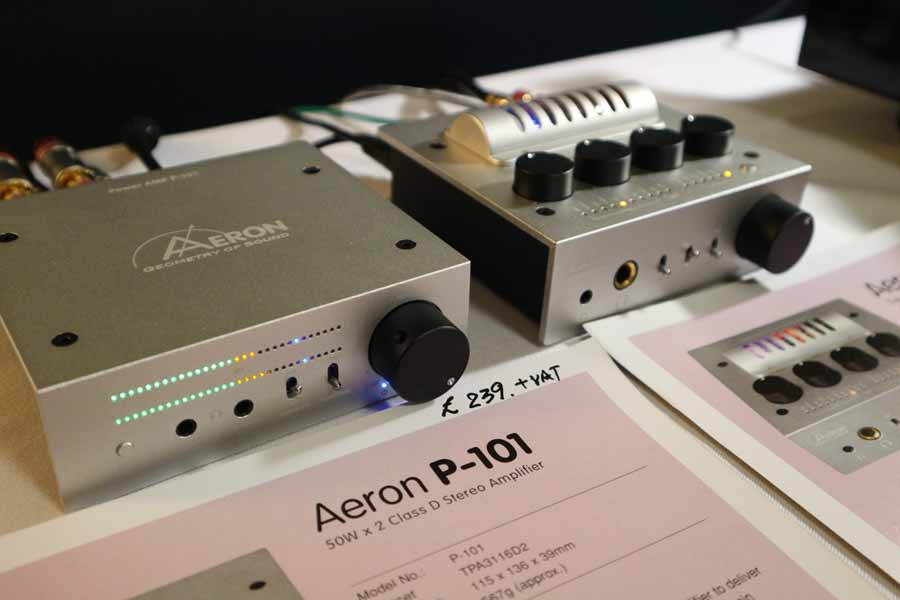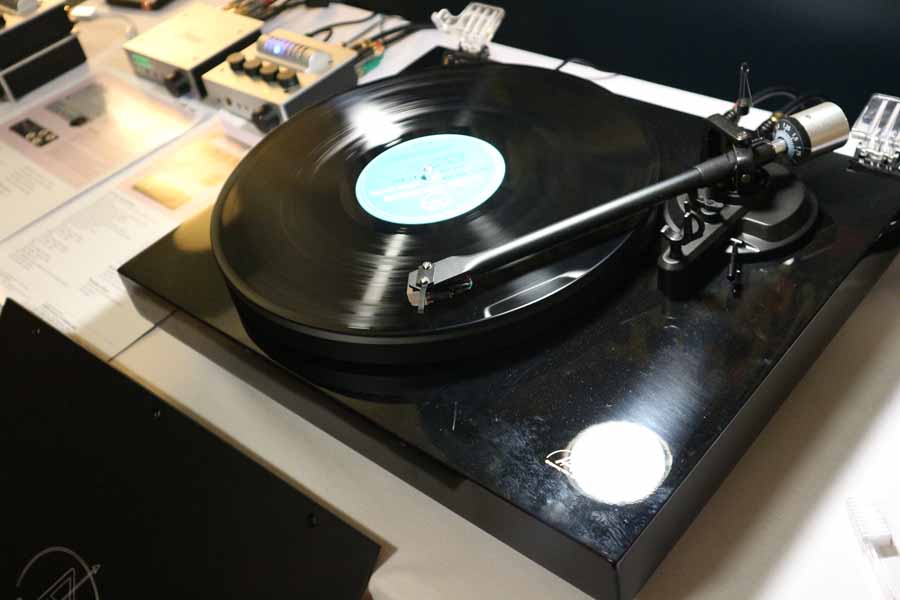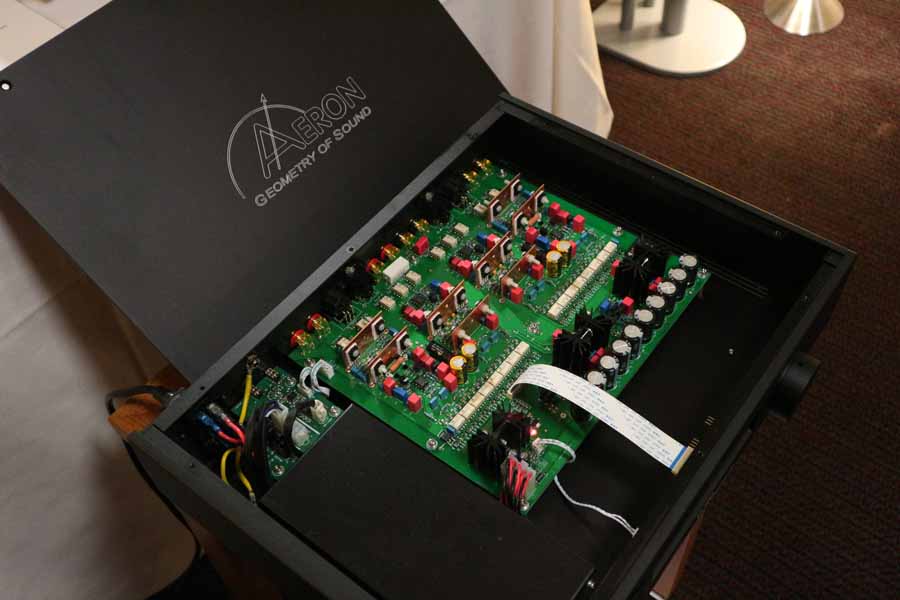 So that's it for another year! Like I said previously, if you love Hifi and music and enjoy listening in a beautiful and social environment then do not miss Cranage 2019. It's the UK Hifi Show Of The Year. Dates for your diary are Saturday the 29th and Sunday the 30th of June 2019.
Linette Smith