We are very lucky to be able to visit many Hifi Shows, all over the world. Some of the shows are huge, like Warsaw and High End Munich, and I love these big shows, but NWAS at Cranage Hall in Cheshire is a much more personal show. That's not to say it's small, it has grown year on year to now have over sixty rooms, and exhibitors from all over the world, including some very big names.
What makes it brilliant is a combination of factors, from the free entry with a glass of fizz for visitors when they walk in, the incredible welcome and organisation by Kris and his team, the lovely surroundings to the wonderfully enthusiastic exhibitors and the amazing gear that they bring, it really is a delight to attend.
This year saw the highest attendance ever and it really is a chance to catch up with old friends and acquaintances and meet new ones…I would say it is the most sociable Hifi Show on the calendar.
We are of course providing coverage of all of the rooms, but I've picked my top five here (in no particular order) of the rooms that really moved me in one was or another…believe me it was very difficult to narrow it down to five as the quality was incredibly high.
G-Point Audio
Greg at G-Point started off importing mainly Polish brands into the UK, he has been responsible for making brands like Lampizator and hORNS popular and now has a fine and wide range of brands, that complement each other perfectly.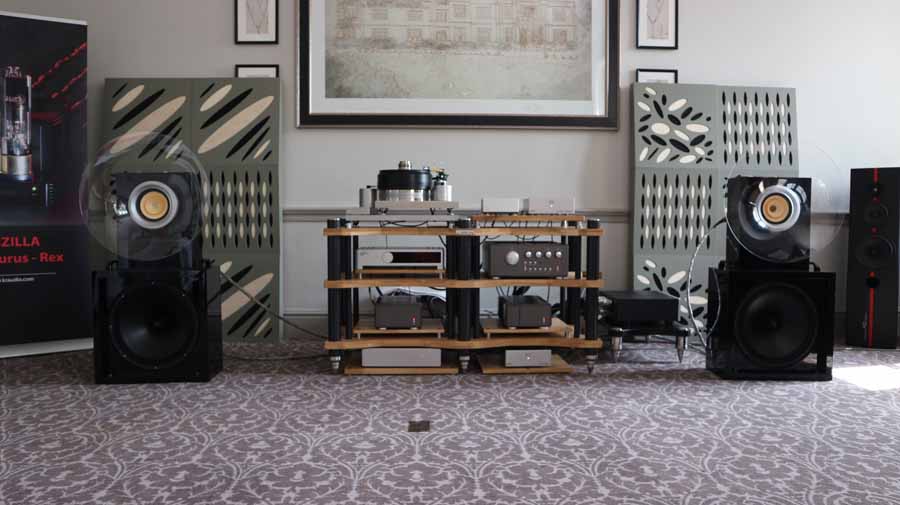 We visited the spacious and elegant Appleton room, that has become G-Point's Cranage 'home' on several occasions to hear the different systems, their location at the main entrance makes it too easy not to pop in whenever you pass. Greg has a passion for music and great attention to detail, so the systems are always put together perfectly. We were first treated to RivieraAudioLabs AFM-25 mono amplifiers, making their UK debut after their Munich launch along with the EcoJo from JoSound YS tribute semi-active loudspeakers using AER full range drivers. The rest of the system involved the JSikora Standard Turntable and the UK premiere of their KV12 Tonearm, a JSikora Basic phono stage, Audio Technica SUT1000 (another UK premiere) and Audio Technica ART1000 MC cartridge. The preamp was Riviera Audio too. Cables were Beethoven from Skogrand. Digital duties were done by a Lukas Domansky Music Server, IDEON Audio Absolute DAC and their 3R Master re-clocker.
It was a wonderfully esoteric, high end system. Opinions on the looks of the speakers, may be divided but the clear horn made them appear smaller than they were. The sound was beautiful and you connected with the music immediately. Greg plays a lot of classical and jazz but the absolute star of the show music wise was when we got to hear Donna Summer's 'I feel love' on vinyl through this system. Brilliant choice by Chris who was assisting Greg.
Auden
Auden Distribution is run by Bill Leigh who is a real expert at what makes a great room at a Hifi Show. This was a great room for several reasons. It was a big room so there was plenty of space for the system, and the visitors, to breathe.
The speakers were the newest version of Amphion's Krypton3 three-way floorstanders, with side-mounted subs. I have always liked this Finnish brand and the big Krypton3 did not disappoint. They were partnered with the Innuos Statement music server, (Innuos are used by many other brands in the industry for shows and they were featured in other rooms too) Hegel H590 amplifier Audiomica cables and MusicWorks mains and isolation products.
It was a big but precise sound, very dynamic to listen to and most of all, very enjoyable. Ant Bunn from Innuos was on hand and, as he has a shared love of electronica, he played us a great track called 'Luminous Beings' from John Hopkins.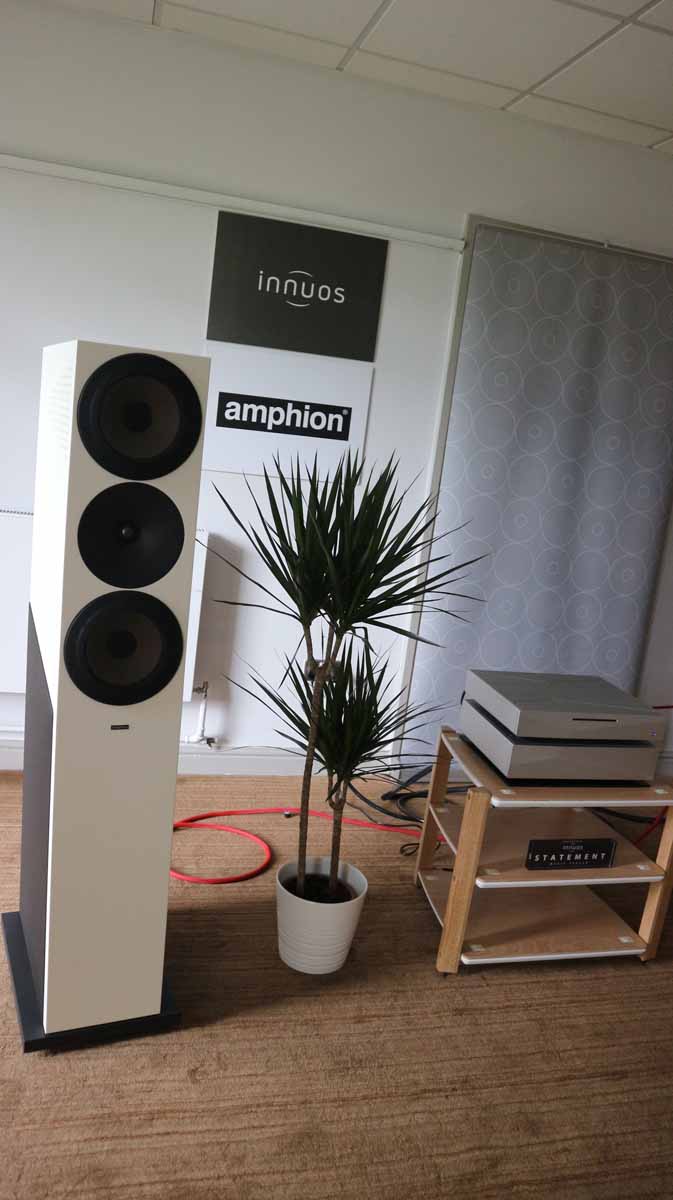 Karma AV/Primare
More Scandinavian fare for us with Swedish brand Primare, another brand that I consistently find myself liking at shows. They are distributed in the UK by Karma AV who also distribute the other brands used in this room. The Karma team lead by Ian Severs have a real knack for pairing brands together, which was evident in this room. Terry Medalen from Primare is one of the nicest people that you can meet in the industry and knows his stuff…he also knows how to set up a great sounding show room.
The system at Cranage featured the Primare I25 Prisma integrated amp/DAC/Network player with the D35 CD transport. The MoFi Studiodeck was there for vinyl playback and the speakers were Falcon's little LS5/3a, perched on the SolidSteel tripod stands. The partnership of Falcon and Primare is one of those 'Eureka' ones…they work so well together that both brands can frequently be found using the other's gear to demonstrate at shows. It was particularly nice as Jerry from Falcon had to miss the show, but he was still there in spirit!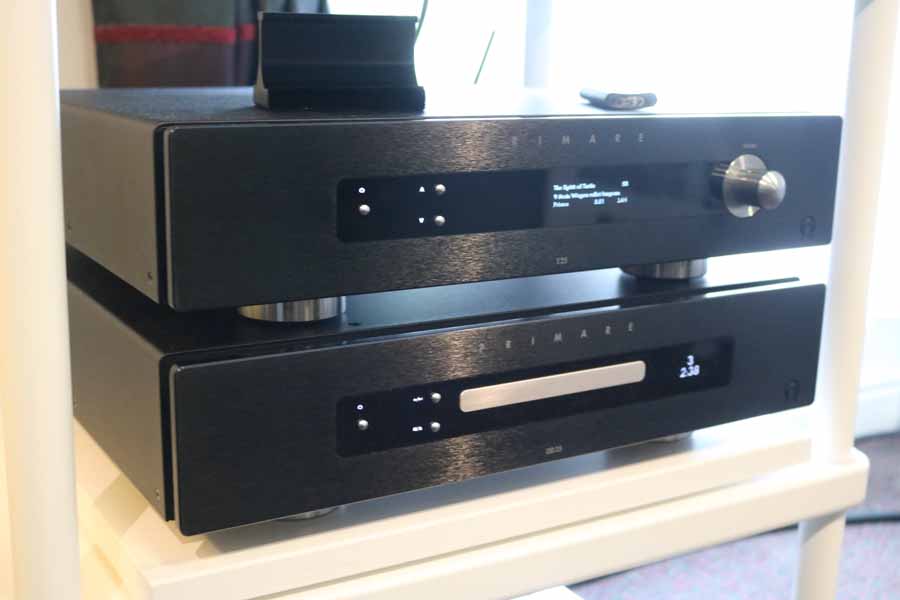 We got some excellent music choices, from Curtis Mayfield to Trentemoller, and I really enjoyed my time in this room. A big sound from a little system, perfectly in tune with the room and fun to listen to.
Kondo/Brook Audio
Kondo, at a UK Hifi Show? Well, it hasn't happened in around ten years but Brook Audio, who is now a Kondo dealer brought the Japanese brand to the show. The Kondo room had one of the most, (if not the most) expensive systems at the show. The speakers that they were using were a Japanese brand Maxonic, this was the TW1100 MKII system which comes in for a cool £75,000 on their own. The stunning monoblocks were Kondo Kagura and the pre was a Kondo G-70. The turntable was the huge (more than 60kg) Kondo Ginga.
The real highlight though was that, when they asked us to select some music, I flicked through the records to find Elles Spring's Vertere Label recording of her amazing album 'Reveal'…there is a particular song called 'Two months, eight weeks' which has a very sad story behind it and it makes us cry every time…so the extremely high end Hifi room became very emotional indeed, but that's what a great Hifi should do, let you experience music in it's purest form, fabulous. I'm not sure that the Kondo guys understood what the weeping journalists were on about, but they seemed pleased that we were so moved.
Auralic/Norma Audio
I'm finding Auralic on my show shortlists of top rooms at just about every show. The last two times they have been partnered with Spendor, at Bristol, and at Munich, for Cranage they had partnered with Norma Audio, with loudspeakers provided by Neat. They had the prototype of the Neat Ekstra standmount loudspeakers, the recently launched floorstanders were next door in Neat's own room. They worked very well with the Auralic gear. It is interesting to note that Auralic are another brand that the industry are increasingly turning to for digital sources when demonstrating at shows. They were alternating between the Auralic Aries G1 Wireless Streaming Transport, and then Aries G2 version with internal SSD drive, connected to the Auralic Vega G2 DAC. Norma audio 70 and 140 integrated amplifiers were also used along with stands from Lateral Audio Stands.
It was a cool looking and sounding room, Auralic always have a well-presented room, and, Richard Bates always plays great tunes. It was lively and fun, a great, clean sound that just made you want to dance. Deservedly in my top five!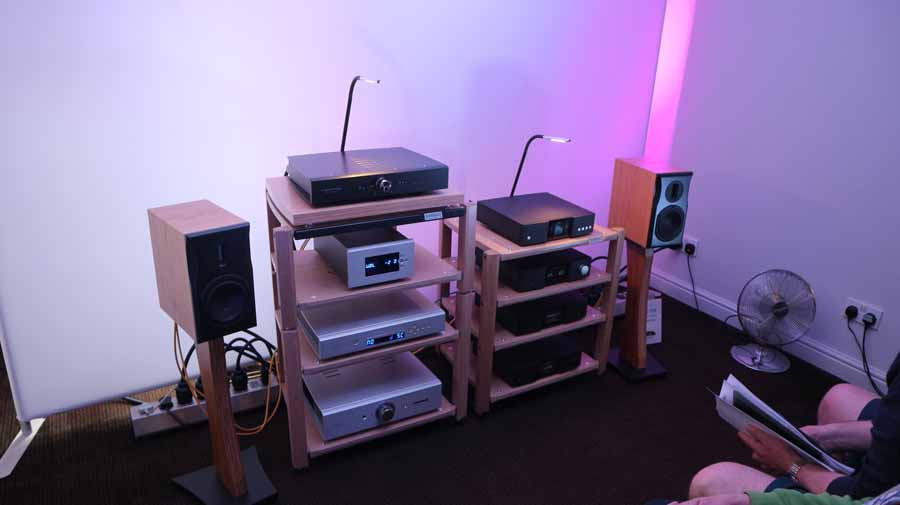 So I picked my top five rooms, there could have been many others, it was VERY hard to make a choice…I should also mention tough competition from  Music First Audio, Audio Emotion, NuNu Distribution's smaller Quadral room, Audionote UK, The AudioWorks, 3Square Audio, KEF and Chord Electronics, Aeron, Kronos AV, Divine Audio, Sound Fowndations, Kudos, Malvern Audio, PS Excellence and Origin Live….in fact there were many more. Like I said, getting it down to five was very tricky. Looking forward to next year already!
Linette Smith
More From North West Audio Show 2019