TRIANGLE ANTAL 40th ANNIVERSARY EDITION LOUDSPEAKERS REVIEW
French brand Triangle celebrate their 40th anniversary with special editions of their Antal floorstanding loudspeakers costing €3000 (£3000). Stuart Smith takes a listen.
Triangle, as you are no doubt aware, are a French loudspeaker manufacturer that (and the clues in the title) celebrated their 40th anniversary in 2021. In an industry that sees manufacturers come and go forty years is certainly something to celebrate. And celebrate Triangle did with a special edition of the Comète standmounter and the subject of this review, their Antal floorstanding loudspeakers. Both speakers are proudly made and designed in France. SCV are the UK distributors for this range of loudspeakers, though I understand that some speakers lower down in the Triangle range are now stocked by Richer Sounds, something that has to be good for the brand's market position.
DESIGN AND BUILD
Available in Santos Rosewood (as reviewed) and in Blond Sycamore, the Antal 4oth Anniversary edition is, obviously, a remake of the company's existing Antal model. In short, the Antal is a four-driver, three-way design that has a sensitivity of 92dB and with a nominal impedance of 8 Ohms. On paper at least, these figures suggest that the Antal should be a pretty easy to drive loudspeaker, though they will handle up to 140W.
In the Santos Rosewood (it's very shiny) the 300 x 1090 x 345mm speakers look very handsome, though the supplied plinth (with spikes) add a smidgen more to the over height and a tad to the width and depth. The speakers weigh a touch under 30kg. A small detail that I think is a really lovely touch is the use of rose-gold on the driver trims – it's a detail, but it's a nice detail.
The actual boxes of the Antals are made up of the same density MDF as used in their Signature and Magellan cabs with the walls being 20-23mm thick once they have been finished. The cabinets are suitably reinforced internally and have perforated partitions plus an "oblique bulkhead" for the midrange unit that is used to attenuate standing waves.
One of the defining characteristics of Triangle loudspeakers has been their use of a horn-loaded tweeter and the Antal is no different, though in this 40th anniversary edition the tweeter is metal. In fact, the tweeter is made up of rose gold anodised magnesium that Triangle says offers up both lightness and rigidity.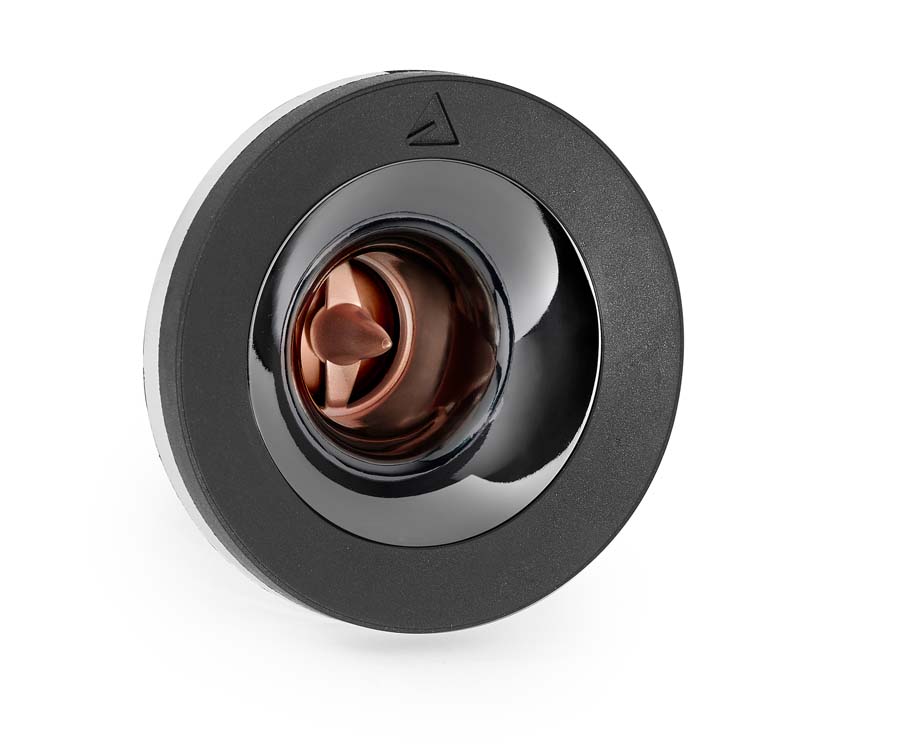 One other differentiator between a standard Antal and the Anniversary Antal is the bass drivers. Triangle has designed a new driver that uses two kinds of wood pulp and flax that are combined with carbon fibre that Triangle say limits distortion whilst retaining the long-throw characteristics. There are two 15cm Bass drivers and one white 15cm mid unit.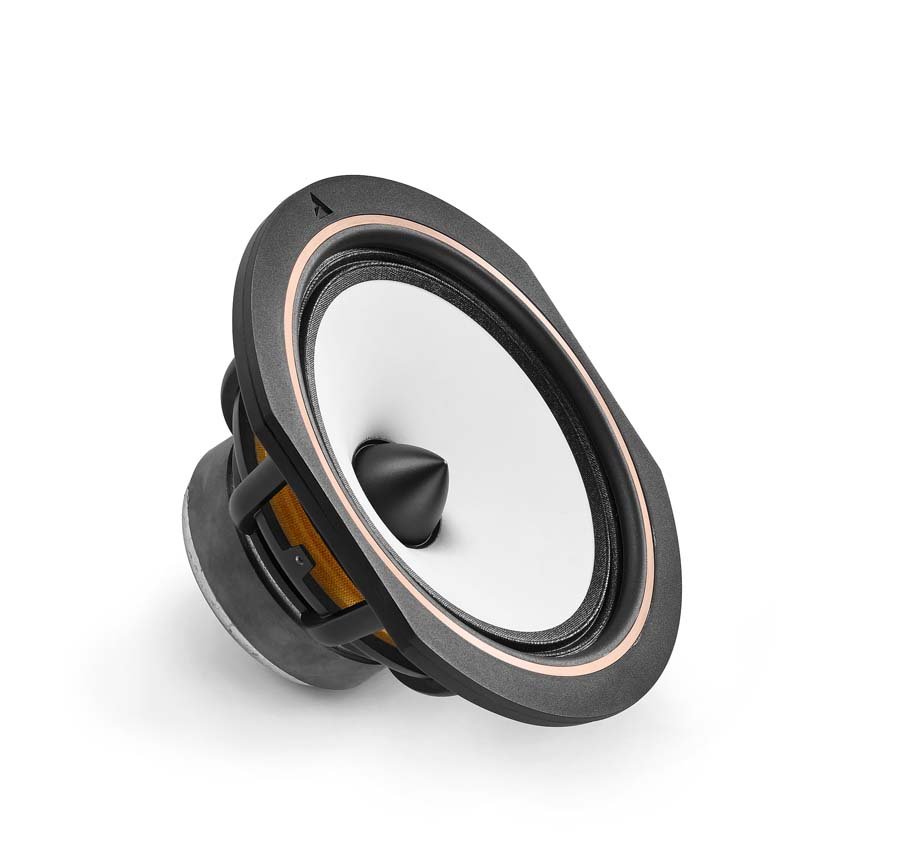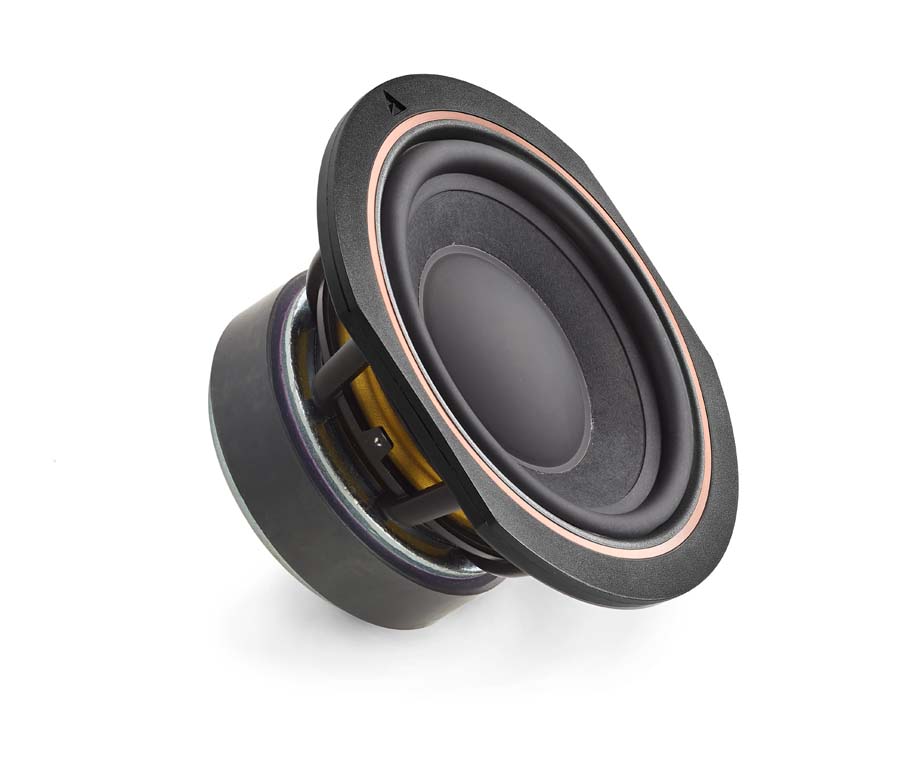 The terminal plate on the back of the Antal Anniversary speakers are really rather splendid and has been custom designed for these speakers. Again it's finished in rose gold anodized brushed aluminium that adds to the luxury feel of these speakers. The terminals themselves are very nice and accept the usual suspects and lock banana plugs in place. There's also a gold plaque on the front of the speakers.
Finally, the Anniversary editions use high-end cabling that has been "inspired" by the company's Signature series.
The Antals have a large front-firing port that, like other Triangle speakers I have had the pleasure of playing with ensures that they are easy to set up and not too fussy about placement. I had them 220cm apart and slightly toed in towards the listening position. Power was supplied by the Krell KST100 (fully overhauled and recently "improved" by Krell in the US).
SOUND QUALITY
Soundstaging and imaging was the first thing that stood out when I fired the Anatals up – they throw a wide and open stage that projects well out into the room and is clearly "enhanced" by the sparkly upper frequencies that horn-loaded tweeter offer up. This allows for a three-dimensional presentation, though not as wide or "walk-in" as the Raidho TD2.2 speakers or the Audiovector R3/R6, though they aren't too far different in this regard to the R3 – which is high praise. On jangly guitars and cymbal splashes and touches (I was listening to Grateful Dead's Touch of Gray record when I made that particular note), there's air and space around these upper frequencies that really add to the immersive listening experience. I don't know if this enhancement of upper frequencies is what is actually there on the master and what the artist/engineer intended ( I wasn't there at final mixdown) but it does make for an exciting and engaging listen – you get drawn into the mix. Now, all that may suggest that the high frequencies are somehow overdone, but I don't think they are and these speakers certainly aren't harsh sounding at all – sparkly, yes! Often you may find that speakers that grab your attention with their high-frequency performance soon become tiring and taxing, but that's just not what I got from the Antals at all, in fact I'd say they are a very easy to listen to speaker that feels well balanced and coherent in their presentation. Again referring to the Touch of Gray record, the slightly laidback guitar solo on West L.A. Freeway soars above the mix but doesn't dominate proceedings, with the speakers allowing you to sense a good amount of detail and tone to the guitar and its effects.
At low volume bass frequencies are well represented and tight, though to really get the Antals moving you do have to turn that volume knob up – nothing unusual in that regard. Actually, at low volume, I'd say that, again, the Antals come across as a very nicely balanced loudspeaker that you can really get drawn into listening to your tunes for extended periods with. Does that suggest they are a tad polite? I don't think so and, as I said, I found them really engaging to listen with. I suppose they could be described as an "audiophile" listen.
Surgeon's From Farthest Objects album from 2016 is a complex slab of techno that can get very messy on some speakers, but the Antals make good sense of it and, to be honest, don't seem particularly phased by it at all. No, they don't have the low down grunt and slam of, say, our Audiovector R6 (isobaric bass) or Total DAC speakers, but they don't get muddied or lost in the music as I've heard some others do. This record has sounds flying all over the place in the mix and those sounds do fly all over here too, however, there is predominantly a solid bass or drum track to keep things grounded and the Antals present this really well whilst losing none of the (intended) disorientating feel of the mix. Whack the volume up to reasonable, if not deafening levels, and the speakers don't get in a sweat at all, just more of the same rock solidity in the bass and the movable feast of the upper-frequency effects. A good example of this is the second track (z8_GND_5296) that has a synth pulse that comes and goes in the mix and oscillates between the speakers whilst the main theme sits bang in the middle of the speakers/mix. For those interested and according to Wiki "z8_GND_5296 is a dwarf galaxy discovered in October 2013 which has the highest redshift that has been confirmed through the Lyman-alpha emission line of hydrogen, placing it among the oldest and most distant known galaxies at approximately 13.1 billion light-years from Earth." Nothing to do with the speakers, but now you know.
Floating Points, Pharoah Sanders & London Symphony Orchestra's record Promises has been much lauded since it came out in Spring of 2021, and rightly so. Sander's tenor sax is presented wonderfully by the Antals and soars in isolation above the sparse background of the first movement of this record. There's rasp and bite to the playing that is clearly presented with these speakers and the detail is wonderfully presented – notes drift in and almost out, and where they could actually get lost the Antals manage to keep the notes hung there for just the right amount of time. To me, this suggests that these speakers are fast and agile through the mid-band frequencies, whilst the little cues and details that are all so important when you get into analysing the performance of a bit of kit are all there. In fact it is often these cues, whether we are consciously aware of them or not, that really set a performance alive – if a speaker can't convey these details then they can become boring and lack-lustre.
Butthole Surfers' Sweat Loaf from 1987's Locust Abortion Technician is a chaotic and messy tune in parts and it can get even messier on some speakers, but the Antals do a good job of making sense from the madness…just. Actually, this was about the only time I felt that these speakers were anything but superb and that suggests that they are a speaker that is aimed at those with more refined tastes in listening fodder than myself, though that somewhat contradicts what I said when I was going on about the Surgeon track above. To me, on this track, they come across as being perhaps a little too polite for my own personal taste, though, of course, your mileage may vary and you may prefer this presentation. To really get this kind of music on these speakers I found I needed to turn the volume up a good deal.
CONCLUSION
This is a good looking and refined pair of loudspeakers that Triangle should be very proud of – they are a fitting anniversary statement. They are, in the main, unfussy with the kind of music you throw at them and are as happy with the chilled out vibes of Floating Points or the hectic techno of Surgeon.
Where they do excel is in their upper mid-band and high-frequency performance. This suggestion of presence and air brings a lot to the table in my opinion and most folk will love them. However, whilst some speakers manage to pull off the mid/upper-band thing at the expense other aspects of their performance, the Antals come across as a bit of a revelation. Yes, they could go deeper, but the truth is that most folk won't miss this and I know I didn't for the most part.
What I did find was that on messy music (Butthole Surfers) the speakers were a little too refined to really get across the rawness and grime of the mix – this will be of little concern to most folk reding this, I'm sure.
Overall, what I think the Antal 40th Anniversary speakers is that they are a polished, coherent, and refined loudspeaker that will do justice to pretty much everything most folk will throw at them. Would I buy them…probably, I would.
AT A GLANCE
Build Quality: 
A lovely looking speaker that is well finished and has nice "anniversary" touches
New driver tech clearly has a refining effect
New horn-loaded tweeter adds sparkle and air to the music
Sound Quality:
Open and expansive soundstage
Sparkly upper frequencies
Excellent detail
Superb mid-band performance
Bass will suffice for most
Balanced and well-considered/voiced
Very audiophile sounding
Value For Money:
Not cheap but offer good value for what you are getting in comparison to some other brands
We Loved:
Beautifully balanced and audiophile performance that most will love
That top-end performance is very special and well done
Silky smooth mid-band performance
Three-dimensional soundstaging
We Didn't Love So Much:
Perhaps a bit too audiophile sounding for some tastes and some styles of music
Price: £3000/€3000
Elevator Pitch Review: A beautifully finished loudspeaker that oozes audiophile credentials. Sonically they are really wonderful in the mids, tops and upper-mids which adds a layer of sparkle to their sonic signature. Balance and consistency with pretty much all kinds of music is the order of the day with the Antals.
Stuart Smith
TECHNICAL SPECIFICATIONS
Number of drivers: 4
Number of ways: 3
Sensitivity: 92 (dB/W/m)
Frequency range: 37 Hz – 22 KHz (+/- 3 dB)
Power handling: 140 W
Nominal impedance: 8 Ω
Minimum impedance: 3 Ω
Dimensions: (wxdxh)200 x 1090 x 345mm
Dimensions with pedestal: (wxdxh)300 x 1128 x 424 mm
Weight: 29,8 kg