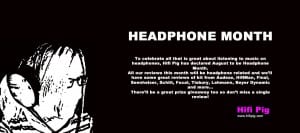 August is Headphone Month here at Hifi Pig and we've dedicated all our hifi reviews to reviewing nothing but headphones and headphone related products.
We've reviewed headphones from Final, Stax, Sennheiser, GOJI and Audeze with more to come from HifiMan and others.
As well as headphones we've published a headphone amplifier review of a Graham Slee  product with more to come from Lehmann Audio, AudioValve, Schiit and Tisbury.
We've got a fabulous prize package to give away too so please make sure you keep an eye on our Hifi news and Hifi reviews section of Hifi Pig as well as the next edition of the FREE Hifi Pig Magazine which will be published on 3rd September.
You can see all our headpohone reviews here.