Parts 1 and 2 of the National Audio Show 2012 report can be found here and here

Here's the 3rd and final part of my adventures at the Show.  There's lots of great kit still to tell you about!  Read on …
Palmer Audio turntables look fabulous and are always involved in fine sounding systems.  At the Show, Jon Palmer launched his 2.5-12 turntable, capable of housing 12 inch tonearms.  He was using Harbeth speakers and Sugden amplification to excellent effect.  Great sounds and a lovely thing to behold.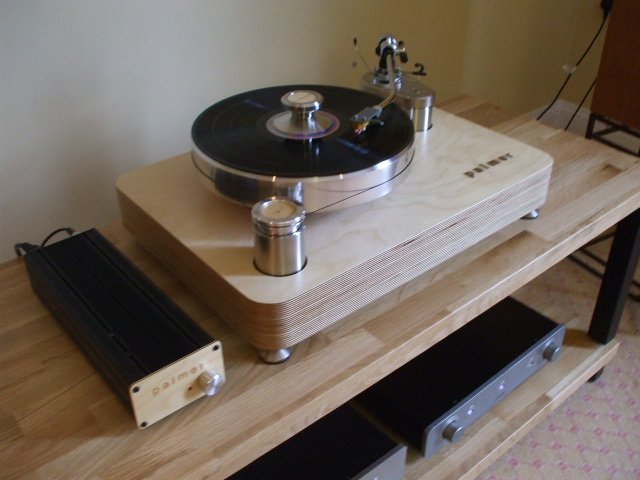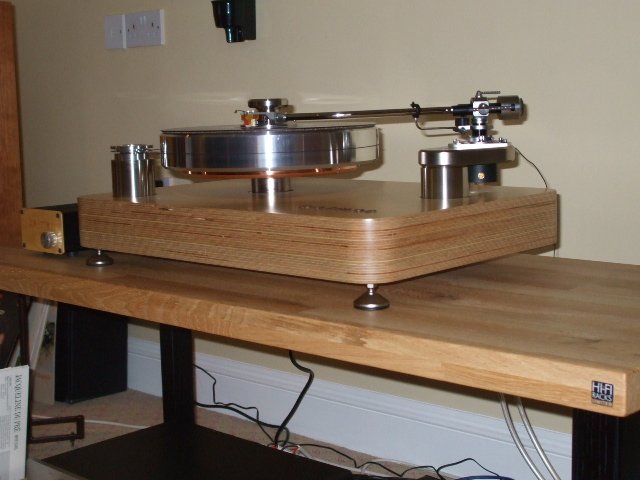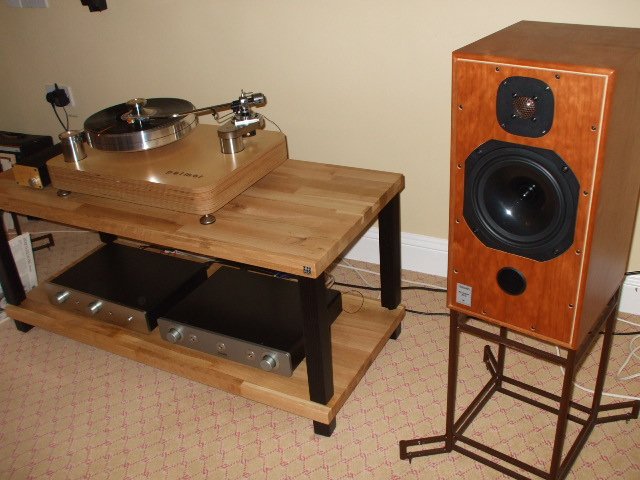 German high-end manufacturer T&A Audio provided excellent sounds through their Criterion 210 transmission line speakers; large scale, visceral in its impact and very involving.  Individual styling, too, you won't mistake T&A electronics for any other!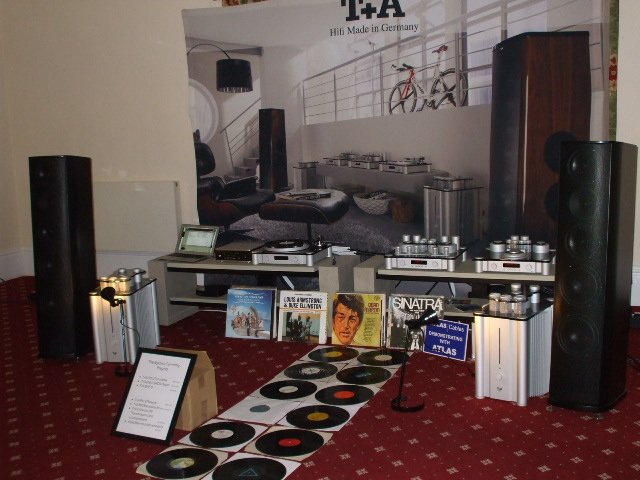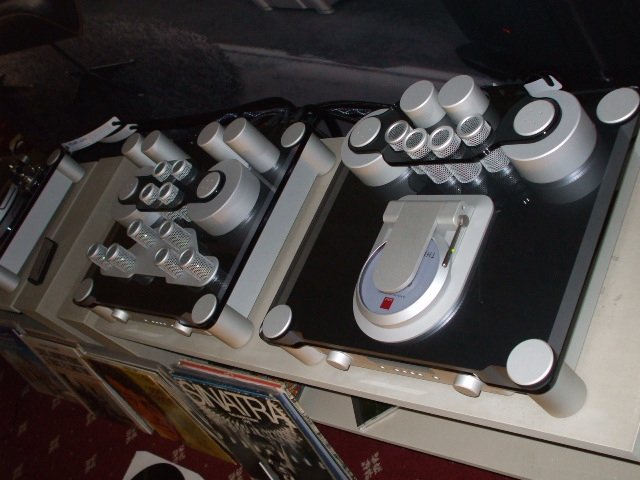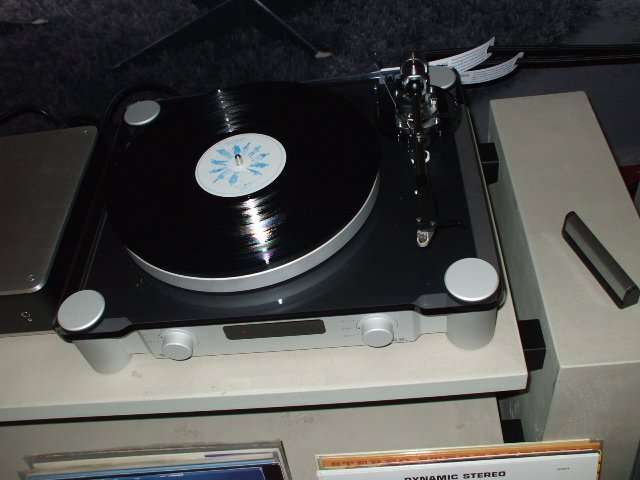 Epicurean Audio were showing the distinctively styled Edge electronics from the USA feeding smallish floorstanding loudspeakers from Avalon.  Very good sound.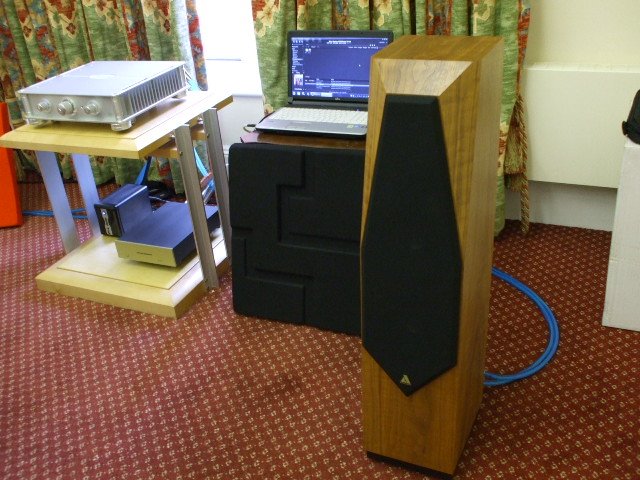 Hart Audio were showing their new D&W Aural Pleasure loudspeaker — great name, guys!  A fairly small standmounter, with a distinctively-shaped cabinet of pure cast bronze.  50Kg each, apparently – phew! They were fed by seriously high end electronics – MBL DAC, Audio Research pre-amp and huge BAT valve monoblocks.  Very nice.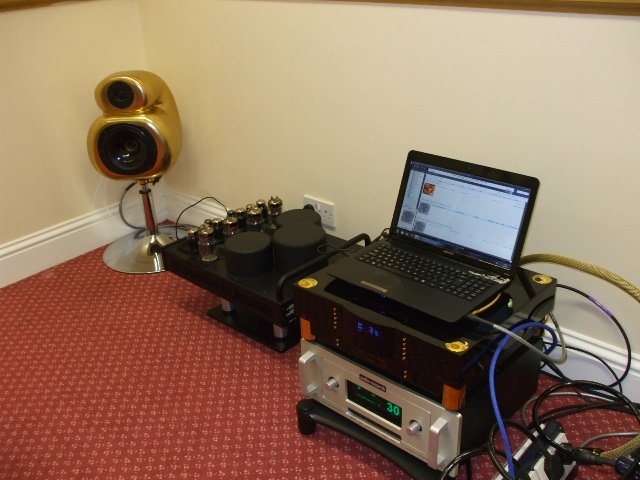 Deltec Precision Audio (DPA) have a long and distinguished history in British hifi.  Their digital and amplification electronics are known for their leading-edge technical excellence as well as its natural musicality, and I have to confess to having owned and enjoyed DPA equipment myself.  At the Show their stand was further enhanced by the charms of the young lady in the photo!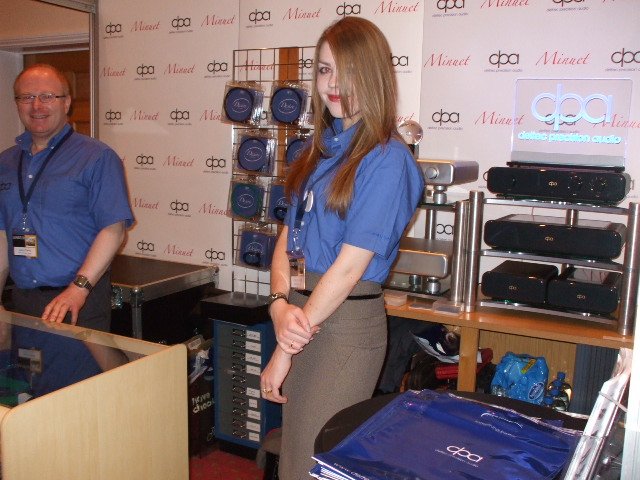 Select Audio featured Abingdon Music Research digital playback, large Pass power amplifiers and Verity Audio loudspeakers.  Naturally musical, I stayed in this room for quite a while.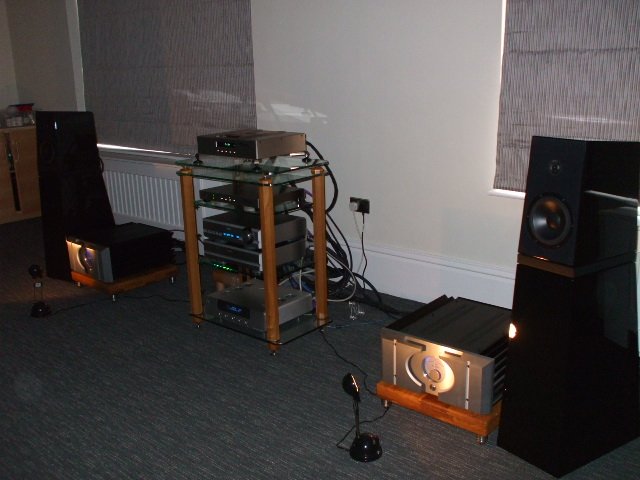 An attractive display of Roksan equipment was presented by Henley Designs, including their latest turntable and some distinctively attractive-looking electronics.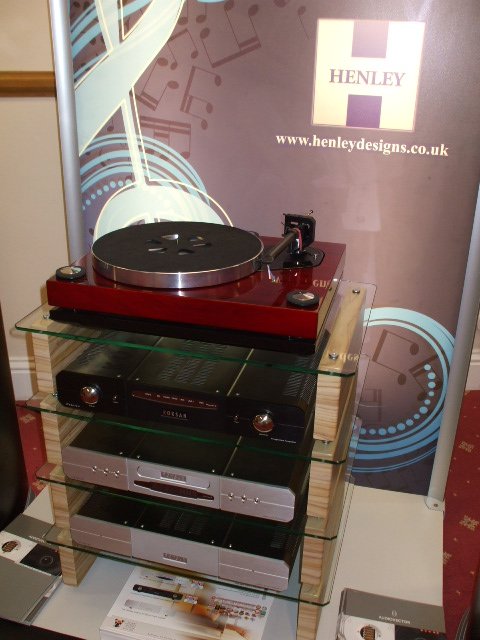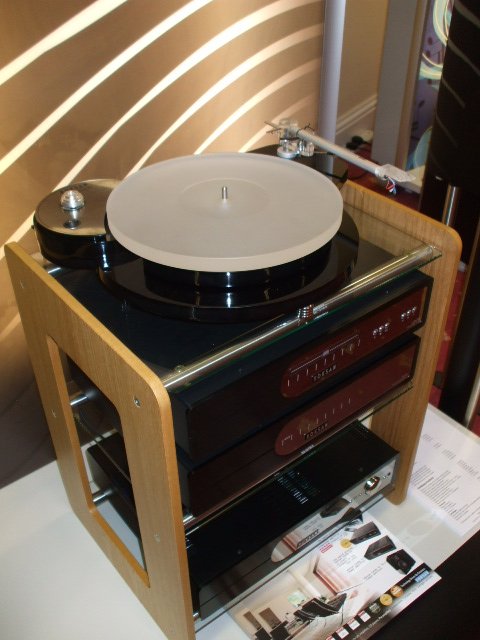 Harman Consumer UK had a fine display of AKG headphones.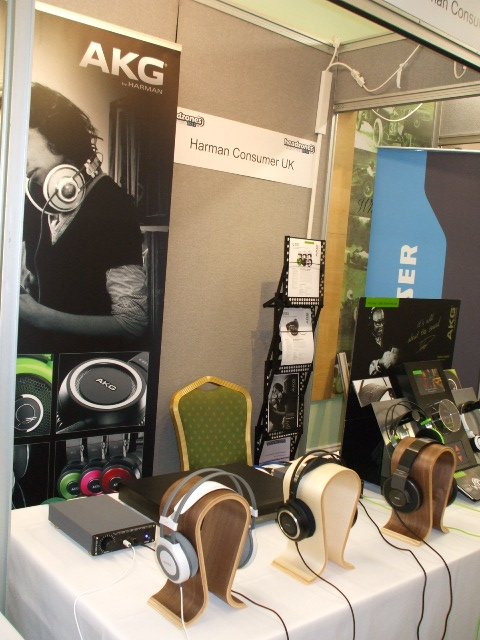 Inspire Hi Fi were showing a lovely range of turntables with various drive mechanisms.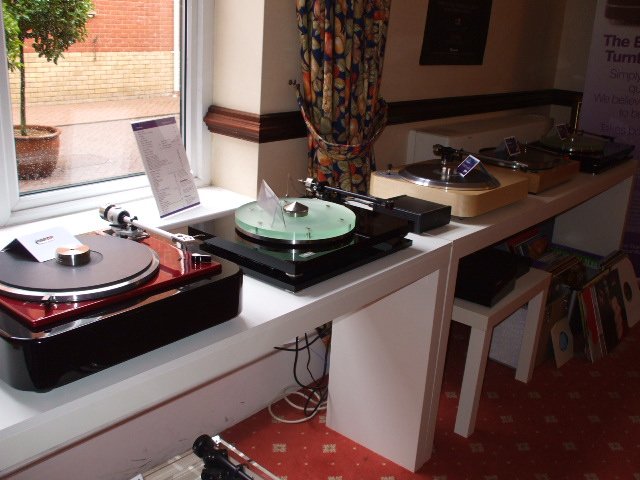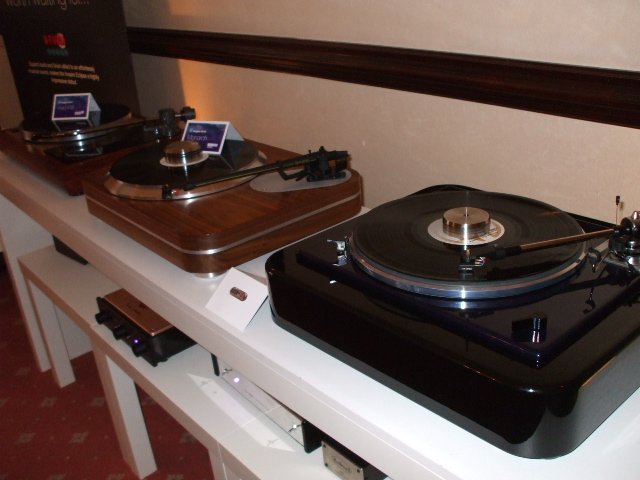 Always bustling with activity, the Mains Cables R Us stand had a wide range of mains accessories.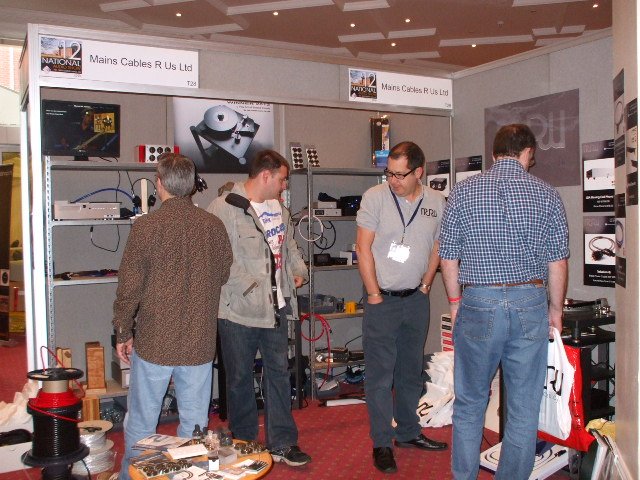 Decent Audio (what a marvellous name!!) had a pair of small MG12 ribbon speakers from American company Magnepan.  Wow – these seriously impressed me with their high resolution, speed and openness.  Fantastic sound!
I'm sorry about the poor photo, though – a dark speaker in a dark room …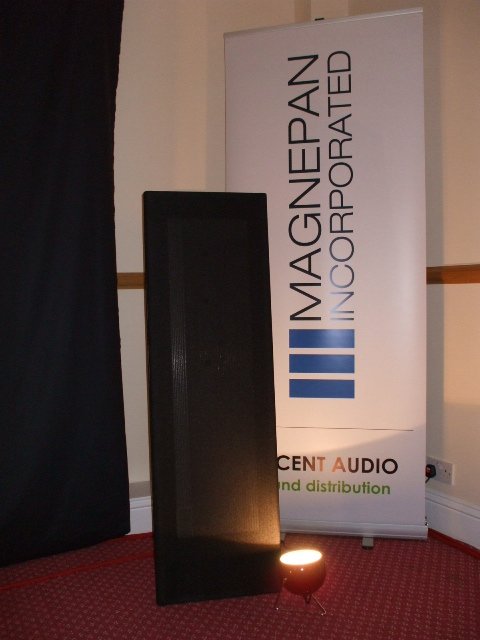 Music First famed for their TVC (Transformer Volume Control) passive pre-amps, attracted my attention by using this superb ReVox reel-to-reel tape deck!  Marvellous.
Oh, and yes … the Music First pre-amp looked good, too! —  feeding a Quad 405-2 power amp and LS3/5a speakers.  Great sound – detailed, open and neutral – I enjoyed it a lot.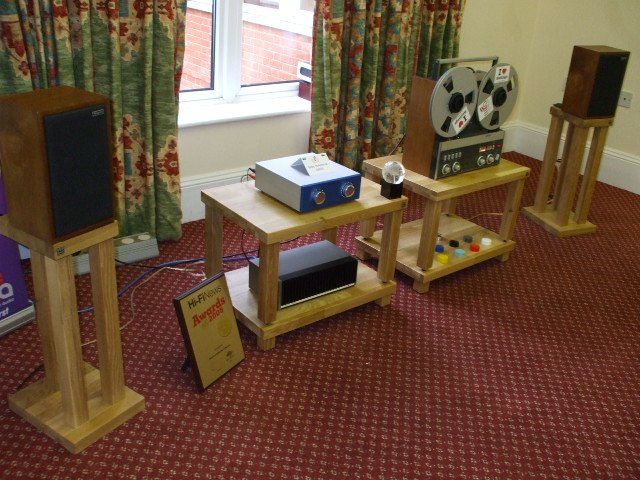 Russ Andrews Accessories had returned with his popular demonstrations of the benefits of his Kimber Kable and wide range of audio accessories.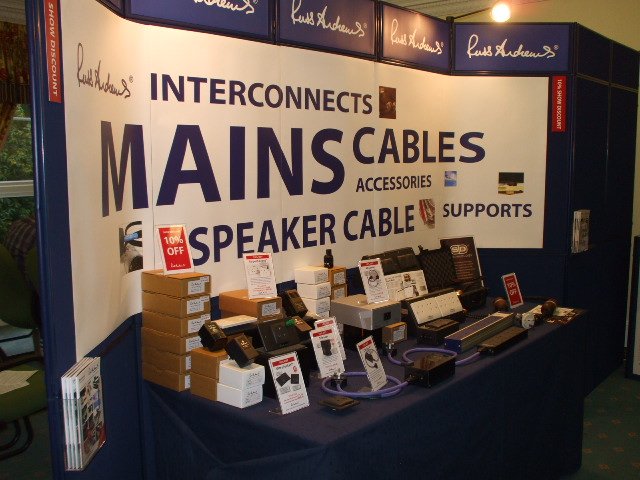 Origin Live had an eye-catching display of their new suspended speaker systems.  Dangling literally from a thread, this approach is claimed to reduce feedback resonance to a minimum.  The sound was certainly very clear and lucid.  Subwoofer systems are also supplied to give a full-range presentation.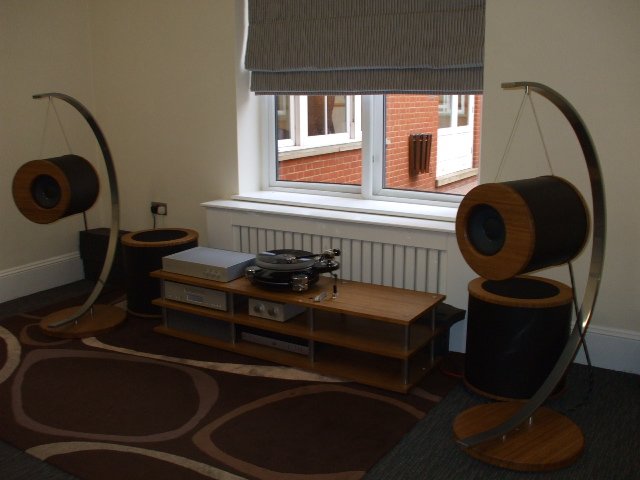 StudioAV had taken 2 rooms to show two very impressive looking systems comprising dCS digital electronics, VTL valve monoblock amps and Avalon Compas and a pair of very large and stylistically challenging Vivid speakers!  Room fillingly powerful (and they were large rooms!) and very high resolution, the Vivid loudspeaker system rather more upfront and errr – vivid! – than that with the Avalon speakers.  Not for the faint-hearted!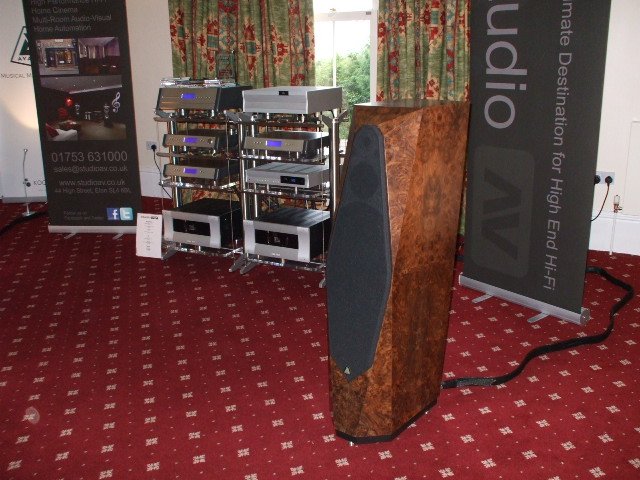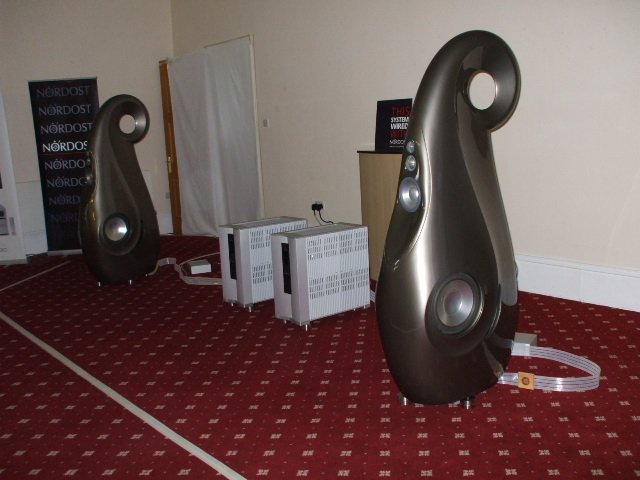 To bring this series of 3 reports to an end, I would like to congratulate the organisers, Chester Group, and also all of the exhibitors who work so hard to make these events happen. It was a really fine Show, with excellent sound being the rule rather than the exception.  Many thanks, folks!
Author – Jerry
More photographs and Paul's Top 6 Rooms from the National Audio Show 2012 at Whittlebury.
Next week we'll be covering the Paris Hifi Show and the Toronto Hifi Show.