The High End Society does a really cool thing at the show and give a free exhibition stand to a select few, carefully chosen, new Hifi brands. This year there were six Newcomers, all of whom were very excited about being at the show. We always make a beeline for the Newcomers stand and do a feature on them each year, we have seen several brands that started here go on to grow and exhibit in their own right at later shows, brands like PureAudioProject, Wesminster Labs and B.audio, to name just a few.
Read on to meet the future of Hifi and discover some really cool new brands!
Röhrenschmiede
Röhrenschmiede means 'The Tube Forge' and is a small, valve amplifier manufacturer from Krefeld, Germany, who make a handmade and personalised, high end, all-tube stereo amplifier, called Rocket (3900€) and pre-amp called Comet (3500€).
Rocket is an ultralinear push-pull amplifier with 2 x 30 watts at 4/8 ohms. The valves are eight EL84 EH and two ECC82 EH. The valves have ceramic tube holders with gold-plated contacts. Other components include Mundorf and Cornell Duplicating Capacitors, Orange Drops and 14-fold nested high-end output transformers, made in Germany.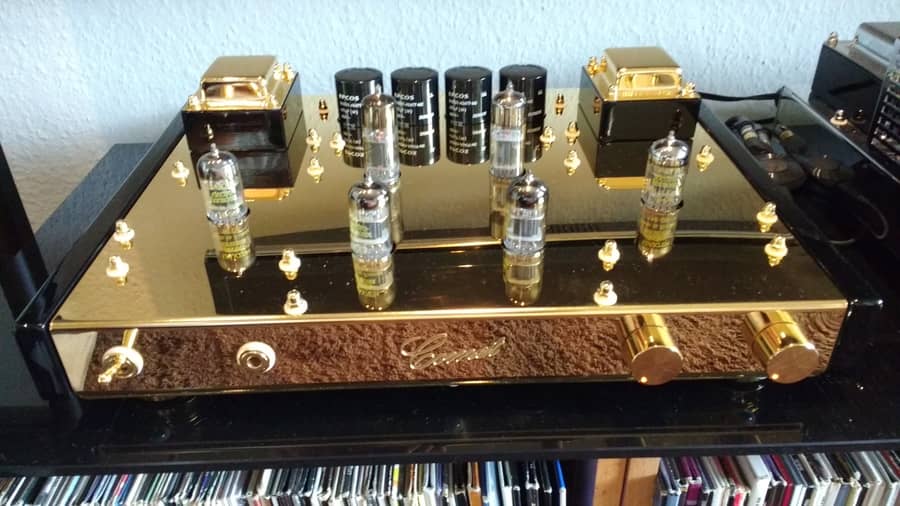 At the show, they had several finishes of Rocket and Comet on show, including in 24 ct gold plus their brand new monoblocks with the name "Solo" in a bicolour housing.
HartLab
HartLab is a new company in the high end audio industry, from Greece, though the three founders have been involved with high end audio for 20-25 years each, either professionally and/or as a serious hobby. Nikolaos Fanakis, Epaminondas Gaveras and Konstantinos Trovas all have engineering backgrounds and were hooked by high end audio when they were around 17 years old.
Nikolaos told us about the Hartlab philosophy: "The HartLab philosophy has emerged after many years of experimentation on pushing the boundaries of high end audio to the limits. We concluded that a high end audio system must have the best possible audio performance. But this is not the only thing that should be best. Enjoying music is a holistic experience and stimuli comes to all the senses of your body, not just your hearing. With this in mind we started our journey to make something we believe is unique. We make high end audio systems that have the best performance in audio to please your ears, magnificent modern looks to please your sight, simple and rock-solid controls to please your touch and integration of several connectivity options to let you enjoy your music from any medium you like to access it from".
Hartlab have invested a lot so that nearly everything is produced in house. They have CNC , painting facilities, custom assembly equipment and can even produce their prototype pcbs in house.
Hartlab had two products on display. The super integrated tube amplifier is a 2x35W EL34/ECC82/ECC83 based design with custom wound output transformers. It has 5 analogue inputs (4 line level and one phono) and two digital (coaxial & optical). The DAC is based on ES9038PRO chip from ESS in stereo configuration. The volume control is implemented via a relay switched resistor network. The amplifier also includes a fully featured media player unit that runs "moode audio player" so it gives the ability to play nearly any audio file that exists (including DSD256) as well as play from online media streaming services. There is also a dedicated headphone output.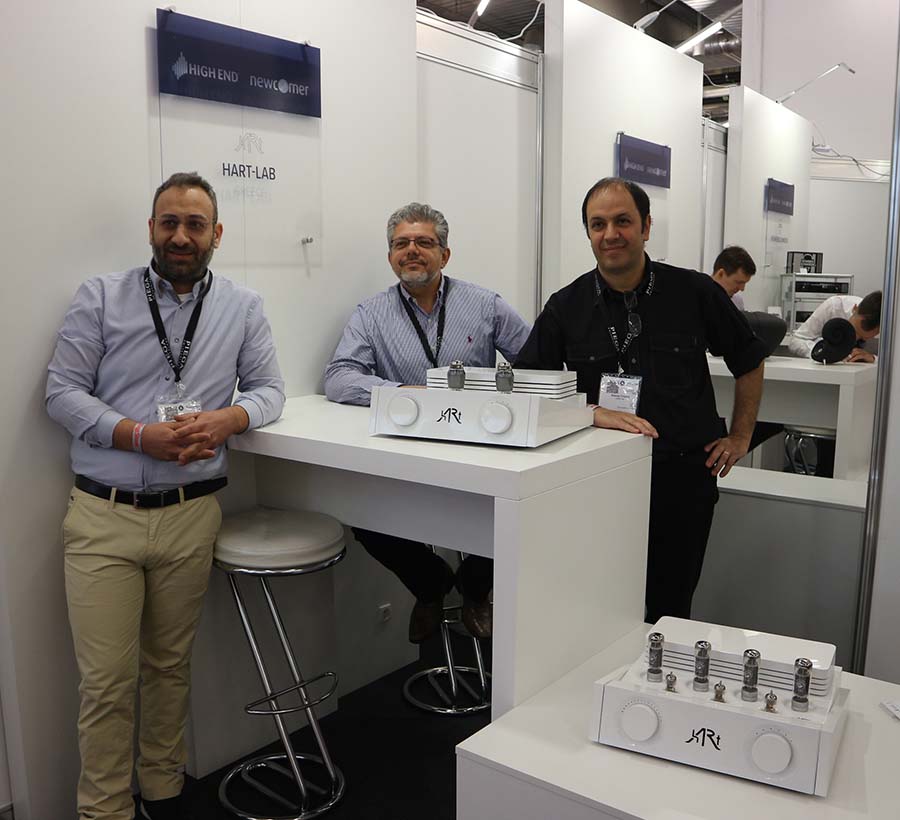 Mechanically, the amplifier chassis is made out of MDF/HDF . The power transformers are detached from the main chassis to minimize vibration by being mechanically grounded to the feet of the amplifier while the chassis is floating onto springs. The amplifier control is via the two knobs in the front which are mounted on double ball bearings to provide an absolute feeling with no play/wiggle and also via Bluetooth, using the dedicated app in your smartphone.
The preamplifier mechanics are the same as with the super integrated amplifier. It also features the same 5 analogue inputs (4 line level and one phono). The volume control is using the same principle ( relay switched resistor network) and the digital audio parts (the DAC and Media player) are offered as options.
Mind-Pop Revolution
This French and Canadian team have produced a new product which combines record stabilisation with the ability to lift the tonearm at the end of the play. They didn't know exactly what to call it… so they came up with a new term, the presslift!
​Mind-Pop Revolution told us "the presslift is the newest improvement instrument for manual turntables! The "press" is for the record, the "lift" is for your peace of mind".
Precision machined in solid brass, with 24 karat gold plating, the presslift is a complex mechanism using 19 components to stabilise vinyl records for improved tracking and playback quality, with the added bonus that the tonearm is lifted automatically at the end of the record to reduce wear on stylus and cartridge. Sixty percent of its total weight is free-spinning which reduces the starting torque burden on the turntable motor and belt. The free-spinning weight is computer balanced and is isolated on a high quality, ceramic ball bearing. The special suspension mechanism of the free-spinning weight will help absorb disturbances if transferred to the platter during play by external shock or vibration, resulting in a perceptibly more silent playback system.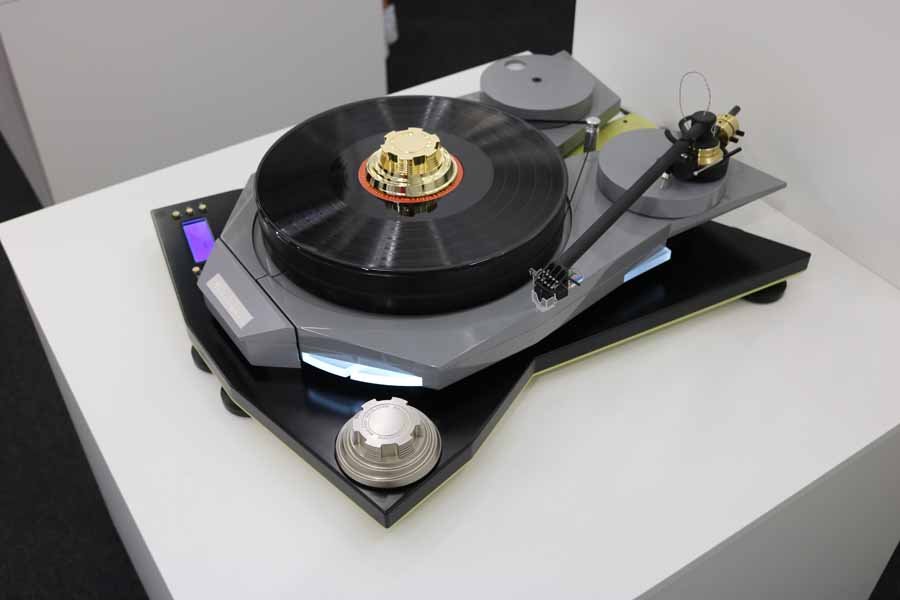 The presslift features a unique automatic tonearm lifting system employing inertia transmitted from the platter coupled with a complex spiral design. The 1.6 gram lifter is engineered to adapt without any tools to virtually all tonearms, head-shells and cartridge combinations.
This project is the first of a series of projects from Mind-Pop Revolution which are scheduled for release in the summer of 2019.
Deeptime
We first encountered Deeptime at last year's Audio Show in Warsaw, they really impressed us and we suggested that they apply to be part of the Newcomers stand at High End Munich this year, we were really chuffed when they told us that they had been accepted!
They are a team of three young guys from the Czech Republic who have created an all-in-one speaker system that looks different and stylish, feels very high quality and sounds a lot bigger than its tiny size. Their designs come from nature, the Spirula speakers are snail shell shaped and the Thunderstone sub is based on the sea urchin skeletons that you find on the beach. They are made using modern techniques and are 3D printed with sand. This makes the little speakers very heavy and solid for their size.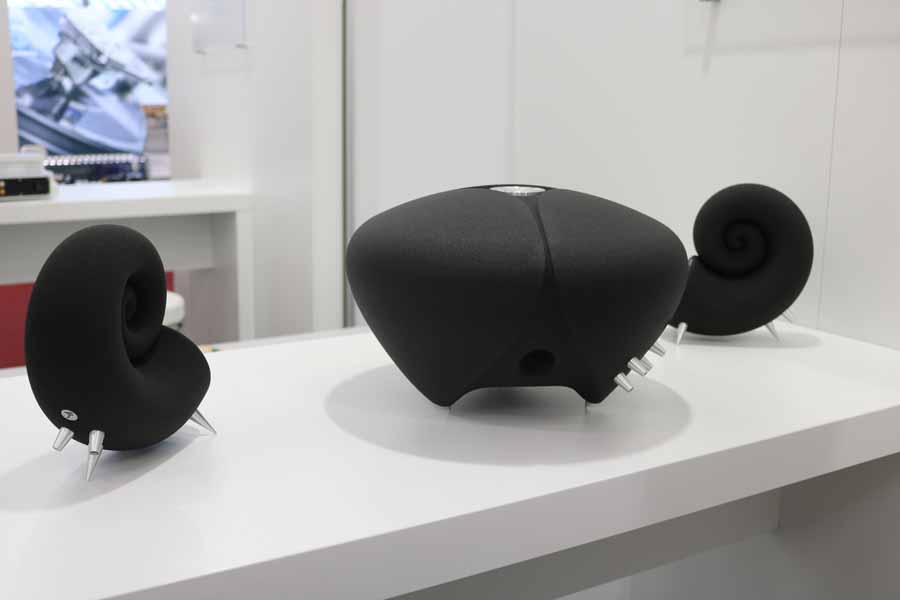 The design of the Spirula speakers uses drivers loaded by reverse-tapered horns, or exponentially diminishing tubes, to absorb the rear radiation. The 3" full range driver uses an under-hung voice coil, which places the entire coil inside the magnetic gap, they also feature a bamboo fibre paper cone and aluminium phase plug.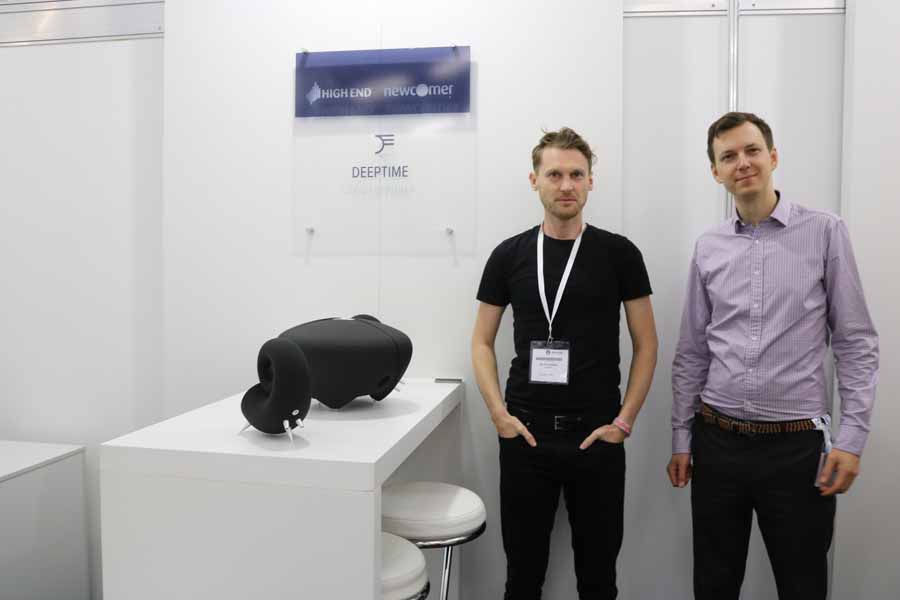 The Thunderstone subwoofer carries a 5.75" driver with a balanced drive motor structure for optimal drive force symmetry resulting in largely reduced even order harmonic distortion. The driver has a large linear stroke, ensuring low distortion at high output levels. Both rigid paper cones and steel chassis with extensive venting reduce audible distortion even at high levels. The Driver's heavy-duty fibreglass voice coil former reduces mechanical losses resulting in better dynamic performance and low-level details. The system also features their own cables.
Having heard the system in Warsaw, we think that they will go on to have great success.
ModalAkustik
ModalAkustik is a loudspeaker manufacturer based in Pulheim near Cologne, Germany. The aim of the company is to "enable the best possible sound quality in living environments. Because what is the benefit of having loudspeakers that only work well in perfect conditions?"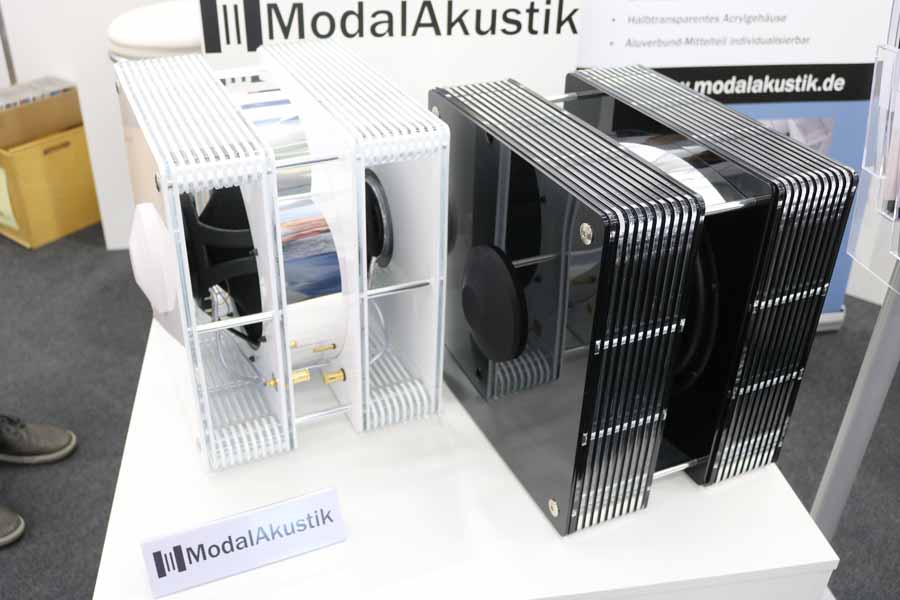 The name ModalAkustik derives from the modal resonances that every room has. That are peaks and dips at certain frequencies, depending on room size and constitution, which distort the sound and often lead to a "boomy" sound at low frequencies.
The ModalAkustik MusikBass, a subwoofer based on the RiPol principle by Axel Ridtahler, excites room resonances to a lesser extent than typical subwoofers, resulting, says Michael Wydra of ModalAkustik, "in taught, clear bass reproduction, that can upgrade every existing speaker". Axel Ridtahler, the inventor of the RiPol principle, was heavily involved in the development of the MusikBass subwoofer.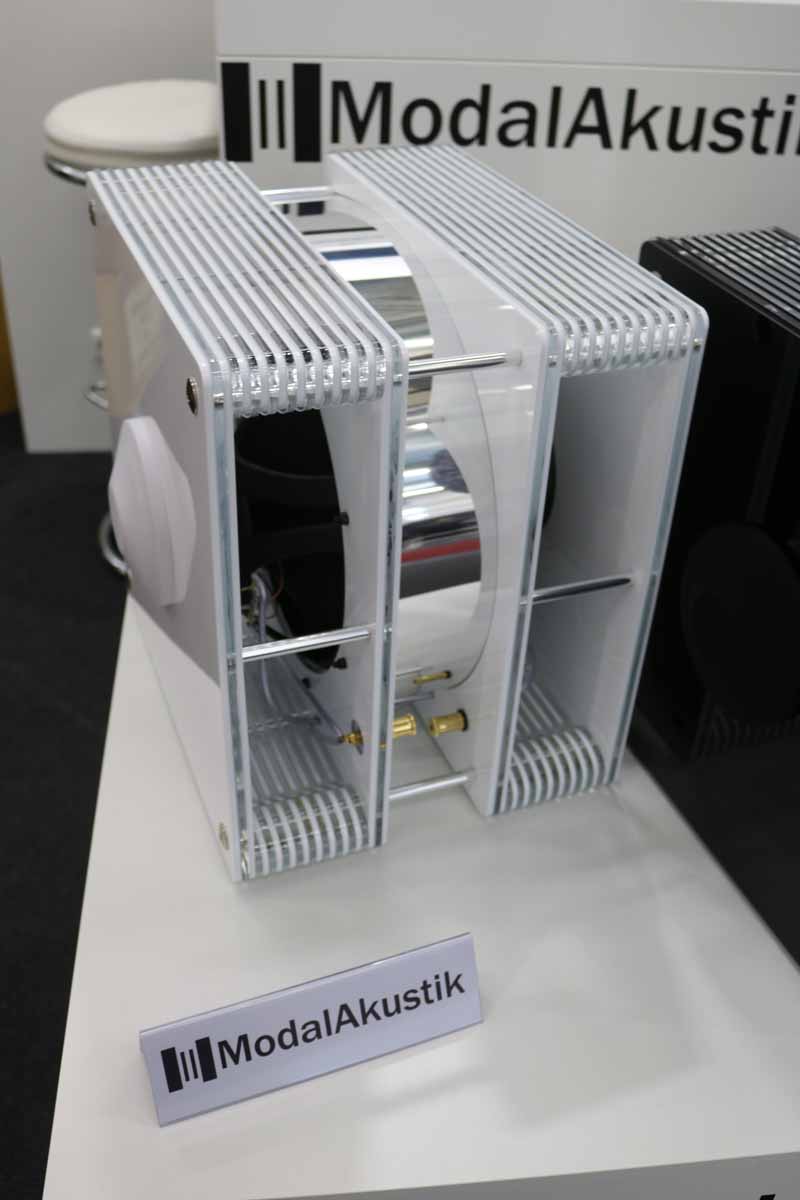 The ModalAkustik MusikBass subwoofer has characteristics of very deep bass: 18 Hz (-6dB)and is made from customisable Aluminium Dibond with a cool, semi-transparent acrylic enclosure.
LaMusika
LaMusika are a German company who build "holistically developed music systems and accessories".
Alfred Rudolph has devoted his entire life to music and its reproduction since his youth. For over 40 years, as a shareholder of Acapella, he has been developing and building high-quality horn loudspeakers and was a co-founder of the High End Society in Germany in the 1980s. While Alfred Rudolph manages development and production at LaMusika, Ingo Beenen is responsible for the commercial areas.
The Prelude is a holistically designed music system that solves the complexity of coordination of electronics and loudspeakers, placement, power supply, cabling as well as resonance and vibration. You plug only one power plug into the socket and the music plays. The system features a compact pair of loudspeakers, and the source is the device of a well-known electronics manufacturer, which was revised and optimised by LaMusika. The design of the Prelude is inspired by the functionality and aesthetics of the Bauhaus.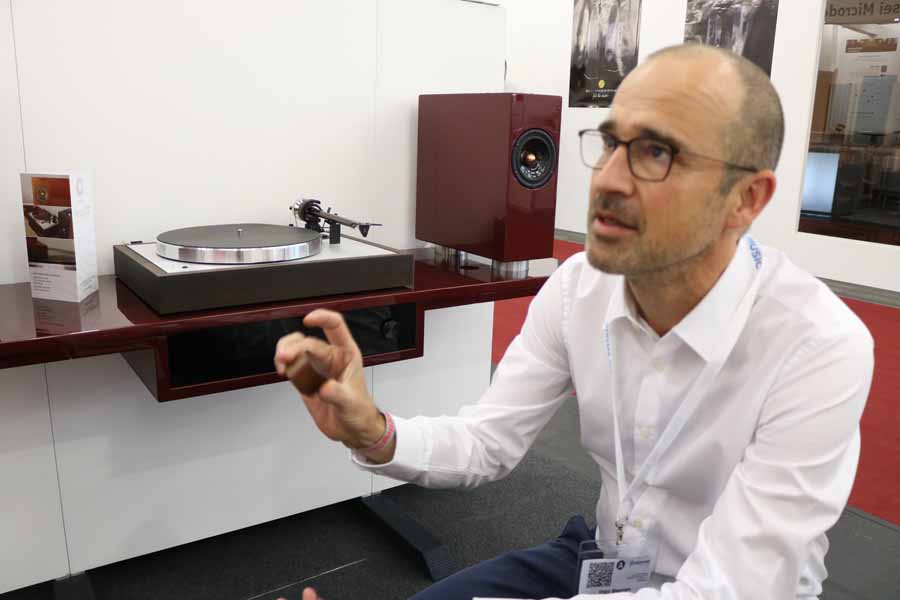 LaMusika told us, "the Prelude allows the greatest possible freedom in the choice of the music carrier. Even the basic version plays CDs, streaming services, Internet radio and high-resolution file formats from an external hard drive. For friends of analogue music playback, we extend the prelude with a turntable".
There is still much more to read and hundreds of pictures from the High End Munich show, click the pink links below!