Stuarts High End Munich 2018 wrap up part two. This is my final report from what has been the best Munich High End we have attended. We covered over 50 Km at the show and met some great people, heard some fabulous systems…and some not so. Hope you enjoy. 
Gryphon announced a couple of new products at High End in 2018 with the first being the Colosseum Power amplifier. It runs in pure Class A and delivers a hefty 160 Watts. This is the stereo version but it is also available in monobloc format. Next down is the new Zena preamplifier which has an optional DAC module and optional phonostage module.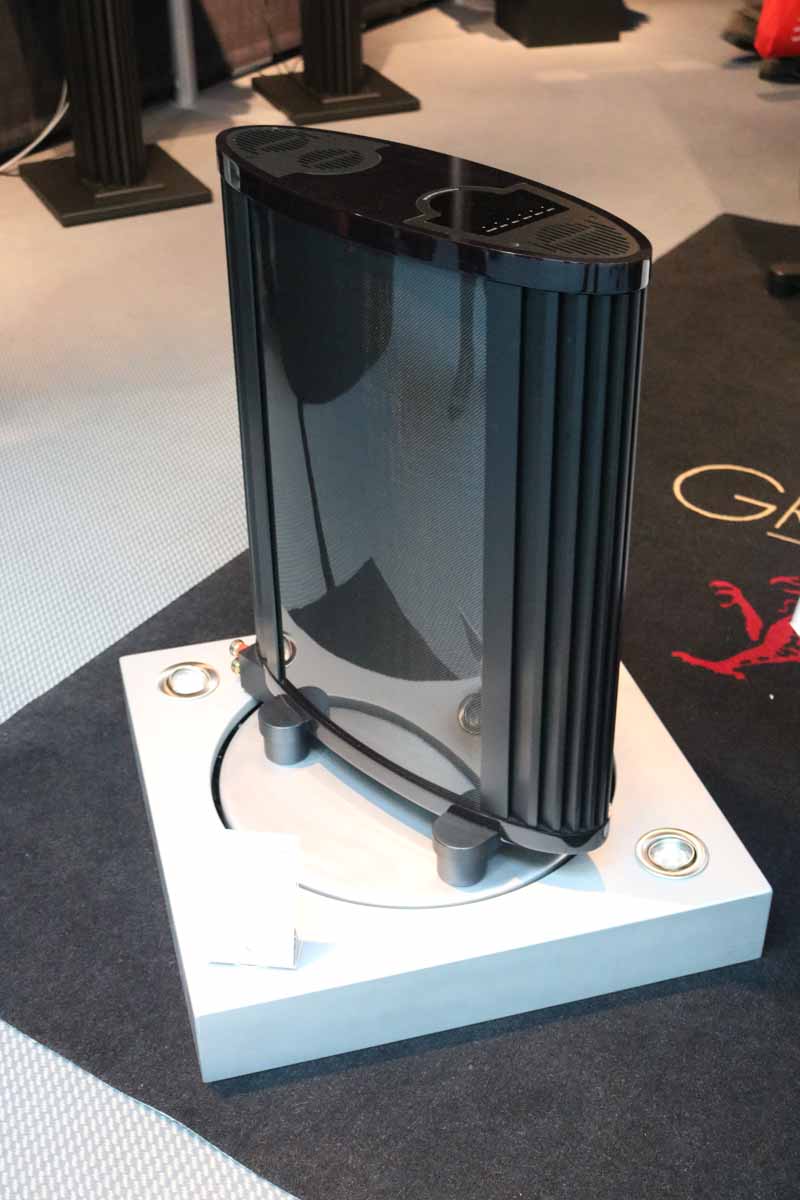 Avid Hifi introduced the new Ingenium II turntable which is an upgraded version of the successful Ingenium entry level model. They also introduced the Sigsum integrated amplifier that boasts an on-board phonostage and costs £13 000. Like all Avid Hifi products they both looked superbly well made.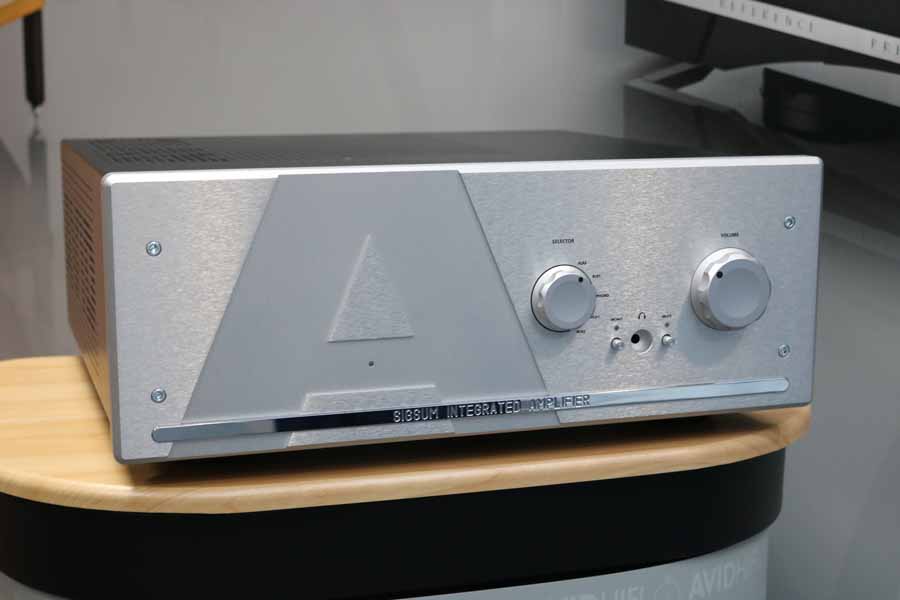 Avantgarde were playing their Trios with 3 pairs of basshorns and using their own amplification.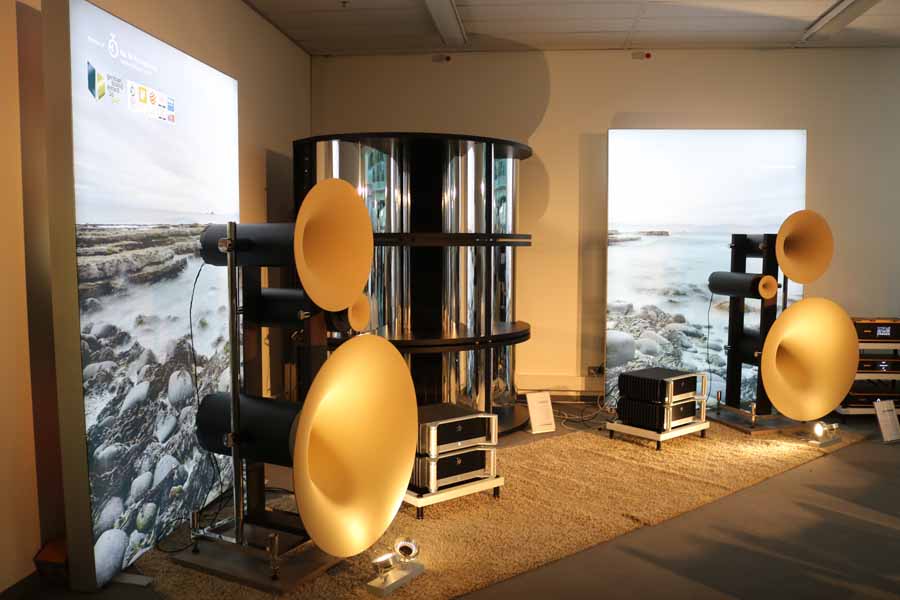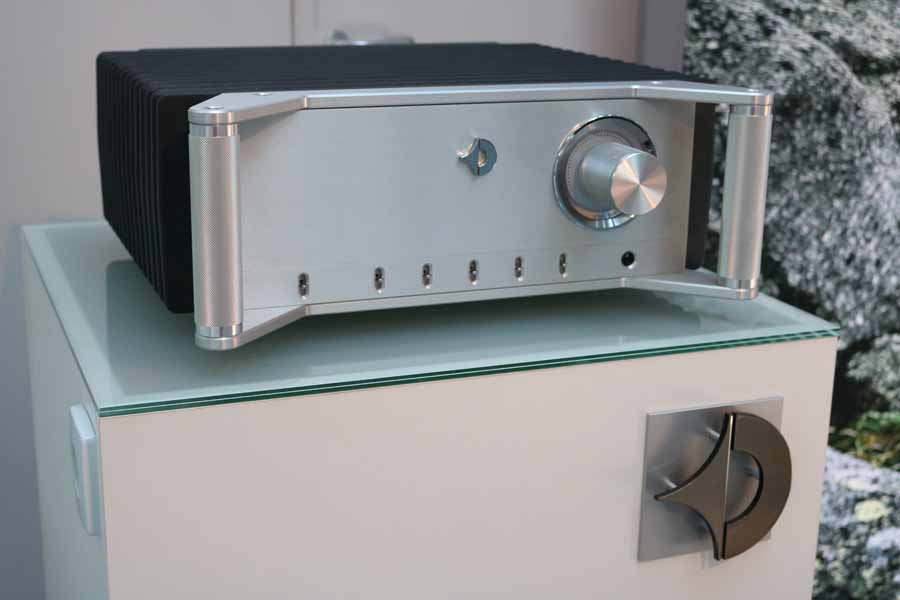 Linette said that this was the best demo of the show and it certainly was an ear-opener. The Zenith SE was very good but a flick of the switch to the Zenith Statement had us all looking where the extra performance had been found. A clear step up in sound quality.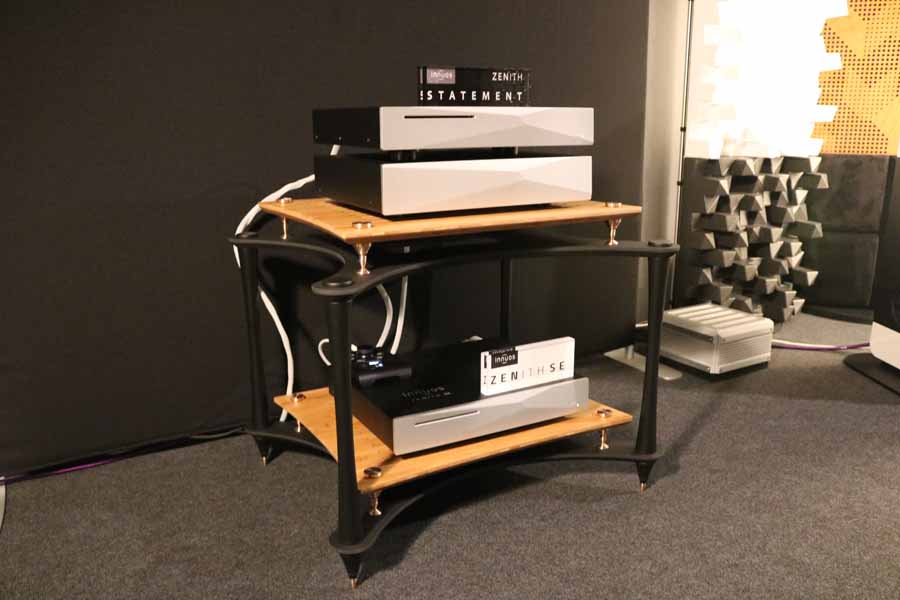 Already posted the Gold Note stand in our coverage of turntables at High End but worth sharing again I think.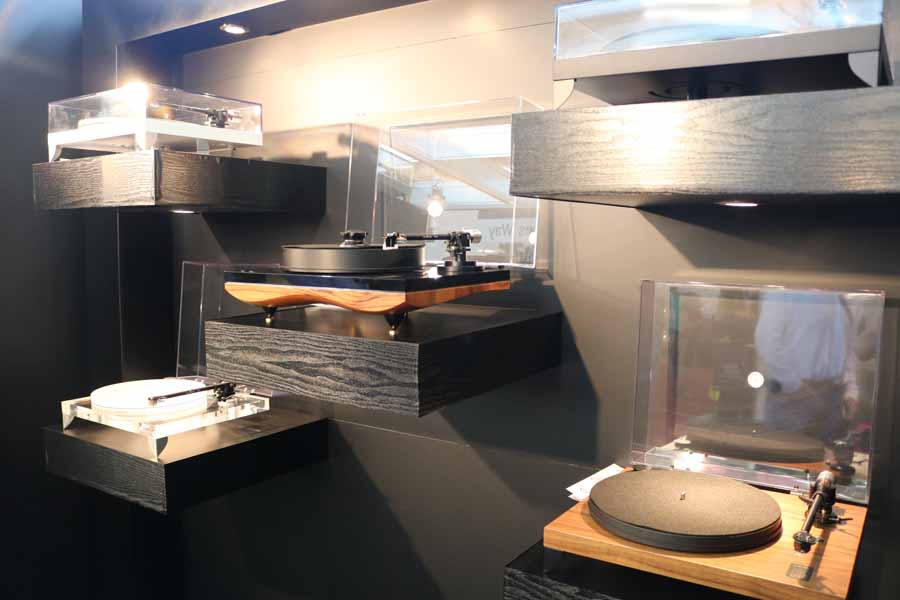 Audiovector are made in Denmark and always sound great. We reviewed their SR3 model here.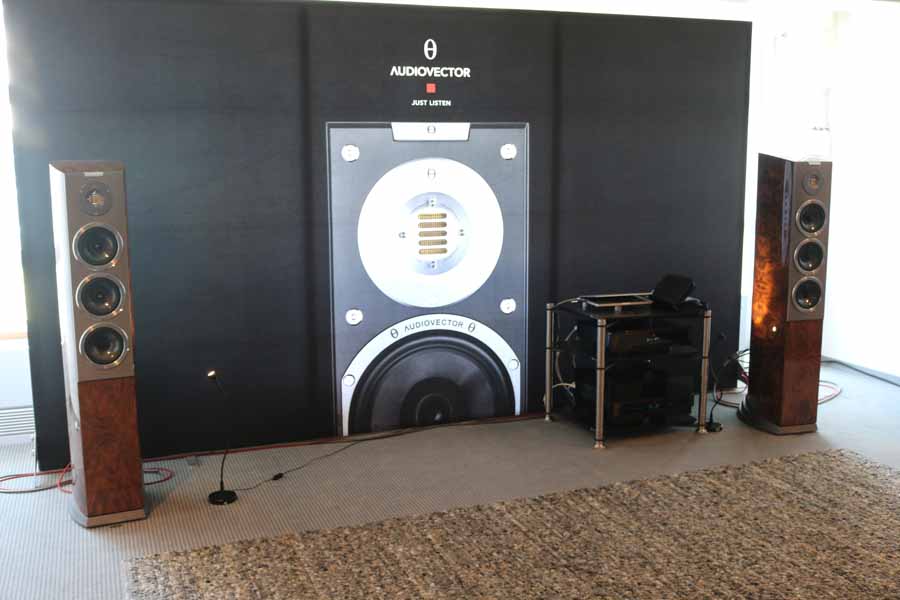 Marten Audio and Vitus amplification. Lovely room.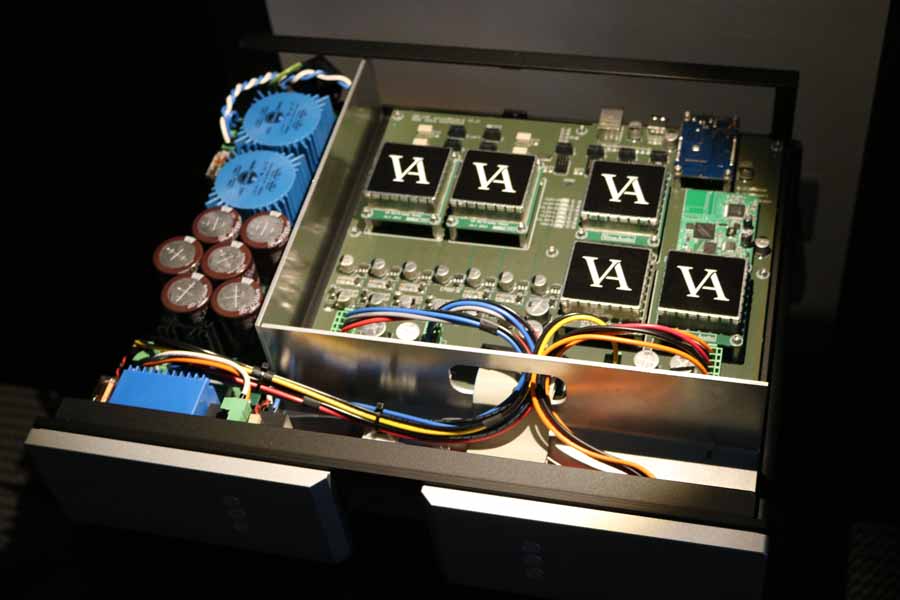 The TD-4.8 loudspeakers from Raidho being powered by Chord electronics. Stunning sound in this room. You can read more about these speakers here.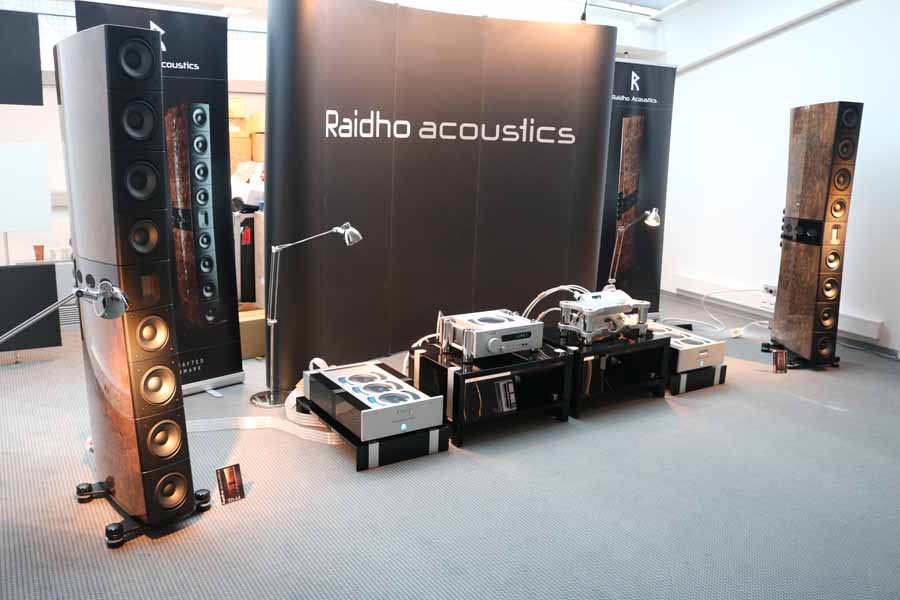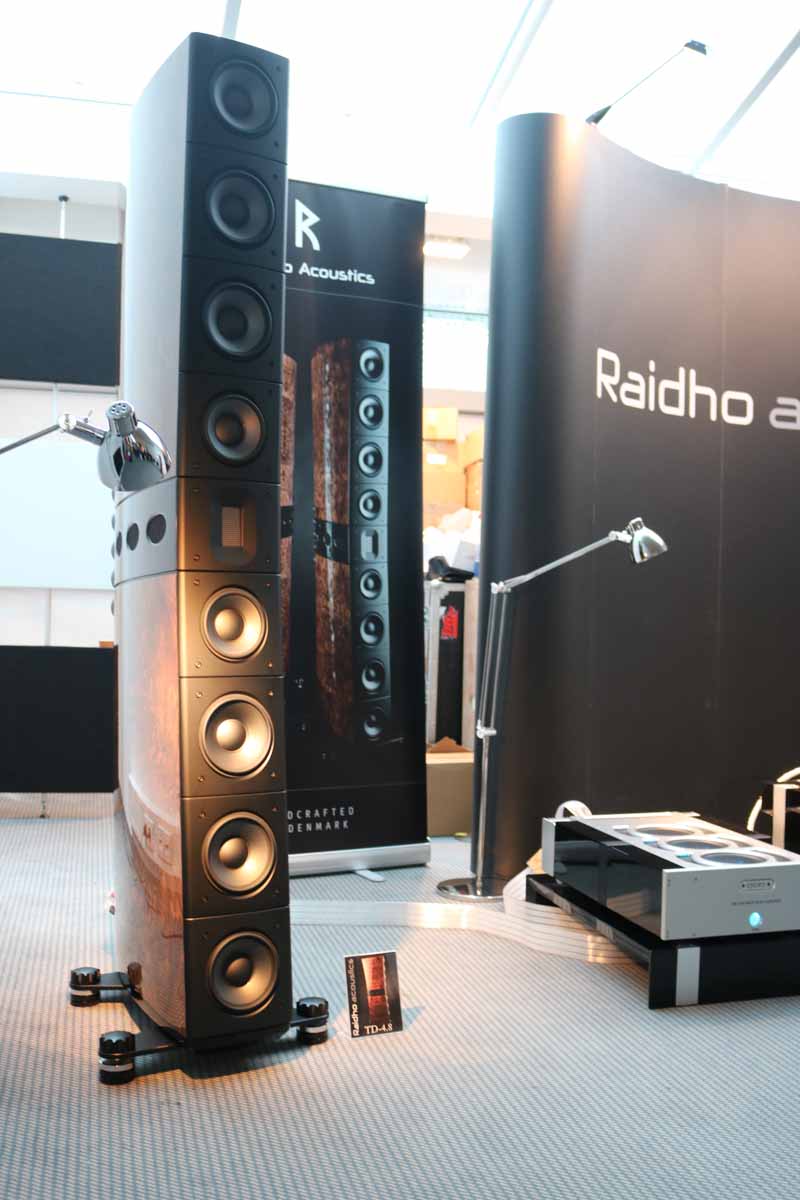 Joseph Audio and Alluxity electronics. Little known in the UK market Joseph Audio speakers never fail to impress when we hear them at shows and this time was no exception. These are the Perspective loudspeakers.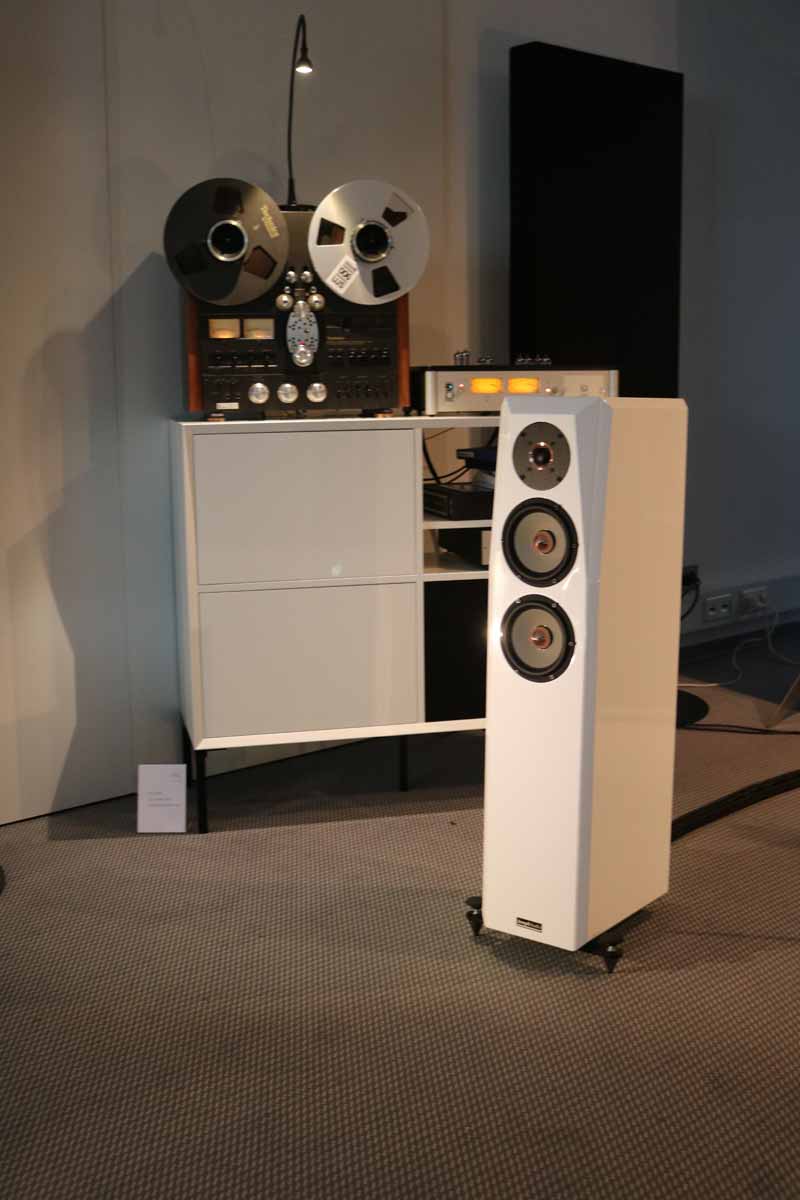 These are the latest amplifiers from Merrill Audio and are called the Element series. Read more about them here.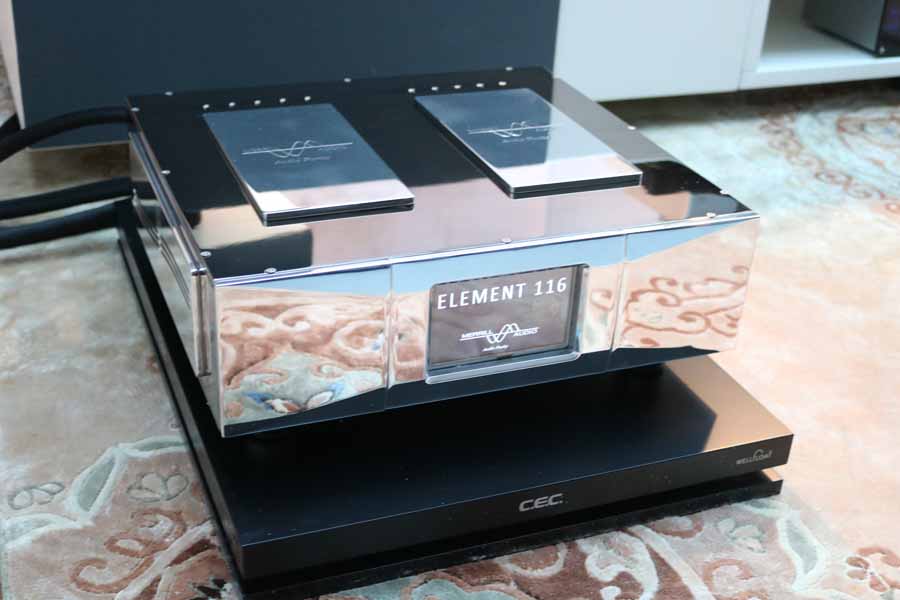 Tim De Paravacini, seen elsewhere in our coverage too, had a lovely sounding room. The EAR 912 seen on the bottom shelf and in black is a thing of wonder.
Seen here is the Auralic room. The LEO GX is the company's new master clock and costs €7699/8699 and next down is their VEGA G2 streaming DAC costing €6299.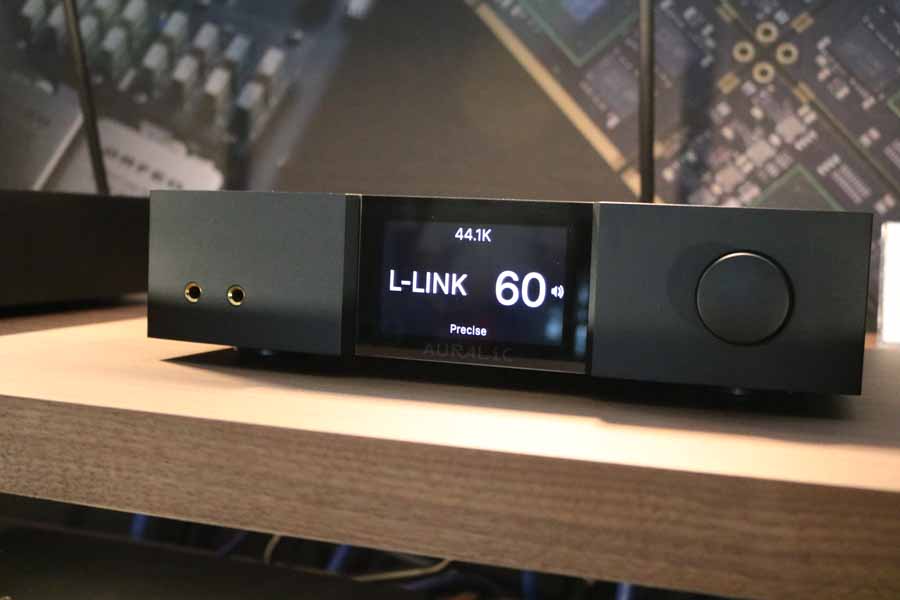 The Harbeth room looked and sounded fab with the Dynalab amplifier.
Quad electrostatics and a rackfull of Luxman electronics.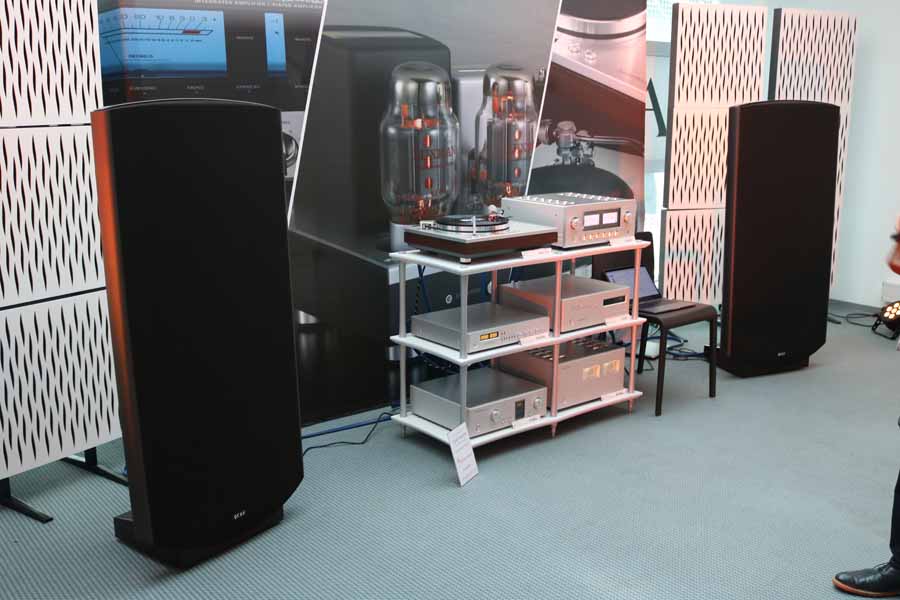 Wilson Benesch speakers being powered by Viva valve amps.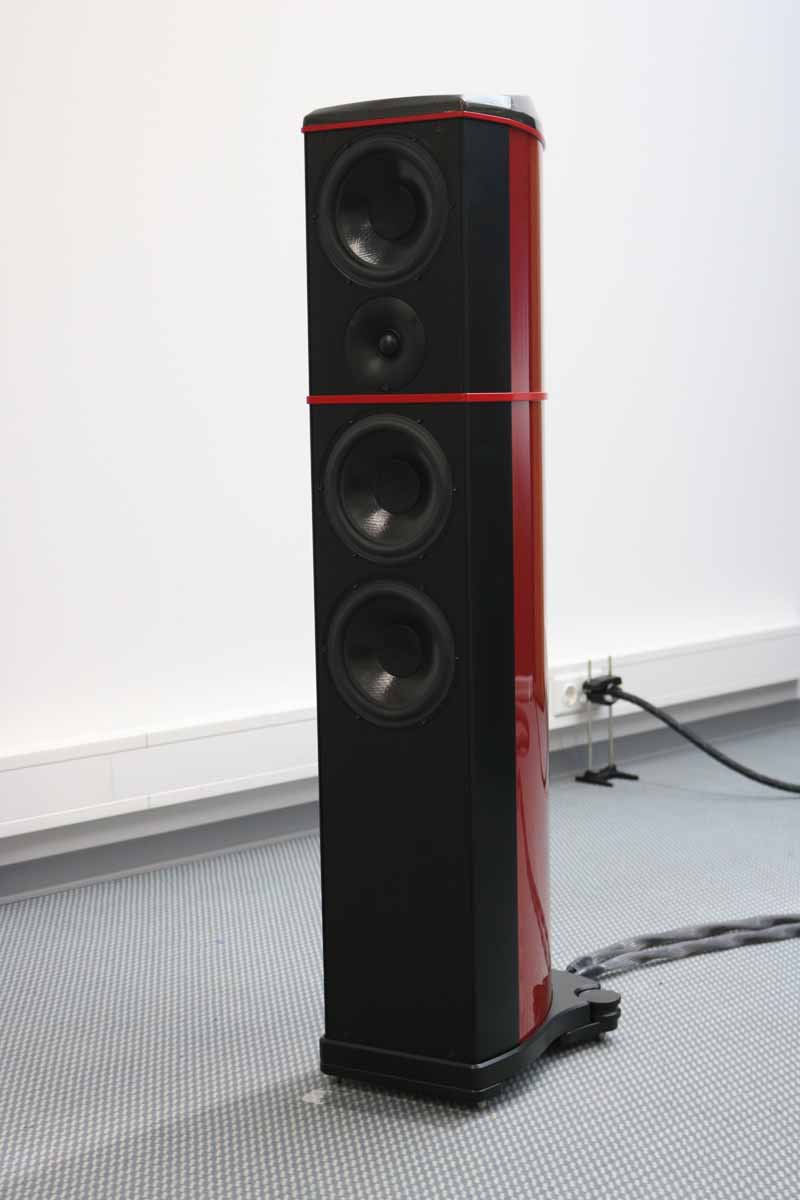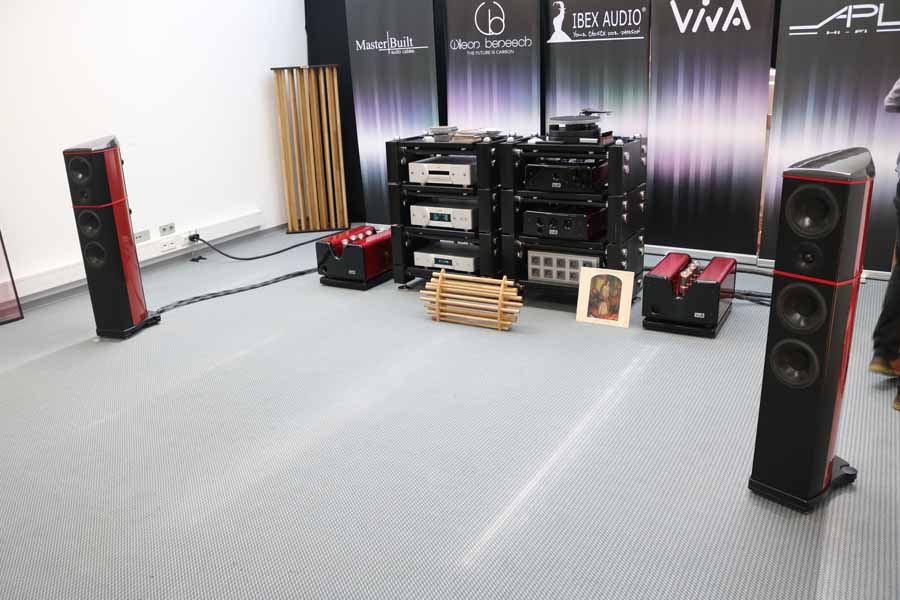 Trafomatic, Audiobyte, Rockna and Skogrand cables delivering really beautiful music through the Tune Audio Avaton loudspeakers was perhaps the sound of the show for me. I've mentioned it elsewhere in our coverage but this room made me cry and having read this elsewhere i was not the only one. Something just seemed to gel so right in this room. Well done!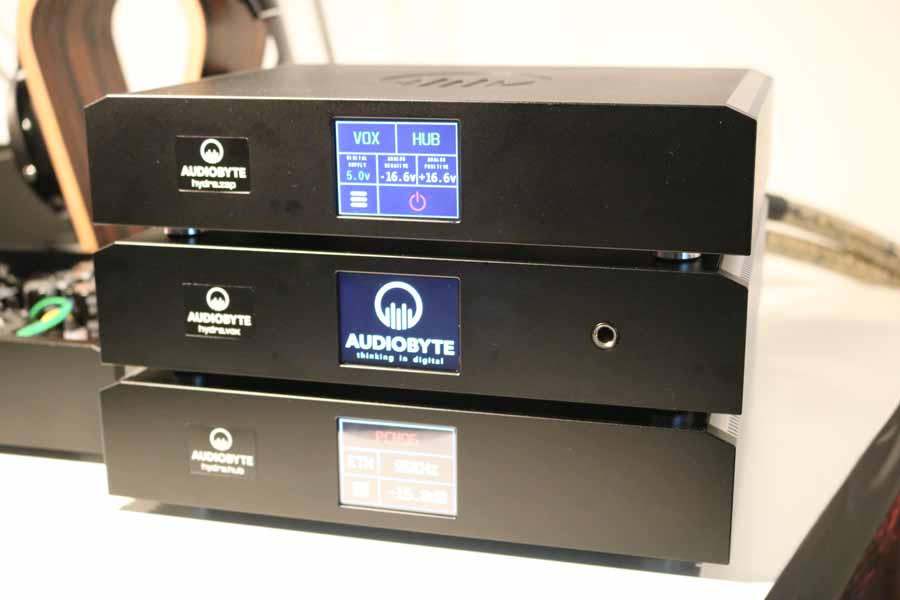 This too was a really beautiful sounding room and it looked stunning too…we really love the whole Born In Berlin concept. Voxativ launched the Ampeggio X and Ampeggio T805 integrated amp at this year's High End.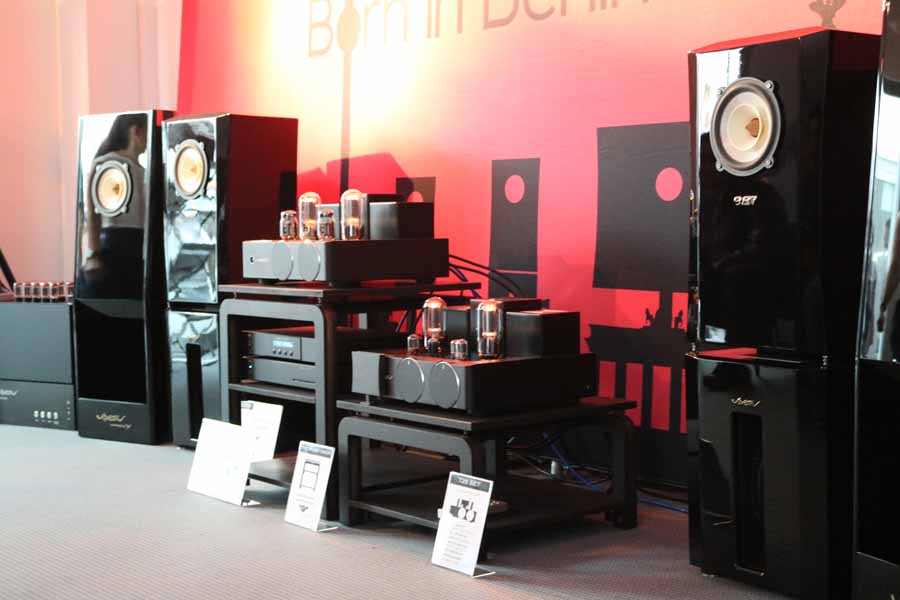 Australian brand SGR make the speakers and racks and MSB Technology deal with the electronics. Cool room.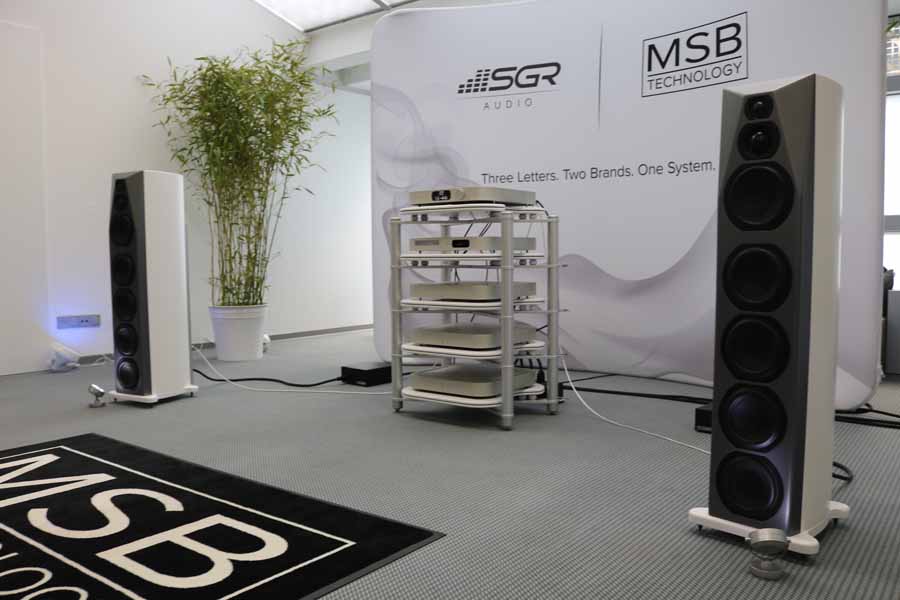 The Living Voice OBX speakers were playing when we went in this room but you would be forgiven for thinking it was their larger siblings also seen in this room. A really stunning room this year and a very close runner up for the sound of the show for me. This Living Voice room looked brilliant too.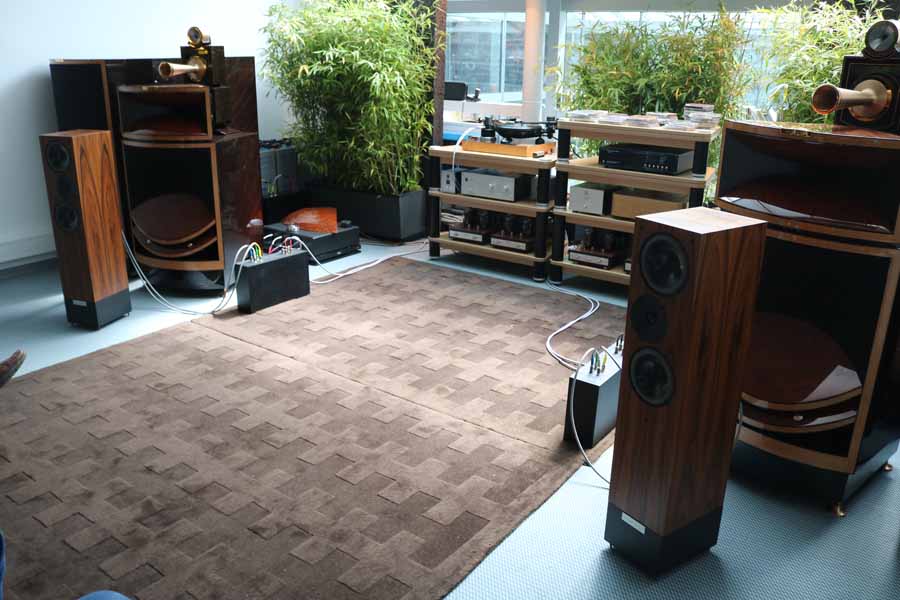 Ascendo Immersive Audio are new to me but get very good reviews in the home theatre press. This is their Live 15 model.
Lindemann and Limetree. Lindemann are celebrating 25 years in business and here we see their Music Book player with their amps on the floor. Their new Limetree series is a more affordable range of products and is being distributed in the UK by Elite.
Boenicke are also distributed in the UK by Elite and once again at High End were partnered by CAD.
DCS and Wilson made for a very nice sounding room.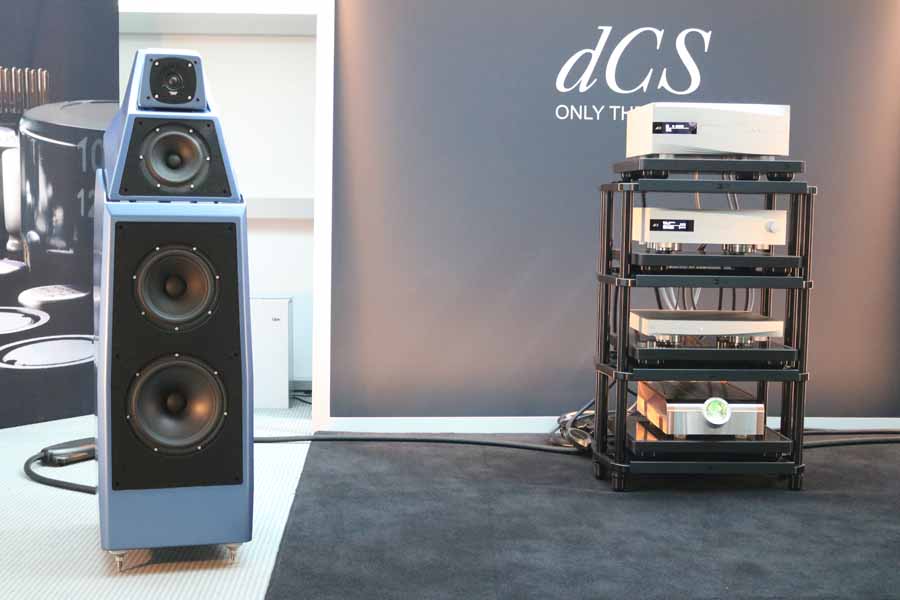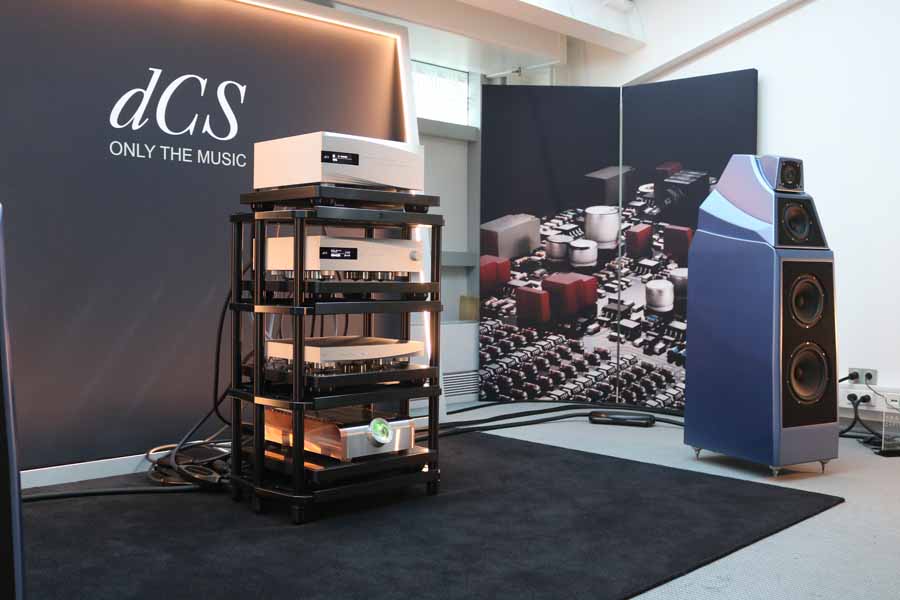 Triangle Art turntable, phonostage and amps through EgglestonWorks Viginti speakers.
The Thrax room was great. The Lyra two way speaker partnered with the Basus modules being powered by the awesome Spartacus 300 amplifiers. The input tube is a 300B which feeds through to four 300B power tubes to deliver 50 Watts of power.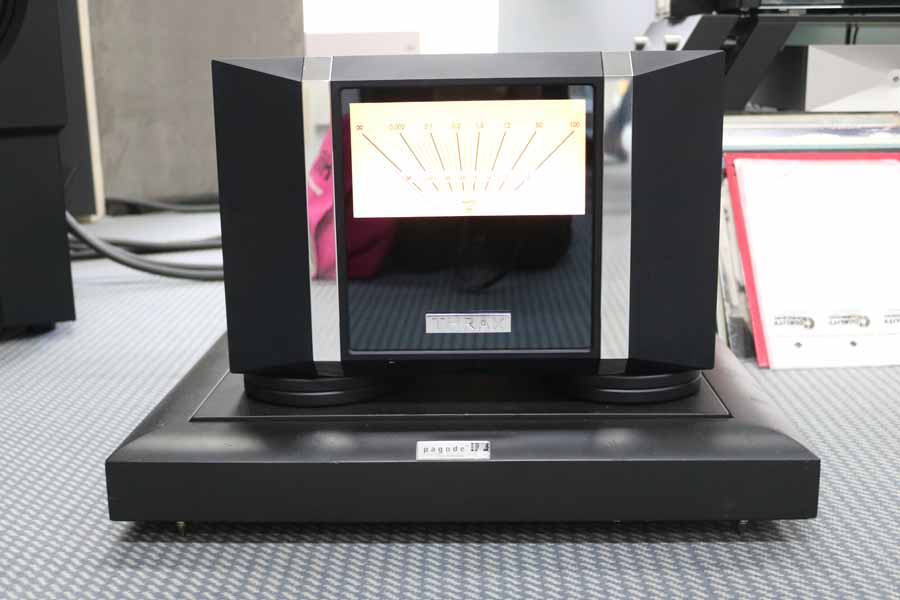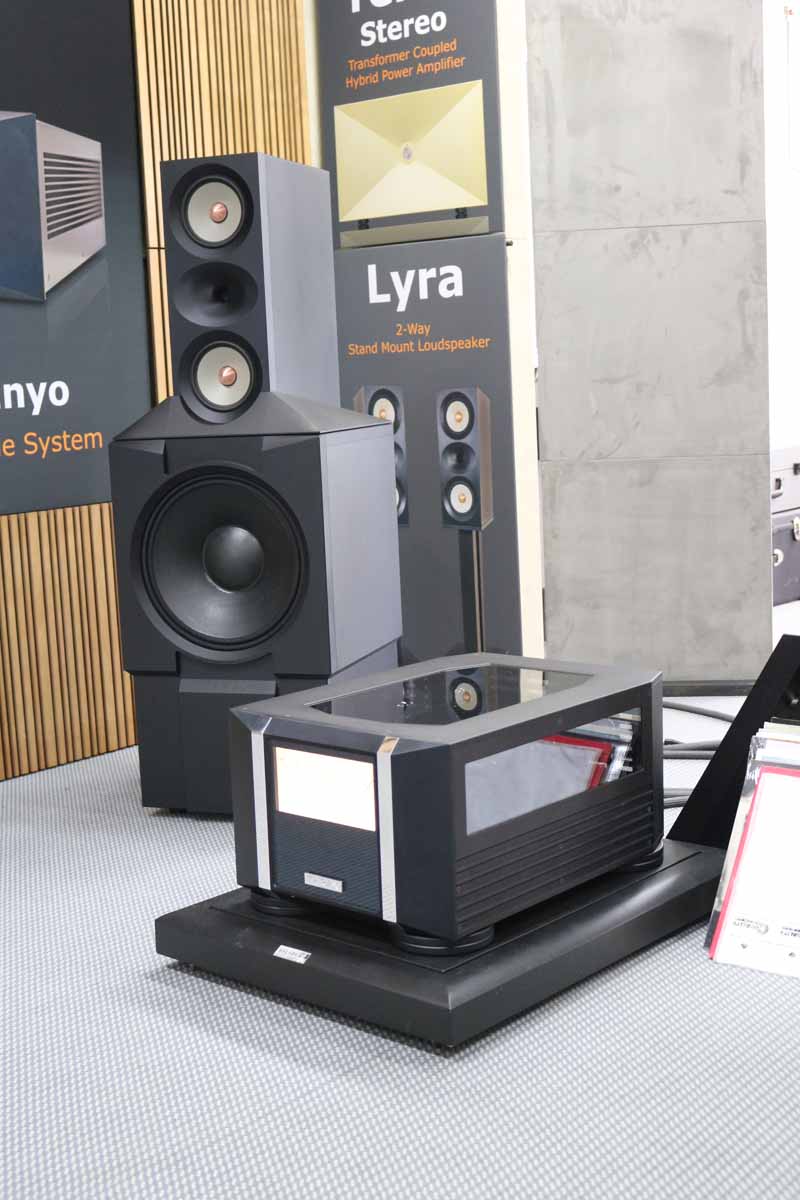 Van Den Hul electronics and Diapason loudspeakers. The last speakers in the series of pics is the Diapason Karis and certainly drew a good deal of interest with its unusual shape.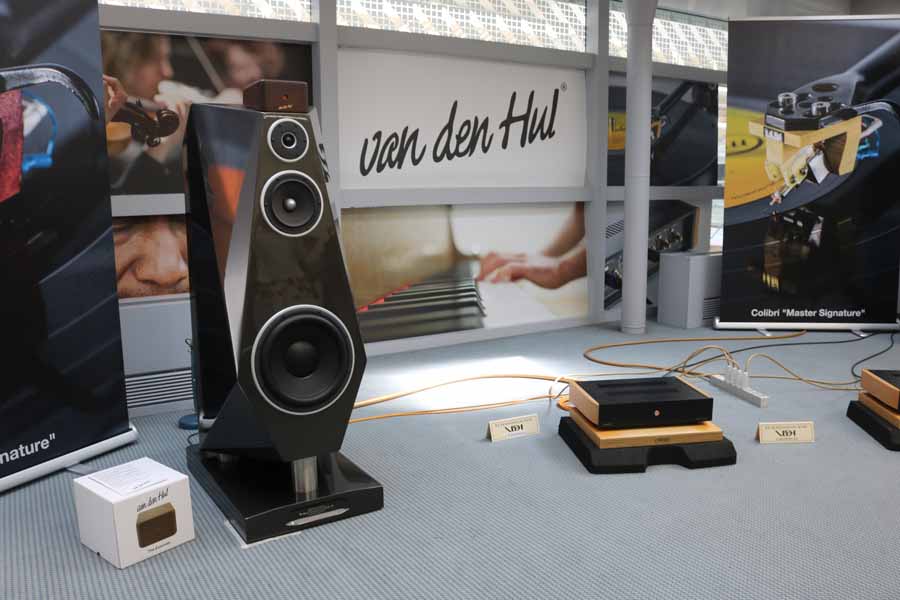 The second of Living Voice's room was no less stunning than the first. What I love is the attention to detail to the point the Living Voice team bring along their own power which Kevin talks about here and which is well worth a read.  Last year Living Voice won our Hifi Pig Loves You Award and would certainly have been in the running this year had we given one away.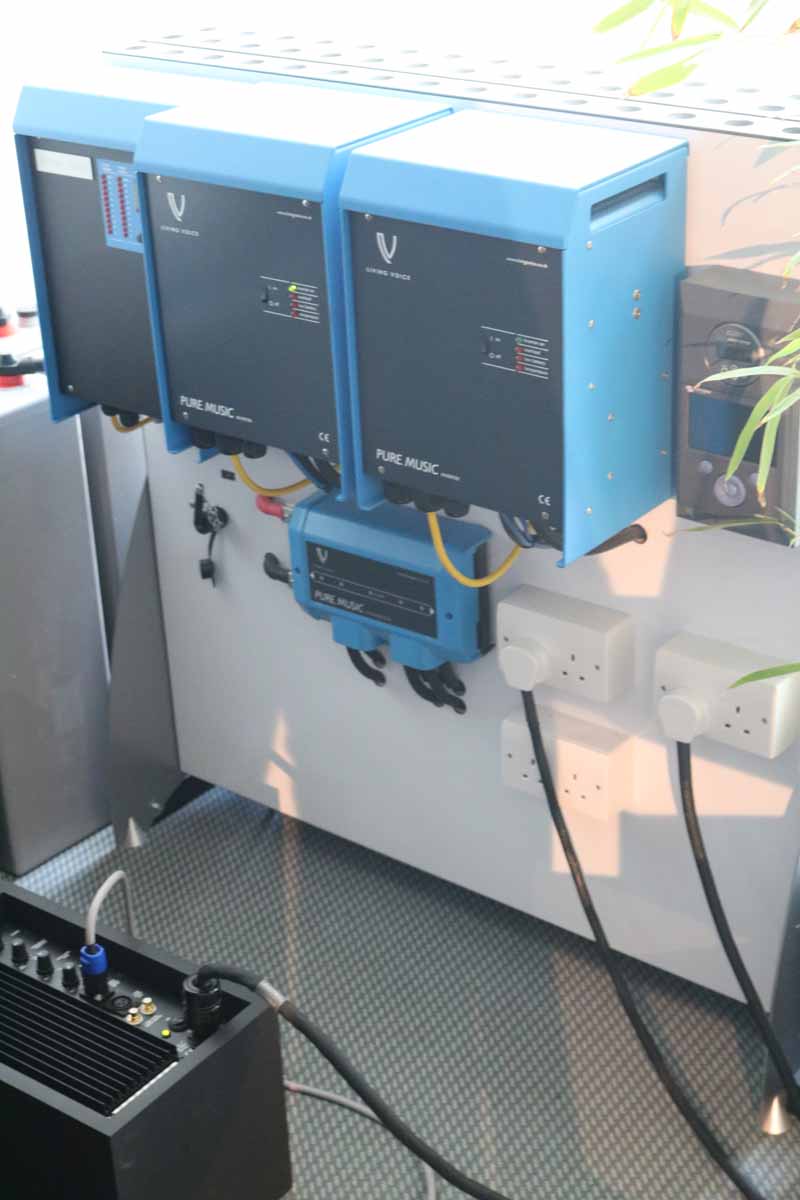 WAY Cables presented their flagship 'Poetry' interconnect cables mostly as a balanced XLR iteration connected to the DAS 'HD-Player Model 2' as a source and WLM audio amplification and WLM speakers 'Maria'. Look closely and you will se a HIfi Pig Outstanding Product Award for WAY Cables Silver 2 and 4 interconnects which you can read here.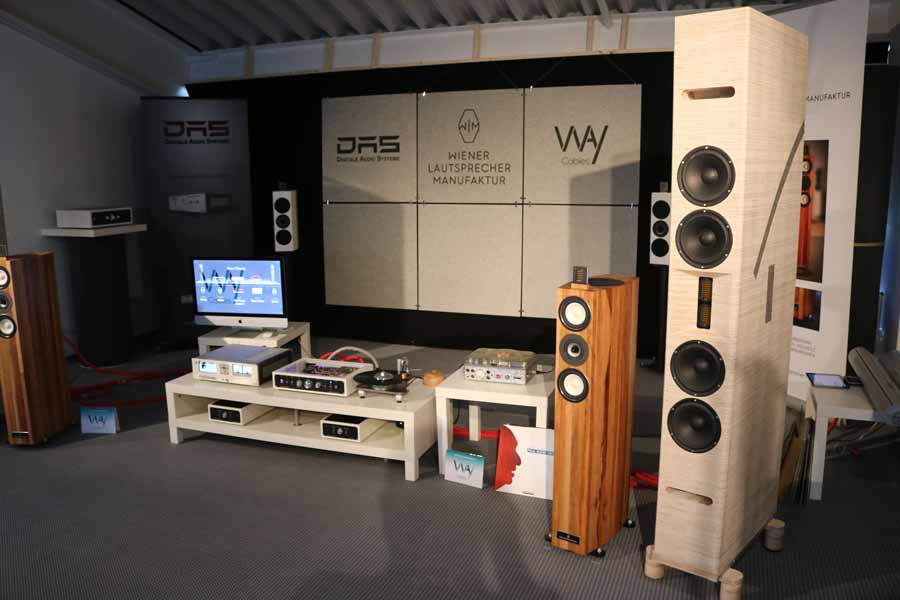 CH Precision, TechDAS, Stenheim, Acoustic Groove Systems and Artesania stands.
Linette covered the Metronome Kalista EA speakers that were introduced at last year's High End in Munich which you can read here. More info on the speaker here too. Great to see this french brand doing so well…their DreamPlay CD player, launched at the show, is a thing of great beauty.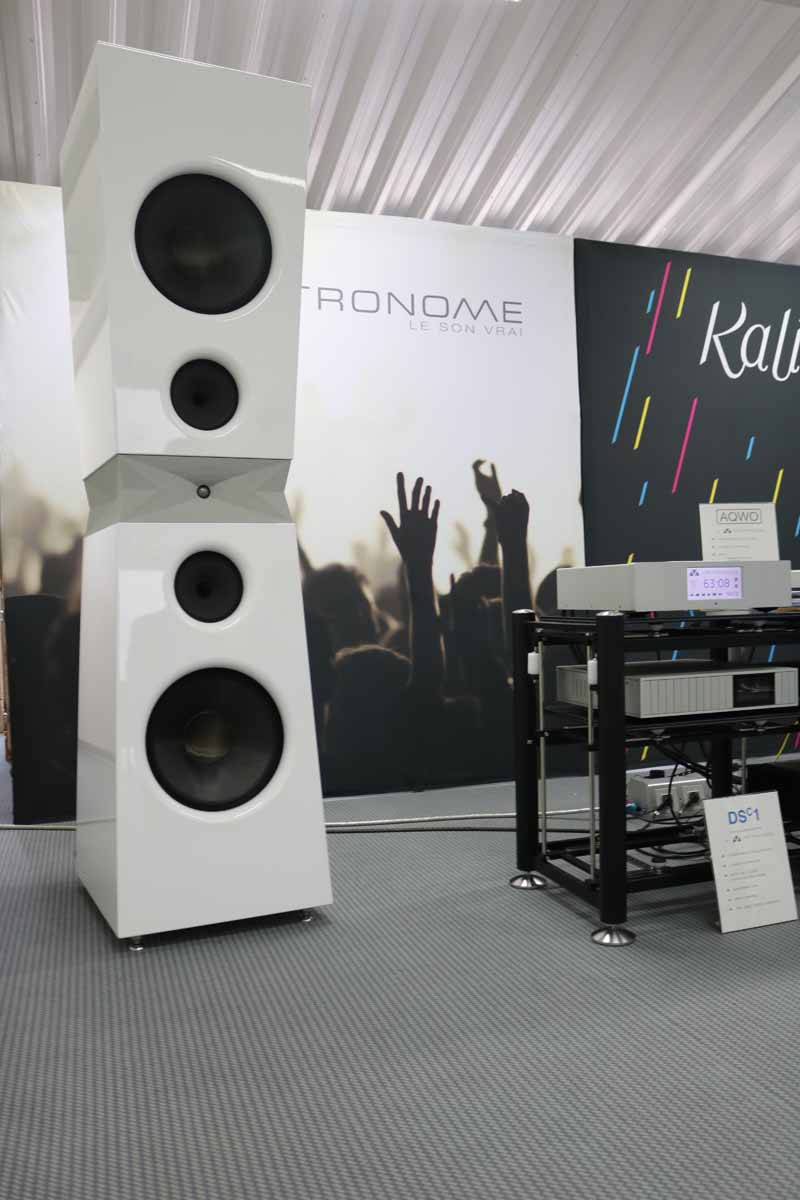 Apertura Edena speakers and more CH Precision electronics, this time in the form of the I1 integrated amplifier.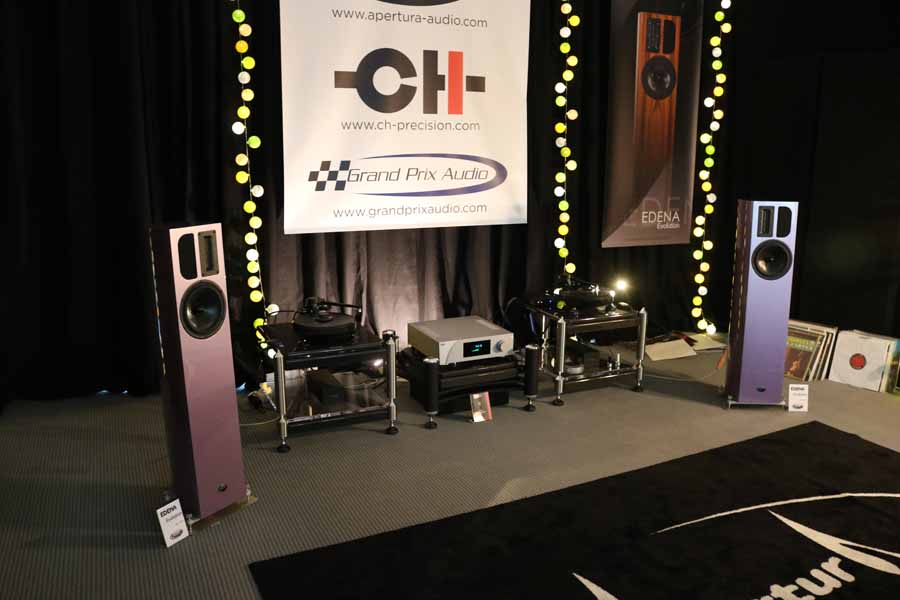 AudiaFlight Strumento amps sat atop Music Tools stands. The speakers are Albedo's Acclara,  a three way floor standing speakers that features transmission line bass loading and ceramic drivers we believe are Accuton. Great sound from this all Italian room.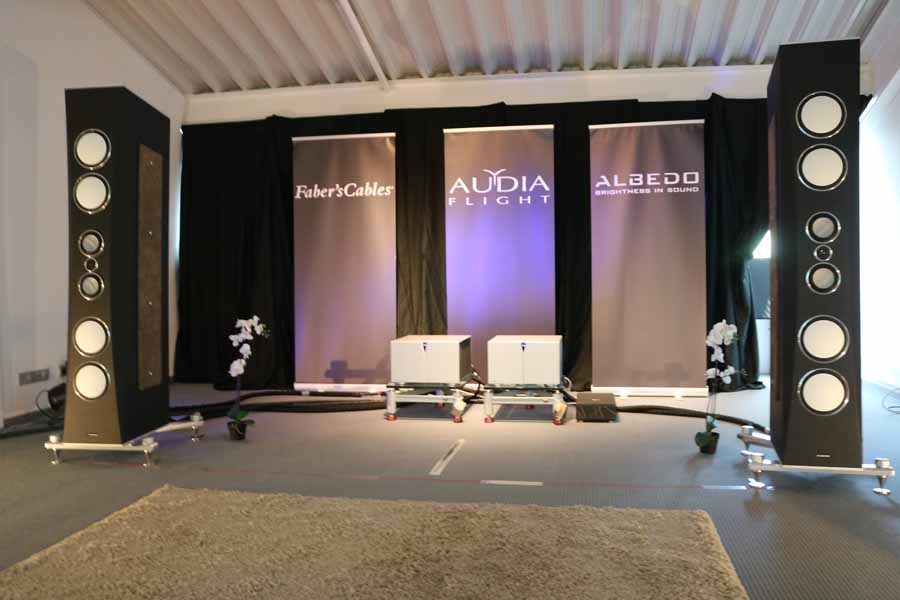 Mastersound Pf100 amps with Stenheim Alumine Five speakers.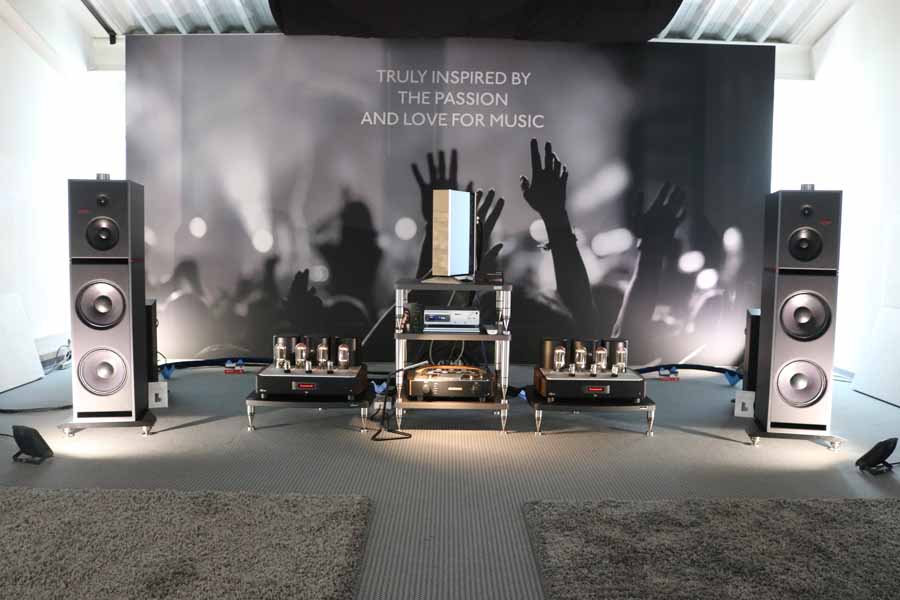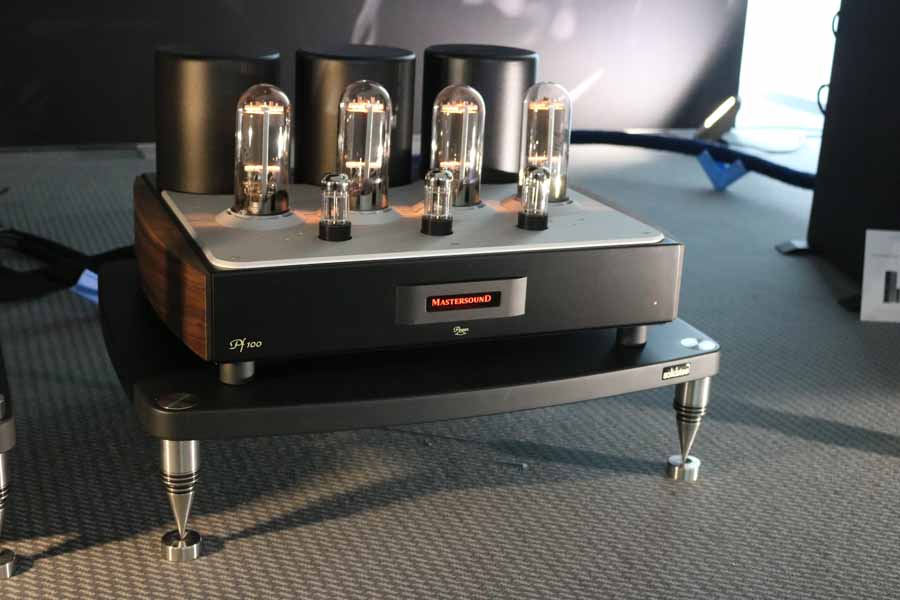 Origin Live turntables, AudioSpecials phonostage, BA Speakers, Artnovion room treatments. All the other electronics are by Trinnov. Lovely sounding room.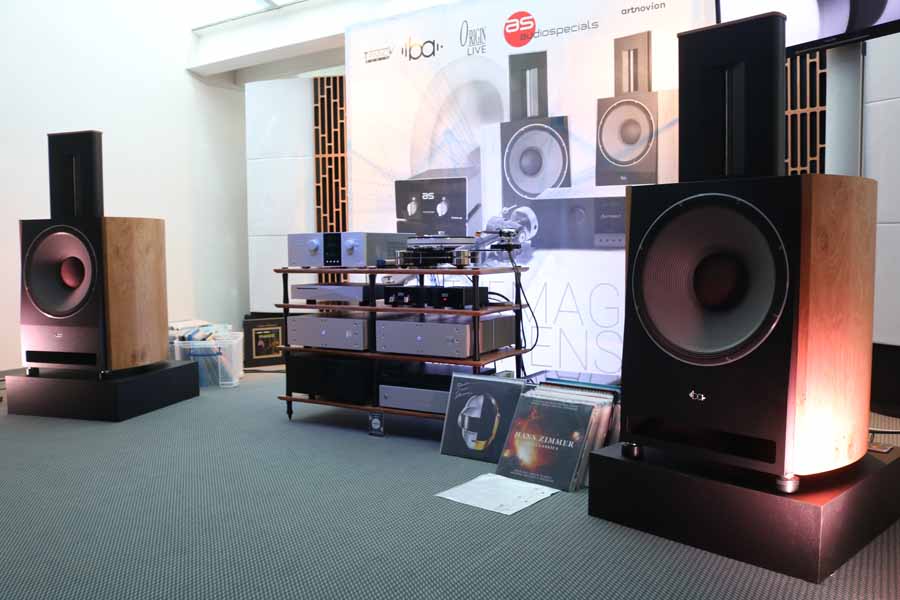 Goebel High End always impress with the sound in their room and this was no different. Amplifier is from Vitus Audio with cables and speakers from Goebel. The speakers are the new Epoque Aeon Reference using the "Carbon Excellence Aeon" bending wave driver. The speakers also have 12 custom built Göbel® Aeon 7 inch long throw aluminum bass drivers. Stunning performance.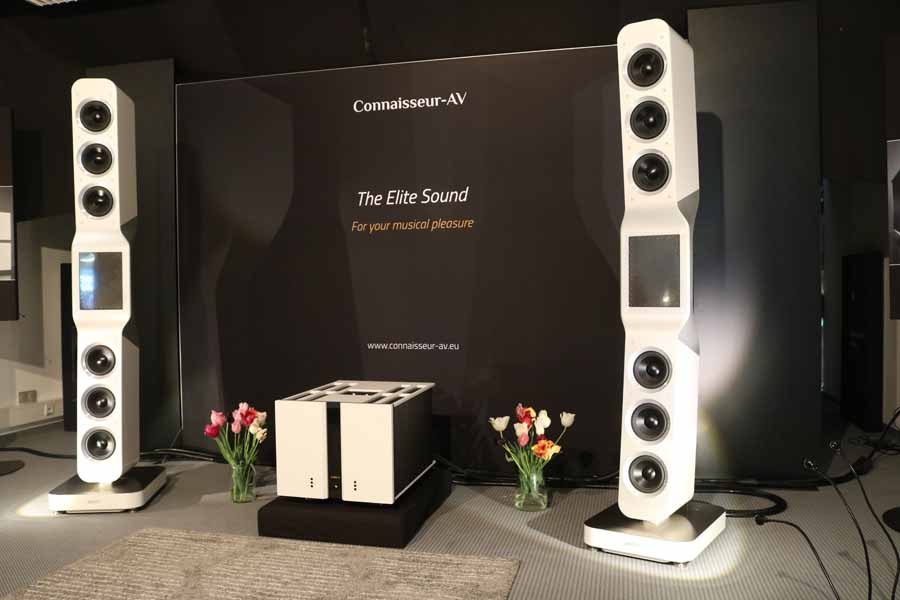 Kharma.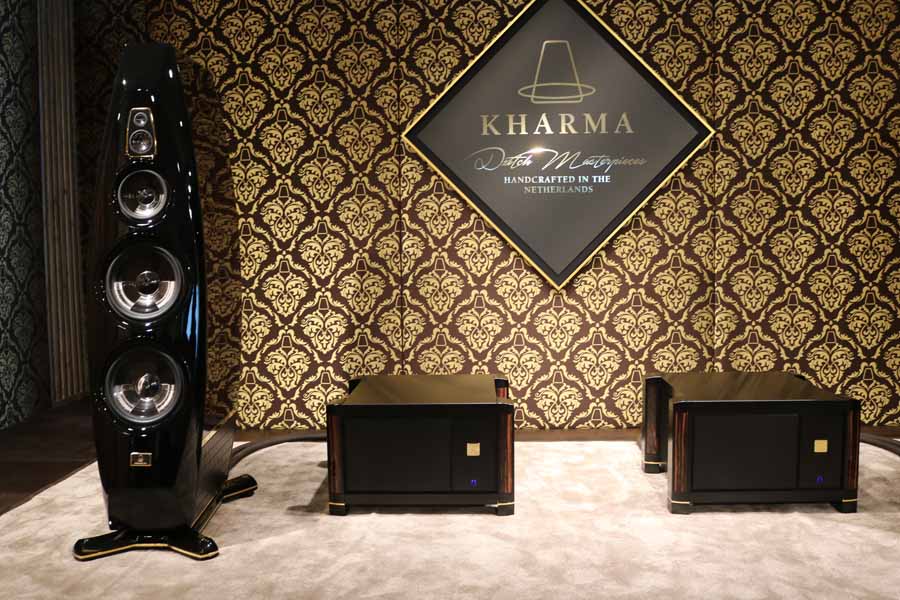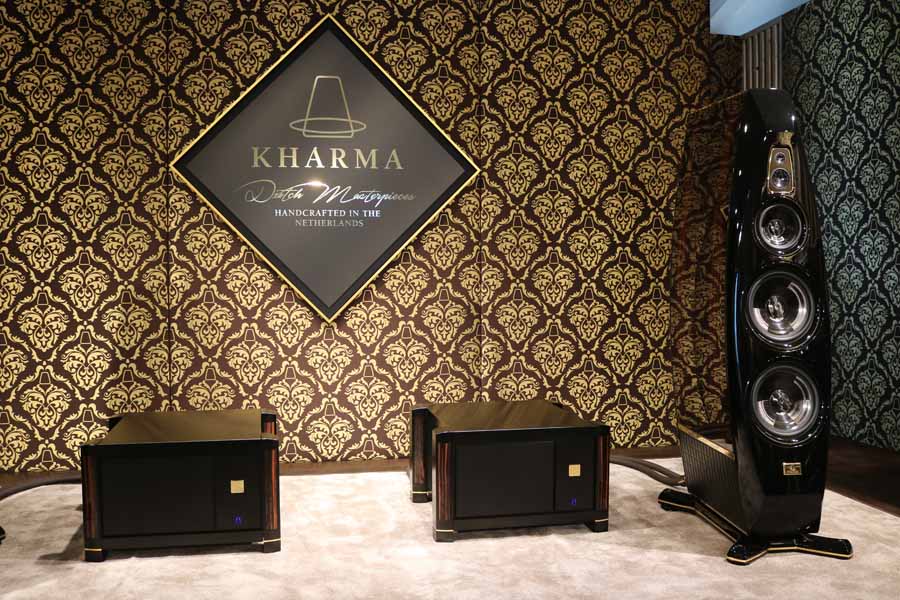 A full Einstein system apart from the TechDAS turntable.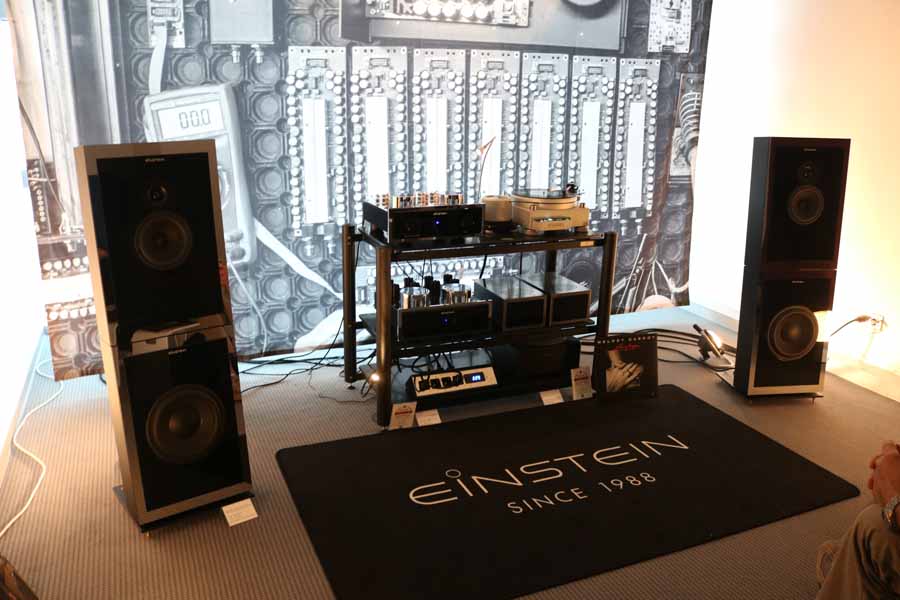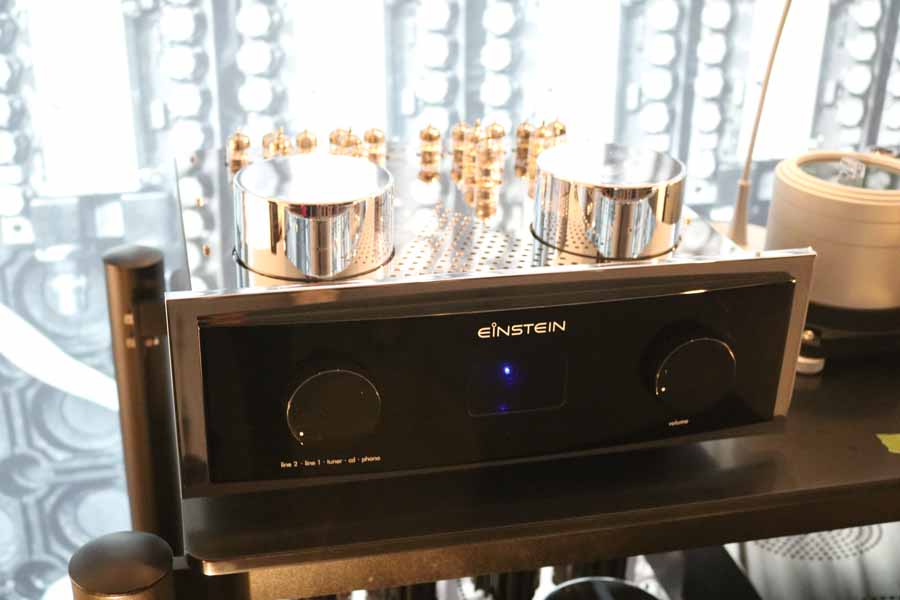 ReQuest Audio's The Beast is Swiss made.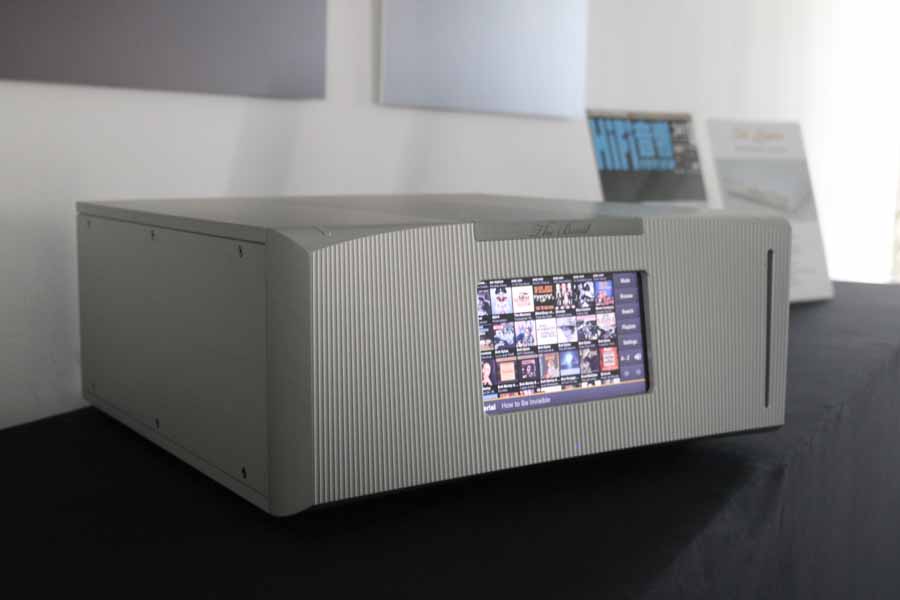 hORNS speakers,  J Sikora  turntable keeping the Polish fans happy in this tiny room. I hope they are able to get a bigger room in future as they do deserve it.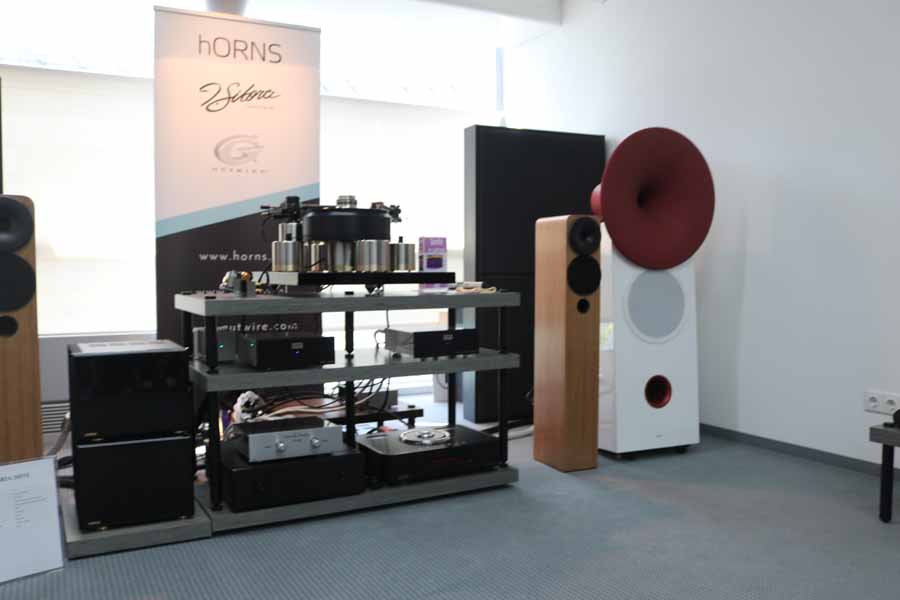 Stark Audio speakers look and sound very interesting
Vertere make wonderful looking and sounding turntables and tonearms. If you look closely you will see the suspension through the acrylic. I love that they call them Record Players…because that is what they are.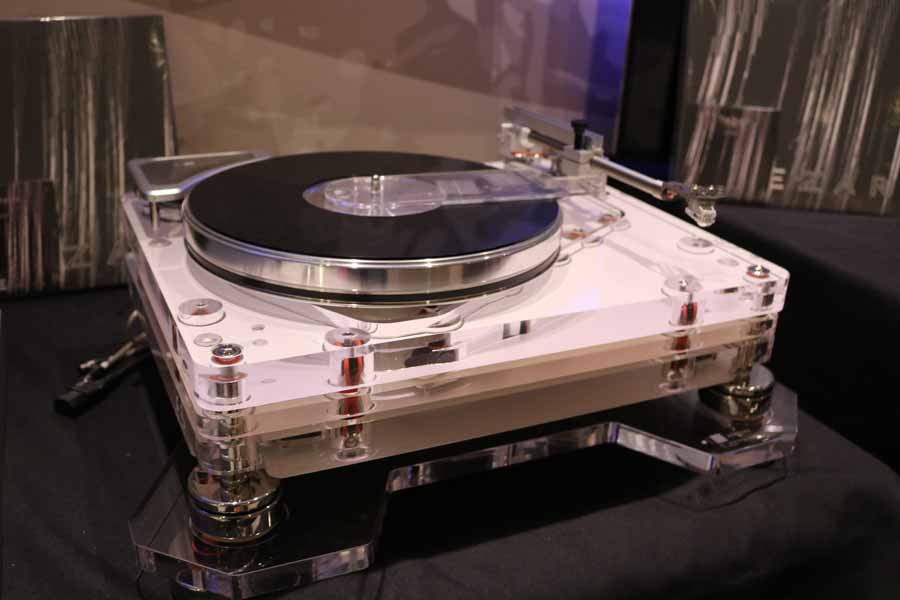 A whole load of Jadis amps, their Hestia turntable and CD player.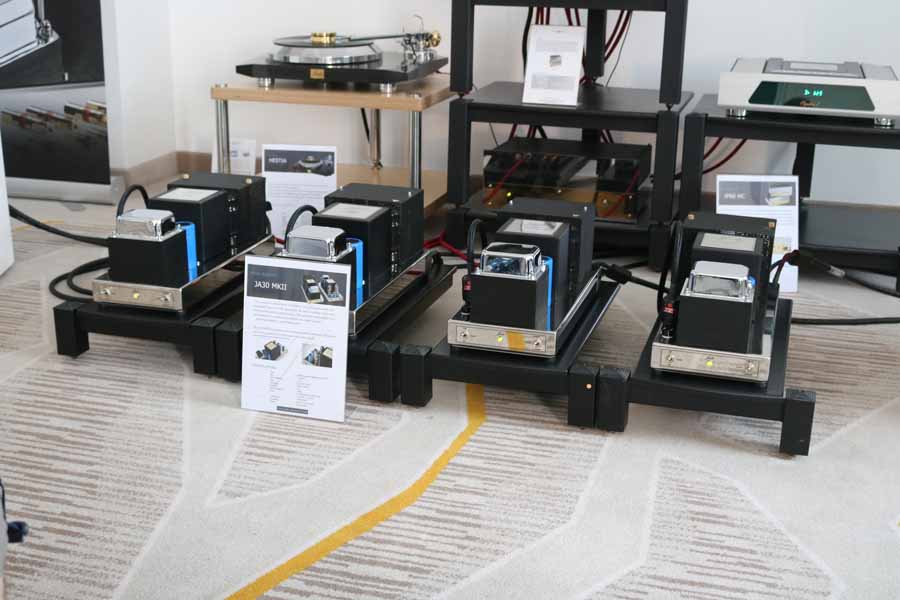 HPM 500 loudspeakers from JMF Audio along with their own electronics.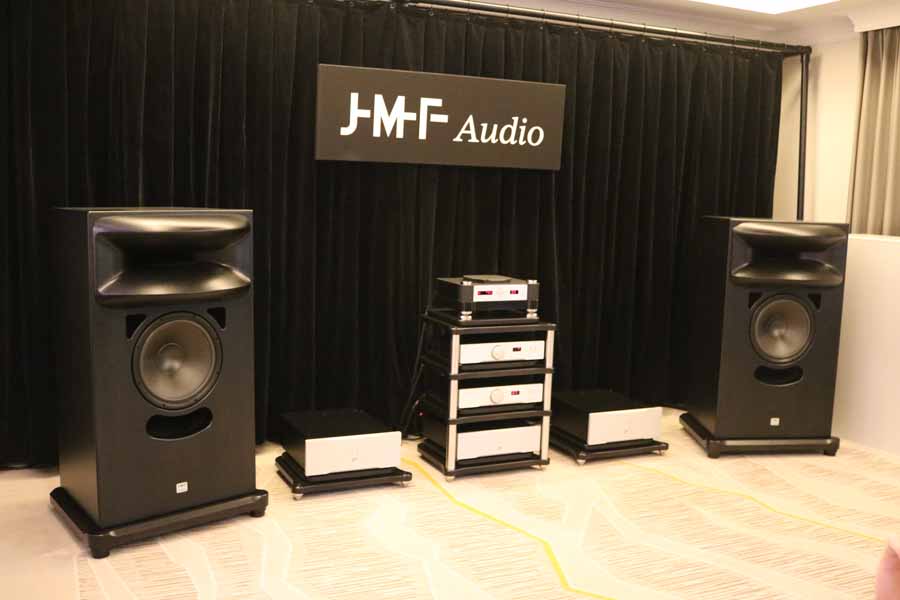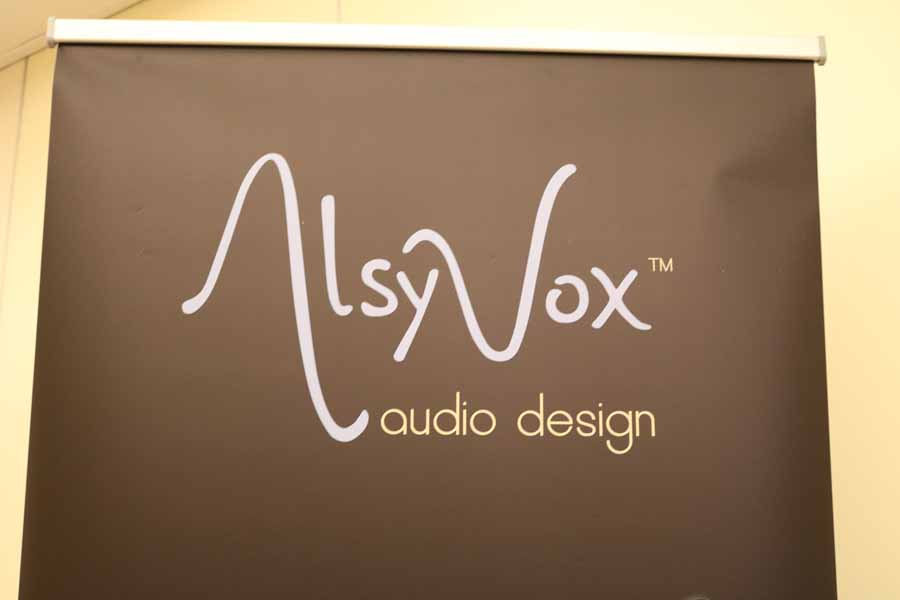 AlsyVox panel speakers being fed with the most outlandish, though I quite like it, looking set of electronics we've ever seen. Probably the coolest looking set up at either High End Munich or the Hifi Deluxe show where this was.
Viva amps and their Allegro loudspeakers.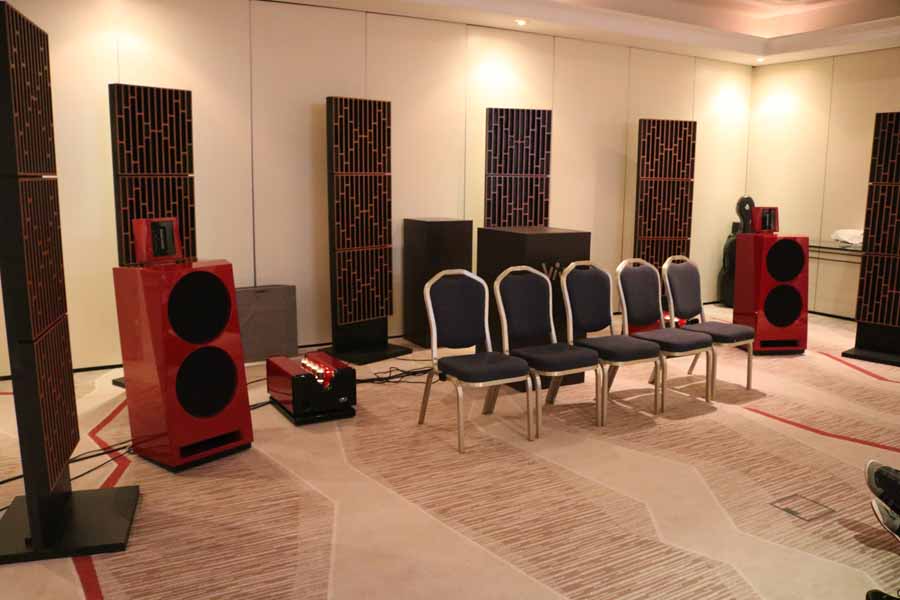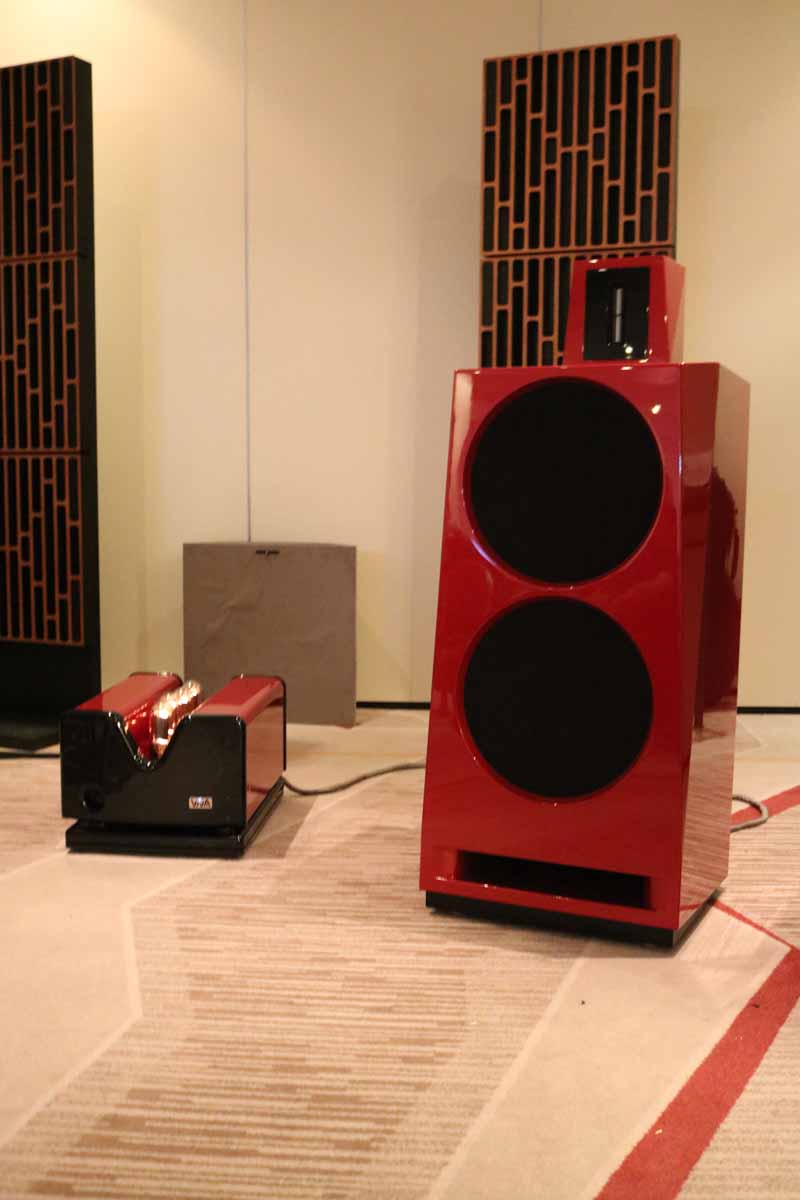 Total DAC, the awesome SoulSonic Hollogramm loudspeakers all wired with Tellurium Q's latest cables, Statement…expect a review in early Autumn. The sound in this room was something else displaying effortless power and a concert hall-like experience. We first came across these in Warsaw and once again they did not disappoint.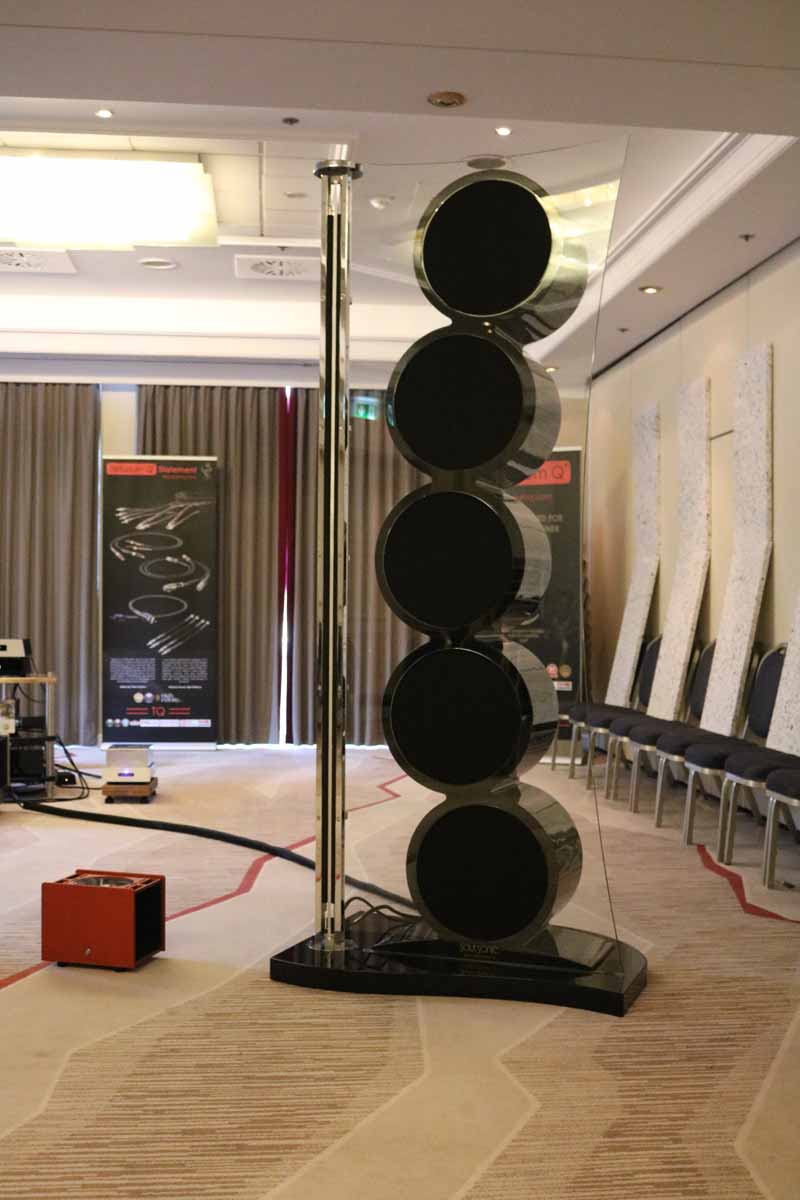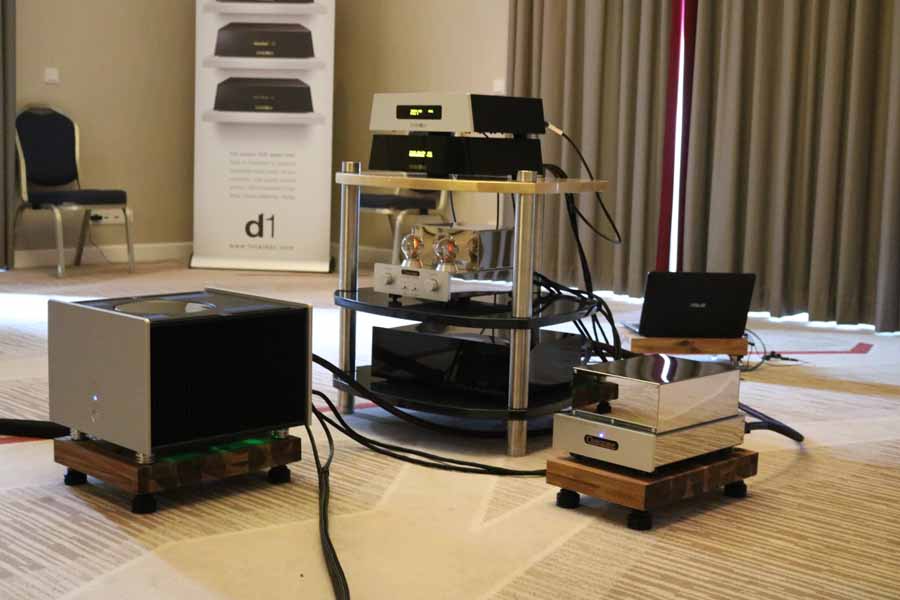 Kroma Audio, CEC CD Player, Tech DAS turntable (again) and VAC electronics.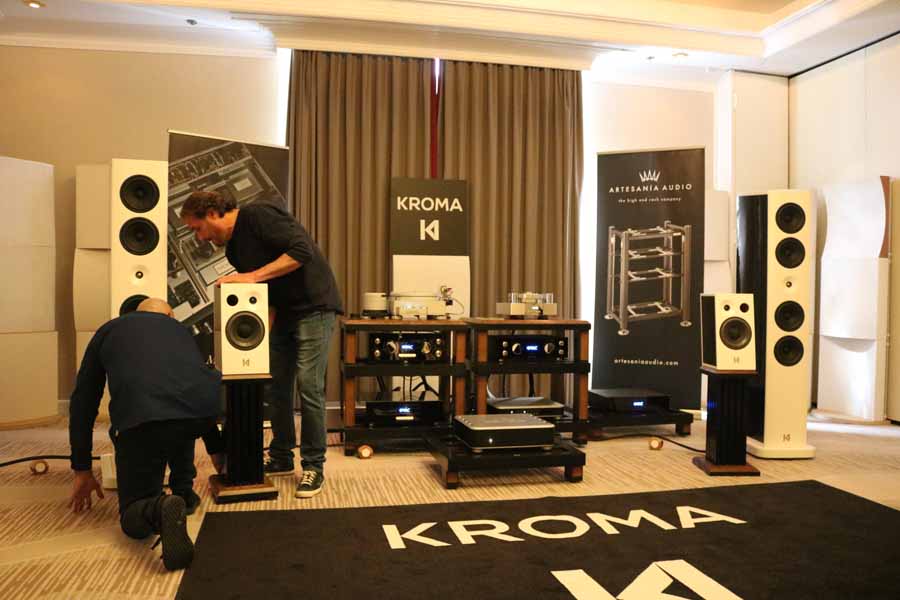 I'd really have liked to see Fyne audio at the main High End at the MOC where many more people could have enjoyed their speakers. You can read our interview with Andrzej Sosna of Fyne Audio here.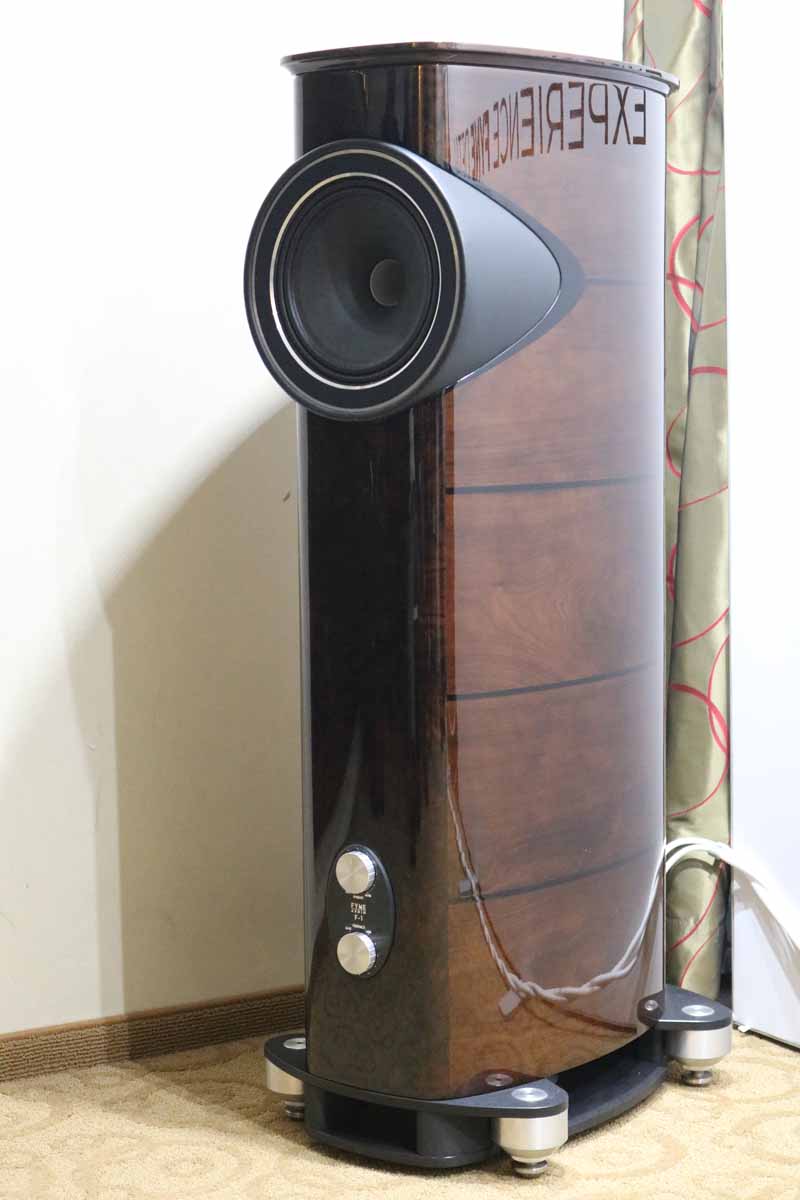 UNison Research and sister company Operas speakers. This was a lovely sounding room. I've heard Opera speakers previously and really love their presentation.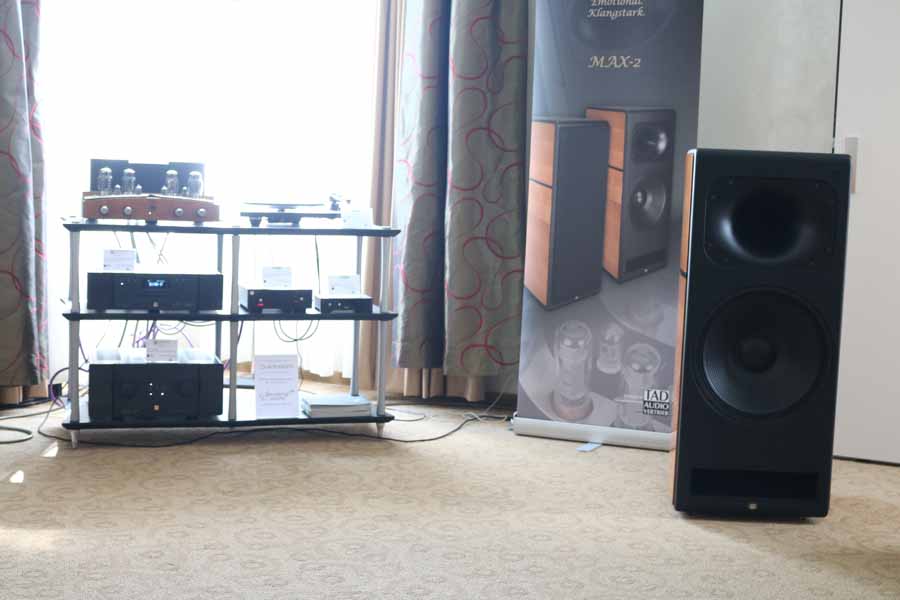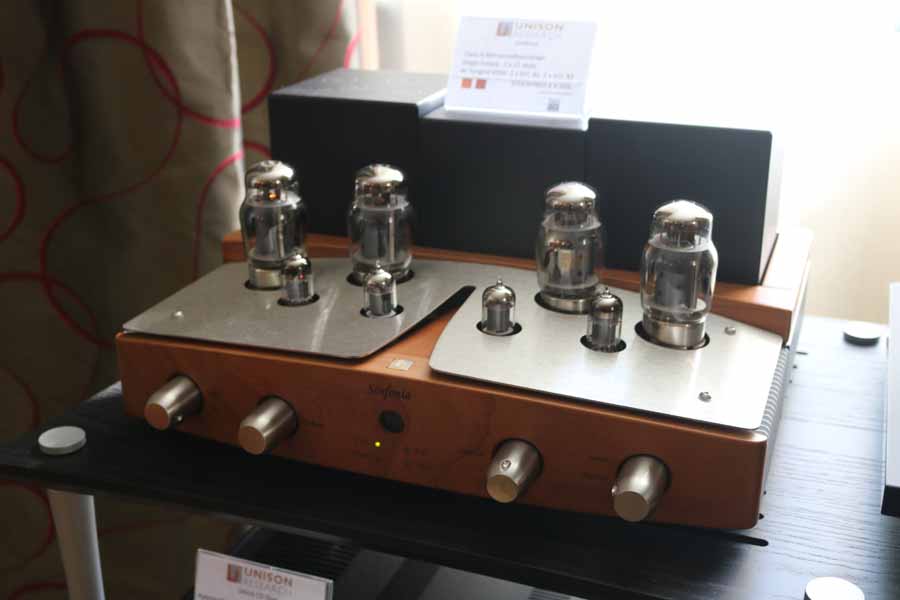 Cube Audio and Tektron. I love a single driver loudspeaker and relative newcomer Cube do them very well using their own drivers. The Tektron electronics look fab too. Good partnership this.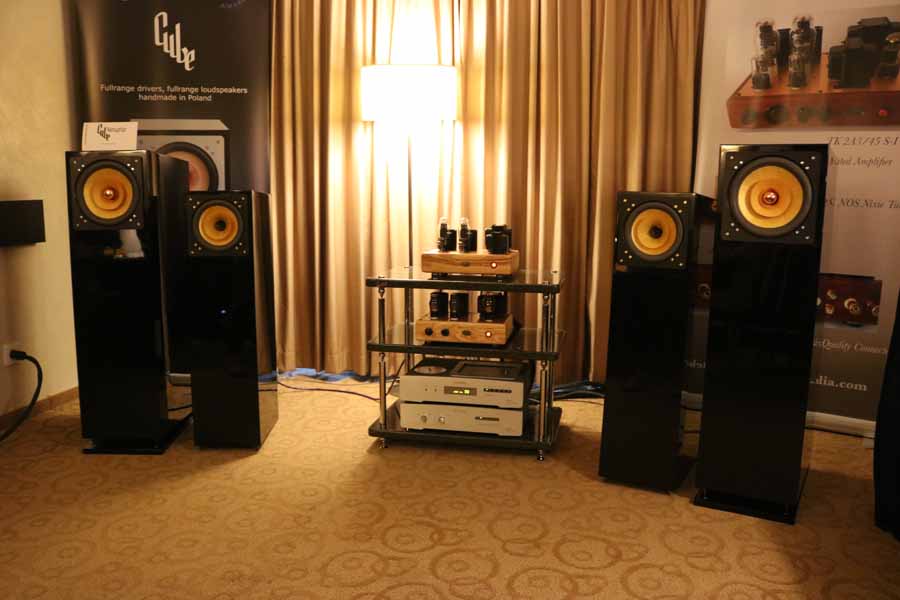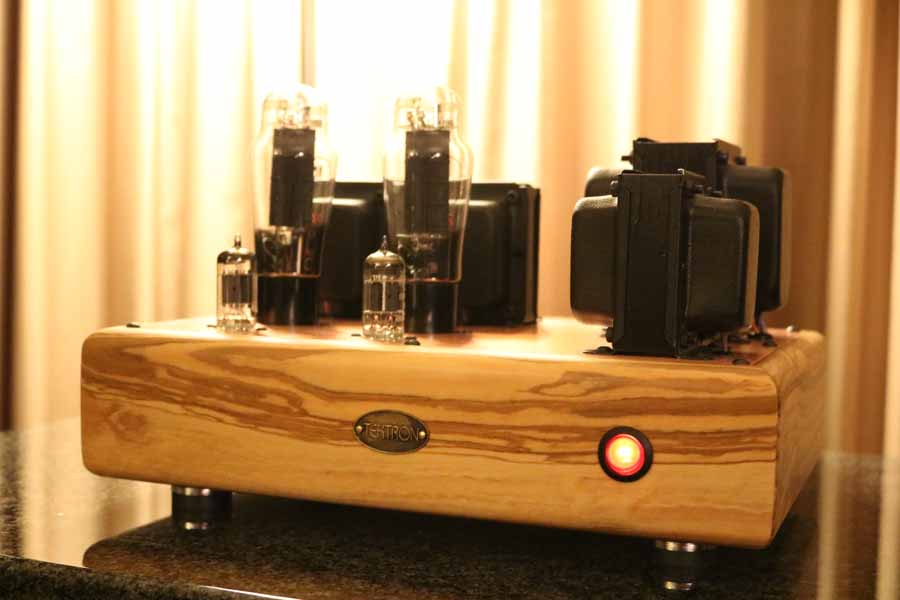 Another room at Hifi Deluxe using Tellurium Q cables, this time they are being used to feed a pair of MBL speakers.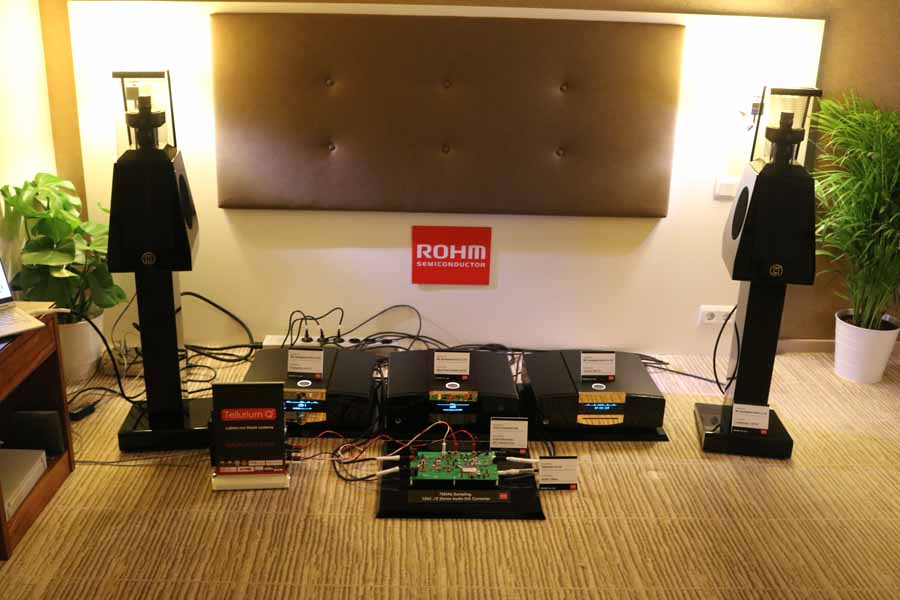 BAYZ Audio Curante loudspeakers looked very interesting. This is a full range omnidirectional loudspeaker using the patented Bayz Radial Speaker tweeter. Sounded great it has to be said but the guy in the room fiddled with his phone the whole time we were in there.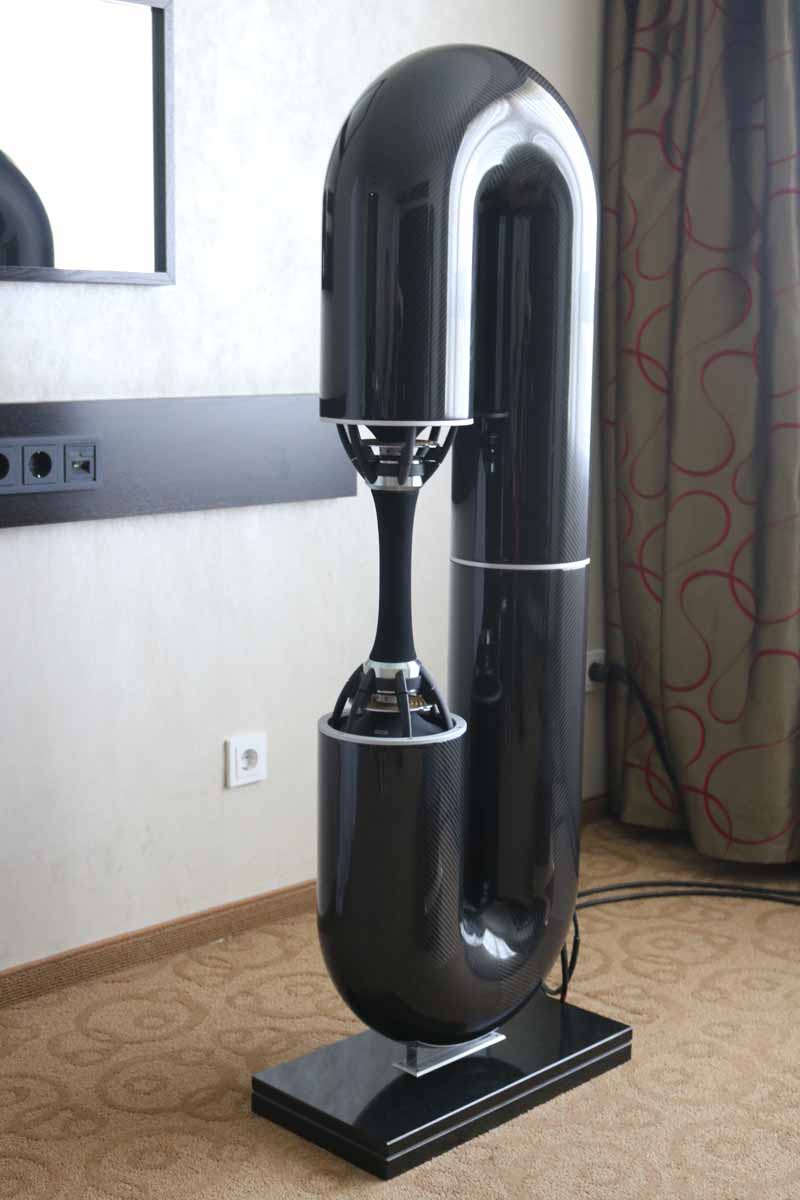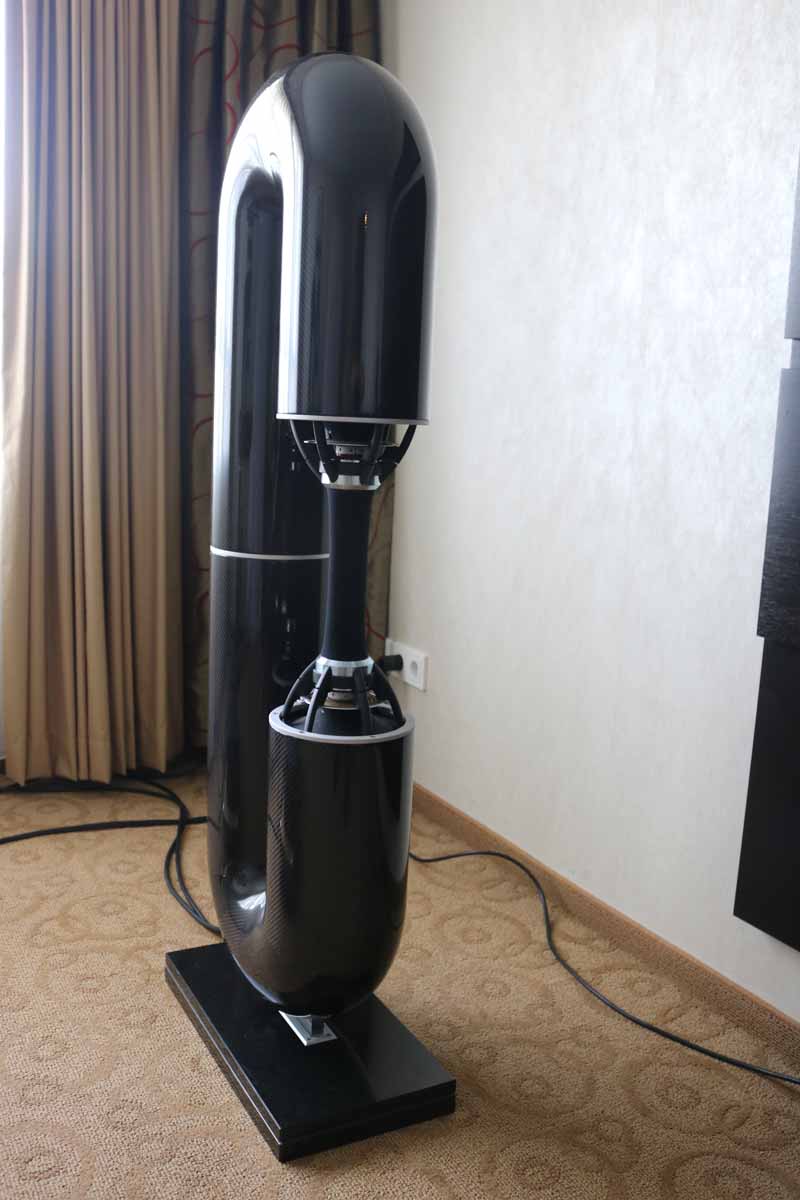 We loved these Volya Bouquets when we reviewed them, awarding them our Outstanding Product Award. You can read the full review here.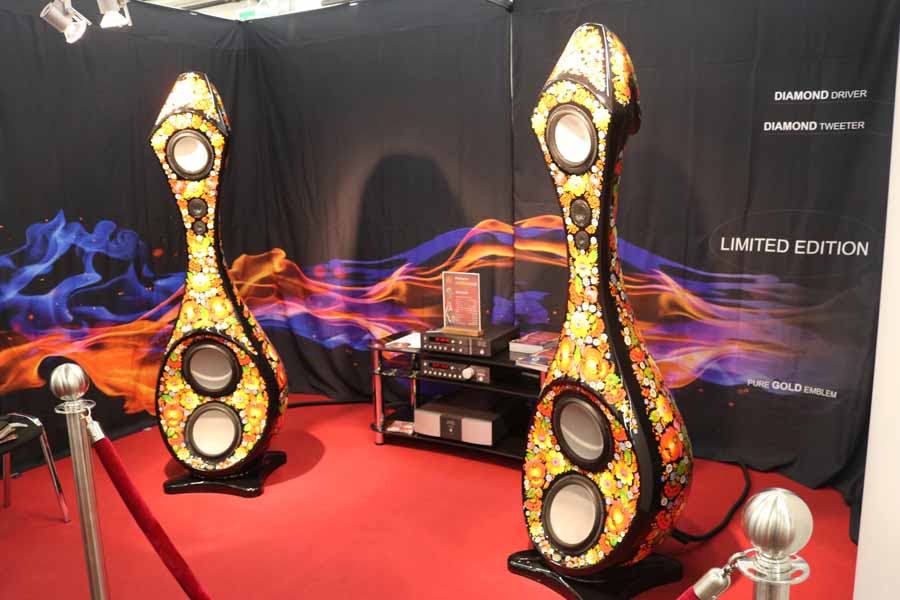 The latest racks from Hifi Racks showing neat cable management. No nonsense and very well built racks.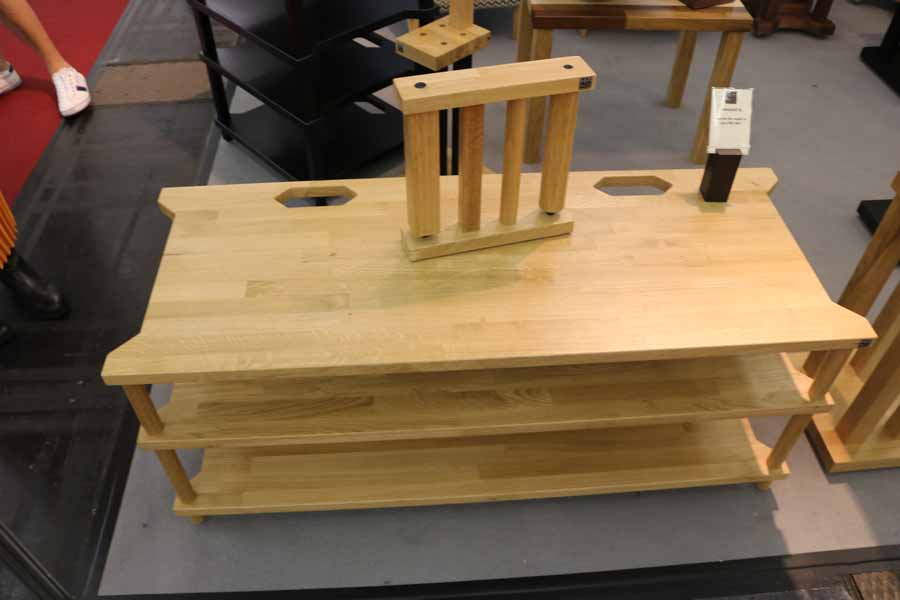 This is the Apurna company who make a small range of amplifiers including one that we had the pleasure of hearing when we visited them.
SOPRANO 29800€, EVIDENCE 45000€ and APOGEE 69000€. Read all about our visit to hear their 200K amps here.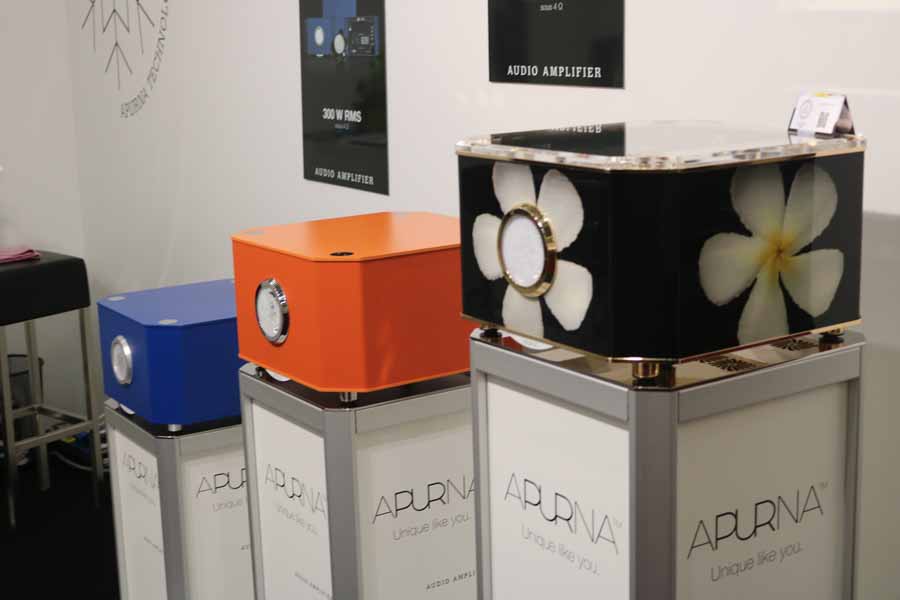 Audes Excellence 5 AMT loudspeakers along with their own electronics.
IsoTek were launching several new products at the High End Show including the Gemini, Syncro Uni and the Evo3 Nova. 
The EVO3 Gemini is a mains conditioning block that benefits from the same filter network as the EVO3 Polaris, reconfigured to feature just two output sockets rated at 10A. The EVO3 Gemini has a delta filter topology ensuring filtration of both Common Mode and Differential Mode mains noise, delivering power to two outlets, each one independently isolated to prevent cross-contamination of mains noise created by connected electronics. 13,500Amps of instantaneous protection is provided, safeguarding valuable equipment via IsoTek's sequential and repeatable protection system. Priced at £249.00 / €295.00 / $345.00, EVO3 Gemini will be available from July 2018.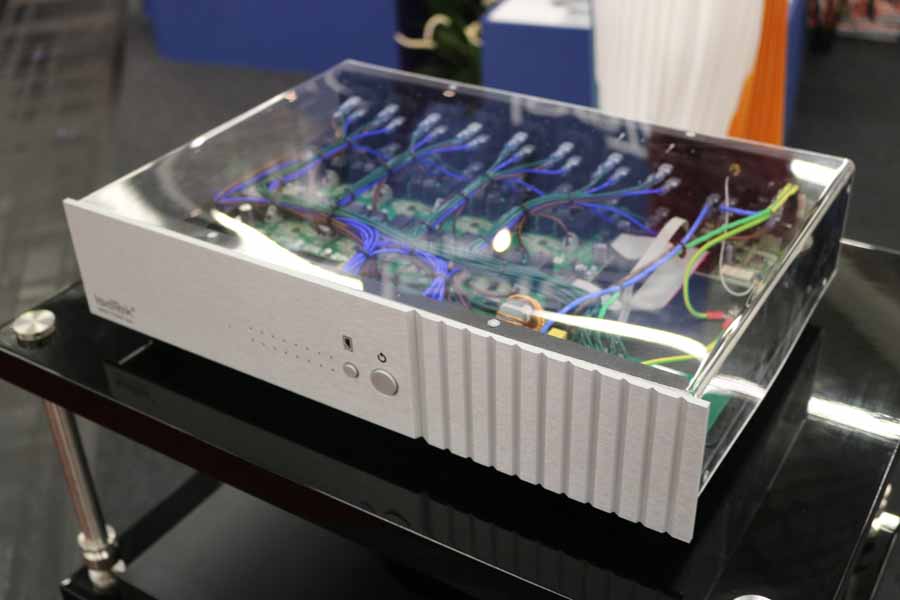 Now these speakers from Hofner were very interesting and sounded great. They are the brand new Hoffner H1
TAGA Harmony had new products at the show: Platinum v.3 premium speaker series including new drivers, crossovers built by Mr. Ogrodnik – a well-known Polish designer and reviewer and XLO internal wiring.  Also the TTA-500 EL-34 push-pull class AB vacuum tube amplifier, the HTA-800 hybrid (tube-transistor) amplifier, the HTA-25B hybrid (tube-transistor) amplifier and the TTP-300, TAGA Harmony's first  MM/MC phono amp.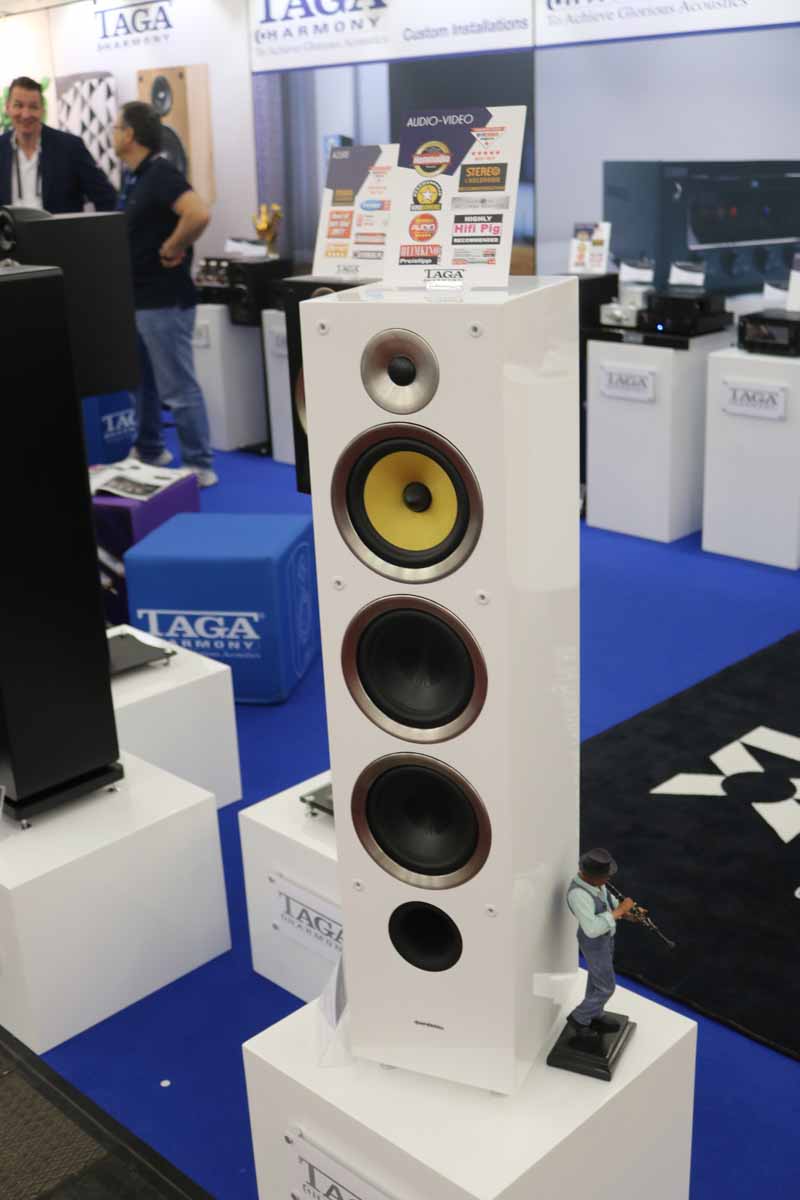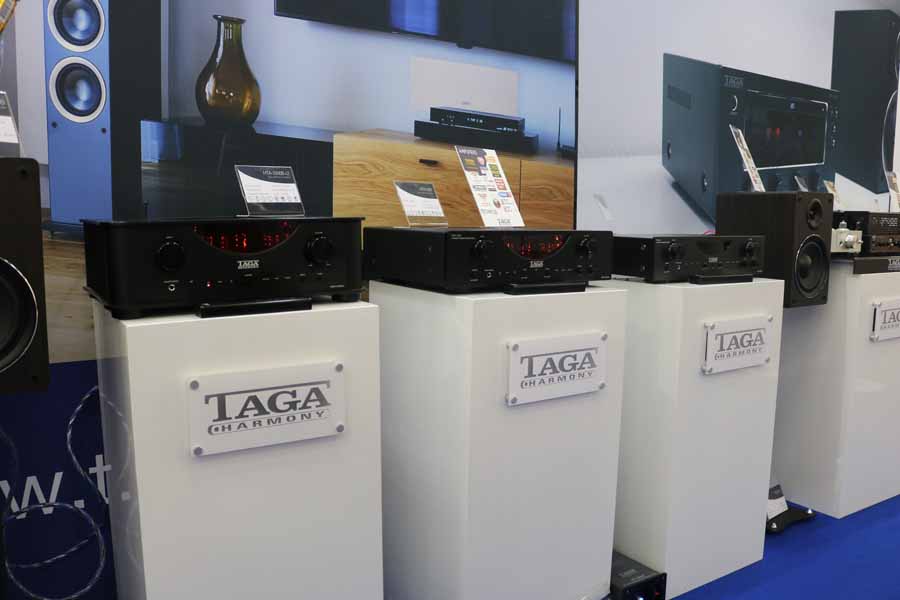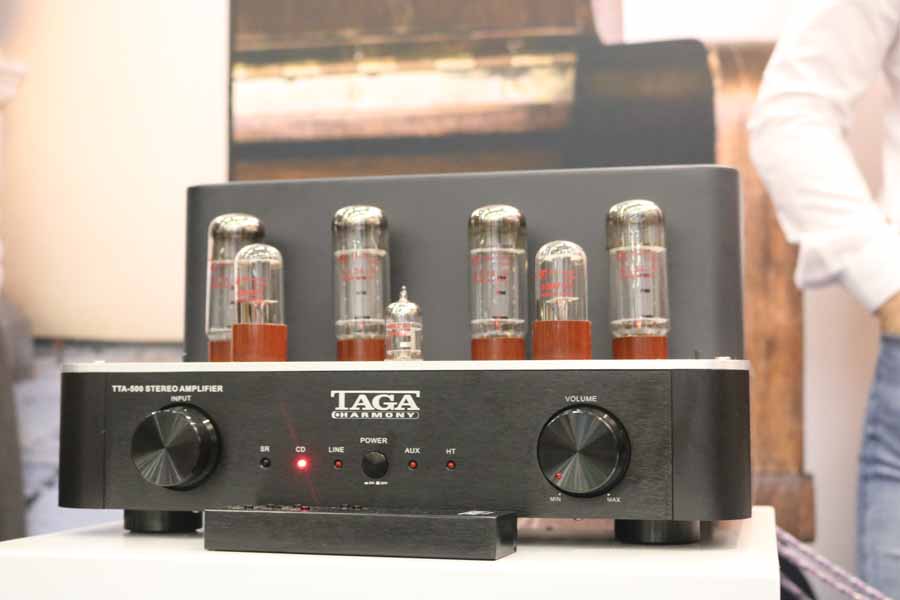 Nime Audio Design from Italy.
YG Acoustic speakers.
Interesting design here from Ecobox.
Falcon Acoustics make some very nice speakers indeed and here partnered them with Sugden amplification which sounded very sweet indeed. What really caught my attention was a non-playing ACTIVE LS3/5A which I reckon if it goes into full production will be a real winnr for the team.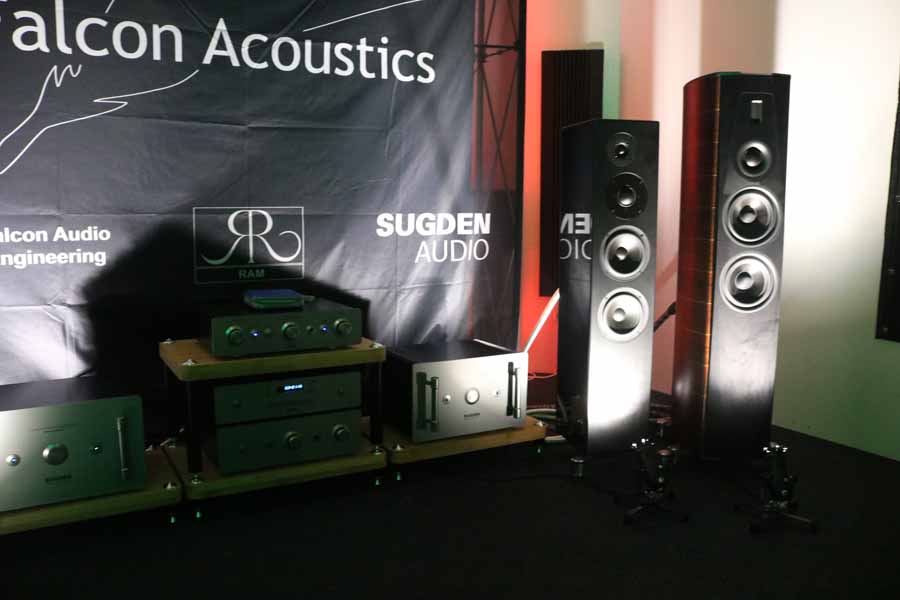 Fezz Audio and Pylon speakers proving a high end sound need't cost a fortune.
Lehmann Audio make exceedingly good products in my opinion.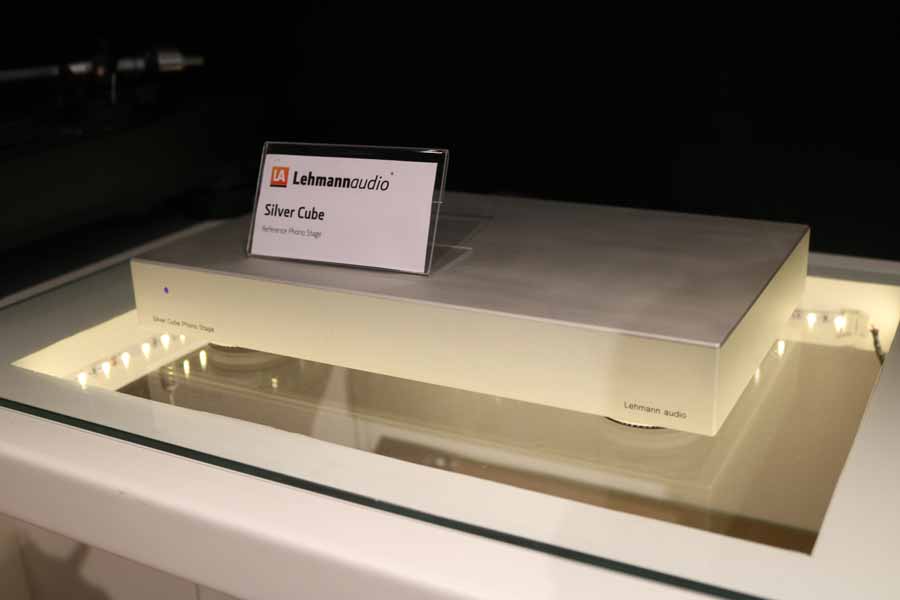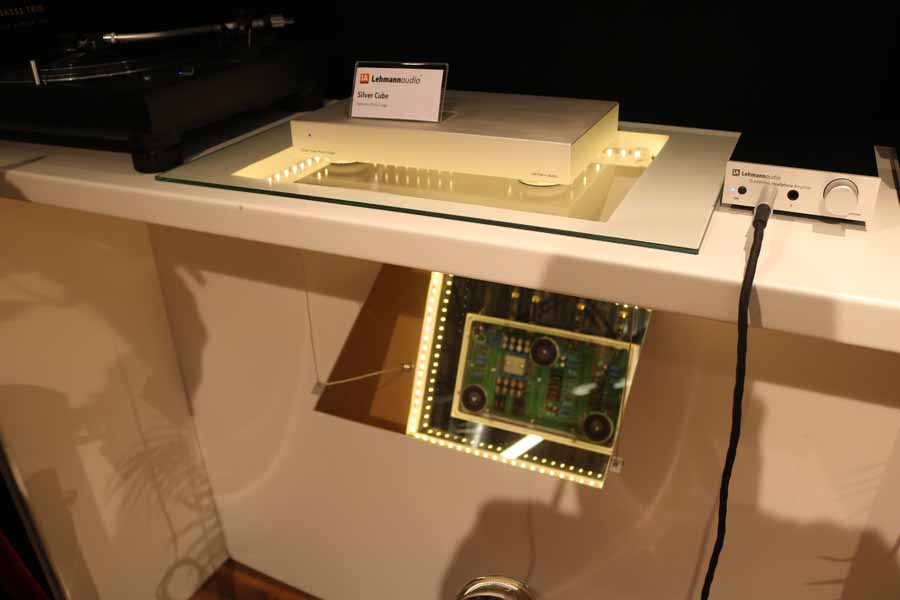 Cambridge Audio EDGE components. You can read all about this range that celebrates Cambridge Audio's half century here.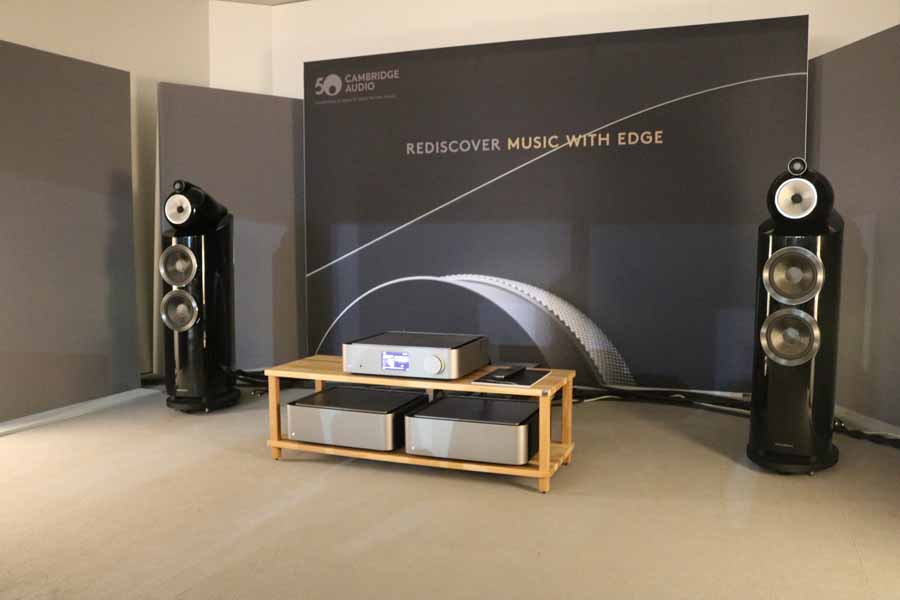 Copland.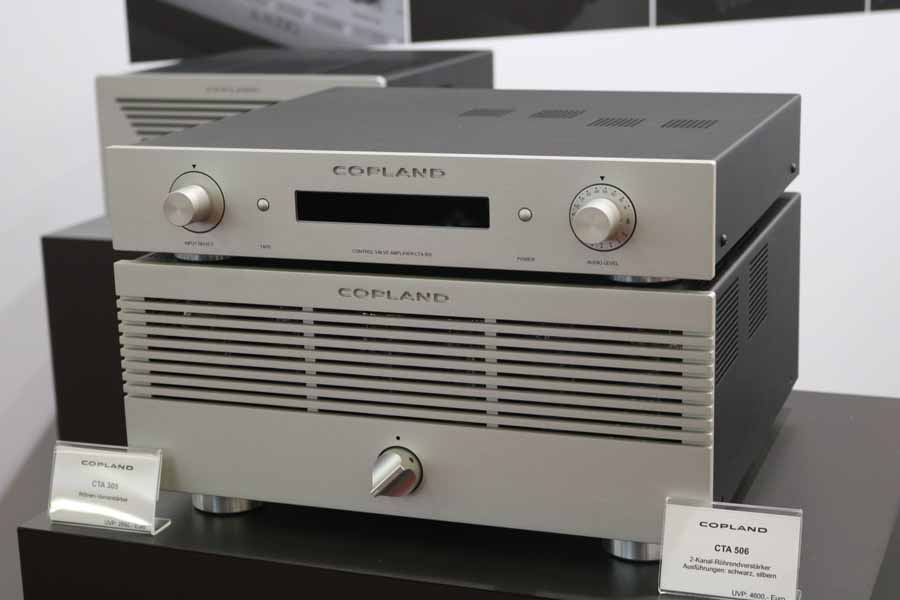 Line Magnetic.
Made by hand in an old brewery in Strasbourg this is B Audio's B DAC.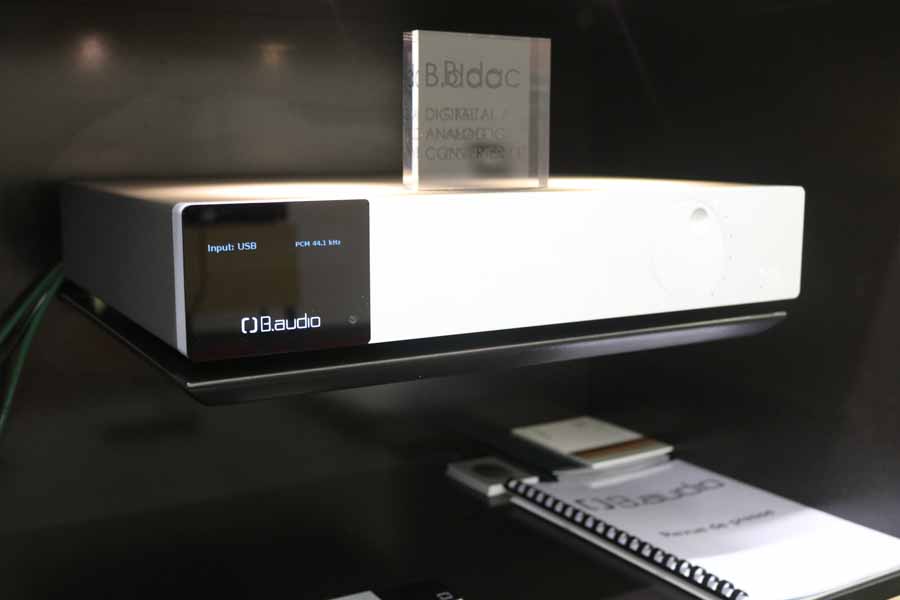 Audio Analogue.
Stupidly didn't get the name of this valve amp but it certainly looks the business with its WWII radio aesthetic.
This cute pair of boxes is the latest offering from Aeron; It's a two box pre and power amplifier with tone controls and will cost around €600. Hifi Pig is hoping to be the first in the world to review this and we are very excited to be doing so.
Atlas announced their new range of leather covered cables just as the show was opening. You can read all about them here.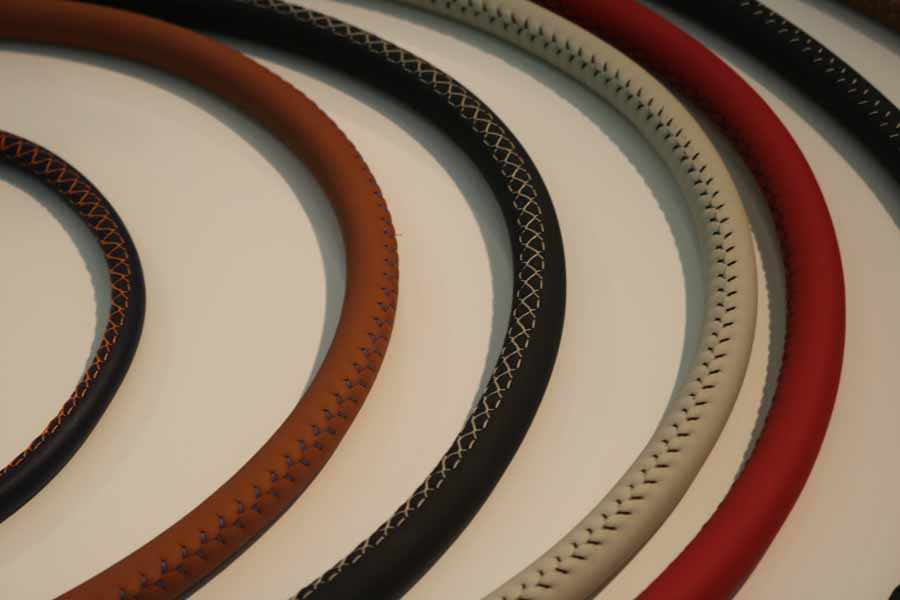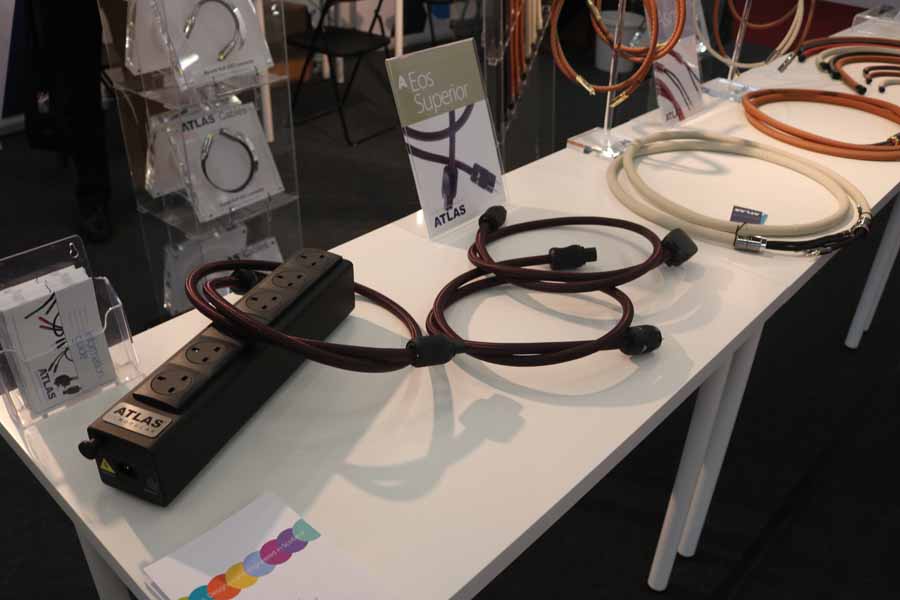 Audio Nec had a lovely sounding room.
Lawrence Audio.
Aequo Audio used the Munich High End show to launch their new Stilla loudspeakers that you can read about here. Shortly before the show they also announced another two models which you can read about here. We reviewed their Ensis speaker shown in the bottom two photographs and awarded them our Outstanding Product Award and so are really looking forward to hearing their new models which will be distributed in the UK by Steve at Ultimate Stream.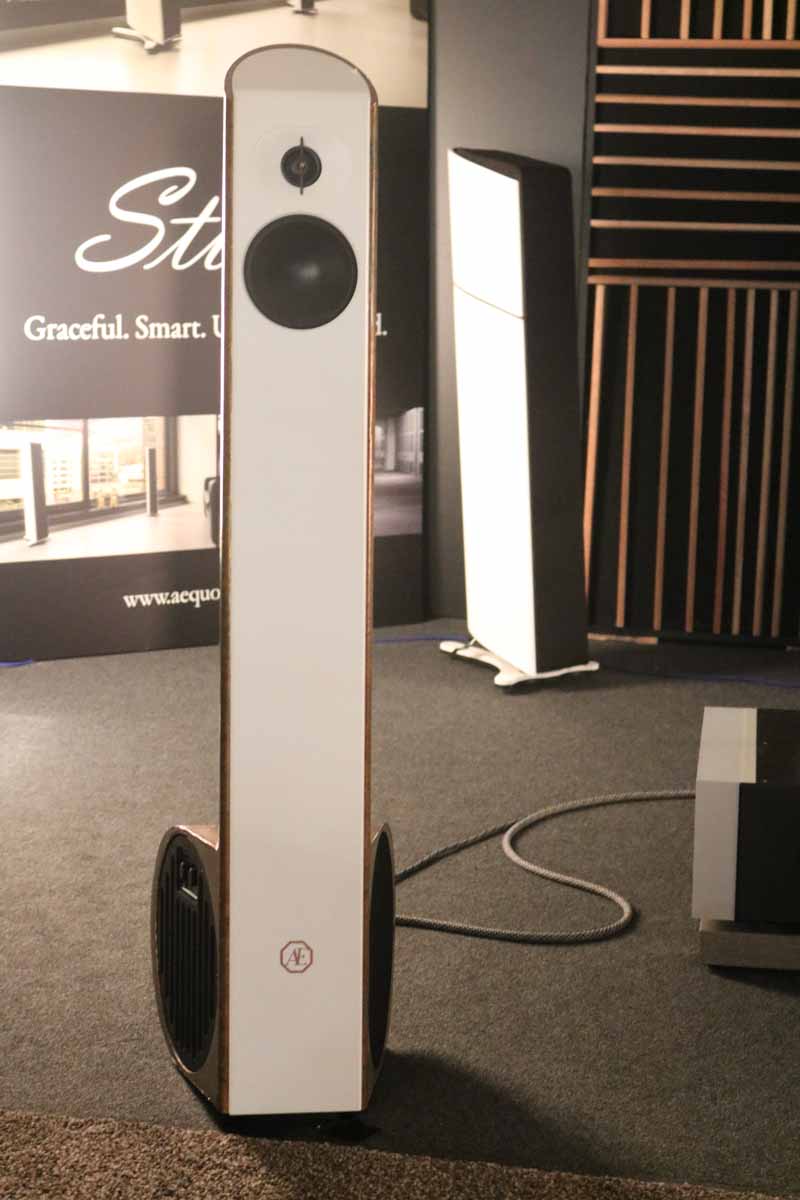 Pancin Art Technology VZ 1 speakers were certainly stunning to look at.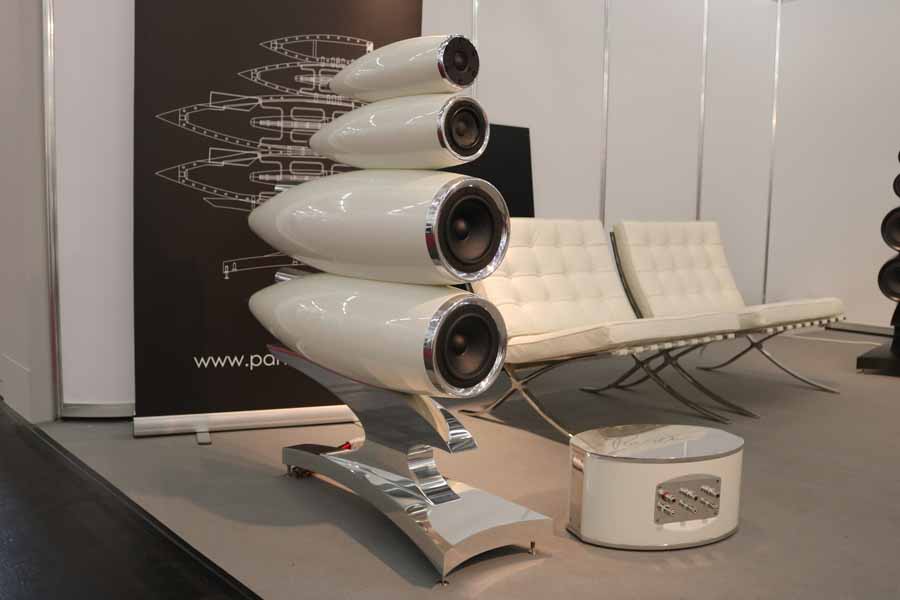 Audion valve amplifiers had a new headphone amplifier which Linette tried out and really loved at this year's show.
Quadraspire
ISO Acoustics Gaia footers were awarded our Outstanding Product Award when we reviewed them. If you get a chance to hear the dem of these then do. Expect a review of the new Orea very soon on Hifi Pig.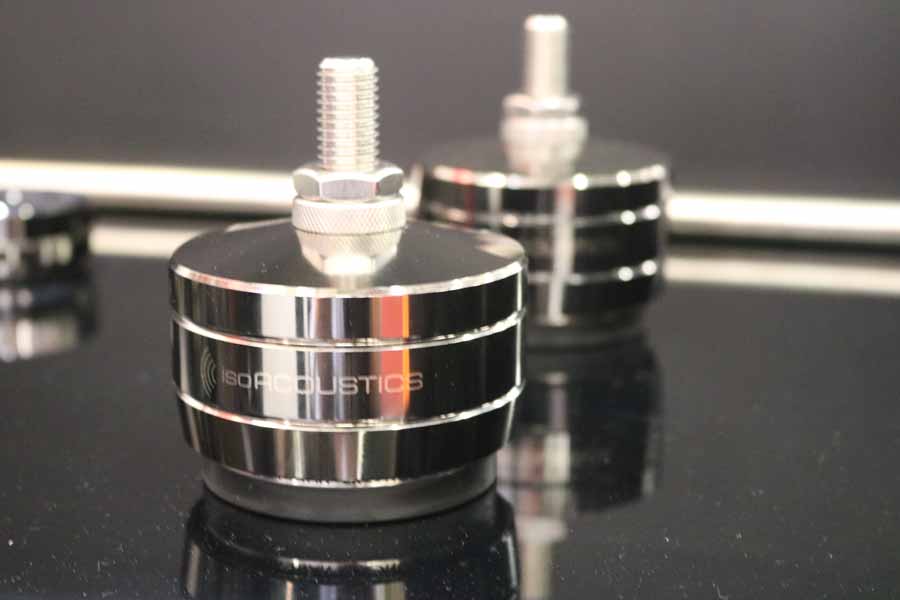 Viva headphone amp.
Brand new from Goldmund Samadhi wireless speakers.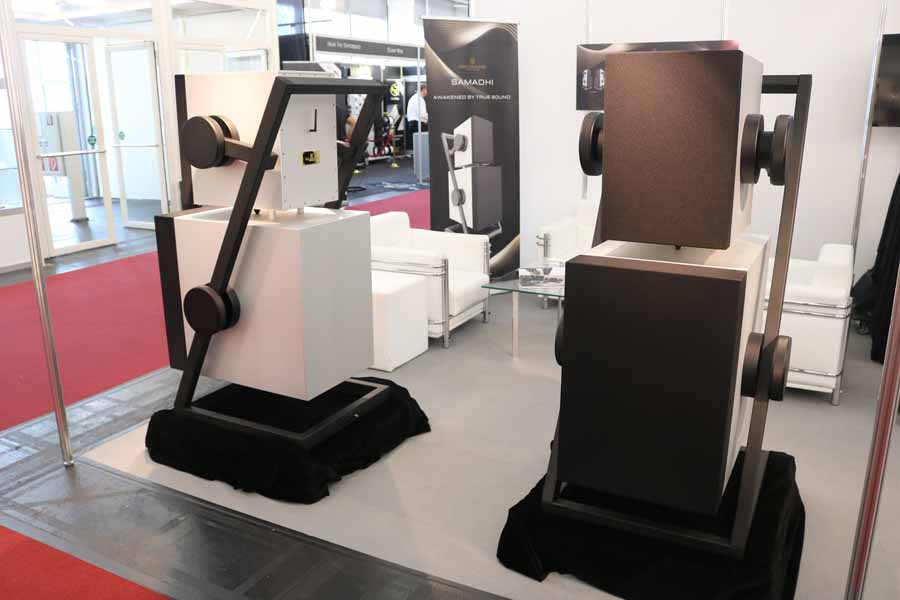 The Bespoke Audio Company were celebrating their birthday at the show and had a new step up transformer to show off.
Viola Audio Labs and Ocean Way loudspeakers.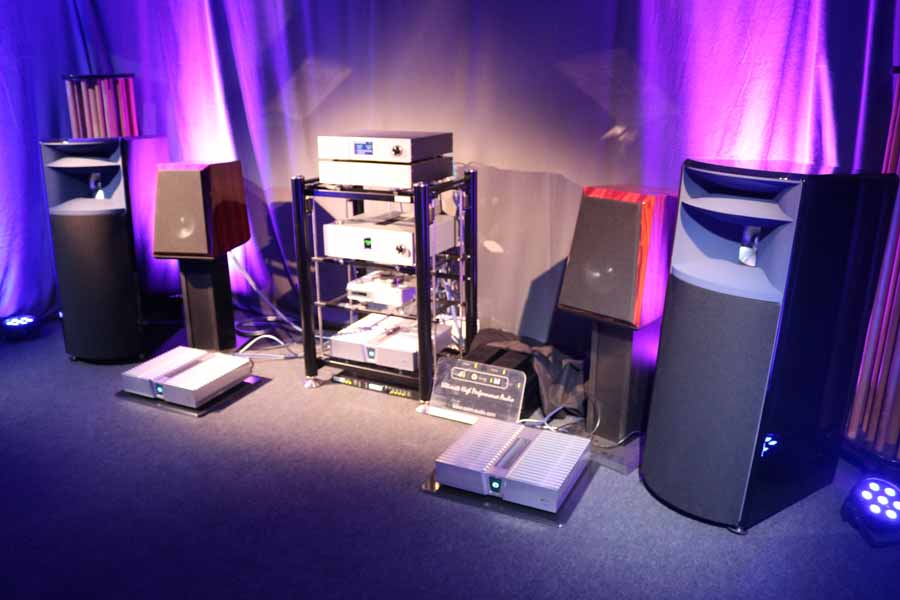 Block is a name I didn't know before the show but the build of this stuff for the very modest asking price is fantastic.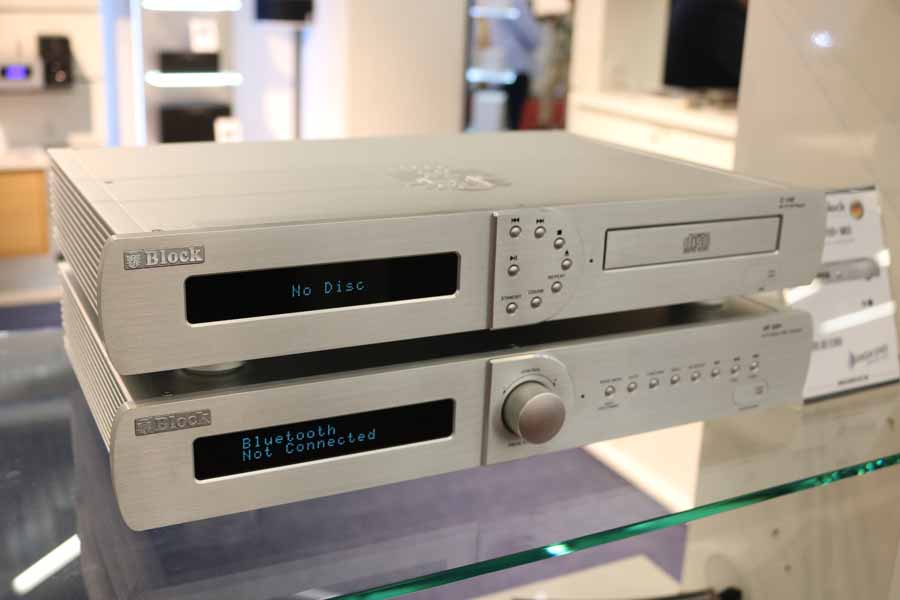 One of the most awesome systems I have ever had the pleasure of sitting in front of. ESD Acoustics and their "more than" $800 000 horn system that includes amps, crossovers, power supplies…and of course the speakers themselves. I dragged a few people to this room for a listen.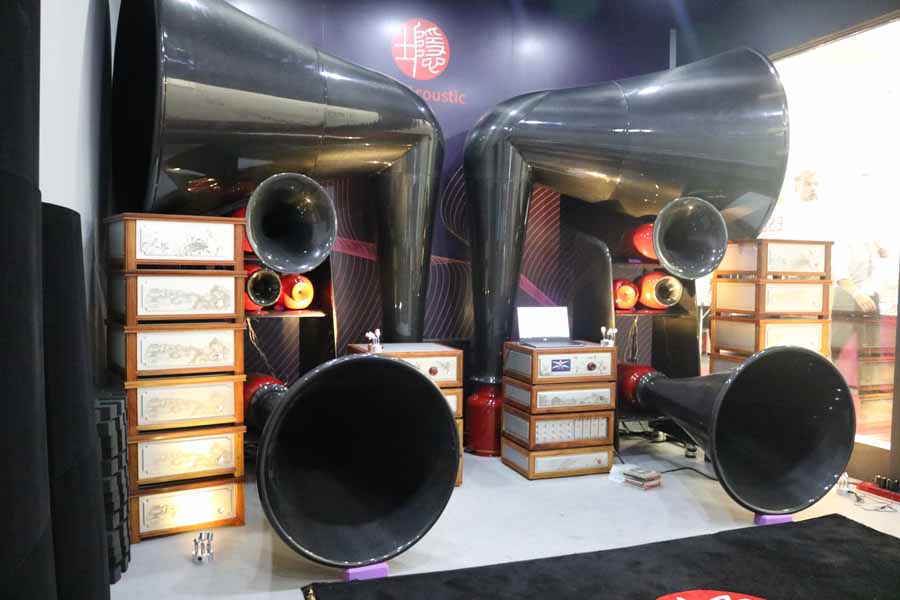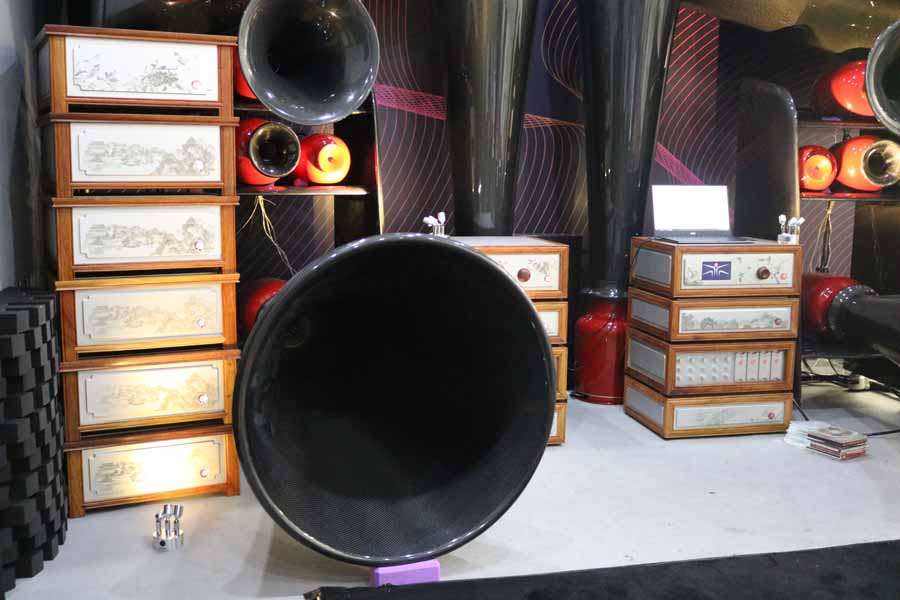 Mytek.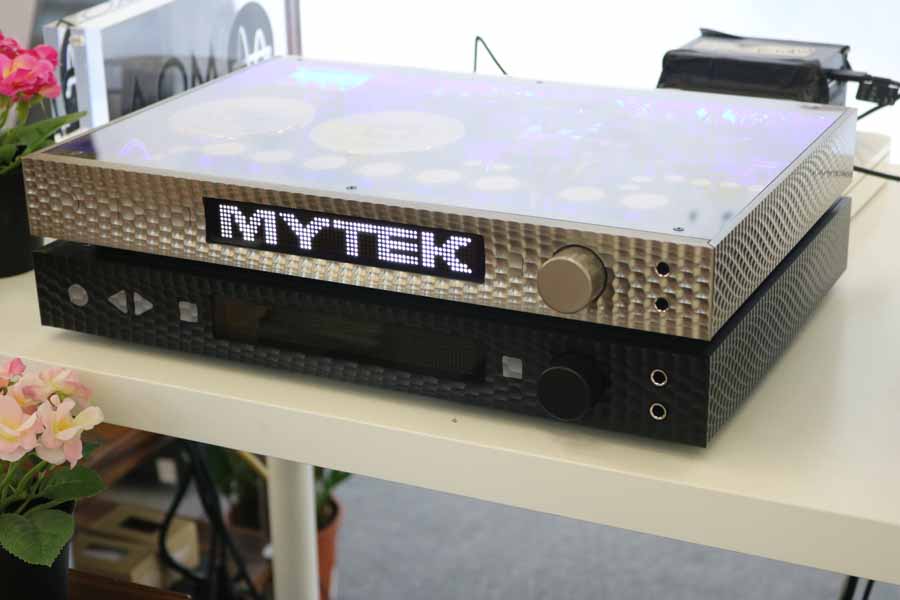 Torus make torroidal power isolators and conditioners.
Grandinote was as expected a great sounding room this year. Many will know this brand for its Magnetosolid amps but the loudspeakers are also made by them.