No matter how hard you try, how many (many, many) kilometres you walk and how long you spend at the show, there does come a time where you have to accept you won't see every single thing. But at Hifi Pig, we aim to bring our readers the most comprehensive coverage of High End Munich so on Sunday we were still enjoying snoofling around the rooms and halls for you! Here's my final sweep around the High End 2019, covering Moon, BMC and Amphion, Innuos, GIK Acoustics, Cabasse, Tellurium Q and Devore Fidelity, Bespoke Audio, Cardas, Borg, Diptyque and O2A, B.audio, Lehmann Audio, Cube Audio, Audiodinmica, Taylor Acoustic, Audium, Hifi Racks and Attacama.
Moon By Simaudio
Moon were launching a brand new product, the 860A v2 Power Amplifier. It's a  balanced differential dual-mono Power Amplifier which incorporates trickle-down technologies from the massive 888 Power Amplifier.
BMC And Amphion
We had only just visited BMC in Berlin three weeks before Munich, but still very nice to catch up with Carlos and his son (who was doing most of the demo's, very capably) and hear their system again. You will be able to read much more about BMC and our visit in the July edition of the Hifi Pig free, downloadable E-magazine. This was a great room as the Amphion team were also father and son, nice to see the businesses keeping it in the family for generations!
We have been talking a lot at Hifi Pig behind the scenes about the movement of pro-audio moving into home audio and the associated possible benefits to consumers, Amphion are doing it the other way and taking home audio into the recording studio and home studios. Sadly we didn't get a chance to listen to their speakers, but we've always loved them whenever we have had the opportunity.
Innuos
Innuos of Portugal are a firm favourite of ours at shows, with their professional team and great products…they do a very good demo as well. The Zenith Statement was sounding great in their system using B&W 802 D3 loudspeakers, Gryphon Diabolo 300 Amp/DAC, IsoTek Evo 3 Genesis power regenerator and Chord Music cables… and, of course, we spotted several rooms using Innuos servers.
GIK Acoustics
You do see a lot of different room treatment at Munich, but GIK are a name that the industry depends on and you find them in use in many rooms. Their static stand is always a good place to go for room treatment advice and tips from Dave Shevyn and Lukas Rimbach, the stand looking great with examples of how you can have your own images printed on their panels…like these cheeky chappies, who are actually Dave's dogs.
Cabasse
Cabasse are practically our neighbours from up the road, it was great to see how well received the new Pearl was, using a pair of these in stereo gave an excellent sound.
Tellurium Q And Devore Fidelity
Tellurium Q, unsurprisingly, had their cables used in several rooms at the show, but also had their own booth in partnership with Devore Fidelity of the USA. This was a fantastic sounding room featuring a range of the TQ cables and Devore Fidelity's Orangutan Reference four speaker system. The Tellurium Q cables used were Statement interconnects, speaker and power cables along with Silver Diamond power cables. Audiomat amplifier, phonostage and DAC were used along with a Frank Schroeder turntable and tonearm, Dynavector cartridge and Consolidated Audio SUT.
Bespoke Audio
British brand Bespoke had their usual, very classy looking stand. They really do have their branding and products just right. Lucy was demonstrating the care and attention to detail that goes into their preamplifier build.
Cardas Audio
There were several systems that we heard that were wired with Cardas Cables, they also had their own stand as pictured here…some of the nicest people you could want to meet in the industry, Angela Cardas Meredith and her husband Josh were doing a sterling job promoting this long-standing American brand.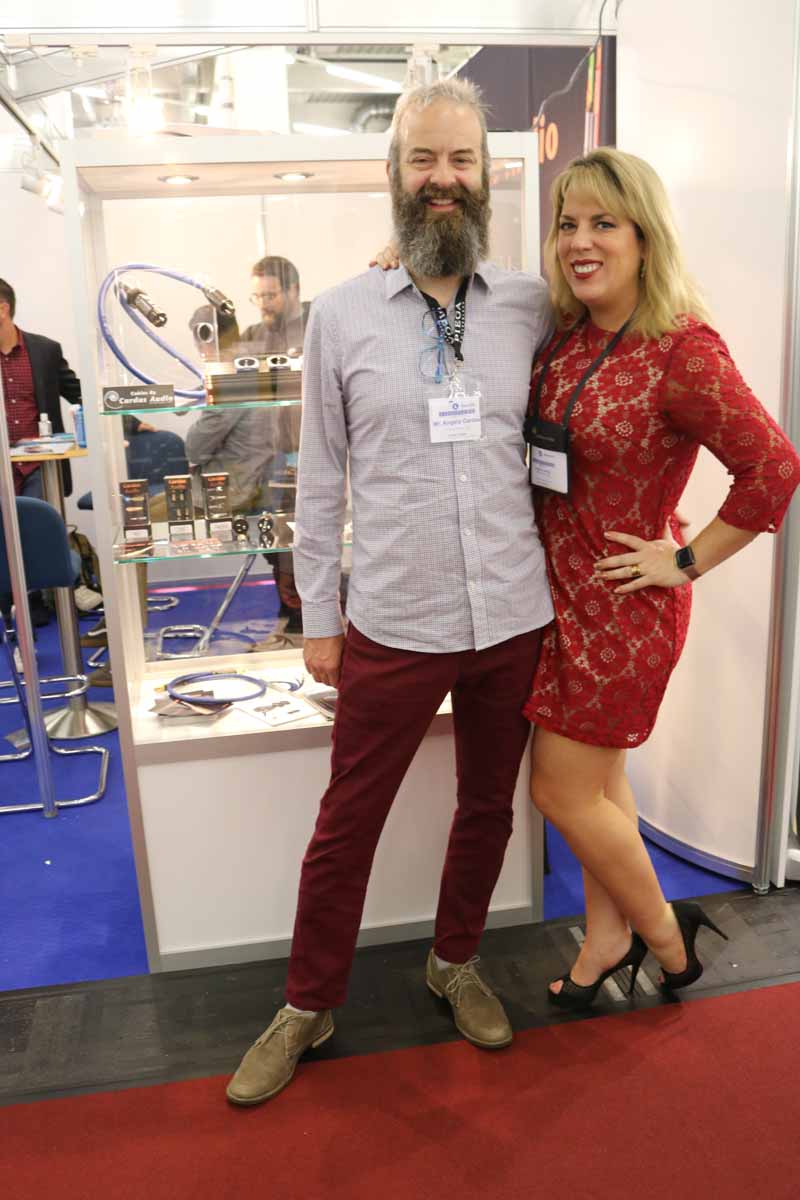 Borg
Based in Nuremberg, Germany, borg.audio design and manufacture very interesting looking high-resolution audio players and devices. With names like zoom and warp and a very different look, they certainly caught our eye. The design is really cool in the flesh, we particularly liked the new 'float' portable music player/amplifier. It's good to see a company not afraid to go for a design that breaks the 'box' mold.
Diptyque And O2A Cables
This cabin sounded really rather wonderful, very impressed with the clean sound.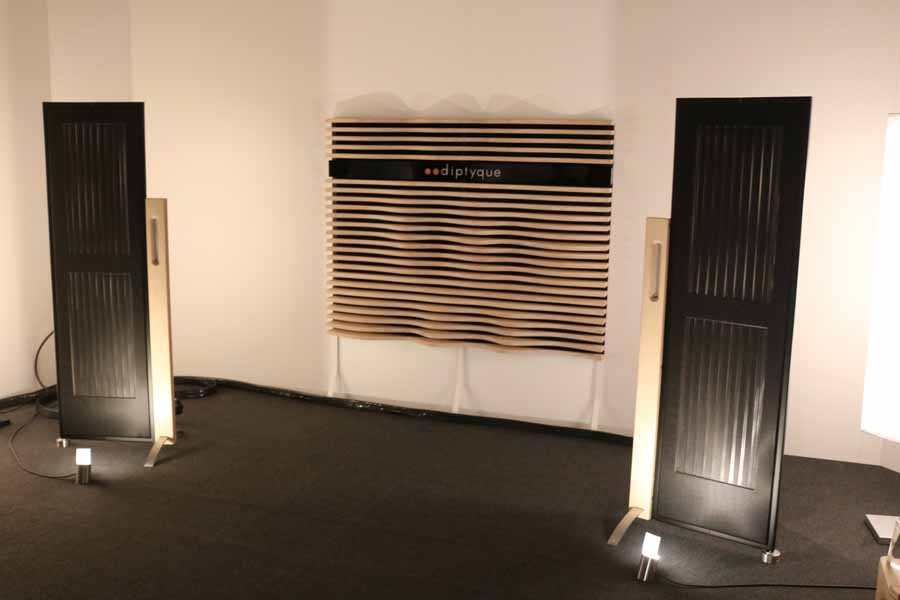 B.Audio
We first found B.audio on the Newcomers stand at the High End Show, two years ago…so it is brilliant to see the French company growing and expanding their product range. Located near Strasbourg in the east of France, B.audio was founded by brothers Cédric and Sébastien Bermann, in 2016, after 10 years of research and development under the guidance of a simple philosophy: getting the best out of modern technologies by overcoming their usual drawbacks rather than trying to artificially mask them. Their B.dac makes use of the break-through in-house technology called SJR "Source Jitter Removal". They have now added the enhanced version of the B.dac, the B.dpr, which integrates an analogue pre-amplification stage, plus the B.amp class AB "bridgeable" power amplifier. Expect a review of their 'Made in France' gear on Hifi Pig very soon.
Lehmann Audio
Lehmann are a big name that make really lovely quality gear in Germany.  Known for their headphones amps and phonostages, they always attract a crowd to their Munich stand.
Cube Audio
Polish full-range driver and loudspeaker manufacturer, Cube audio, had a fab sounding booth at the show this year.
Audiodinamica
Gianluca, Francesco and Angeleo are the trio of guys behind this Turin based Italian company. They have a really refreshing approach to audio design, with their solid and stylish BeCube range of electronics. Last year on the Newcomers stand we discovered their BeCube Power, the BeCube DAC, BeCube Line amp and BeCube Phono. This year they have added the BeCube Headphone amplifier and we chatted about other new products that they are developing, including loudspeakers, to complete the system. I really love these little cubes, they are stylish and practical in equal measure and definitely audio products for the future. I predict seeing a lot more of them in the coming months.
Taylor Acoustic
Hungarian brand, Taylor Acoustic, brought their hand-made loudspeakers to Munich which featured in a system with Chord Electronics and PS Audio in their demo booth. They launched two new models at the show to celebrate their 21st anniversary, Concert 120 and Classic 90 (standmount). I really enjoyed the sound in their room, in fact I am often amazed at how these booth's in the halls can get a better sound than in some of the bigger 'proper' rooms upstairs. Their beautiful wooden speakers looked and sounded very nice indeed.
Audium
Audium from Berlin had a great sound in their listening booth, nice and clean and not overblown. The Audium Comp 9 speakers were paired with Atoll electronics, just a pity we missed out on a longer listen later on with Klaus's special playlist!
Hifi Racks
Hifi Racks were showing a great range of their solid wood, British made racks and Hifi furniture. Always popular and such a nice team of people.
Attacama
More racks from Attacama, and their new range of cables.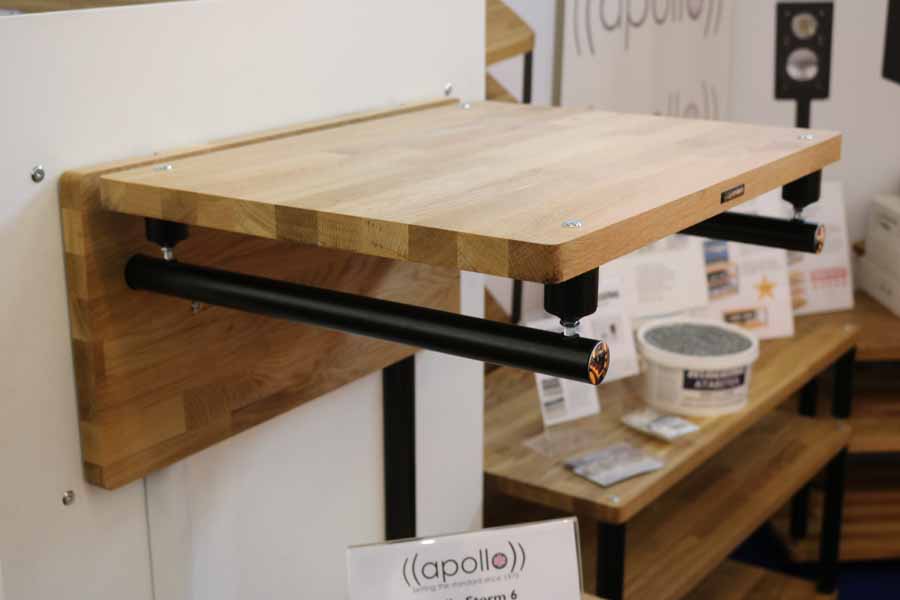 Linette Smith
Click the pink links below for all the High End Munich 2019 coverage from us!