The Bristol Hifi Show is, without doubt, one of the highlights of the Hifi calendar and is VERY popular with industry folk as well as visitors, with a long line of people queuing to get in when we arrived around twenty minutes before doors opening on the Friday. It's a difficult show for us to get to and involves a couple of long drives and an overnight ferry but to miss the show would be somewhat remiss of us. The organisation of the show is second to none with the press being very well catered for as well as visitors. The excellent and free show guide has brief information about all exhibitors and several very useful floorplans to allow you to easily navigate the many rooms of the show. Facilities at the Marriot are good too with a good bar area where we met brands and readers alike, a restaurant and several areas where refreshments were available.
Of course, this year's show had the threat of Corona-virus hanging over it, but the organisers were very professional about all this and sent out a memo to all exhibitors asking them not to send reps that had been to countries/areas with recorded infections or were displaying any symptoms of the virus or flu-like symptoms – mostly, this was adhered to we believe. Given the numbers we saw and the fact that rooms, corridors and the bar were consistently busy, we don't believe that visitor numbers will have been affected too adversely at all. One thing we did certainly notice was that the demographic of visitors has changed slightly and there was a good number of couples at the event and chatting to a handful of these couples demonstrated that audio in the home is no longer the preserve of the "man of the house" and is, quite rightly, becoming somewhat more inclusive. This more inclusive vibe is an excellent sign for the industry as a whole and it is on no small part down to the effort that brands have put in to make their products (and their rooms at events such as Bristol) more welcoming and open. A couple of rooms that stood out on this front was the Auden Distribution room and the always excellent and cool Dynaudio room. One thing we have noticed of late and discussed with a number of people was the visibility of Hifi systems in mainstream media from magazines to television with one person remarking that this is doing a great job in normalising proper audio in the home. Another excellent move for the Hifi industry as a whole.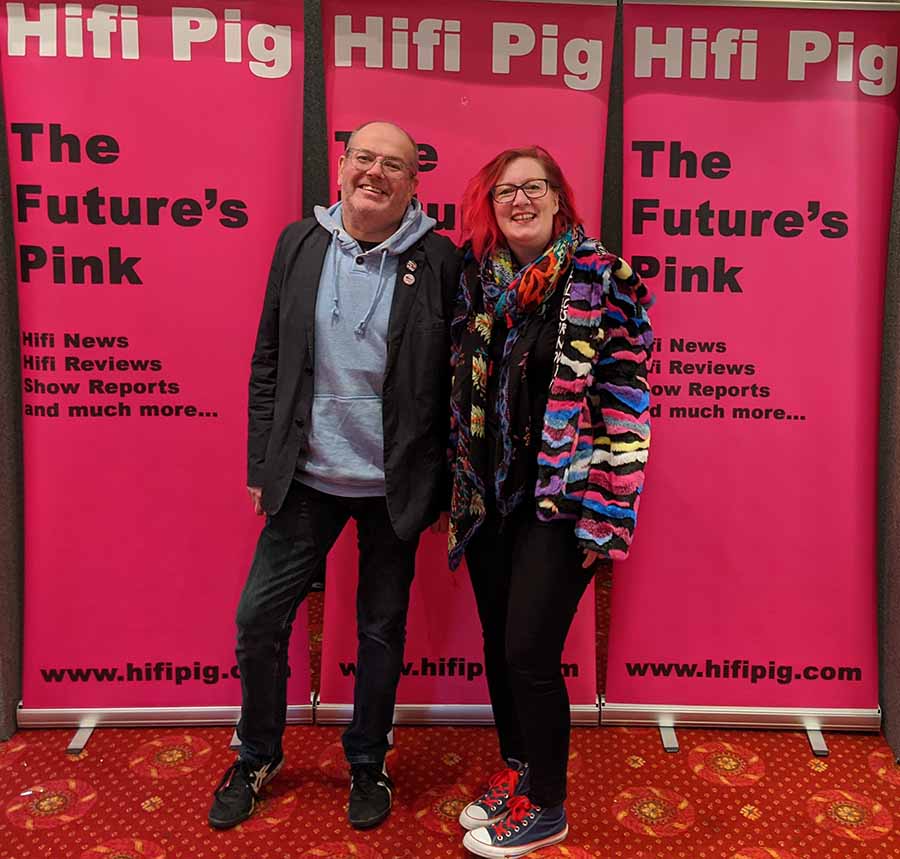 It was also really good to hear that our continued efforts to encourage exhibitors to widen the scope of music played at shows away from the usual Keith Don't Go and Take 5 fodder with many rooms playing a really good selection of tunes you'd actually want to listen to at home. Again, this is an excellent development that we have been quietly (and not so quietly) campaigning for in the background for a few years now and we heard everything from Metal to Acid Techno to Goa Trance with most rooms being really open to punters requesting particular records. Genuinely we fully believe that this is a very positive sign for the industry as a whole!
So, a massive well done to the organisers of the show and also, and I think a lot of people forget the amount of effort a show takes to attend and put on, to the exhibitors at the show who put on some fantastic rooms and whose pre and post-show communication has been absolutely brilliant.
So, here it is, Stu and Lin's Big Report from The Bristol Hifi Show 2020…
PMC
Having visited PMC HQ last month, we knew that there was something very exciting to come from them at this year's Bristol Hifi Show. They used the show to launch the new and updated series of their ever-popular PMC twenty5 series of speakers, which were launched back in 2016 to celebrate the British company's 25th anniversary.
The new PMC twenty5i series of loudspeakers sees the popular line get a fresh update, with improvements both internally and cosmetically You can find all the info and pricing on the new range here in our news story.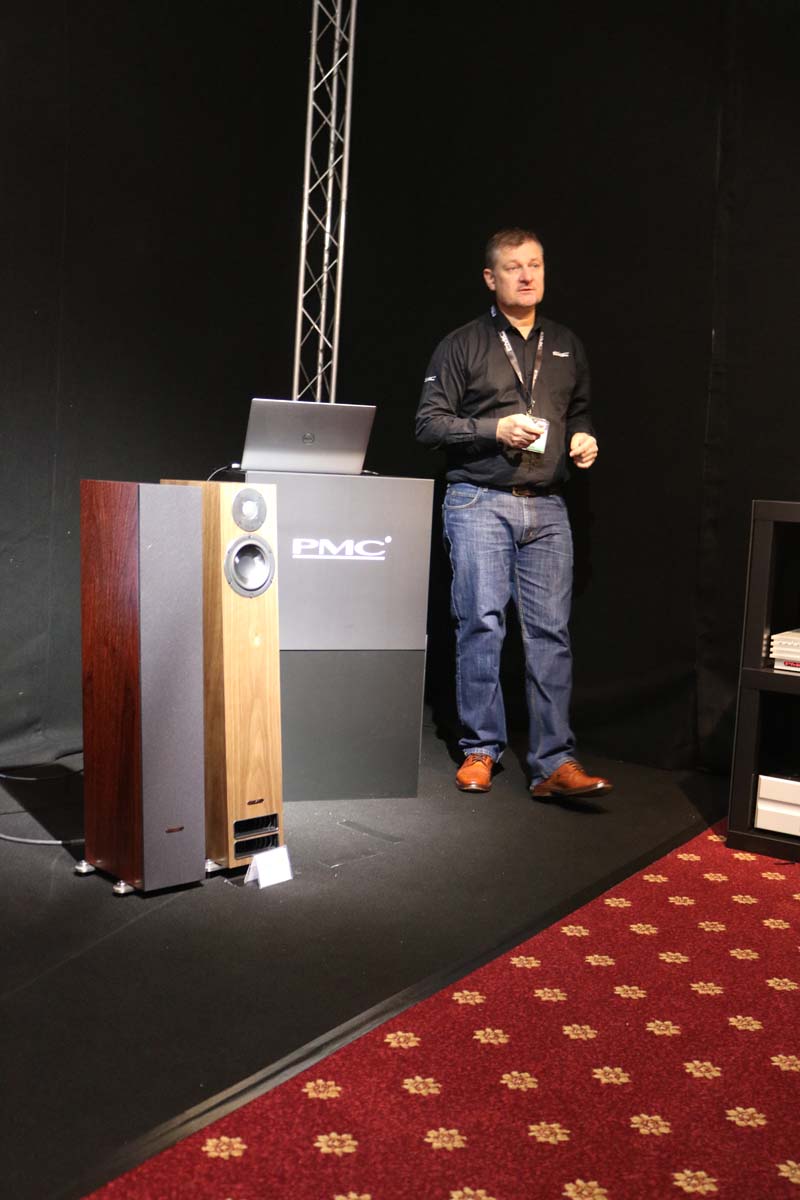 We were introduced to the new twenty5 23i floorstander at the press conference, alongside the original twenty5 23 (the biggest seller of the line), and treated to a direct comparison between the two.  Even with just a couple of tracks including 'Un jour de difference' from Canadian singer Susie Arioli, it was possible to hear the difference the upgrades had made. The twenty5 23i gave a much more open and expansive sound, with the breathy voice of the singer even more natural than with the original version of the speaker. With the next track from Teitur, the depth and natural sound of the bass was clearly evident. PMC'sstudio heritage always comes to the fore with their home speakers and, with this new 25i series, has been given a gentle polish to make them even more 'home-friendly'.
The subtle upgrades to the finish of the new speaker give it a very fresh, modern look, notably the elegant silk finish, new tweeter unit and grille and brushed steel backplate…slight tweaks that bring the range bang up to date.
PMC also won the Clarity 'Best In Show' Award, on Friday night…Peter Thomas and the team seemed very happy about this when we saw them after the awards!
TECHNICS
After a day full of interviews and meetings, Technics had a treat in store for us in the form of some serious tunes of a Dub and Drum n Bass variety. This was sheer fun as we listened to records on the SL-1500C Direct Drive turntable with the SB-G90 floorstanding loudspeakers.  Though we didn't get to hear the new SL-G700 Network and Super Audio CD player, I believe one will be winging its way to us very soon.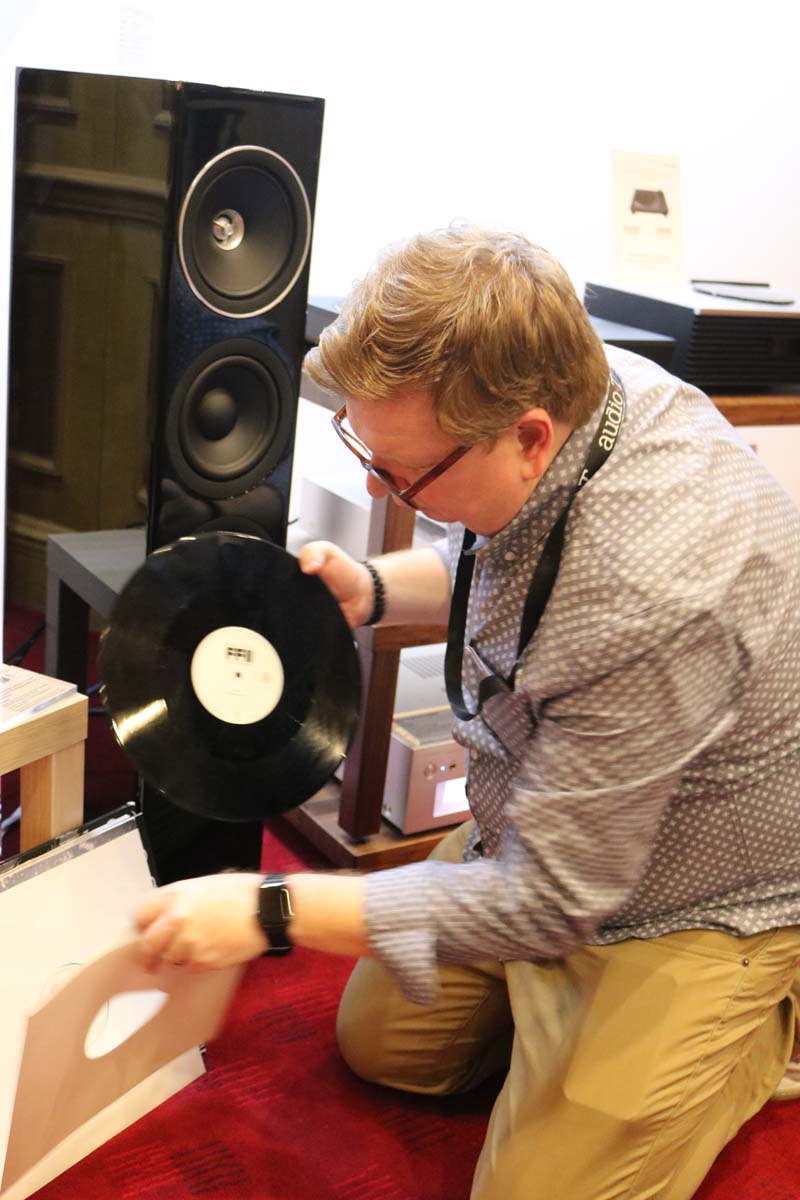 This room was the perfect example of playing different music to delight the crowds, check out the grin on this pair of young chaps who were absolutely loving it…as much as us old ravers were!.
HARBETH
British loudspeaker manufacturer Harbeth always attracts a crowd…to the extent that it is often impossible to get into their room! They had two rooms at Bristol and both were packed back to the door with crowds, both rooms were mid dem with Chris Kelley running one and Alan Shaw, Mr Harbeth himself in the other.
Harbeth were running the C7ES XD speakers with a Marantz CD player and a Hegel H390 amp in one room, and, in the other room they their P3ESR XD speakers with a Quad Artera Solus and also a Marantz CD player with the older Hegel H360 amp.
HEGEL
One of the best Brand Ambassadors that you will ever meet, Johan Coorg, was running the dem in the Hegel room, presenting the Norwegian brand's  H590 integrated amplifier with KEF LS50s.  Unusually he was playing classical, not my usual cup of tea, but the sound was impressive and emotional.
ELAC
A nice discovery in the ELAC room was their new Debut Reference range of speakers. The bookshelf/standmount DBR62 were playing when I was in the room. 'Papa was a rolling stone' sounded fresh and lively but with great control. They looked stunning too with modern styling in white and oak…I was really surprised at the price, just £500 for these beauties!
LOCKWOOD LOUDSPEAKERS
Not a name I knew, but one with a lot of heritage, namely in the studio, Lockwood speakers have been used in recording studios for years, with many big names recording with them: The Beatles, Pink Floyd, Queen, Led Zepp and Bowie to name just a few. Sounded very true and honest and I also liked the new colour finishes that they are bringing to the home market.
REGA
Rega were debuting their new System One turntable, amp and speaker combo that costs £999, it even comes with the cables. The system consists of the P1 turntable along with the new io integrated amp and new Kyte speakers. Sounded great and surely a good way to attract new fans to the world of Hifi.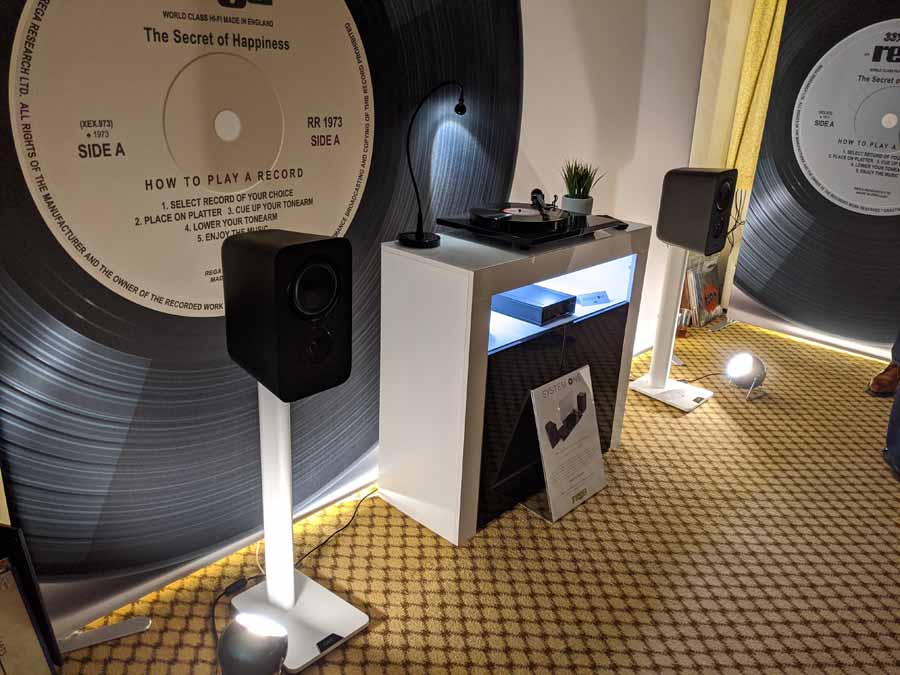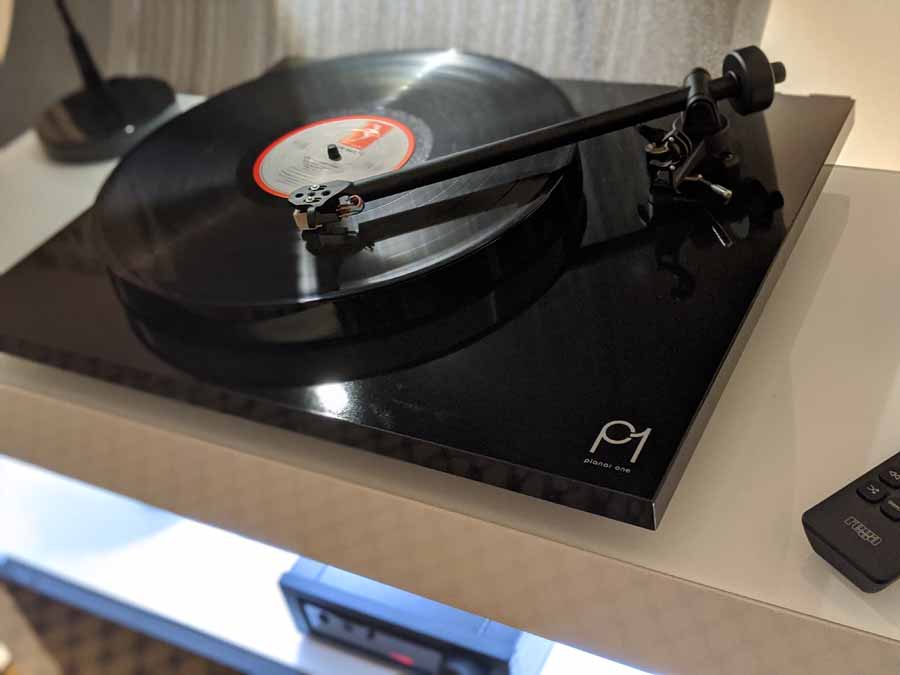 AMPHION & HEGEL
Bill Leigh knows how to set up a room at a Hifi Show, you immediately felt at home in his real-life lounge set up. Sounded great using bookshelf Amphions in a typical home AV set up that sounded much better than using a soundbar. Auden Distribution is doing a great job spreading the word about both of these brands that work well for 'normal' home users and audiophiles alike.
SOUND FOWNDATIONS
The colourful Chris Green who is the UK distributor for several brands, including ClearAudio, DS Audio and Furutech, was playing his usual quirky music choices to a happy audience, in his first room… Wheeler Walker Jr's 'Puss in boots', a cheeky country record, was the order of the day.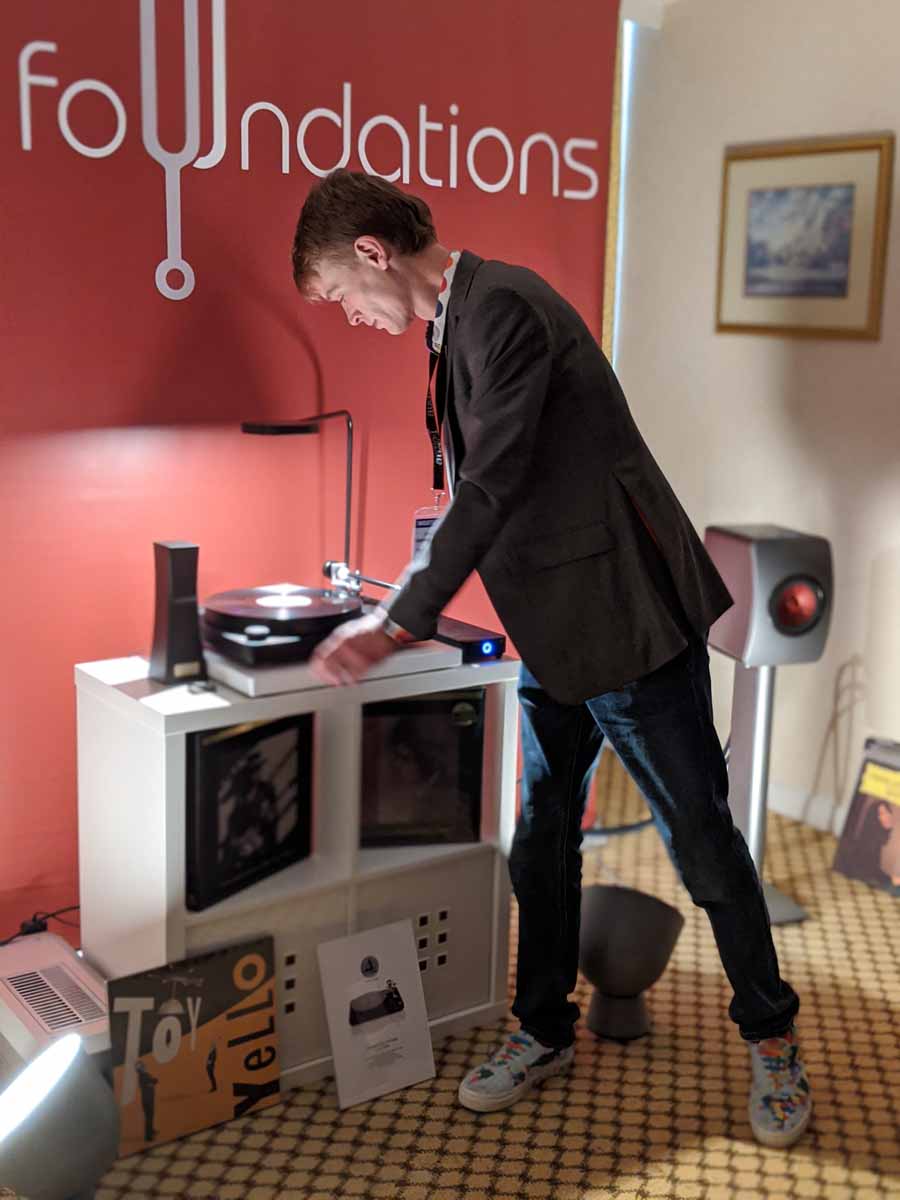 The second room focused on Jes Kerr's Kerr Acoustics speakers, ribbon-tweetered speakers with a pro audio heritage. Sounded rather excellent. We heard the K300 2 way standmounts, partnered with Exposure electronics, DS Audio and ClearAudio.

PROAC
ProAc were launching the new K1 2-way stand-mount loudspeaker featuring their 6.5 inch Kevlar coned mid-bass driver and classic ribbon tweeter. Also new was the K10 flagship floor stander with two Kevlar coned 8 inch professional quality bass drivers, two midrange units and classic ribbon tweeter.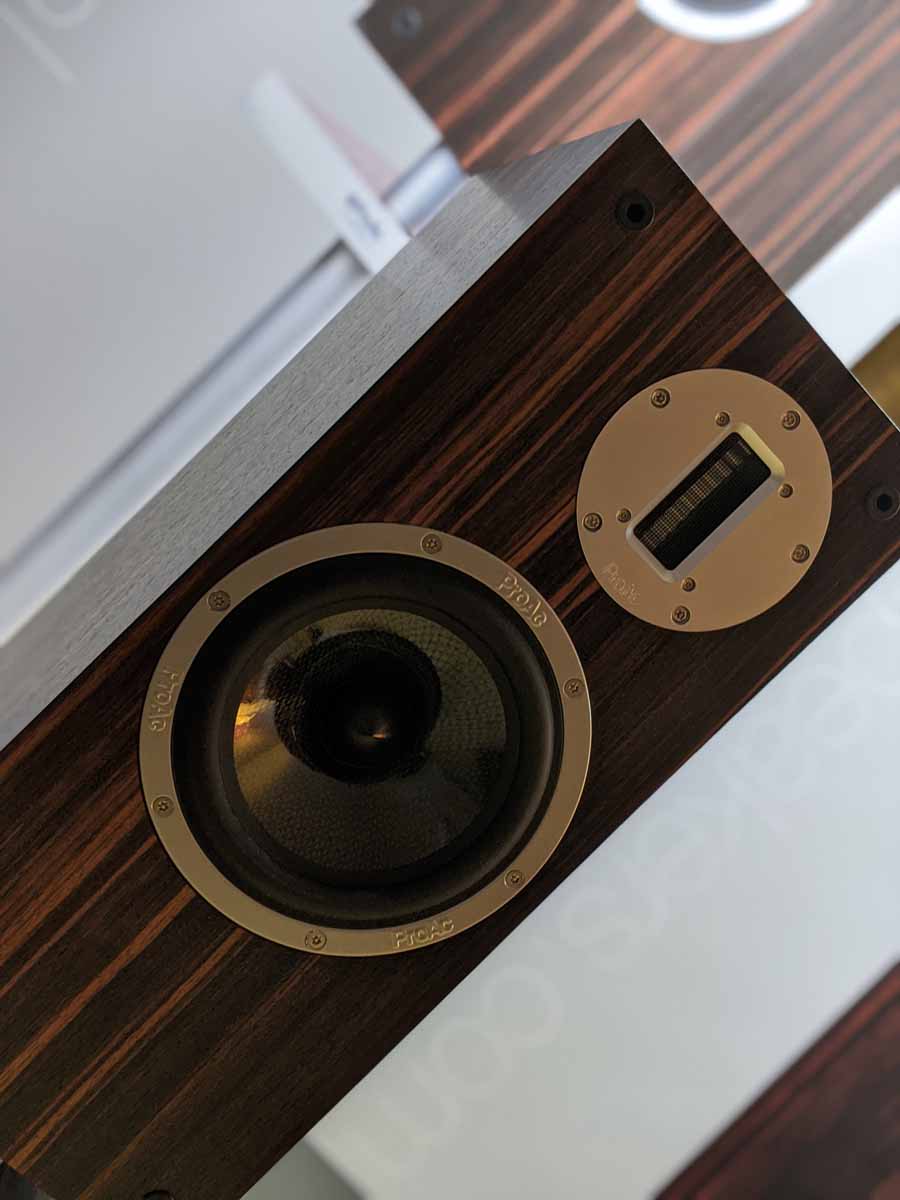 MICHELL ENGINEERING
Michell were introducing their new Cusis moving coil cartridges at the show and also had some rather lovely looking turntables on display.
EXPOSURE
Exposure were demonstrating the Kudos Titan 505 standmounts with their new VXN active analogue crossover. It was an excellent sounding room with fabulous bass that was controlled but fun. Not the most expensive system on show but one that I would happily live with. It's nice to see the work these brands have been doing together coming to fruition.
KUDOS
A little further down the corridor, the Kudos fun continued with their own room running an active system and the Titan 707 loudspeakers. They were using the Naim SNAXO crossover that can now be configured to support active operation with Titan and Super Cardea models. The full system included the Kudos Titan 707 loudspeakers, Naim NDX 2 network player, Supernait 3 integrated amplifier, HiCap DR power supplies, NAP 250 DR power amplifier, SNAXO active crossover and an Innuos Zenith Mk3 music server.
Kudos also launched their KS-1 speaker cable to the public, which will be available through Kudos retailers at a ballpark £30 per metre unterminated.
ELIPSON
The first of Elipson's new Legacy loudspeakers, the 3230 floorstanding flagship speaker, that comes in at a little under £7500, was making its UK debut at the show The speaker takes design cues from the French brands 1960s models such as the 4050 and Le Religieuse. A stunning design, I would like to have longer with them to hear how they really sound.
TELLURIUM Q & RUSSELL K

Russell K had his new Black 50 Compact Speakers, that are selling at an intro price of £899, on static display.  Nice to have a close look at them, the finish is lovely, and you can have them in any colour….so long as it's black!
In the 'live' system when I was in there was his Red 120 compact floorstanders. They were running with a Melco N10 Digital Library, Rega Saturn R on CD and DAC duties, Rega Aethos amp, Solidsteel speaker stands and Quadraspire racks.  The system was of course wired with Tellurium Q cables, Ultra Black II speaker cable and interconnects and Silver Diamond power cables.
Fantastic sounding room, everything worked together in harmony to deliver just what I love in a system, accuracy, fast bass and a fun and engaging sound.  What's not to love?

AUDIOQUEST
Audioquest won the Clarity 'Best Presented Room' award at the show this year, they consistently make a room inviting and comfortable for the visitors, well done! They were showcasing the latest version of their Dragonfly DAC series, the flagship Cobalt.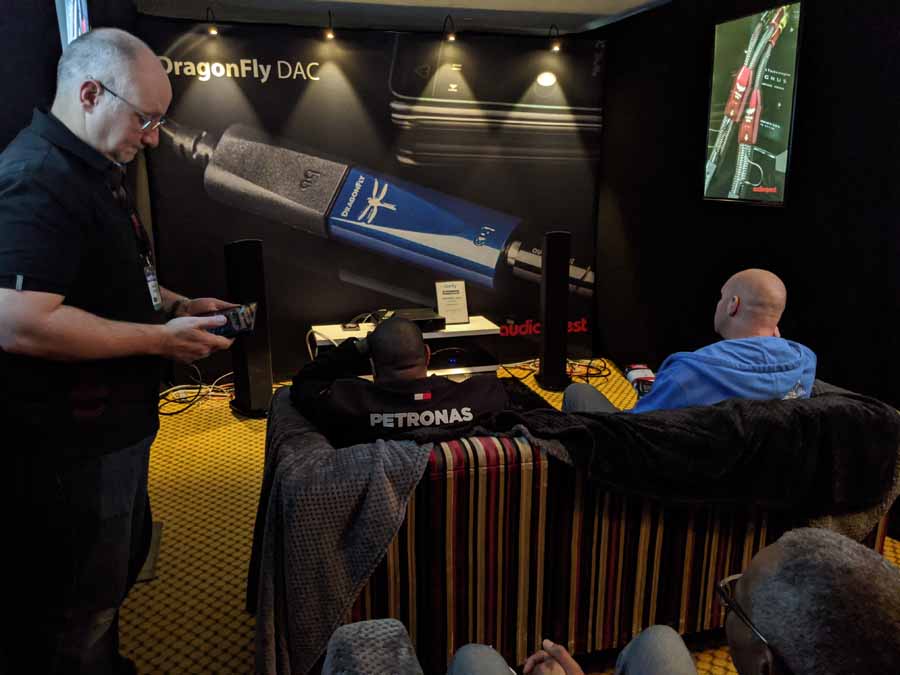 ATC
Always a great sounding room, ATC were using their SCM40 floorstanders and electronics along with a stunning Vertere Turntable
LINN
Linn were alternating 25-minute streaming and 25-minute vinyl demonstrations, they, of course, showcased the legendary Sondek LP12.
At the heart of the streaming demonstration was the Selekt DSM, the one box modular and configurable solution which is a streamer containing a pre-amp, DAC, Exakt hub, power amplifiers and more. Linn used fellow Scots, Fyne Audio's, speakers, the floor standing F502SPs. These have been measured for Linn's Space Optimization software and demos included tracks played with and without the optimisation.
CYRUS
Cyrus were showcasing the Cyrus ONE Cast, which has the ability to stream high-resolution audio directly from your music apps. You can even ask for specific tracks, albums or genres with all major voice assistants. A truly modern solution to Hifi.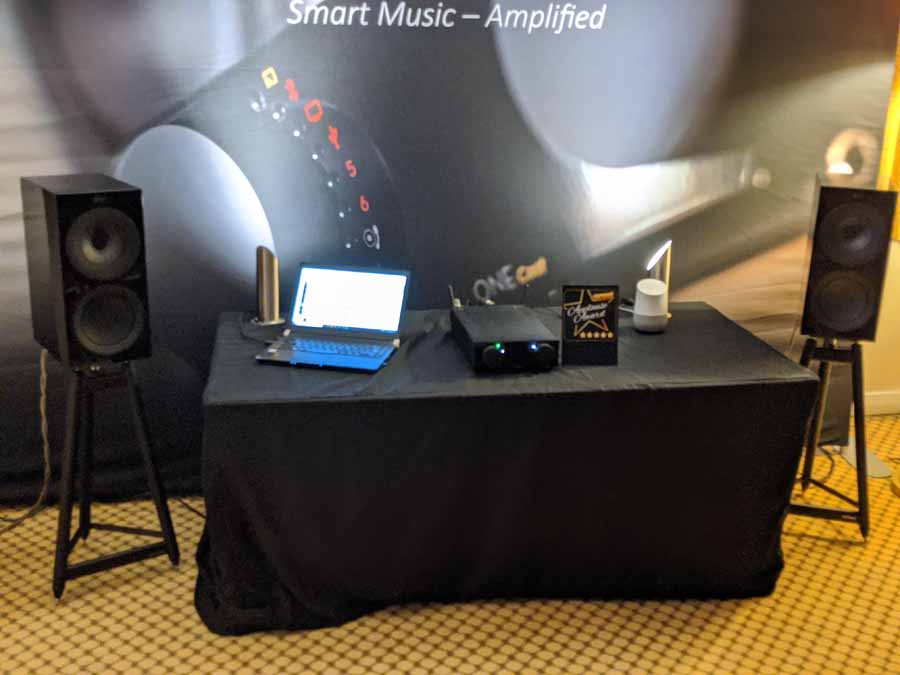 SPENDOR & AURALIC
The Auralic Altair G1  £1899 streamer was the centre of attention in this room, with their full product range on display.  As always they were belting out some serious tuneage, always one of my favourite rooms for 'non audiophile' music choices, great fun! Speakers, when we were in the room, were the very engaging Spendor Classic 2/3. My notes for this room say 'dynamic, fast, brilliant…put a huge grin on my face!' Say no more!
JERN & DRYHOLM
We own an earlier incarnation of the quirky, cast iron Jern speakers from Denmark, (the model 14). On show were also the new 11 series that we listened to. The sound was big, expansive and very natural, Ole played me some Frank Sinatra, which was toe-tappingly good.  The unusual design was attracting a lot of attention from the public, very popular room! Cabling was from Dryholm.
NEAT ACOUSTICS & NORMA AUDIO
British loudspeakers and Italian electronics, a lovely combination. Following on from the success of the Ekstra loudspeaker (launched at last year's Bristol show) Bob Surgeoner of Neat, focused on the development of a compact bookshelf version, the Ministra. Like the Ekstra, the Ministra features iso-baric bass loading and a true-ribbon tweeter. The sub-baffle housing the drive units are coupled to the main cabinet via a polyethylene membrane, similar to the technique used in Neat's prestige Ultimatum models.
The sound was way beyond the size of these little speakers, Bob has a knack for getting a huge room-filling experience from a small speaker, really excellent. The Bristol show was the first appearance of the Ministra at a UK show in final production form.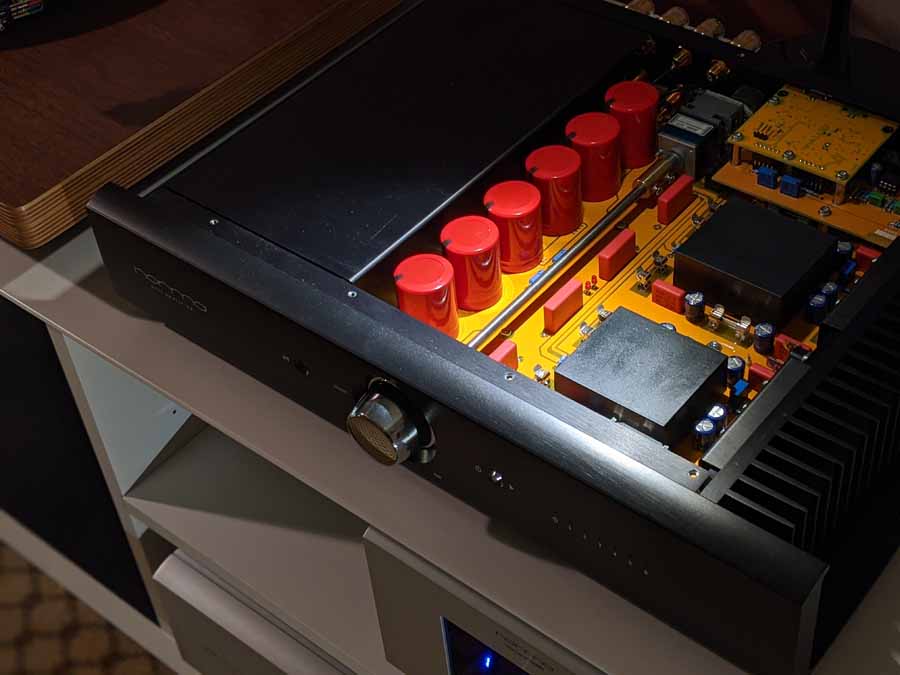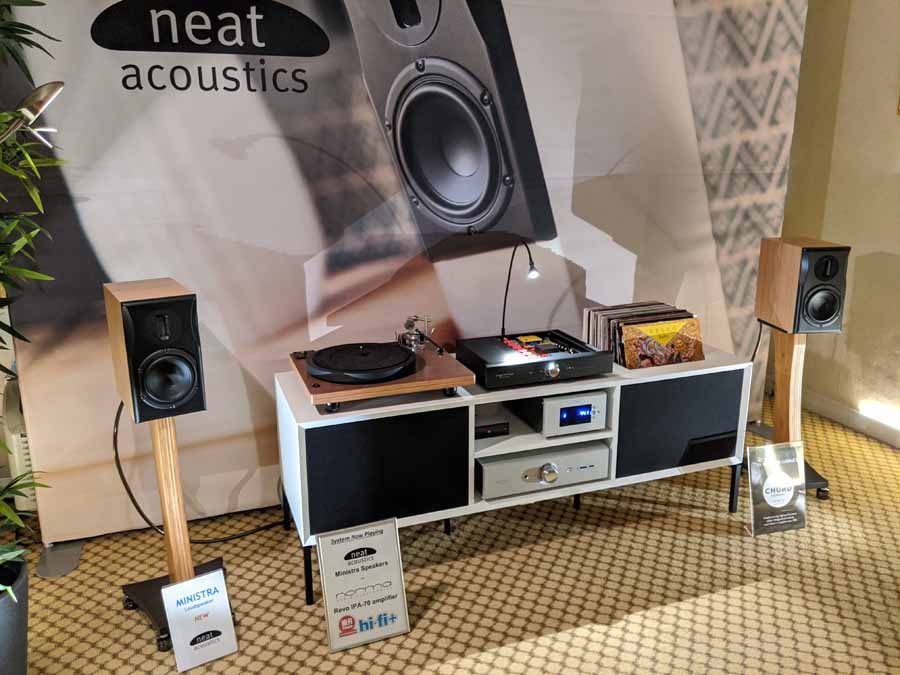 DALI
Dali were showing their Rubicon C active standmount speakers, which looked fresh and modern in white with a grey fabric front, pairing perfectly with white Solidsteel, tripod speaker stands, from Italy.  Very stylish and a great sound.  Perfect for the modern home.
NAIM & FOCAL
I've said it before and I'll say it again, the Naim Statement is the kind of Hifi that you would expect Darth Vader to listen to on his Deathstar…I'd possibly say that a massive pair of Wilson Audio speakers would be more 'Darth-Vadery' than Focal, but I digress.
Naim and Focal won the Clarity 'Best Dem' award this year, they always do a fantastic dem, really engaging with the audience. In the large Executive Lounge, Naim paired the Statement with Focal Scala Utopia Evo speakers to stunning effect. A real high-end sound, with all the detail, controlled power and engagement that you expect at this level of system. Lovely.
DYNAUDIO
Another brand that always creates the right atmosphere in their room, Dynaudio, were as cool as ever in their all-black Dynaudio Lounge. The new Confidence 50 loudspeakers, from their flagship range, showed that they meant business, but in reality, this room was all about the music, with the wall-sized image of David Bowie casting an eye over proceedings.
Bill Livingston of the UK Dynaudio team is an absolute music lover, I would have happily say and listened to his choices all day. A live version of Neil Young's 'Old man', that was recorded at a gig in 1971 at the Toronto Massey Hall, before it had been released on record, was spellbinding and deeply emotional…you just forgot that you were listening to music playing from loudspeakers, it just felt like I was there, immersed in the concert performance. Simple and effective, one of the sounds of the show for me.
CHORD ELECTRONICS
Chord were debuting their newest Ultima electronics, you can read more about the new Ultima 5 and 6 power amps here and Ultima 2 Pre here.  With the passive ATC SCM50 loudspeakers, Chord Dave DAC and Innuos Zen music server, the system was singing, wonderfully musical and powerful but with control.
The new 2go and 2yu modules, which Chord say has transformed their Hi Res streaming offering, were also launched, We were at the press conference and also had a chat with Chord's John Franks later that day, which you can watch in the video below.
GIK ACOUSTICS
GIK were showing their new foam versions of their Impression and Alpha series of room treatment panels, that they launched last year. Also new are GIK's new Art panel range, where you can have artwork of your choice added to their panels. GIK have recently invested heavily in new print technology to achieve the quality of finish that they need for the range.
This was the first time in four years that the brand have actually exhibited at the Bristol show, though the sharp-eyed amongst you will have noticed that many exhibitors have, and continue to, use GIK room treatment in their exhibition rooms. Both Dave and Lukas were on hand to offer room treatment advice to the visitors…in our book itis one of the most important aspects of a Hifi system.

KIRMUSS
Great to see Dr Charles Kirmuss himself, with the Kirmuss bunny, at the show, supporting the Kirmuss UK team. Their ultrasonic record cleaning machine is taking the world of vinyl by storm, we loved it when we reviewed it at the end of 2018.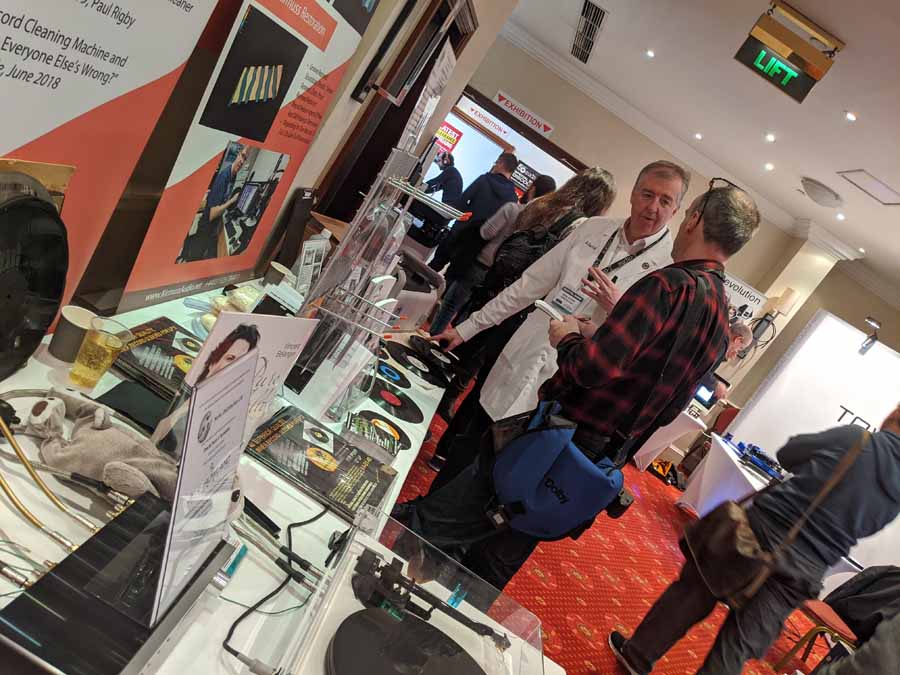 TOWNSHEND
Townshend Audio had three generations of the family company at the show. Ever popular is their range effective isolation products, cables and their new, Allegri Reference preamplifier.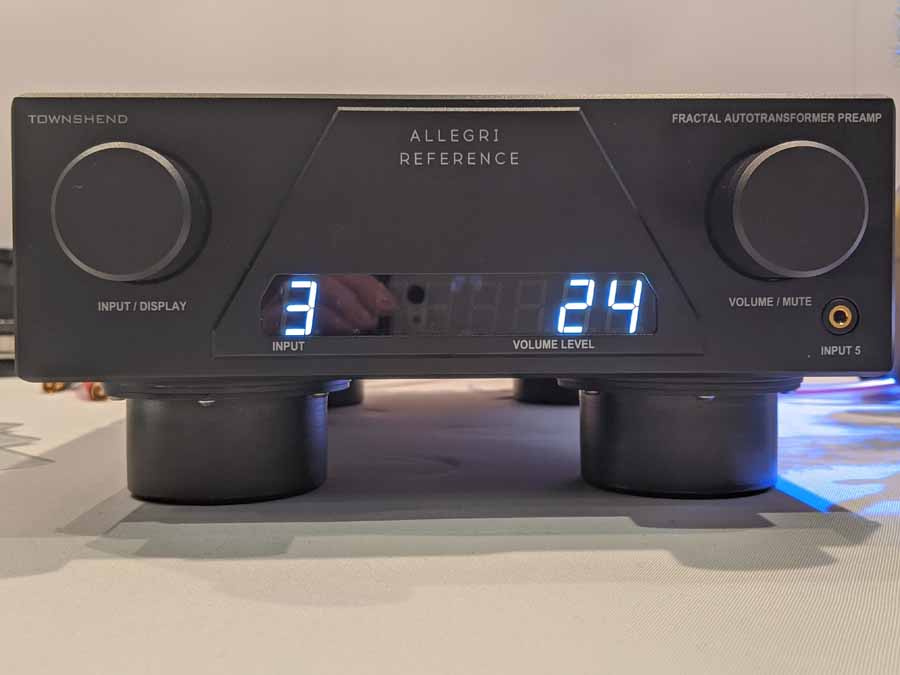 CHORD COMPANY
Four years in development and 500 prototypes later, Chord Company used the Bristol Show to announce its long-awaited ChordOhmic Transmission Fluid, a highly advanced liquid polymer solution, specifically designed to maximise the surface area of a variety of plug connections, improving their performance.
Developed by an acclaimed industrial chemist and Andante Largo in Japan, the new ChordOhmic Transmission Fluid works by deploying polymers to fill pits and imperfections on the surfaces of connections, creating a greater contact area and, therefore, improving the performance of the connection: the lower the resistance, the higher the current (signal).
They also launched their new LeylineX cable for A/V installs, featuring the company's proprietary dielectric for the first time in install cable, and is priced at £5 per metre.
Though perhaps the biggest news from Chord Company, is their first foray into electronics with their new brand, the revived English Electric, their first product being a switching box…exciting times ahead for the brand!
FALCON ACOUSTICS
Up on the top floor of the show, Falcon Acoustics were showing their brand new IMF100 PnP Transmission Line speaker kit, which retails at £1495.  As ever, Jerry was putting on a great show, he really knows his onions. We listened to Frankie Goes To Hollywood's 'Welcome to the Pleasuredome'…wow, sounded fantastic, I could have listened all day! Like many exhibitors, they had chosen Solidsteel speaker stands to perch them on.
Very happily we picked up a pair of Jerry's LS3/5a speakers, expect to hear more soon!
DENON
Denon were showcasing their new Denon Home premium wireless speakers.
MARANTZ
Next door was Denon's sister brand Marantz, who had partnered with Definitive Technology speakers to create a really nice sounding room.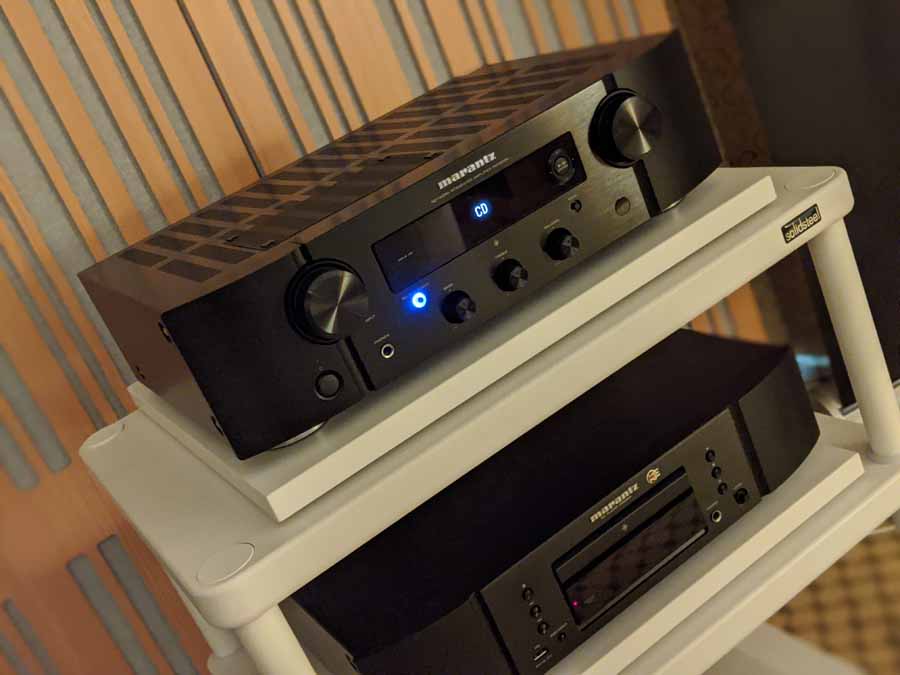 KANTO AUDIO
Kanto were showing their TUK powered speakers, which have impressed us every time we have heard them for their great sound and affordability. You can read our review of their SYD standalone system here.
ROGERS
Rogers were showcasing the new AB3a Subwoofer unit for the LS3/5a speaker.

HENLEY AUDIO
Henley Audio, the UK distributor for Pro-Ject Audio, Klipsch, Ortofon, Lehmann and several other big-name brands, are masters of the Hifi Showroom set-up. Their rooms always feel like a proper home environment, which is a great way to engage visitors with their products. They look great and sound great.  My particular favourite from their two neighbouring rooms was the stunning little Klipsch RP600 standmount speakers, running with Musical Fidelity and Pro-ject. The sound was excellent, precise and expansive…a big sound from a little speaker…and the price, half what I thought, at just £625. We listened to Kraftwerk, I could have stayed all day…another proper 'grin-inducing' room!
FUNK FIRM, LATERAL AUDIO STANDS & CURVI HIFI
A great sounding room with the very interesting Curvi loudspeakers and Funk turntables, wired by Gekko and stands by the lovely Lateral Audio.

LEEMA ACOUSTICS
A comment we made about this Bristol Show was that the music choices were much more relevant, with plenty of new discoveries to be had….I didn't hear' Keith don't go' or 'Take Five' once, which must be a record!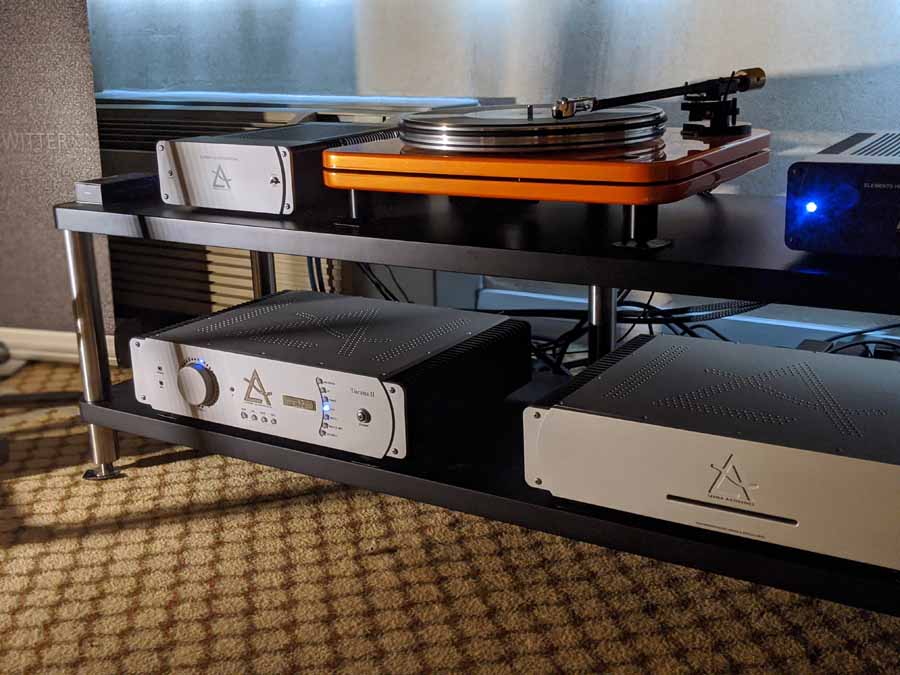 After treating us to the Bee Gees in Warsaw, Andy of Mian Distribution introduced us to Dutch band Haeven with their stunning 'Back in the water' album on 180g vinyl, sounded wonderful.
The system was the Leema Tucana II Anniversary Amplifier, a Pear Audio Blu Little John turntable, with Pear Cornet 1 tonearm and Goldring cart, in a sublimely racy Lambo paint finish. The Leema Essential Phono stage completed the vinyl set up with the Leema Sirius 2TB on digital duties.
The Serhan & Swift Brigadier Mu2 speakers were stunning, such a huge sound from these little guys! Solidsteel SS-6 stands supported the speakers and the rack was a gorgeous Solidsteel Hyperspike HW-L in a Flat Black finish.
No tricks, just good engineering, fab room, nice to see Shadwell the sheep keeping things in order.
LIVING VOICE & KUZMA
Having taken on the distribution of Kuzma turntables last Autumn, Definitive Audio, the sister distribution company of Living Voice loudspeakers, were showing them for the first time at Bristol 2020.  Hifi Pig's Editor, Stuart, had a chat with Definitive, SJS Audio and Kuzma, which you can watch below.
The Definitive rooms featured the Kuzma Stabi S,R and M models and a variety of Kuzma tonearms and cartridges.  They had an all valve system including the delightful Triode Corporation TRX-M300 mono amplifiers, SJS phono and line preamplifiers all playing through the classic Living Voice OBX-RW3 loudspeakers. Cables were from SAEC, Japan. Tables by Living Voice. Of course, they also brought their own power station with them!

KOG AUDIO

Distributor Kog Audio has a fine selection of high-end brands to choose from when putting together a show system. For Bristol they chose to use T+A Elektroakoustic electronics and speakers., Taiko Audio SGM Extreme music server, Tellurium Q Cables and Stillpoints isolation/resonance devices.
A fantastic sounding system in a really cool room, the sheer scale of music achieved from the standmount speakers was impressive. Very nice indeed.

CANTON
Showing the public what their soundbars can do in a home AV setup
ORIGIN LIVE
Mark Baker of Origin Live was using the Resolution turntable, one of the decks we have at Hifi Pig Towers.  While we were there he was demonstrating the new record weight, which had a very noticeable effect on the system, with the weight, bass was tighter and the midrange opened up…a great example of simple, inexpensive upgrades making a big difference to the sound.
VON GAYLORD AUDIO
California based Von Gaylord were exhibiting at Bristol for their third year.  We have been consistently impressed with their full-system approach, stunning loudspeakers and beautiful valve electronics.  Such an open and natural sound, it gave me goosebumps, beautiful.
AUDIO NOTE
Before I heard Audio Note at a show, I expected them to put on a very sedate, polite kind of demonstration. Lots of classical, maybe some plinkety-plonkety jazz…but no, how wrong I was. Audio Note's music policy has to be applauded. In my time listening to them at shows I've heard rock, metal, thrash metal, rap. At Bristol, we got huge bass and some down and dirty rap from Clipping with 'Work, work'. Sounded fabulous.
Audio Note were launching their new amp with USB, a bit of a departure for the brand, the £3400 Cobra integrated…we were very impressed with how the system delivered the raw power of rap and rock.
EMOTIVA & SVS
Distributor Karma AV had a fantastic AV set up featuring the 'big bang for your bucks' Emotiva and SVS subs. The XMC-2 16 channel processor from Emotiva was making its UK show debut.
VOXATIV
Born in Berlin, Voxativ were making their Bristol debut, and we were very pleased that they did.  We have been consistently impressed with their stunning valve electronics and speakers, their drivers are really a thing of wonder and the Holy Grail for many in the industry. Ines was streaming on the Absolut digital system while we were in the room, using the smaller speakers. We listened to 'Birds' by Canadian singer Dominique Fils-Aimé. It was stunningly beautiful, detailed and airy, really rather lovely. Fantastic room with the branding and styling, as always from Voxativ, on point.
SCV Distribution
Iso Acoustics, Benchmark and Focal were in the main SCV room, with the always convincing dem from Iso Acoustics and their isolation products. Another brand that can show very convincingly that the small tweaks often make the biggest improvements to a system.
In the second room headfi was the order of the day with Meze and Nova Fidelity.
DECENT AUDIO
Decent Audio had three rooms on the third floor of the show. Our favourite was the Eclipse room, featuring their TD510z MK2 speakers. Unusual looking and stunningly fast, these speakers delivered a really visceral, energised listening experience.  The system also featured a Dual CS 465 turntable, Audio Analogue phonostage, Ayre acoustics amplification and Van den Hul cables.
ACOUSTIC ENERGY 
Acoustic Energy were flying the British flag, well, rug, again this year. We heard the AE509 floorstanding loudspeakers, which sound a lot more than their modest £2300 price tag. Progressive trance was the order of the day with FREq, which sounded banging to say the least (that's a compliment by the way).
STENHEIM
Audio Art Hifi of London has some very interesting brands, in fact, everything they sell is a work of art. They chose the bring small Stenheim loudspeakers, paired with the Origine electronics from France. Very high end and a fantastically cool room with the best listening chair at the show…it was indeed a throne. Even better they played Hardfloor's Acperience 1 for us, one of our favourite tunes, they said they would be playing it again later. Very impressive, loads of fun and an excellent fast, detailed bass sound. Brilliant!
AVID HIFI
AVID is known for their very high-end gear, especially turntables, and the British brand now makes full systems from cartridge to speakers and everything else in between. Stunning looking and some of the best sounding Hifi that you could hear, the show system consisted of the Ingenium Plug&Play turntable, the Integra integrated amp and the brand new EVO 4 loudspeakers. We listened to 'The race' by Yello, which showed the nimbleness of this system. At the lower end of the AVID portfolio, this was high-end Hifi without the hugely high-end price tag…stunning!
Read our recent reviews of the Ingenium Plug&Play turntable here and the Integra integrated amp here.
AMP3
Amp3 had a headfi room with HifiMan, Fiio, Cowon and iBasso.
REL ACOUSTICS

REL was using the Bristol Show 2020 for the UK launch of their S/510 Line Array Subwoofers.
Now, I'm not a massive AV fan, but good subwoofers can add so much to both AV and stereo setups.  You might think that a stack of subs is overkill, but it subtly adds huge amounts to the music, in a way that you only notice when they are turned off. Listening to this set up before the show started we were blown away by the sheer raw, visceral power of the music…I literally held my breath while listening to a track it was so intense, incredible!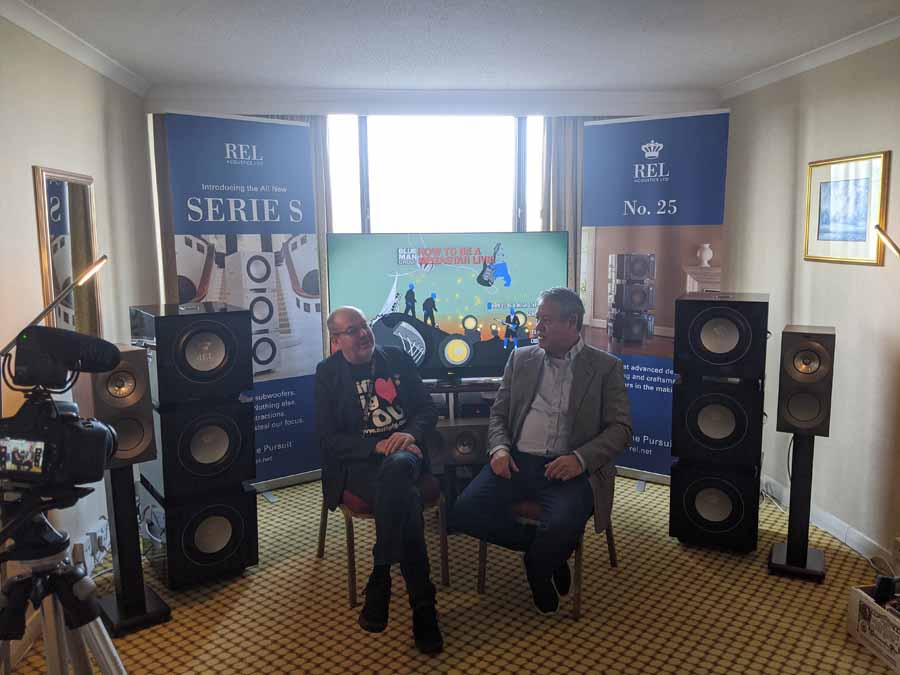 For more from John Hunter, REL's joint owner and Lead Designer, watch this fascinating interview with Hifi Pig's Editor, Stuart.


FYNE AUDIO
Scotland brought their Fynest to Bristol 2020. With two rooms, Fyne had their floorstanding F502sp and F703 partnered with a Rega Osiris amp, Rega Isis CD player, Auralic Altair G1 Streaming DAC, Chord Co cables and Lateral Audio black LAS-4 Concert 4 tier audio stand.
The Second room was their F1-5 and F701 speakers with a Rega Aethos amp, Rega Isis CD player, Cambridge streamer, Chord Co cables and Lateral Audio black LAS-4 Concert 4 tier audio stands.
Both had that Fyne mark of this brands speakers: dynamism, detail, control, and a hugely fun sound…it's no wonder they are making such an impact on the global loudspeaker market.
MELCO
Melco's newest audiophile-grade digital music libraries were on display at Bristol, along with the debut of their new s100 data switch. Alan Ainsley was constantly in demand, talking to visitors, there was obviously great interest in their products.
TIMESTEP
Timestep's Dave Cawley seemed to be a very busy man with a constant stream of people asking him questions about his products. Pictured are the excellent Soulines Kubrik turntable we reviewed a few years ago (read it here) and the Timestep modified Technics 1200, which regular readers will know we consider an excellent turntable in its unmodified form – be great to be able to do a side by side comparison at some point in the future.
KEITH MONKS
Another static but very busy stand was Keith Monks who were showing off their record cleaning machines.
HIFI RACKS
No prizes for guessing what Hifi Racks are in the business of doing, and they too seemed to be doing a roaring trade. This is a company certainly in the ascension with us seeing them at every show we go to around the globe, with their racks in use in many of the exhibitors rooms.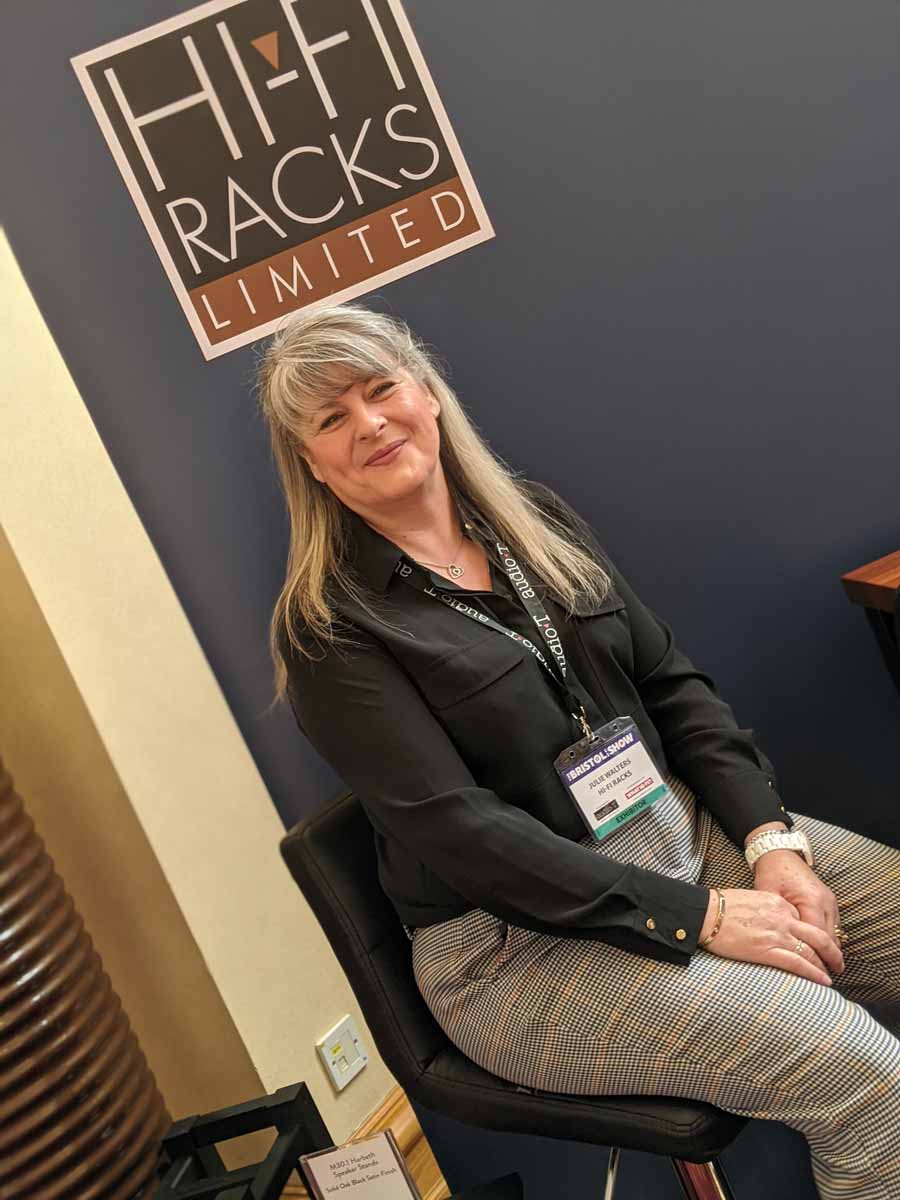 ATACAMA
Another name you will know who are associated with building equipment supports but now they are also producing a number of cables designed by Mark at Missing Link/Vinyl Passion.
SOLIDSTEEL
Solidsteel is an Italian brand that has a long, long history of working with metal. Gaetano's grandfather made parts for companies like Bugatti and Motoguzzi, now their distinctive racks and particularly their tripod speaker stands, are seen supporting some of the world's most exclusive Hifi…you will have seen them in many rooms at the show.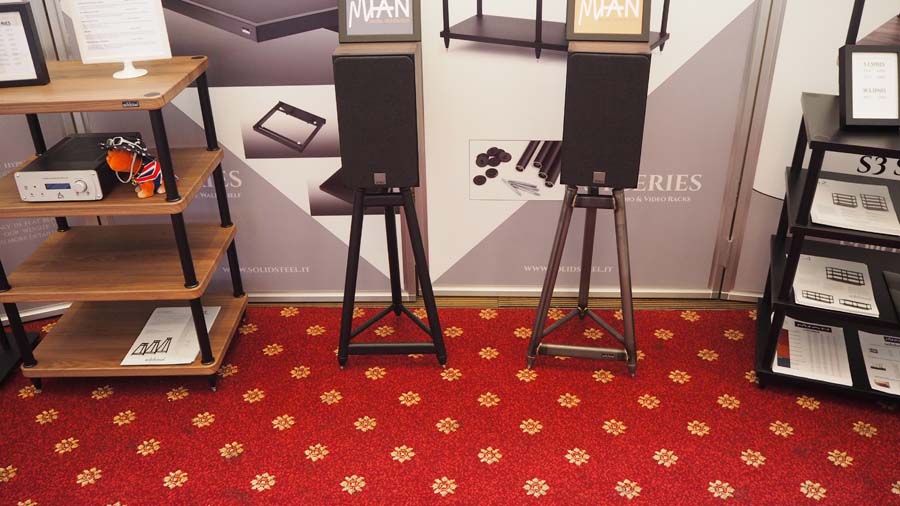 IAN RINGSTEAD'S THOUGHTS ON THE BRISTOL HIFI SHOW 2020
I approached Bristol this year with some trepidation purely because of Brexit and the recent Corona Virus pandemic. Rumours were going around that Munich could be cancelled and that has now been confirmed. The world is in a constant state of change but life goes on and so did the Bristol Show.
We're a hardy bunch here in the UK and the British bulldog spirit carries on. Talking to old friends and contacts in the industry business seems positive and the show was well attended especially on Friday and Saturday. Sunday was quieter but that meant I could get around more easily to mop up the rooms I had missed on Saturday, and I'm glad I did as a few surprises were in store.
As I have said in previous reports these are my personal opinions and you the reader must make your own minds up if you were there or go to listen to products that catch your attention. I'm only listing the rooms and manufacturers that caught my eye and ear and apologies to the exhibitors and rooms I couldn't visit.
The first company I called into see was Living Voice who were sharing with Kuzma who they are now distributing in the UK. Living Voice are based not too far away from where I live and their speakers and design philosophy fascinates me. Beautifully made they certainly make a statement and a big dent in your bank statement if you buy a dearer model such as the Vox Olympian, the top of the range, starting at around £500,000. As they say in Yorkshire "How much!!!". They are truly epic in looks and sound having heard them at Munich, get that lottery ticket bought. The more affordable models were on show at the Bristol Show. Frank Kuzma was there in person talking about his designs and there was the RD Ultrasonic record cleaner in the form of a sonic cleaning bath and clever overhead mechanism (gantry) that rotates the record automatically in the cleaning bath. Cost is about £1200 with a suitable cleaning bath bought separately. The turntables and arms are legendary in their own right so check them out if you can.
Falcon Acoustics who supply parts and kits for the keen audiophile and small companies had the legendary new Gold Badge LS3/5A on show and their new DIY kit the Falcon SAC65 stand mount selling for £1400. Falcon claim it is a very quick and easy build with all parts ready to just put in the cabinet and bolt together. It would be interesting to try them out myself as I love to dabble.
Henley Audio had a trio of rooms showing off their sizeable range of products from around the globe. I was particularly impressed by the Klipsch speakers from the United States and my wife and I both love the retro look and copper coloured drive units. They sounded good along with Project turntable and electronics. Next door the more expensive new Heresy IV (currently with Linette and Stuart for review) which is very compact impressed. The original Heresy was first introduced in 1957, just a tad younger than me. It's nice to see and experience classic products from yesteryear reimagined and updated.
Funk Firm had their usual innovative spin on things and I spent a bit of time talking to Arthur Khoubersarian whom I know well from the early 80's when he lived in Sheffield and walked into the shop where I worked and introduced the Pink Triangle turntable. That was a glorious moment. Nearly forty years on Arthur had retired, but he is too busy to sit back and keeps having new ideas. I don't have much longer to retirement but have plenty of things to keep me busy. Last year Arthur talked about a groundbreaking design he was working on for about £70,000 but that has now been shelved and a more affordable option may be in the pipeline.
Leema Acoustics were showing the Tucana II Anniversary Edition integrated amp (Review here), Sirius server /streamer and compact Elements phono stage, Pear Audio Blu – Little John with Pear Cornet 1 tonearm £2800 custom Lambo paint finish £200.00  (a lovely metallic orange) with  Goldring 2300 Moving Iron cartridge £259.00, Speakers – Serhan & Swift – Brigadier Mu2 (Review here) on Solidsteel SS-6 stands £5200 (combo deal with the stand) Individual price speaker £5000 Stands £480. Les Davis – 3d (2) constrained layer damping pads under the turntable and all electronics and between the stand-speaker interface £119.00 box of 8 pads. Cables were Leema REF 1 interconnects / Ricable Magnas speaker cable. Rack was a Solidsteel Hyperspike HW-L Flat Black finish. The speakers are from Australia and made an impressive sound. They were highly thought of when the magazine reviewed them with a report a while ago.
Fyne seem to just get bigger and better each time I see them. Highly experienced designers, engineers and salespeople from Tannoy originally, they are the phoenix that rose out of the ashes when Tannoy was restructured a few years ago. They have a large range of models now to suit all tastes and pockets. The new compact stand mounting model the F1-5 with its distinctive family looks and superb fit and finish are a great addition and suit audiophiles with limited space but a reasonable budget at £2999. Its bigger brother the F1-8 is £5999. I've seen Fyne's facilities in Glasgow and they are a truly exciting company with a lot to offer.
Avid had a simple system on dem with the Ingenium plug'n play turntable (Review here), new integrated amp the Integra (Review here) and a soon to be introduced standmount speaker the Evo which was beautifully made like all Avid products and will sell for approximately £4000, although it's early days on the pricing. Conrad Mas keeps things simple but always delivers a great sound at shows. A new range of cartridges and tonearms are on the cards this year. Exciting stuff indeed.
Decent Audio distributes Dual turntables, a real blast from the past for me. I sold hundreds of Duals in the 80's and 90's before they departed these shores for some years when vinyl slowed down. Dual are now back here retaining their looks and have upped their game with the new CS458 and CS465 turntables. These decks are aimed higher up the ladder than the original CS505 that was the budget deck to buy 40 years ago along with Rega and various Japanese companies. Made in the Black Forest in Bavaria still, their ease of use allows the less confident user new to audio and records the chance to enjoy analogue without the hassle. The CS465 (£600) excited the importer Simon Wells and I must say it sounded excellent through the Scansonic MBTL active loudspeakers.
Decent also distribute Ayre Acoustics from the US and the new Ayre EX-8 integrated amp and CX-8 cd player continue this company's tradition of top-quality sound and build quality. I drooled over Ayre electronics years ago and very nearly bought some until common sense and my wife stopped me (A common thread throughout my life).
The final room Decent had was showing Magneplan's new baby model the LRS (Little Ribbon Speaker) aimed at attracting people into the fold of their range of larger planar panels.  A North American company again with a long heritage of producing excellent sounding speakers. The only drawback was that the panels were quite large which is an issue in the UK with our smaller homes and rooms. I was excited as Chris Fayers who I know well and acts as an agent said you must have a listen. I'm glad I did. In Magnepan's own words "The LRS (Little Ribbon Speaker) is a full-range quasi-ribbon speaker that was designed from the ground up to give you a pretty good idea what to expect from the 20.7 or 30.7. The LRS was designed using high-end electronics and monoblocs. The LRS will perform nicely with a receiver, but it was intentionally designed to extract the most from high-end amplifiers and electronics. The LRS expects more from a properly designed high-current amplifier. That is a radical departure from most entry-level loudspeakers. If you put your expensive high-end amplifier on the LRS, you will hear the difference." They sounded fabulous to my ear and at a price of £1000 a pair are a steal. The only trouble will be keeping up with demand; I do hope they can and not put the price up to put buyers off. HiFi needs products like these to attract more people and which are room friendly and compact.
Harbeth had their new XD range of speakers (Xtended Definition) to wring out that last ounce of quality and they sounded good. Harbeth customers are very loyal by the looks of it and the average age range seems to be 65+. Now I'm nearly there and it is not meant as a criticism, but if we don't get younger people into these great products the industry will die out. It's a common theme at the moment.
Lockwood loudspeakers were playing two different models from their range of relaunched products. As the grandson of the original designer states "The Lockwood Mini is the Father of the Legends, designed in the mid 60's the Mini was predominately used in the "podcasting" industry for radio and TV and in smaller studios.  Customers included the BBC, ITV, Granada TV and Neve Electronics. The Mini is fitted with a 10″ Tannoy Gold and HPD. The cabinet is constructed in the finest Birch Ply, laminated in real wood veneers and finished with 5 coats of finest Danish Oil. The Lockwood Harrow is the Son of the Legends, designed in the late 70's the Harrow was never put into production.  Only 2 pairs were ever made, one was destroyed in the factory fire that devastated Lockwood and the other was used for personal use in the family home. It's about time people got to hear these. The Harrow is fitted with a 12″ Tannoy Gold and HPD."  Sound and looks are all personal taste and the studio look won't suit all homes, but if they interest you give them a try.
Amphion and Hegel as always sounded very good and deserve to do well. I particularly like the Amphion speakers and Bill Leigh always has a laid back atmosphere in his rooms.
Totem Acoustic were keeping their room minimalistic with Chord Electronics driving either the new Skylight standmount at £1,099 or the excellent Tribe Tower at £4999. They both sounded really good and I thought the Tribe Tower would again suit our smaller UK homes very well. Vince Bruzzezi once again has come up trumps.
Atacama who have been winning awards for years for best hifi stand were demonstrating the effectiveness of their Evoque Eco 60-40 SE 2 rack and the design philosophy behind the range's development over the years. I was intrigued by the talk and very impressed by the execution of the stands manufacture and innovative thinking behind it. Price-wise Atacama offer excellent value and performance without breaking the bank.
Another compact but amazing speaker was the Danish Jern 12WS (£1199). Every time I hear them, I am gobsmacked by the spacious sound field and deep bass output of these mini marvels. I love to see the look on peoples faces when they walk into the room and can't believe their ears or the fact no subwoofer is being used. Made of recycled cast iron high in carbon content, acoustically the cabinet is very dead as demonstrated by the owner and designer with a hammer and a sample of aluminium and the cast iron. When hit the aluminium rings loudly whilst the cast iron has a dull thud. Looking like small Russian dolls they are hefty in weight 12.2 Kg (don't drop one on your foot as it will hurt and possibly break your foot) but super compact and very room friendly. For me a must buy one day.
Spendor and Auralic were showing together again and the room was very busy all the time I was there. Spendor have really developed in the last few years and seem popular and well-loved. Auralic also has developed considerably and have a large range of digital products to suit all pockets. Well done.
The ground floor was very busy with static displays of accessories from many companies such as Keith Monks, Hi-Fi Racks, Audio Technica, GIK Acoustics, Tonar and a plentiful selection of second-hand vinyl.
PMC had a large demonstration area and when I walked in, they were demonstrating some Martin Logan Electrostatic hybrids. I love the look of Martin Logan's being elegant and sounding very open, smooth and with great bass. The hybrid design has a moving coil bass driver and electrostatic top panel for the upper bass through to high frequency extremes.
KEF was the final room I had time to visit and they had a home cinema set up that was truly epic. Dolby Atmos was used and Roger Waters Wall concert was being shown. I have the SACD but have never seen the film. The picture and sound were superb and I felt totally immersed in the concert that the audience who were there were going wild at. A great way to finish my visit.
Bristol was a thoroughly enjoyable show that had a positive feel about it given the doom and gloom in the world at the moment. Here's to next year.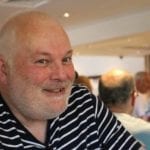 Ian Ringstead
IT'S ALL ABOUT THE PEOPLE
Of course, one of the best bits of a Hifi Show is catching up with all the lovely people in the industry and our readers, here's some of the people at Bristol Hifi Show 2020, see who you can spot!
Linette & Stuart Smith